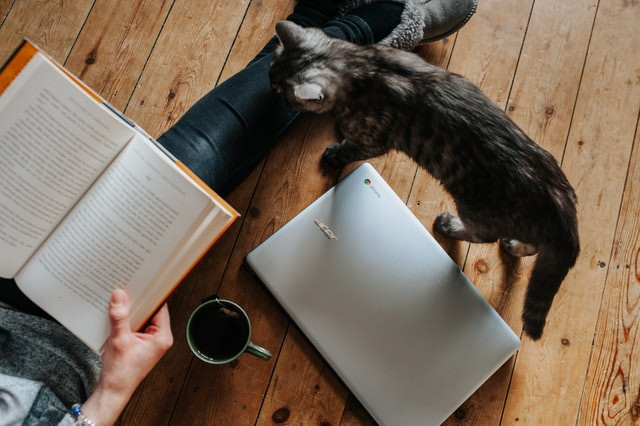 Writing an evaluation essay requires an individual to invest time in research. Still, an overall evaluation essay outline template helps the student to complete their work faster since the ideas are already in place. Take a look at what you need to have in place before and during the essay writing process.
Come up with an argument for your judgement
Determining what you want to write about is the first step to a successful evaluation paper. Asking yourself a few questions will make your work easier when picking an argument. For instance, do you want to write about the positive or negative aspects, or are you interested in combining both ideas to evaluate the effects of a particular item? Whether you are writing evaluation essays on a service, a product, or an academic subject, you need to pick a side and run with the idea.
Determine the introduction to your essay
An evaluation essay introduction is the first part of the document highlighting your evaluation essay structure in a few paragraphs. Of course, the length of this section is sorely dependent on your paper's size, so you have to mince or increase the words to fit your requirements. In the introduction, ensure that you address the following sections:
Capture their interest
Begin the evaluation using a catchy introduction to capture your reader's interest. A question, statement, or use of facts can work here. However, you are free to use whatever starting point that is likely to lure them into wanting to read more about your document.
Give a brief history
Writing a brief background about your evaluative essay topic is critical since it allows the reader to understand your reason for selecting it. And while writing a bit of its origin is vital, keep in mind that you do not want to bore the reader with long texts about history.
Pick snippets about the topic's history that will give your evaluation essay meaning. Keep in mind that what you choose to write in the background section depends on the angle you will be writing on. It will come in handy in determining what historical moments you want to highlight.
Restate the thesis statement
Remind your reader what your essay evaluation entails by restating your evaluative essay thesis statement. This brings the paper into perspective, especially since losing the reader in the background section can be easy.
Give a verdict
While you cannot go into in-depth verdict provision in this section, you must show the reader what angle you will take and your findings. It helps them know that you put your back into the work and that the document is well researched.
Show the evaluation essay template outline
An evaluation essay format is a structure that allows the reader to know your flow of ideas. Rather than delve blindly into the paper, it can be helpful to give an overview of the essay evaluation. Highlighting the significant sections of the document works okay.
Give an evaluation of the topic
Giving a detailed background of the topic helps bring the ideas into perspective. Unlike in the introduction, you can explore more into the history at this stage. However, you have to balance the older and newer history details, which will help make the paper relatable to the present.
Once you are sure your reader has an idea of why you are interested in tackling the issue at hand, you can delve into giving an evaluation of the subject. First, you need to master how to write an evaluation paragraph. To write an appealing evaluation paragraph, keep the paragraphs short and factual. Ensure that they introduce something new to the reader. While at it, make sure that you explain each point that you present to the reader.
Remember that a good evaluation is objective. You have to present both sides of the issue before giving a verdict. Compare the strengths, weaknesses, pros, and cons of your idea. Then, support your comparisons with analytical arguments.
Write using a specific evaluation criterion
Selecting an evaluative essay example depends on your objective for writing the evaluation essay. The available options when it comes to criteria selection are:
Argumentative – Such essays require detailed research and supporting data regarding your stand. Argumentative essays aim to persuade the reader to agree with your point of view.
Narrative – These are the type of essays whose aim is to inform the reader without necessarily trying to persuade them into agreeing with your opinions.
Expository – These documents solely discuss problems and offer solutions to the issues they address.
Descriptive – Such evaluative essays describe attributes of objects, services, people, and places.
Close with a conclusion
Ensure that you round up the essay in an orderly manner at the end. Include the main ideas addressed in the paper. The idea is to ensure that the person reading your work understands the questions and can see the connection to the answers you provided throughout the text.
Provide a reference list
All scholarly material requires citation. See that you list all the sources you used in your document using the proper format.
What is an Evaluation Essay?
In a nutshell, an evaluation essay definition is a scholarly text that provides an in-depth analysis of a particular subject. For a scholar to write an excellent essay successfully, they need to use an evaluation essay example that makes it easier to work on their project.
As part of the requirements for writing meaningful evaluation essays, the writer has to use facts and evidence to support their argument. The paper comprises several components that address a particular aspect of your discussion. When you finally combine these subheadings, they bring cohesion to your penned ideas. Now that you know what is an evaluative essay, let's look at its outline.
Evaluation Paper Outline
An evaluation paper outline is a skeletal structure that brings to light the most significant aspect of the essay. The significance of an evaluative essay structure is to help the writer have an easy time jotting down their points.
It helps them write their ideas in order, thereby keeping the paper well-thought-out. Also, it plays a critical role in assisting the reader in knowing what they expect to find in the document. The checklist below outlines the most vital aspects of an evaluation essay outline.
Topic/title
The title is the heading that explains what your document entails, to the reader.
Thesis statement
A thesis statement is a sentence that sums up what your evaluative essay contains. Scholars recommend that you have a thesis statement not longer than three lines as your evaluative thesis statement. It should have supporting information from credible sources for it to hold water. It should only highlight what you will cover in the paper and should not be generalized. If coming up with a thesis statement becomes tasking, you can always look at evaluative thesis example statements written by other scholars to have an idea of how to go about it.
Introduction
An evaluation essay introduction carries the weight of the paper since it lets the reader understand the importance of the piece you're working on. A thesis statement that answers your question is also part of this segment. Finally, it addresses the main points that your audience expects to find in your evaluative essay outline.
Argument/body
When writing the body of an evaluation essay, it is vital to include all the supporting points that give meaning to the topic. Using sources in line with your discussion provides a great building point for your argument.
Conclusion
Evaluation essay conclusions wrap the text. Here, you can give recommendations and state your stand regarding the topic.
How do You Start an Evaluation Essay
So, are you wondering how to start an evaluation essay? Well, starting an evaluation essay entails a lot of research and comprehension. However, before you get to that stage, you have to put down your paper's general flow, which will make it easier to complete the essay. You need to:
Select a topic
Without a topic, you cannot come up with an argument. So, you should pick a topic that aligns with your education major or a subject that you are passionate about. When choosing a heading, ensure it is not overly general since it can become tasking to find supporting material for the topic. Narrow the idea to a specific topic.
Think of a thesis statement
A thesis statement is a sentence that captures the essence of your subject. Anyone reading your thesis statement should understand what problem you aim to address and a hint of solutions that you want to offer.
Choose your topic's outcome
What do you intend to achieve at the end of the discussion? Do you want to inform your reader about a problem within a particular niche, or do you want to give solutions to the issues you discuss in the paper? Stating this enables the reader to know to which extent your evaluation paper is researched.
Find material that will support your argument
The final step is to find material that will help you give body to your paper. Because evaluation essays are scholarly, choosing documents within the same realm enables you to create a credible piece. Books, journal articles, educational reports, and government information are the primary sources that you can use as sources of information for your paper.
How to Write a Thesis Statement for an Evaluation Essay
The beauty of an effective thesis statement is in its ability to sum all your points in a few sentences without losing meaning. Using your evaluative essay statement should also only address the issues you want to tackle. Here are the tips you can use to draft an effective thesis for evaluation essay.
Identify your topic
Your topic should be part of the thesis statement, as it will help you formulate an all-round approach that will address the main ideas you would like to tackle.
Planting trees to reverse the effects of environmental degradation is an evaluation paper example topic idea you can use.
State the most critical point
The primary question you should answer when thinking of the central issue in your topic is, what is the gist of your heading? If you have to keep one part about the subject, what would it be?
If you answer this question, you have a central idea that you can add to the thesis. You can add to the thesis statement if you have more main ideas. But, be careful not to make it too long as it will influence how much work you will put into research and data compiling.
Reversing the effects of environmental degradation is a vital aspect of the topic that can equally address the problem in my subject. So, our main idea can be, "humans should take steps to clean the environment."
Give supporting information
With a central idea, find supporting information that will give logic to the statement. Keep in mind that all your data should be verifiable and credible. Also, you have to provide several points that support your core point. This is essential in formulating a comprehensive thesis statement.
In this case, why is it important to clean the environment? We can say its effects are detrimental to human health.
Offer opposing opinions to your stand
While this is not necessary, providing an opposing point of view enables you to cover all aspects of the topic and address loopholes that anyone contrary to your opinion can use to discredit your work.
People can find the task of planting trees to be too involving, especially since it requires a lot of commitment. So, we can give a counter opinion such as, "Planting trees is a tedious task."
Once you have all these bits in place, write them down orderly, and you have a thesis statement to work with.
Our thesis statement looks like this, "While planting trees is a tedious task, each person should try to plant at least ten trees each year to counter environmental degradation and its effects on health."
Remember, writing evaluation paper thesis can be tasking at first, so perusing through a sample or good evaluation essay examples written by another scholar can help make your work easier.
Evaluative Essay Formatting
Students have to use particular writing styles or formats accepted in their institution when it comes to educational essays. Some universities and colleges utilize more than one writing format, especially if it is a school with several departments.
Several writing formats rule the academic realm. However, only a few make it to the list of useful ones. These are:
APA
Also known as the American Psychological Association citation, APA is mainly used for scientific work. If this is your desired formatting style, you have to."
Use New Times Roman in size 12.
Double-space all your work and add the page number at the top right side of the header on each sheet.
Observe the provision of a one-inch margin around each page.
At the top left side of each page, include a shortened title.
List all your sources on the reference page as "References."
MLA
Schools of humanities are synonymous with using this formatting style. If you opt for this style, here are the standard rules you have to adhere to.
Your title should be at the centre of the page.
Use New Times Romans in size 12 as your font.
Use double spacing (2.0) throughout your text. Additionally, make sure that there aren't any extra spaces in between body paragraphs.
Keep a one-inch margin all around each sheet.
Use the tab key for any indention within your document.
Your last name and page number have to appear on each header.
The reference page should be titled "Worked Cited."
Chicago
In most institutions, Chicago is the style used when writing essays and making term papers. This formatting style is synonymous with particular footnotes and a distinct citation format. An evaluation essay cited in Chicago should:
Have a one-inch margin on all sides of the paper.
Use New Times Romans as the primary font throughout the text.
Place all page numbers on the top right corner of the header.
Include it in the footnote if a page has any citations or paraphrased information.
All sources should be listed on the Bibliography page at the end and in alphabetical order.
Observe double spacing in the document.
Aside from using these citation formats, you also have to keep your document neat. More extended evaluative essay structures require more breakdowns to make the text readable. Several subtopics, bullet points, numbering, and shorter paragraphs make the information easier to chew.
How to Conclude an Evaluation Essay
An evaluation essay conclusion wraps up the ideas in a few paragraphs or pages, depending on your essay's length. Knowing how to write a conclusion for an evaluation essay could make the difference in your paper. Therefore, it is vital to restate your thesis statement, which will pull your thoughts together and offer a strong finishing point.
A summary of the key arguments and reaffirmation of the main question is the primary and most critical bits of a conclusion. Keep this section of the evaluative essay short and factual. Only reaffirm facts that you have in your text. Introducing any new concepts at this point is unadvisable. A perfect summary should:
Write the importance of your argument if you already haven't done so in the text. You can also use this chance to summarize the recommendations you propose. Be keen not to retell what is already in the paper but take a stand and make it clear.
Connecting the conclusion to the introduction
Linking the end to the beginning is a critical way of summing your ideas and making sense of the paper. The table below illustrates how you can tie in conclusion to the opening.
| | |
| --- | --- |
| Introduction | Conclusion |
| Story's shell | Complete the story |
| Describe the perks and demerits of an object | Are the perks vs cons approach the best judgment for this criterion? |
| Show a person interested in a particular object/service. | Would you recommend this to anyone based on your reading? |
| Give an account of a story or subject | Offer your opinion on the subject |
| Talk about an artist or musician | How is their performance compared to others in the same niche? |
| Talk about a thing that people appreciate | Should you agree with the majority |
| Express your expectations prior to seeing something | Were your expectations met? |
Writing tips for evaluation essays
Essay writing can be tasking, even for gurus who have been done it severally. Pulling all the ideas together while remaining relevant is one of the most challenging jobs. However, you can use the following tips to make your work easier and the paper worth reading.
Make points that justify your argument – You do not want to end up with a confusing essay. Refer to your thesis statement to ensure you stay on course.
Keep the text exciting if you want to garner your audience's attention.
Proofread your work as many times as possible to eliminate any grammar or punctuation errors.
Use the recommended citation format to be on the safe side.
Ensure that the review covers more than 2/3 of your paper.
Your judgment should be evident throughout the document, with supporting data.
How to choose a topic
Selecting a topic can be tricky, especially with so much scholarly work published every day. However, you can use a variety of criteria to help you draft a unique topic. Here is what you should do.
Stay away from headings that will lure you into summarizing the topic more than discussing and analysing.
Select a topic that you will enjoy.
Settle for one that has enough scholarly material published for reference purposes.
Pick a title that's appropriate for your essay's length.
Useful tips
Aside from what you already know, you can utilize the following writing tips to make your writing smoother.
Make your topic unique.
Do not be wordy.
Use facts throughout the essay.
Do not shy away from starting over if the topic gets too complicated.
Ask for help if you get stuck along the way.
Read enough material to give you a comprehensive grasp of the topic you want to discuss.
"Formula" for a Perfect Evaluation Essay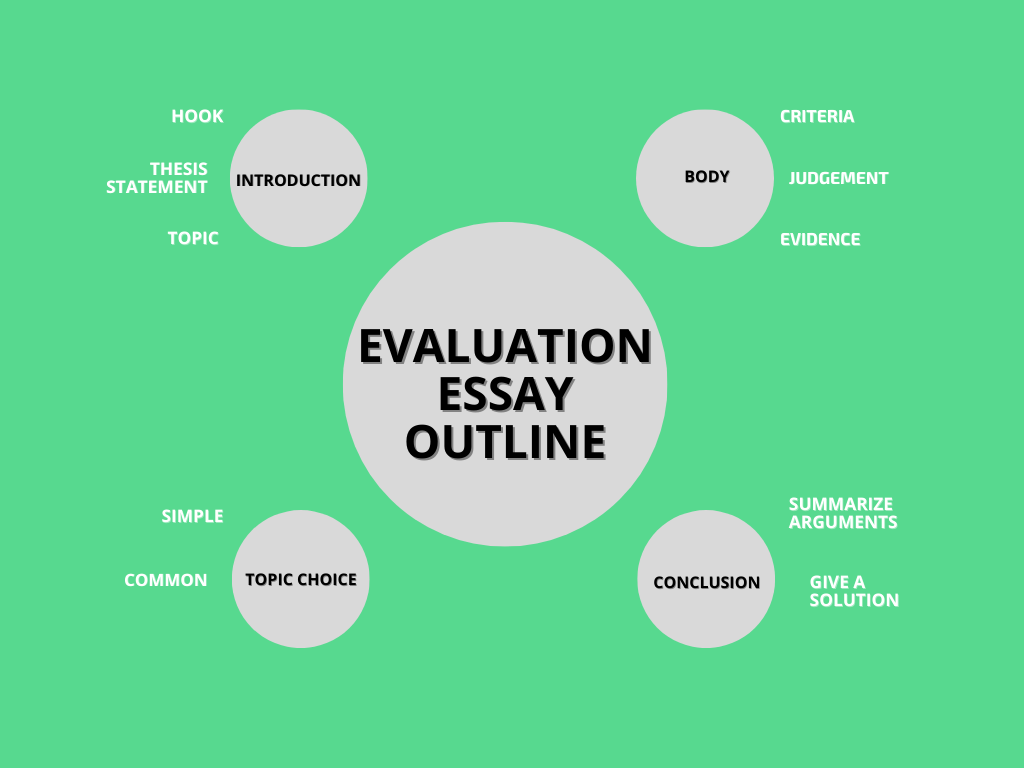 FAQ
How many paragraphs is an evaluative essay?
It should have at least five paragraphs, but they can be more depending on your topic.
How long should an evaluative essay be?
An evaluative essay should be two pages long, but others can be longer depending on the school's requirements.
What are the three methods of evaluation?
There are goals, processes, or outcomes-based evaluations.
How long should the topic be?
The topic's length depends on how much research do. However, one line is enough.