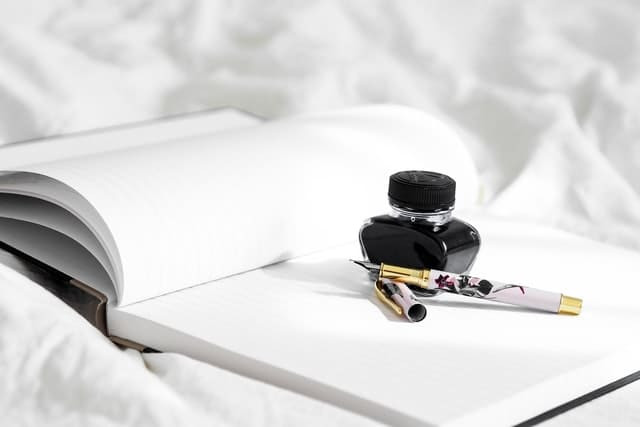 The five-paragraph essay format is a simple structure that helps the writer organize their thoughts into five paragraphs. Because of its structure, it's also known as a hamburger essay, one three one, or a three-tier essay.
It is used in most examinations, including the TOEFL, IELTS, and SAT. Due to the format's adaptability, students can experiment with various essay types. This structure is appropriate for persuasive, argumentative, expository, narrative, or cause and effect essays.
The type of essay influences the content and thesis of an essay. It indicates that some essays are more suited to students who can write humorous stories, while others are better suited to writing narrow and serious subjects. Among the numerous forms of essays are:
Definition: In addition to the official definition from the dictionary, it adds a personal interpretation of the term or phrase.
Descriptive: It contains as many details as possible to demonstrate the research problem.
Narrative: It is a story given with vivid examples is a narrative.
Argumentative: In an argumentative essay, the writer must state and defend their viewpoint on the topic under consideration. In a persuasive essay, the writer must state and justify their viewpoint, all the while persuading readers of your facts.
Compare and contrast: This shows how two or more subjects differ and how they are similar.
Cause and effect: It describes why something occurs and what occurs as a result of those events.
Literary Analysis: You must select a specific literary text, such as a poem or essay, and evaluate/criticize it.
While answering a question may be adequate in some cases, in others, a student will need to conduct a significant study and provide further solutions to the problems given.
The Five-Paragraph Essay Format
The 5-paragraph essay format includes the introduction, body, and conclusion.
The introduction is the first paragraph of the standard 5-paragraph essay format and serves several purposes. This paragraph catches the reader's attention, develops the central notions of what you'll discuss, and establishes the essay's thesis statement. The thesis statement is usually one line long and includes the topic, focus, and three main ideas of the essay. «Can a Thesis Statement Be a Question?» - find answer here.
Each body paragraph should start with a transition, such as the phrase "First" or "Another important point is," and your topic sentence should then be continued in the first sentence. The topic phrase, similar to a smaller-scale thesis statement, informs the reader about the paragraph's topic. The remainder of the paragraph will be made up of supporting sentences. At least four of these sentences will help your reader understand your topic sentence.
Make certain that each paragraph in a basic 5-paragraph essay format phrase tackles both your topic sentence and your thesis statement directly. Leave it out of the paragraph if you wish to express a point not directly related to the topic sentence. You can write a separate paragraph about that other issue, but you can't just put it in any old paragraph because it occurred to you at the time.
A big part of how to write a 5-paragraph essay: don't neglect the conclusion! The conclusion is the last paragraph of the essay. This paragraph wraps up the essay by reminding the reader of the important ideas of the piece and restating the thesis statement. Because the conclusion is a recap of the essay's main points, it should not introduce any new ideas. The thesis is restated more directly than in the introduction.
Structure of a 5-Paragraph Essay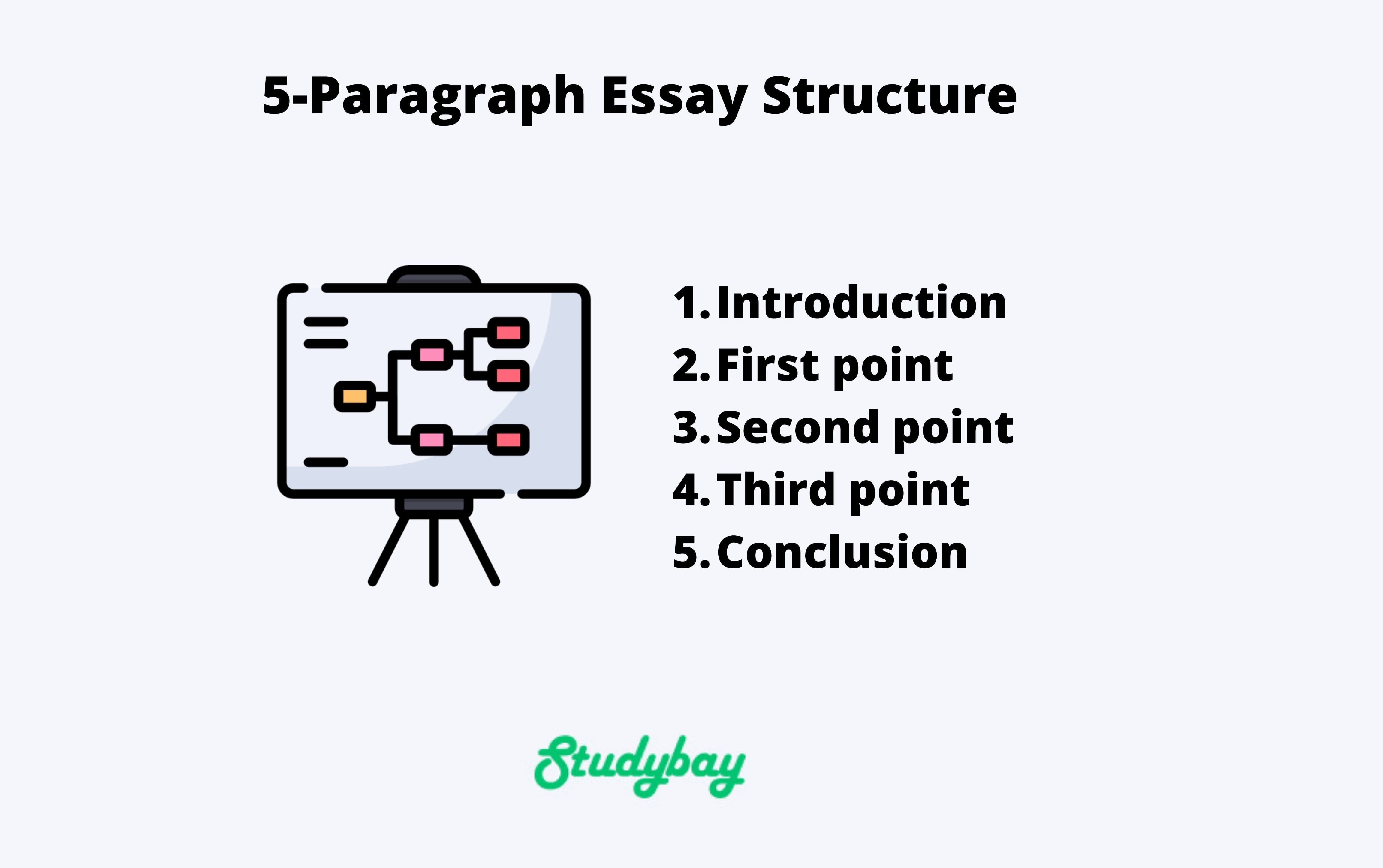 Here's how to structure a 5-paragraph essay:
Introduction: How to write an introduction for a 5-paragraph essay? Start it with something that will get the reader's attention (perhaps a quote or question). When you start your essay, you should talk about the general subject of your paper and give some background information. Then, in the next few sentences, you should get more specific. You want to finish with your thesis statement. Which is your main point, and it will give your paper a direction. This section will be the window to the paper, where you gather and organize evidence that will show the reader how your interpretation makes sense.
First point: It's time to back up your main point with evidence. Introduce your first support point in the first line of the paragraph with the topic sentence that starts the paragraph. Afterwards, explain what you mean in more detail so that people understand what you mean better. Add quotes or examples that show how the supporting point is true. Finish the paragraph with the last sentence.
Second point: This is the second supporting paragraph in this essay. Start the paragraph with a transition from the previous paragraph into the subject of this one. Follow it up by providing evidence to prove your second point for the main thesis.
Third point: Once again, begin the paragraph with a transition from the last one. This is the third and final supporting point. It's time to finish making a case for your thesis statement.
The Conclusion: It's time to wrap up your structure of the five-paragraph essay and tie everything together. Keep your thesis statement in mind. Sum up your supporting points. Take a look back at the attention-getting device you used in your introduction paragraph. Make sure you don't bring in new ideas or quotes at this time.
Please keep in mind that the five-paragraph essay structure serves as a framework for virtually any other type of essay you'll write in the future before moving forward. Consider that the introduction and conclusion serve the same function as they do in the structure of a 5-paragraph essay when you're preparing to write a longer paper. When writing longer papers, instead of three body paragraphs, consider three (or two or four) body sections, with as many paragraphs as necessary in each section. This will save time and effort (just as you had as many sentences as you needed in each body paragraph).
Steps to Writing a Five-Paragraph Essay
Step 1: Start With a Hook.
To become an effective writer, you must understand the value of catching and holding the reader's interest. A "hook" or "grabber" opening is a great segway to how to set up a 5 -paragraph essay.
Unexpected Fact - This may intrigue the reader and make them want to learn more, especially if it challenges their preconceptions.
A well-chosen quotation can help pupils capture the reader's attention, and various curated quotation collections are freely available online.
The Joke - use comedy with caution since it may not be appropriate for all topics. In the right situation, humor may be a great method to engage the reader immediately.
Anecdotes are a great way to connect with the essay's issue personally. They're a good way to lower the abstraction level in academic disputes. They help the reader relate global concepts to their own lives.
Step 2: Use the PEEL Paragraph Writing Process
PEEL is an acronym that can help students organize their body paragraphs. You will have to research your topic enough to PEEL it for the readers.
Point: Start each paragraph with the main point.
Evidence: Support the main point of the text using evidence or reasoning. Evidence includes facts and numbers, citations from a text or other authority, historical references, etc.
Explanation: How the evidence supplied supports the paragraph's main claim.
Link: Tie the arguments and the fundamental thesis to the next point in the next paragraph to provide a transition.
Step 3: Conclude
The conclusion should complete the essay's circle. It's a chance to restate the thesis, summarize the main points, and wrap up any loose ends. No new arguments should be introduced here. However, students should examine the points made in the body paragraphs and perhaps add a new perspective. Address the essay question effectively by incorporating essay question terms and phrases into the conclusion.
How Do You Start a 5-Paragraph Essay?
Pick a topic. Don't be generic about the topic you choose; try to narrow it down.
Do your due diligence. Research the topic enough to make your case strong.
Create your thesis statement. Explain to your reader what they can expect from reading your piece.
Structure your thoughts. Segregate your researched points into three paragraphs and further organize them.
Write your essay. This should not take a lot of time if you've done enough research and organization.
Edit your work. Take time to check for punctuation, grammar, and flow errors.
Introduction to a Five-Paragraph Essay: The Top Bun
How to start a 5-paragraph essay? The first sentence is often used to hook the reader. It could be a rhetorical question, a shocking statistic, or a real-life incident. To stimulate the reader's interest and make them curious about what happens next.
Example: It's difficult to believe that cell phones were once considered a luxury only a few decades ago.
After that interesting start, you are expected to provide a "trailer for the movie" — a hint about what you're going to talk about without giving anything away about the plot. Two to three compelling phrases will usually be enough.
Example: Secondary school teachers can instruct students to put their electronic devices away, but this practice is difficult to enforce at colleges since adult students are taught to use them.
The thesis statement appears in the final sentence of the first paragraph of a five-paragraph essay. It serves as an introduction to your message to the reader and is typically debatable.
Example: This essay investigates whether it is morally permissible to implement cell phone control at colleges, as well as the possible consequences of doing so.
Paragraph 2: Add Some Greens
After the 5-paragraph essay introduction, the second paragraph should make the most important point. Each of the body paragraphs should begin with a topic phrase that explains the topic. It connects your ideas to your paper's argument. If your subject sentences and thesis contradict at any point during the writing process, modify the thesis.
Example: During the 2000s, technology advanced at a breakneck pace. Mobile phones became smaller, with higher-resolution screens and more functionality than before.
Text/voice/video software like Skype allowed users to connect even more as VoIP technology extended into enterprises and apps.
The proof or explanation is provided next. In this case, it is best not to make broad generalizations. Justify your point of view in the lowest amount of time possible. If any terms could be eliminated, they should be removed as soon as possible.
Describe the relationship between each paragraph and your overall thesis at the end of each paragraph.
Example: Their size made it easy for the students to carry them and hide them from their teachers if necessary, making it difficult to govern their usage on school premises.
Paragraph 3: Add a Slice of Tomato
The second paragraph follows the first. Your "tomato" argument is the weakest and least compelling of the three. It adds moisture and texture to the burger by being sandwiched between the greens and the meat. Keep your material juicy using transitions.
Example #1 of a Transition Sentence from a 5-paragraph essay sample: "Irrespective of the nature of mobile phone people have – basic, feature, or smart – they all have similar perspectives on how their devices have affected their lives and society."
Example #2 of a Transition Sentence from a five-paragraph essay example: "Anything readily available, easily accessible, new, rapid, and related to information and technology tends to draw the attention of a large number of individuals."
Paragraph 4: The Meat
When writing a five-paragraph essay, The last paragraph should focus on the strongest claim. In an argumentative essay, the third paragraph argues against the opposing side. If not, this is your article's compelling part. Give your readers reasons to believe you.
Example: Of course, technological use directly impacts education, whether favorable or negative. A pupil will benefit from a teacher's use of technology in the classroom. Nonetheless, if a child spends long periods on the phone, it will negatively affect them.
Paragraph 5: The Bottom Bum
This section summarizes the main body paragraphs and repeats the argument in a different fashion. Finally, your conclusion should end with a final statement.
Example: After considering everything that has been discussed so far, it is vital to highlight that the use of telephones interferes with the learning process and should be discouraged as much as possible.
Strategies for Writing Your Body Paragraphs
Dissect Complex Topic Sentences
A topic sentence with too many elements will need you to write many supporting information. On the other hand, long paragraphs are more difficult for readers to grasp, as you are already aware. The approach divides complex topic sentences into two or smaller concepts then devotes a paragraph to each.
Transfer the Transition to the Next Paragraph
An important tip for how to make a 5-paragraph essay: though a body paragraph should always begin with a topic sentence and end with proof of your objective — sometimes with a direct connection to the essay's thesis — you don't have to include the transition in that paragraph; instead, place it right before the topic sentence of the following paragraph.
For instance, if a body paragraph is already quite long, you may want to avoid adding a transition at the conclusion.
Be Brief
Body paragraphs should be half to three-quarters of a double-spaced page with 1-inch margins in Times New Roman 12-point type. Longer paragraphs are sometimes appropriate, but you should normally avoid writing paragraphs that fill or exceed one page.
Change the Order
The stages outlined above are intended to be a general guide for what is a 5-paragraph essay, but you are free to rearrange them as you see fit (to an extent). For example, if your topic sentence is fairly complex, you may need to break it down into numerous portions, each requiring its evidence and analysis.
Alternatively, you might reverse stages 3 and 4, beginning with your analysis and ending with evidence. Consider alternating between offering evidence and providing analysis.
The concept here is that employing multiple designs for your paragraphs usually makes the essay more interesting. Remember that repetition can quickly lose a reader's interest, so don't be afraid to mix things up.
Don't Repeat Ideas
This is a given, but if the same facts work well in other paragraphs, assist the reader in making these connections. Use signal phrases such as "As the following paragraph also demonstrates" and "As previously indicated."
Show Proof
It's now time to back up your topic sentence's claim with evidence. Use primary sources and research such as books, journal papers, studies, and personal experiences.
Examine the Evidence
Never leave a body paragraph's evidence dangling. It's up to the writer to link your evidence to the main points being made in the paragraph. Adding to, expanding, or analyzing your evidence can help. You can even refute your proof if you want to make a counter-claim.
Demonstrate Your Purpose
The next phase comprises two parts. In the final paragraph, restate your topic sentence. Avoid repeating phrases in your writing. Unlike the first step, this phase states what your paragraph has proven.
Second, every three or four paragraphs, or wherever it seems appropriate, refer back to the paper's thesis statement. As a result, your argument and central idea become clearer.
How To End a 5-Paragraph Essay?
Provide Closure
To end a 5-paragraph essay, you'll want to achieve a sense of closure. You could do one or more of the following:
Finish by reiterating a word or phrase from the beginning.
Finish with a one-syllable sentence. Simple words might help create a subtle drama impression.
Compound or parallel-structured sentences can generate a sense of balance or order at the end of a long discussion.
Provoke a Thought
To finish the dialogue without concluding it, you could do one or more of the following:
Finish with a quote or reference to a primary or secondary source that builds on or casts fresh light on your main topic. A passage from the novel or poem under discussion, for instance, can add complexity and detail to your argument, and a critic or scholar might help confirm or complicate your conclusion. Just be cautious, especially if you're using secondary material: make sure you have the final say.
Finally, situate your discussion in a new, maybe larger framework. For example, an essay about nineteenth-century muckraking journalism could be closed with reference to a current news magazine program.
Finish by redefining one of the key phrases in your argument.
In the final paragraph, consider the implications of your argument (or analysis or discussion). What does your argument indicate, infer, or suggest? The conclusion might make a new but related claim, namely that the novel as a whole implies that such integration is (or isn't) plausible.
How to End a 5-Paragraph Essay Badly- Strategies That Don't Work
Starting with phrases like "in conclusion," "in summary," "in closing," and "as indicated in the essay" is needless and overdone.
Introducing the thesis or a whole new idea\subtopic
Making emotive and sentimental appeals that are out of character for the rest of the paper
Evidence (quotations, figures, etc.) that should be included in the paper's body
Some Tips for Conclusions
Finally, here are some suggestions for how not to end an essay:
Don't just rewrite your paper. If your essay is long—more than 10 pages or so—a concise summary of your thesis may be valuable. On the other hand, shorter essays are less likely to require a repeat of your major points. Learn how to shorten your content and how to write a 5-point essay
"In conclusion," "to conclude," "in summary," and "to summarize" are all phrases to avoid. In oral presentations, these statements might be useful—even welcome. However, readers can detect when an essay is nearing to end by compressing the pages. If you dwell on the obvious, you'll irritate your audience.
Refrain from apologizing. You now know a lot more about your subject than you could include in a five-, ten-, or twenty-page essay if you've immersed yourself in it. As a result, you may have some reservations about what you've written by the time you've completed it. (And if you haven't fully immersed yourself in your subject, you may be doubting your essay even more as you near the end.) Don't let your doubts get the best of you. Do not undermine your authority by saying things like, "this is just one approach to the subject; there may be other, better approaches..."
Use it as a sales pitch!
What Are 3 Requirements for a Five-Paragraph Essay?

Research - Gather information about your topic and find firm evidence to support your claims.
Structure - Present your information in an organized manner, with an introduction, three supporting paragraphs, and a conclusion.
Grammar - Proofread your paper and eliminate any spelling, punctuation, and flow mistakes.
Pro Research Tips
For this step, you should collect more than you'll need because it's far easier to delete surplus than it is to generate fresh material out of thin air—especially if you're pressed against a deadline at the last minute.
You must have firm evidence for your claims in order to produce a flawless essay. When you state your argument and describe the details that led you to this conclusion, it is properly presented. This effectively establishes your case.
Pro Structure Tips
Organization of thought is required for perfect essay writing. Each body paragraph of your essay should start with a topic sentence that summarizes the major point of that paragraph. To pique your readers' attention in your essay, the topic phrase should contain an argument supporting or expanding on the thesis statement. You may require some assistance and ideas to structure your work better, and you might consider seeking expert assistance.
An important aspect of "how to write a good 5-paragraph essay" is to make sure you don't stray from the topic when writing an essay. It's easy for your viewers to lose interest and stop reading your post. Assemble the following paragraphs so that they link to or mirror the core argument or thesis statement.
Pro Grammar Tips
Correct spelling and punctuation help you create a superb college essay. To ensure this, make an effort always to proofread your paper and eliminate any faults you find.
Perfect essay writing necessitates the use of clear and specific words and sentences. Its significance is that the meaning of your post will be understood by your readers, resulting in a high grade for your essay. Make certain that you do not begin your paragraphs with examples from class.
The Five-Paragraph Essay's Limitations
In academic writing, how to start a five-paragraph essay is only a starting question for students who want to show off their ideas.
Students in the United States are tested on their ability to write a five-paragraph essay. Still, the goal of the test is supposed to give students practice with basic writing skills that will help them be more successful in other types of writing in the future. Detractors say that writing to rule in this way stops people from new ways to write and think. If you write a five-paragraph essay, you don't have to think as much about your audience and try to persuade your reader. Instead, you try to give them information, an account, or some other kind of story.
Instead, students should be asked to write in a variety of ways, such as diary entries, blog posts, product or service reviews, multi-paragraph research papers, and freeform expository writing that focuses on a single issue, rather than just writing one type of paper. Even though five-paragraph essays are the standard for writing on standardized tests, kids should be encouraged to try new ways of expressing themselves in elementary school. This will help them learn how to use the English language correctly.
How to Practice Writing a Five-Paragraph Essay
Students can compose a conventional essay on any topic by following the instructions below when they find themselves asking "how to do a 5-paragraph essay." Choose a topic, and then guide yourself through the stages below to create a basic five-paragraph essay:
Settle on your main premise or what you want to talk about.
Choose three pieces of evidence that will help you prove your thesis.
Include your thesis and evidence in an introductory paragraph (in order of strength).
Start by restating your thesis and emphasizing your first piece of scientific proof in your first body paragraph.
At the end of the first paragraph, a transitional sentence leads to the next body paragraph.
Focus on your second bit of data in paragraph two of the body. Link your theory and this piece of evidence once more.
Finish the second paragraph with a transitional statement that leads to the third paragraph.
Step 6 should be repeated with your third piece of proof.
Restate your thesis at the start of your conclusion paragraph. Include the three points that you utilized to back up your claim.
Finish with a punch, a question, an anecdote, or an amusing thought that the reader will remember.
Writing a basic five-paragraph essay will be a piece of cake if you master these simple stages, as long as you write well and provide enough supporting information in each paragraph that all pertain to the same consolidated core concept of the essay's thesis.
How to Proofread and Edit Your Writing
Many essayists consider themselves to have ascended the mountain after completing the first five steps. And, in a sense, they have. However, as mountain climbers know, the descent comes after the top, and the best essays are thoroughly edited and proofread after the first draft.
Here are some suggestions for essay editing and proofreading:
Before editing or proofreading, take some time to "walk away" from the writing. It's typical to "skip" over faults and omissions when editing after finishing the first draft since you "recognize what you intended to express."
Read your essay aloud to yourself. It assists you in locating the "missing words" as well as identifying clumsy sentences and transitions. Have a friend, or family member read your essay aloud to you if you can get someone to help.
Check to see if you've made your point.
Arrange your arguments in ascending order of strength to weakness.
Make sure your spelling and punctuation are correct.
Wherever possible, eliminate extraneous wording.
Ascertain that the evidence is clear and accurate.
Does your thesis help you focus your paper? If not, rewrite.
How to Write a 5-point Essay in 30 Minutes
To write a five-point essay in 30 minutes, you'll need to set a timer, read the question, make an outline, and fill the body graph with supporting evidence.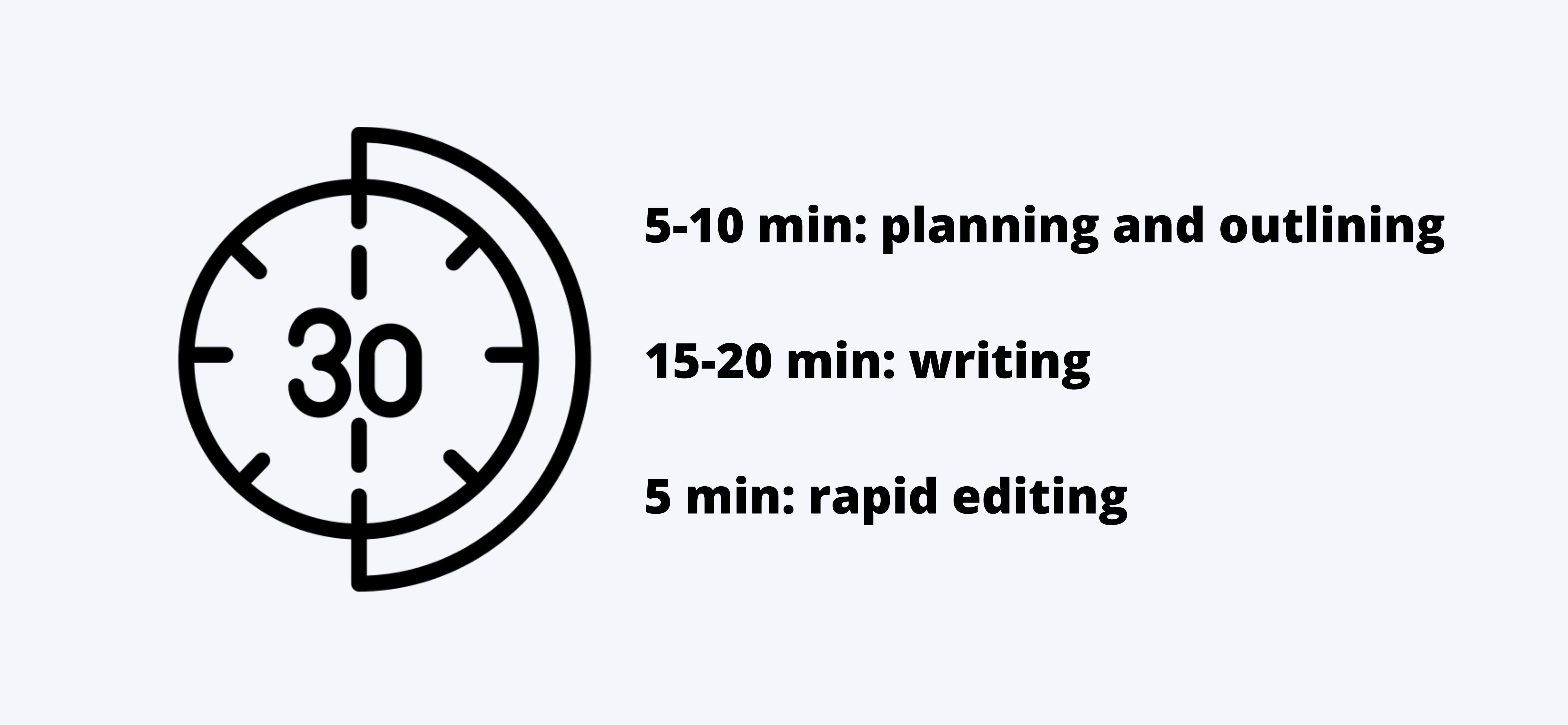 Read The Question
The first crucial thing you should do before beginning your 5-point essay is to determine exactly what topic you will be writing about. Read the question and then reread it to make sure you understand it. This will assist you in better understanding. Making use of a pencil and underlining the keywords might also be beneficial. Among the most important keywords are action words such as "describe" or "inform," which notify us of the writing style we should use, as well as other crucial words or phrases such as the subject under discussion, which is essentially what the essay is about.
Plan First
To begin, you must determine how much time you have available and split it according to the amount of work that has to be completed. In order to complete your task within a 30-minute time limit, try dividing your time as follows: 5-10 minutes for planning and outlining, 15 to 20 minutes for writing, and the remaining 5 minutes for rapid edits and editing.
Do not undervalue the importance of planning and editing. The five-paragraph essay will be completed quicker if you begin writing with a thorough essay plan in place, as you will have a clear understanding of what has to be accomplished. Finish by taking some time to go through your essay with a critical eye; it will make a world of difference in the final output.
Set A Timer
Consider using a timer, especially if you have other tasks to complete in addition to writing the standard five-paragraph essay, such as research, planning, and editing, in addition to writing the essay itself. Prepare an outline of the tasks you intend to complete and set timers for each task so that you don't bleed into another time slot.
Following all of these steps, and practicing enough so that this all becomes second nature to you is the key to finishing your essays faster and faster. Rinsing and repeating is the secret of how to write a good 5-paragraph essay.
Example of a Five-Paragraph Essay
There is no better way to understand how to write a five-paragraph essay step by step than looking at an actual example of a simple 5-paragraph essay. In this section, we aim to do just that.
Below, we have presented an example of 5-paragraph essay for your perusal related to the topic of exercise. That should tell you a lot about how to structure these essays.
Many people have become increasingly conscious of the need to maintain physical fitness during the pandemic. Almost wherever people look, whether it is on Instagram, on television, or in a magazine, they are bombarded with information on protecting and improving their health. Although most of this advice is motivated by commercial interests such as the need to sell vitamins, natural foods, and weight-loss gimmicks, some of it, particularly those recommending a regular exercise routine, is worthy of serious consideration and consideration. Providing that the program is at least 30 minutes in length three times a week and that the person's physician allows it, there are various advantages to participating. Exercise regularly relieves tension, enhances looks, and boosts stamina and endurance.
The first of these advantages, the alleviation of tension, is immediately noticeable. A buildup of adrenaline caused by stress, anxiety, or panic causes tension in the body, which then causes it to tense up further. According to doctors, 30 minutes of calisthenics or participation in an active activity such as tennis or volleyball might help to release stress. For the same amount of time spent swimming, jogging, or riding a bicycle, a person should sleep better at night and have a more pleasant disposition the following day. In addition, after the tension has been released, little irritations and frustrations should be less bothersome to deal with. Employees irritated by their day's job and by traffic congestion may rush home, dispute with their spouse and children, and overindulge themselves in unhealthy foods. Taking around 30 minutes to vent frustration through physical activity may assist the individual in avoiding this type of conduct. Thus, planned physical activity has the potential to remove, or at the very least control, tension.
The second advantage of regular exercise is that it improves one's physical appearance. For exercise to produce visible results in the form of a trimmer, firmer physique, it may take several weeks to many months. Improvement, on the other hand, will come. A person who is 10 pounds overweight, for example, may be able to burn away the majority of their excess fat and tighten their muscles over this time, altering their body. Having increased muscular tone and posture, he or she will be able to dress more elegantly and comfortably in his or her attire. A regular exercise routine, when combined with a healthy diet, can also help to enhance a person's skin tone. This enhanced physical look will instill confidence in the wearer and leave a favorable impression on others.
Enhanced physical strength results in increased stamina, in addition to the boost in self-confidence that comes with a more attractive appearance. It goes without saying that a stronger, healthier body is better able to work harder and, in reality, to tolerate natural weariness than a stressed, weak one. But what about the mind? A worker who exercises should be able to work a 40-hour week and yet have energy left over for household chores such as mowing the lawn, painting the garage, or washing windows. In the same way, a student who is attending school, caring for a household, and possibly working part-time should complete responsibilities quickly. This stamina, which is equally vital, aids in the prevention of illnesses such as colds and influenza. Improvements in overall endurance are one of the most significant advantages of participating in a regular exercise regimen.
However, despite the abundance of media coverage promoting simple answers to the aims of losing weight and achieving a more attractive, energetic physique, obtaining these benefits is not straightforward. When a person follows a well-established workout program, the benefits are immeasurable. They include feeling relaxed, looking healthy, and having enough strength to perform demanding as well as ordinary activities without becoming fatigued.
Summed Up
By following the tips above, you're well on your way to writing a phenomenal essay! But if you need additional help with writing a 5-paragraph essay, check out our FAQ below.
FAQs
How do you write a 5-paragraph essay fast?
Writing an essay like this is strictly skill-based, and like all skills, this can be developed with lots and lots of practice. Time yourself, and try to beat your best time without sacrificing quality.
How long should a 5-paragraph essay take?
Ideally, 5-paragraph essays are 600-800 words long, and you should be able to finish the essay within half an hour, planning and outlining included. Just the writing bits should not take you more than fifteen to twenty minutes.
Do all essays have to be 5-paragraph essays?
Not all essays have to be five paragraphs long. The introduction and conclusion are non-negotiable, but the number of body paragraphs can be played around with.
How to write a conclusion for a 5-paragraph essay?
One of the most popular ways of concluding the essay is to restate all the main points of the essay and play off what you wrote in the introduction. Reinforce the thesis statement, and remove all doubt by closing the argument emphatically.
How to write an introduction for a 5-paragraph essay?
You have to grab the attention of your readers with the first sentence and keep building on it so that they are intrigued enough to read the whole thing. Tell them what the essay is about, what points you'll be covering, and most importantly, write the introduction last so that you have a handle on everything in the essay when you do.
Why is writing a five-paragraph essay important?
For students, writing a 5-paragraph essay teaches them the academic writing process while also making them aware of the kind of arguments they need to make to get their points across in academic circles. This knowledge is important in order to develop critical thinking and efficiency with words.
Can you write my 5-point essay?
Yes, we can write your essay. Our experts are always ready to help you with your assignments.