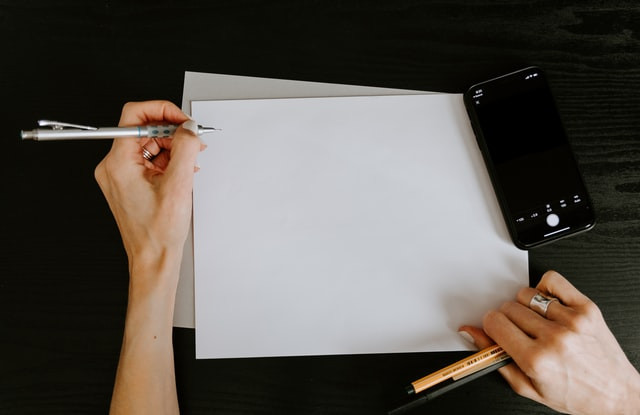 Most students don't typically associate essay writing with fun — but creative essays can often prove quite enjoyable. The nature of this type of paper means that you're usually given a lot of freedom when it comes to choosing a topic and writing on it. These kinds of essays give you a chance to exercise your creative muscle. However, if you're not used to writing creative essays, it can be challenging.
This article will explain how to write a creative writing essay that's bound to impress your readers, walking you through every step in the process.
What Is a Creative Essay?
A creative essay is a style of writing in which the writer utilizes their creativity to develop and present a written work. This type of essay is not bound by rigid structure, format, or style.
You usually will have a considerable degree of freedom when it comes to choosing the subject for your creative essay. Your professor may give you a theme or category to focus on, but you have free reign when choosing your topic, so long as it falls within the set category.
While it's nice to have the freedom to write about whatever you like that prospect can also be fairly daunting. Read on to find out about the various types of creative essays and some essential creative essay writing tips.
Creative Essays Structure
The next point to consider is the structure of a creative essay. While the emphasis of the assignment is on creativity and imagination, this doesn't mean you can completely forego a solid structure.
Think about your favorite novel by your favorite author. Does it have a well-defined structure? A clear beginning, middle, and end? In all likelihood, it does, and so should your essay. So, take the time to compose a creative writing essay plan before getting started.
1. The Introduction or Setup
An introduction for a creative essay should accomplish several things. It should:
⚠️ Grab the reader's attention.
🎯 Introduce your subject matter.
💡 Explain the significance of the topic at hand.
As you can see for yourself, the introduction of a creative essay isn't altogether dissimilar from that of a discursive or analytical text, though you will use different techniques in either to achieve the desired results.
The introduction should provide your reader with all the context necessary for them to follow the rest of the text. You should also introduce any relevant figures who appear in your story and explain your relation to them.
2. The Main Body or Confrontation
The main body of the essay should form the bulk of your piece. In this section, you should develop the content of your introduction. This part of the essay is also known as the confrontation because it's where you will usually have to discuss the problems you faced or obstacles you overcame.
For example, in an admission essay for a high-pressure job, you might talk about a time when you were put under extreme pressure but coped well with the situation. This will make up the main body of your essay.
3. The Conclusion or Resolution
Next is the third and final part of your creative essay: the conclusion. Whereas in an academic piece of writing you might indicate it's the final paragraphs with phrases like, "In conclusion," or "To conclude," in creative essay writing you should omit such terms. Instead, you should demonstrate that you've reached the end of your text by answering any remaining questions and reflecting on the events recorded in your essay.
Depending on what you set out to accomplish, you might choose to leave your essay open-ended. In most cases, though, a decisive closing statement will ensure that your piece leaves a lasting impression on the reader.
4 Basic features of creative essays
When it comes to creativity, each student has one's mindset, way of thinking, and ideas. But since it is still an academic assignment, you should use characteristics that are common for such essays, e.g.:
☑️

You need to combine fiction and objective facts in a free manner.

☑️

You provide any facts; ensure they are relevant and accurate. The creative essay doesn't exclude profound research or thorough analysis.

☑️

You must share a significant experience, describing it creatively.

☑️

It is essential to use various methods to grab the audience's attention from the very first paragraph.
When you're writing an argumentative essay, your task is to develop powerful arguments. And when it comes to creative assignment, you need to play with the audience, with its imagination. You have a lot of space for experiments, and it makes everything a bit complicated.
Types of Creative Essays
When you have an academic assignment and want to get the best grade, you need to organize the whole process and simplify it for yourself. Each student has one's talent, and different work approaches. For example, some people prefer to work in absolute silence and vice versa. Some students need a clear structure, and there are ones who feel confident in the chaos. During your studies, you will understand what you prefer and how you can make your writing process more comfortable.
The first thing you should devote to is the type of your essay. You already know that you need to develop a creative text, but it is not enough. There are several types with their characteristics to consider.
Narrative Essay
This type is much like novel writing, where the author discusses real or imaginary events. The critical point that distinguishes this type from other ones is that you have not to tell only but to show. At the prewriting stage, you need to develop a structure that consists of the plot, characters, central concepts, etc. To share your thoughts, you'll add descriptive details demonstrating your lexicon.
Narrative essays tell short stories and interact with the audience's imagination.
Admission Essay
The admission essay has academic and practical meaning since you can use it to reach your goal. It goes about enrolling in an educational institution or program. For example, if you want to get a place at the MBA school, you need to write a letter to help you stand out among other candidates.
The purpose of this essay is to tell a story about yourself. About your background and qualities that make you a decent candidate. It is also important to mention the importance of this program. Why exactly have you chosen it? How can you use your knowledge and experience to contribute?
Personal Essay
This type of essay has many similarities with the previous one, but there are some differences. When it comes to the admission essay, your target audience is the admission committee that decides your future. You write to them following their requirements. It means you should accentuate your life's particular events and the peculiarities of your personality.
But when it comes to the personal essay, you have more space for creativity. You may have a topic, but it is you who decide the direction of the piece. You can tell a story from your past, describe your perspective, share your ideas on important issues, etc.
Descriptive Essay
The academic descriptive essay is focused on facts. Students conduct thorough research, analyze information, and present it in the required way. But the creative one needs another approach. You should find another way to describe the object.
What you need to do is to think out of the box. Define the object's key characteristics and try to share them with readers in an entertaining manner.
Lyric Essay
The lyric essay has a lot of similarities with the descriptive one, but with the focus on imagery. If you're studying English or a foreign language, literature, art, or culture, you'll deal with lyric assignments.
And to be fair, it can be challenging. You can't just use tricky epithets since they don't convey your ideas. It is essential to feel the topic deeply and even create a new imaginary world in your head that you will colorfully share in your text.
How to Start a Creative Writing Essay
Now it's time to consider the writing process, starting with how to write a creative essay introduction.
When you're thinking about how to do the introduction to your creative writing essay, there are a few key things to consider:
Have you included a hook to grab your reader? To do this, make use of vivid descriptions and emotive language.
Have you introduced the subject matter? That way, your audience knows what to expect going into your work.
Have you explained why the topic is important and relevant? While you do want to place a focus on why the topic at hand is important to you, you also want to make sure it's relevant to your reader, as well.
Here are a few short examples of how to start a creative essay.
Examples
Example 1: Introduction to a

Narrative Essay
Growing up near the sea, I always enjoyed going for an early evening walk down by the shore. It was not a beach, nor was it particularly warm, but it was quiet and secluded, with its craggy rocks lending the place a wild sort of air. One evening walk, in particular, has stuck with me through the years: on that night, I was almost trapped by the tide.
Example 2: Introduction to an

Admission Essay
My life has not been without hardship. A fractured family life and a school career fraught with stress and anxiety made my early years a struggle, and one that took huge resilience to overcome. For years, I downplayed the impact of my parents' divorce, on the basis that I had always been much better off than millions of children around the globe. Nevertheless, I've grown to embrace the fact that my life hasn't always been simple and, as a result, value my ability to bounce back from any setback.
Example 3: Introduction to a

Descriptive Essay
Even to those new to mountain climbing, Ben Lomond is not an overly strenuous climb. The path that ambles up its gray, craggy slopes ascends slowly, gradually, steadily rising above rugged hills and the sparkling blue waters of Loch Lomond. On clear days, you can look out over the water, the sound of birdsong ringing in your ears. But even on foggy, rainy days—of which there are many in Scotland—the place holds an otherworldly beauty, with gauzy, pale mist nestled in the hills.
Creative Essay Formats
A creative essay format is less rigid than other formats. The style of your creative essay will be largely determined by your topic, rather than following a specific format.
A creative writing essay format is similar to the format of any other assignment you might write for university. You should have clear, distinct paragraphs, each treating a separate point. While you may be employing some poetic techniques or imagery for your assignment, you should still treat it as an essay.
If you include any quotes or facts in your piece, you will still be required to provide sources. Make sure that you know what citation style you're expected to use so that you aren't penalized for formatting your references incorrectly.
Outline for Creative Writing Essay
As mentioned above, you still have to think about structure when writing a creative essay. Therefore, making up a creative writing essay outline before you start writing can be a very useful exercise. It both helps ensure that you are clear on your goals before you start writing, and gives you a framework to reference once you've begun the drafting process.
The first step when working on creative writing essays is to decide on a topic. If you're not sure what to choose, you might benefit from a brainstorming session, writing down all your thoughts and ideas.
Once you've decided what topic to write on, think about what events you could discuss that would illustrate your topic best. Consider what points you should include when introducing the topic, what the focus of the story should be, and what finishing points you'll make in your conclusion.
When working on this sort of project, sometimes looking at creative writing essay examples can be beneficial.
Examples of Creative Essays
We've included a couple of short creative essay examples for you to refer to.
Creative Essay Example 1: Admission Essay
Creative Essay Example 2: Narrative Essay
Useful Tips and Tricks
The vital thing you should know is that the A-grade is not random. It is a result of thorough and consistent work. You need to polish your skills all the time, even when you're not writing. Read some tips from our experts that help them to keep their mastership.
➤

Pay Attention to People Around You

If you want to create interesting stories that will own readers' attention, you need to develop "live" characters made from flesh and bones, not plastic. The only way that you can use to create such personages is to mine the traits of real people. You can find inspiration in a best friend, a fellow student, and even in a regular individual from the subway.

Like artists use models to paint pictures, you can use people around you to become a better writer. Watch them in order to create realistic personages and depict character development.
➤

Record your ideas

If you read the articles by famous writers, you will mention that they always have a notebook. You also need it to jot down any thoughts that spring to mind. You never know when the idea might strike. It is impossible to plan inspiration.

This notebook can be useful since some ideas can be useful right now, while others will come in handy a bit later. You'll have many writing assignments during your studies, so try to make them more accessible.
➤

Read at Every Opportunity

The second important piece of advice is to read a lot. You can find interesting writing prompts anywhere, especially if you're looking for them. Yes, it is not a mistake. If you want to write, you should read. And read everything: books, articles, short stories and novels, Facebook posts, and even manuals for electronics.

Reading various authors, you will understand how they differ, what their word choice is, and how they convey their thoughts in different circumstances and with different purposes.
➤

Analyze Your Weak Points

If you write assignments all the time and don't receive A-grades, it means you should change something. Ask your professor for advice: what can you improve? You may have some strengths, but it is not enough to focus on them. Get rid of the main mistakes first.
➤

Join the Writing Club

Whether you're a newbie or have some writing experience, a community of like-minded people with the same goals is a must. It will provide you with role models, supportive and critique feedback, new insights, and topics for discussions. You can organize writing classes, challenges, and meetings with creative writers. Such a writing community may help you to get rid of writer's block, and just have fun with new friends.

During the pandemic, you can organize meetings via Zoom or Skype, create Clubhouse rooms, etc. Share access to your texts on Google Docs or read them aloud to convey small nuances and emotions.
➤

Look For Your Own Style

There are no versatile receipts as with academic writing because creativity essay example is not about rules and patterns. However, it doesn't mean that you should give up if you don't feel like a great author. Try as many techniques as you can to develop your style. Of course, you can't adhere to it all the time since you need to meet the professor's expectations. However, it is a good base for your writing skills.
➤

Start Your Blog

Starting the blog is a good idea if you feel the need to share your point of view and interact with the audience. Treat it like your own startup: you have to research to analyze your target readers, try various topics, experiment with different types of creative writing, etc. You can create stories and share them with people, write about your life, comment on the latest news, etc. You'll see whether the world is ready to read your content, and your blog will provide you with news insights on future development. Moreover, you may find yourself in blogging and start a bright career.
➤

Learn From Professionals

Modern students are really lucky since they have the opportunity to learn from their favorite writers regardless of their age, location, or educational institution. For example, Margaret Atwood, the author of The Handmaid's Tale has her online course on the Masterclass platform. Stephen King also shares his tips with young writers, e.g., he advises writing at least 2000 words per day. You can sign up for the Creative Writing course on Coursera or The School of New York Times. Even Pixar has created its course about storytelling with short, animated tutorials.

So, whether you're pursuing the Master of fine arts or just want to write better, leverage creative writing programs to expand your knowledge.
➤

Ask For Professional Help

It is normal if you don't have the inspiration, mood, or energy to develop academic assignments. Writing is not about the work only; it is an art as well. If you don't have enough experience, you may be confused with a busy workload when you always have to generate something new.

If you understand that you can't meet the deadline and provide a decent result, hire a professional author who will help you with your assignment.
WRITERS: 7 Letters That Will Take You to The Next Level
W — Where, when, who, what, why. When you're writing the argumentative essay, you come up with a classic 3-paragraph structure that consists of the introduction, main body, and conclusion. Dissertations are more complicated, e.g., you need to include the abstract, the Discussion, and other sections. Though creative writing is pretty different, you need to structure it as well. Use 5 Ws to introduce the setting, characters, plot, some kind of reflection.
R — Research. You don't write from your head only. Great writers spend months and years finding information for their pieces. Of course, you don't have to visit another continent right now or spend a week in a library, but you need some kind of research if you want to add plausibility to your writing. For example, if your character is a nurse, think about a volunteering internship to gain new knowledge and describe it later.
I — Images and Imagination. Though you use words, you have to paint with them so that your readers see your stories. It means you shouldn't write that your character is greedy, write that he has never spent more than $15 on clothes. Describing the appearance, use adjectives and metaphors so that it is easy to imagine the real person.
T — Tenacity. Don't think that you'll become a great creative writer at once. You should be ready for the challenging path with victories and defeats. Don't give up on first difficulties, and try to learn lessons from them. Whether you have a goal to get A-grades only, reach 1000 subscribers on your blog, or publish your story in the magazine, you need to develop an action plan and work hard to fulfill it.
E — Empathy. Of course, you have your own ambitions. But the chances are you'll become a successful writer are low if you focus on your goals only. It means you have to consider your audience to make your language clear and stories interesting for them. They should recognize themselves and their friends in your characters, they should know what conflicts you are writing about and feel some emotions you want them to feel.
R — Reality. Writing creative nonfiction, you surely have to base it on real-life stories, statistics, studies, etc. But even creative fiction can be realistic. Moreover, it should be realistic. Remember the "Alice in Wonderland". It is about the fictional world where animals can speak (and this is not the strangest thing!), but this world is still plausible. Working on your characters, you should understand how they would act and what is absolutely impossible in your setting.
S — Simplicity. Simplicity is a king these days. Get rid of long and confusing sentences, odd words, and pompous phrases. The best stories are always simple. What is interesting, it is not that easy to write this way. Sometimes it takes more time to write a short but informative paragraph in plain English than to come up with an essay full of water. So, proofread your texts and make sure each word contributes to the main idea.
Creative Techniques You Can Use to Improve Your Essay
When you read some brilliant texts, you may think they are written from scratch, in one go. There are authors with talent from nature, and they can choose the right words and put them on a sheet in a way that attracts and mesmerizes readers. Honestly, it is not always about talent. In most cases, it is about the experience. If you want to impress the professor and develop your skills to become a great writer, you need to practice.
We want to provide you with 6 interesting techniques that will make your writing better. Use some of them, or try to experiment, combining different methods in the same project. One day, you'll develop your style based on gained knowledge, insights, and experience.
✔

Try Freewriting

Usually, even when you're writing a personal essay, you adhere to some rules and patterns, outline, think about its structure, etc. Your brain has certain neural connections that help you to use all the knowledge you have so far. Since they are pretty useful, sometimes they can limit you. That's where freewriting comes to the rescue.

It is a creative writing exercise when you don't have to plan your writing in advance. You just get rid of all distractors, take your pen, and start. Write down everything that comes to your mind: weather, your breakfast, your career plans, your doubts about the future novel, etc. Julia Cameron, a renowned author, and artist advises writing "morning pages" as soon as you wake up when your brain is not overloaded with the daily stuff.
✔

Three-act Structure

Usually, papers are divided into three parts we have explained above. Start with the setup, proceed to the confrontation, and finish up with the resolution. If you're not an experienced author, it is better to follow the exact structure and stay on track until you feel confident enough to change something in the traditional structure.

Before you start writing, try to practice. Read some essay samples, short stories, and novels, and define their three acts. You will see how other authors transit from one section to another, which words they use, and how they communicate with readers. Inspire by their approaches and try to implement them in your piece. Later, you'll be able to come up with your literary structure and techniques.
✔

An Attention-Grabbing Opening

If you want to get an A-grade, start your text with a bang. You need to make readers fall in love with your text from the very first sentences. That's why the introduction sometimes takes even more time than the central part.

The opening depends on the topic and the particular genre of your text. For example, when it is an admission essay, you can start with a short description of your motivation. But writing a fiction story gives free rein to your fantasy and creativity. You can transport readers directly back to the midst of the action, describe the imaginary world, and so on. Try to keep an intrigue since people should be interested in the further development of events. Give a hint that you will reveal the plot and provide more significant detail in the text's body.
✔

Extended Metaphors

A metaphor is a significant literary technique that can be used in any form of writing. It is beneficial to create an image that will explain to your audience the points you're trying to convey. Remember the extended metaphor from Shakespeare "It is the East, and Juliet is the sun!". There is no need to write that Juliet was beautiful when you can compare it to the sun. All readers have their associations with this star, and not in a geographical sense. So, they are confident that they know what Shakespeare means, even if the author had other intentions.

Use extended metaphors when you want readers to identify themselves with your piece. Find a decent analogy to share your thoughts and implement them in the text mindfully.
✔

Think About Your Reader

As with any other form of writing, you should define your target audience and consider it above all else. Of course, it is just an academic assignment, and you have a couple of days before the deadline, your main goal is the professor. Most likely, one has provided you with instructions, and you should meet these expectations. But if it comes to a creative project, it would be a great idea to conduct a little research and find information about your potential readers when you have enough time. You have to develop a deep understanding of who they are so you can pique their interest and hold it till the last word.
✔

Provide More Important Details to Make the Picture Colorful

It is not so easy to write creatively after various dry academic assignments. If you focus solely on facts, you can't attract a broad audience. Of course, it works perfectly for a research project, a scientific piece, or a case study, but it's certainly not relevant for such disciplines as history, culture, art, English literature, etc. It is where details are of great importance.

For example, writing about a particular historical epoch, you can mention aspects of a traditional lifestyle and provide quotes from contemporaries and interesting archaeological evidence. Try to think deeper and make some conclusions from the information you have found. What can you say about people of that epoch according to the furniture and clothes they used? There are many pieces about their everyday life, but it would be more interesting to think of their characters, habits, feelings, etc.
Write From the Soul
The main secret of creative writing is to be creative. You should write sincerely, from your soul. Then your readers will believe you.
There are a lot of authors with published books. But some of them are great, while others are quite mediocre. If you want to join the first group, you need to develop not your writing skills only. Think about the energy and the passion you put in the text. If you don't believe in your ideas, don't share them yourself, your audience won't feel it.
That's why it is vital to choose topics that you like. It is not the most straightforward task since sometimes your professor instructs you with particular requirements you can't ignore. But even in these cases, you need to find something that you can hook to.
FAQ
What is a creative writing essay?
A creative writing essay is an essay that uses creative writing techniques, but still has a basis in reality. Most creative essays are anecdotal in nature, told from the viewpoint of the writer.
What are the steps in creating a creative essay?
Before you begin writing, you first need to choose a topic and outline your creative essay structure. Once that's done, you can begin writing your first draft, after which you should revise as necessary until you have a final product you're happy with. Also, don't forget to include an attention-grabbing title!
What are the 4 forms of creative writing?
There are four different types of creative writing you should make yourself familiar with. These are the expository form, the descriptive form, the narrative form, and the persuasive form.
What are creative writing skills?
Creating writing can undoubtedly prove a challenge, but those in possession of particular skills and qualities may find it easier than those who don't. Such ones possess a talent for using language in an evocative way, can pay attention to the structure of a piece, and can find inspiration in just about anything.
What are the 7 styles of writing?
There are seven common styles of writing you are likely to encounter in high school and beyond into college and university. They are narrative, persuasive, expository, reflective, personal, compare and contrast, and descriptive.
What are the main challenges of creative writing?
Creative writing is enjoyable because of the freedom it allows, but that freedom is part of what makes it so challenging as well, since it can make choosing a topic quite difficult. It can also be quite challenging to write in a way that is engaging to people, utilizing strong images, evocative words, and other creative essay writing techniques.
How do you write a creative introduction?
In the first few sentences of your creative essay, you should make it clear what the subject matter of your assignment is and why it matters to you. Make sure that you also include a hook to grab your reader's attention from the start.
Why is it important to study creative writing?
At the risk of sounding pretentious, each person on this planet is really nothing more than a collection of stories; learning the craft of creative writing allows us to do those stories justice. On a more practical level, studying creative writing can help you to learn an adaptable set of transferable skills, which can be applied to countless careers.
What is the nature of creative writing?
Creative writing delves into the imagination, exploring ideas in a poetic, descriptive medium. This can make it easier for others to engage in your work, as it helps to make it even more impactful and emotive.
What is creative writing in college?
At college and university, creative writing courses help you to develop a broad range of skills. Not only will you learn how to write creative prose for stories, narrative essays, and so on, but you'll also be taught poetic techniques as well as screenwriting.
What are some tips for essay creative writing?
Reading can teach you about the craft and spark fresh ideas. Writing often is another wonderful tip. If you quit exercising, your creative brain won't get stronger.