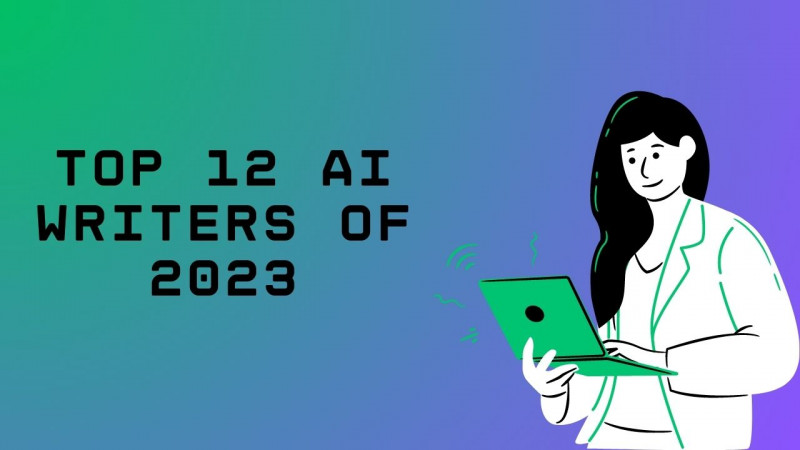 It's the time of year when students knuckle down to write their end-of-semester essays, often struggling to find time for life's essentials. But obviously, there's a better way to deal with it all! At Studybay, we analyze the top 12 AI writers that are now helping people write more than just essays.
In this article, we will learn more about them and find out whether it's a good idea to use them.
What You Need to Know About AI That Can Write Essays
Artificial intelligence (AI) writing is a method that uses AI to facilitate and enhance the writing process. In general, there are two types of AI writers: ones that use machine learning algorithms and the ones that use deep learning.
The former option needs to be trained by the user, while the latter algorithm learns as it goes based on existing and constantly updating data. Both options help the average writer by providing quick information in a structured format.
It seems that we can now just go online and ask, "Write me an essay, AI." However, users need to be careful with the data provided by the AI. Sometimes they're out of date, irrelevant, or just wrong! In short, everyone can use these AI writers as long as they do their due diligence with the final product.
The Emergence of AI Software That Writes Essays
The first AI was created to play checkers in 1956 by Arthur Samuel. Soon, universities like Dartmouth and MIT began research towards its development. The first chatbot ever was developed by MIT professor Joseph Weizenbaum in the 1960s.
The prerequisites for AI were already in place, with object-oriented programming and natural language processing being used in many applications. Soon enough, larger companies began to use this artificial intelligence, and today, we have AI that writes essays!
The Best AI Essay Writers
We rate essay writing apps based on customer reviews, information accuracy, the structural integrity of its output, the quality of the content, and finally, the user interface of the application itself. Here is the top of 12 AI essay writers we will discuss in this article at a glance.
AI

Features

Pricing

AI Detection

Rating (Out of 5)

Jasper

Reliable plagiarism model

Numerous language options

7-day free trial
Creator: $39
Teams: $99
Business: Custom Pricing
No
User-friendly

–

4
Features

–

4
Content quality

–

3.5
Our rating: 3.9
Rating from G2: 4.7

AI provides prompts

Specifically for essay writing

Free

No

User-friendly

–

4
Features

–

4
Content quality

–

4.5
Our rating: 4.2
Rating from G2: N/A

ChatGPT

Vast library

Easy to use

Can be trained

Basic: free
Plus: $20/month

Yes

User-friendly

–

4
Features

–

4
Content quality

–

4
Our rating: 4
Rating from G2: 4.6

Microsoft Bing

Provides more specific and balanced versions of results

Free

No

User-friendly

–

4
Features

–

3
Content quality

–

3.5
Our rating: 3.5
Rating from G2: 4.0

Bard

Provides three drafts

Connected to other Google Apps

Free

Yes

User-friendly

–

4
Features

–

4
Content quality

–

4
Our rating: 4
Rating from G2: 5

Notion AI

In-built translator

Plethora of generation options

Free (limited)
$10

Yes

User-friendly

–

3
Features

–

3
Content quality

–

3.5
Our rating: 3.2
Rating from G2: 4.7

Wordtune

You can upload documents

Add-on

Basic: free
Premium: $9.99 per month

Yes

User-friendly

–

4
Features

–

4
Content quality

–

3.5
Our rating: 3.8
Rating from G2: 4.4

Writesonic

Large templates library

Can add related pictures

Basic: free
Pro: starts at $12.67 per month

Yes

User-friendly

–

4
Features

–

3
Content quality

–

3.5
Our rating: 3.5
Rating from G2: 4.7

Anyword

Accepts multiple formats

Result-oriented machine learning

Free 7-day trial
$24 per month

Yes

User-friendly

–

3
Features

–

3
Content quality

–

3.5
Our rating: 3.2
Rating from G2: 4.8

Rytr

Support in multiple languages

Built-in image generator

Basic: free
Saver plan: $9 per month
Unlimited plan: $29 per month

Yes

User-friendly

–

3
Features

–

2
Content quality

–

3
Our rating: 2.7
Rating from G2: 4.7

Creaitor

Detects AI content

Offers results in many formats

3 days free trial
Basic: $9
Standard: $29
Professional: $59

Yes

User-friendly

–

3
Features

–

4
Content quality

–

3.5
Our rating: 3.5
Rating from G2: N/A

Quillbot

In-built article search

Offers grammar, paraphrasing, and summarizing features

Basic: free
Premium: $4.17 per month

No

User-friendly

–

4
Features

–

4.3
Content quality

–

4
Our rating: 4.1
Rating from G2: N/A
1. Jasper AI: AI That Can Write Essays for You
Jasper is a popular AI-powered website and social media content writer. Jasper has over 50 automatic copywriting tools and templates to speed up regular content creation. Jasper.ai lets you choose a template from a library, customize it with your own details and some basic metadata, and then hand it over to Jasper.
With the good AI Boss Mode, you can write lengthy articles, essays, or books in 15 minutes.
Multilingual support for 25+ languages is offered.
You can communicate with Jasper by dictating your thoughts.
Easy text rephrasing for different reading levels is provided.
Excellent live chat, Grammarly, Copyscape integration, and Surfer on-page SEO control are embedded.
Jasper is free for the first week. The Starter package is $49 per month but $39 monthly when billed annually.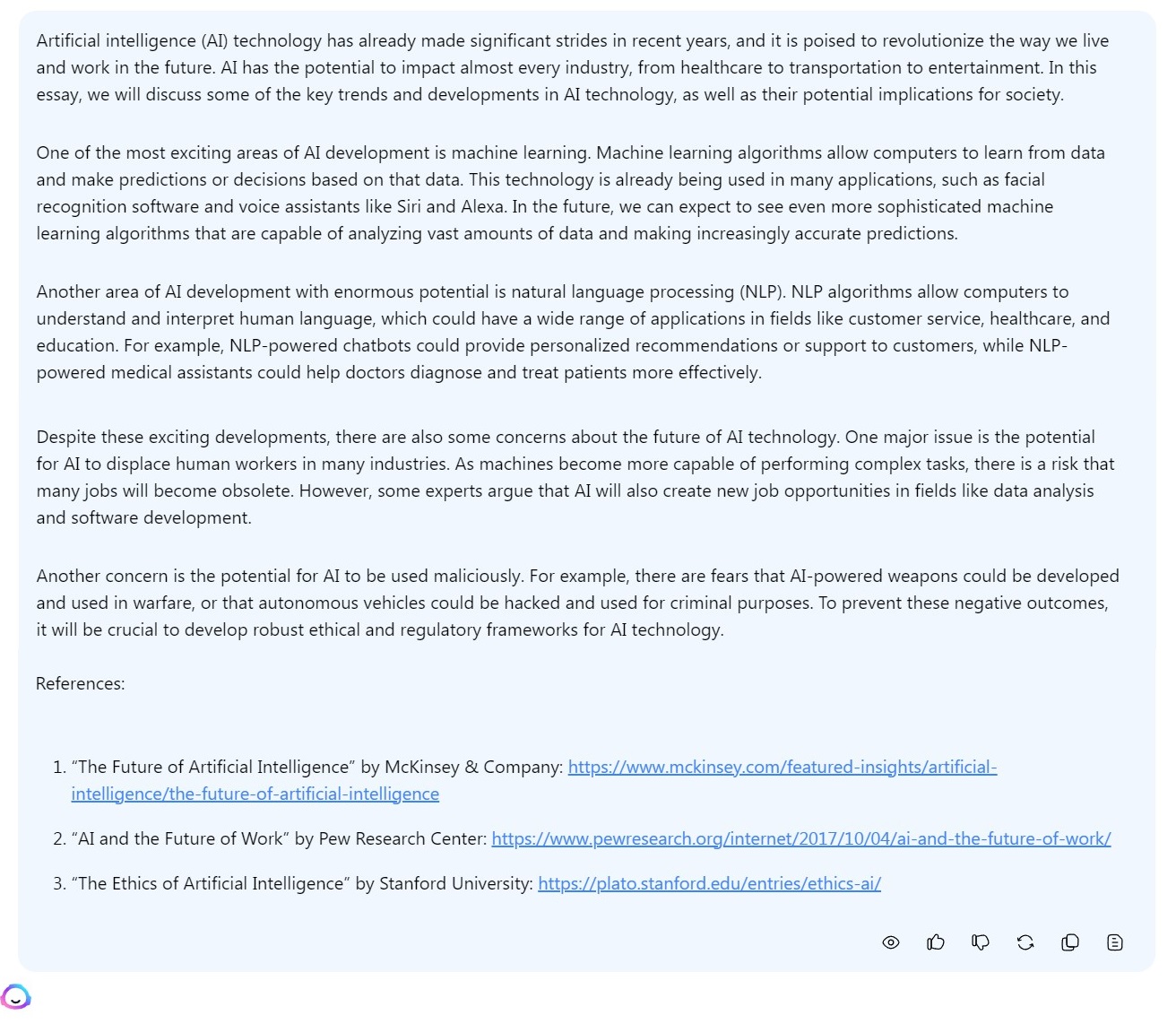 Pros
Despite its many features, Jasper AI has a simple interface, making the user experience pretty intuitive
When asked to write essays, AI does not take long to generate them
The language sounds natural and flows, unlike most robotic text responses
Jasper also offers a long-form assistant as a bot that writes essays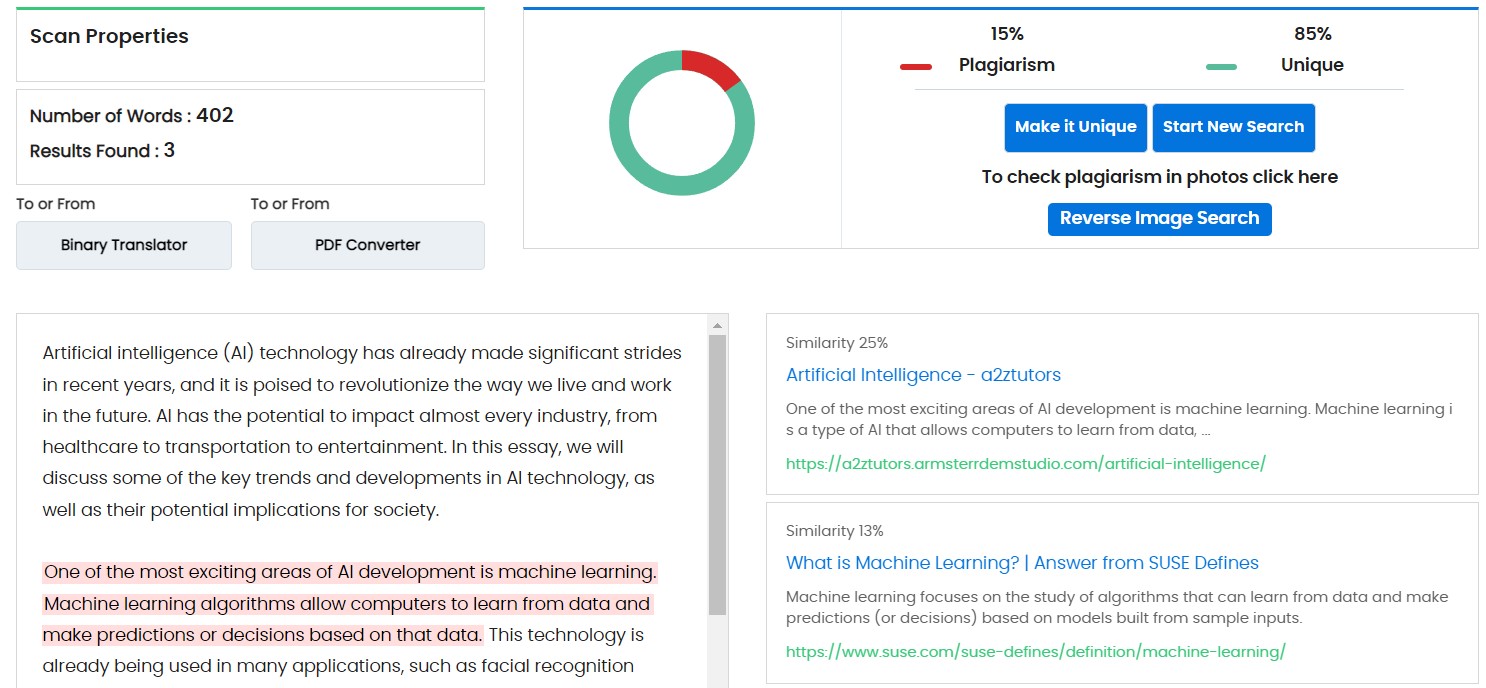 Cons
The AI writer essay texts lack personality and a voice of their own
You will have to double-check and also cross-reference the information through multiple edits of your AI-generated essays
Jasper Essay writing tools will not be able to generate essays on niche topics
Jasper is expensive for a student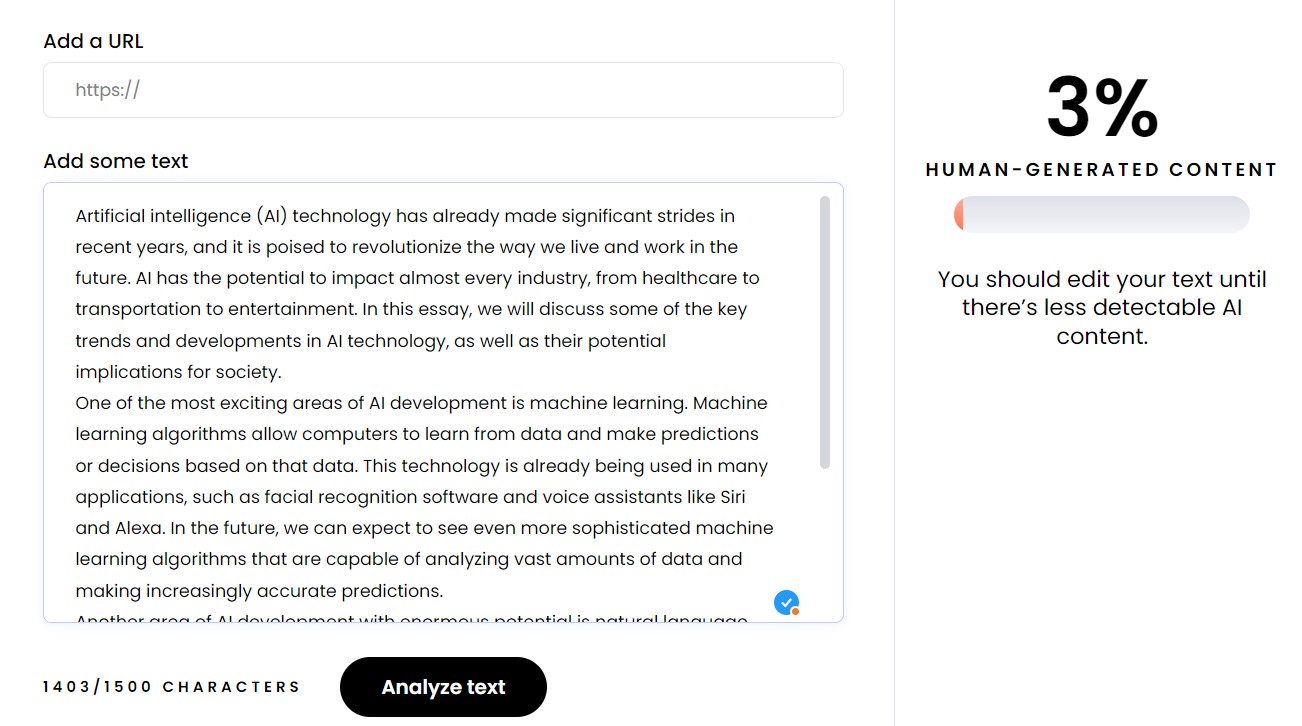 2. AI from Studybay: An AI App that Writes Essays for You
Stylus chat, the AI-based free essay bot from Studybay, is still in its beta version but the results it provides are as meticulous as an auto paper writer. This AI provides prompts for the human to help it understand the requirements better. Starting from the topic, graduate level, number of pages, and sub-topics involved to the references to be used in the essay: everything is provided by the AI upfront.
Once you click Proceed, the AI will generate a text for you to submit!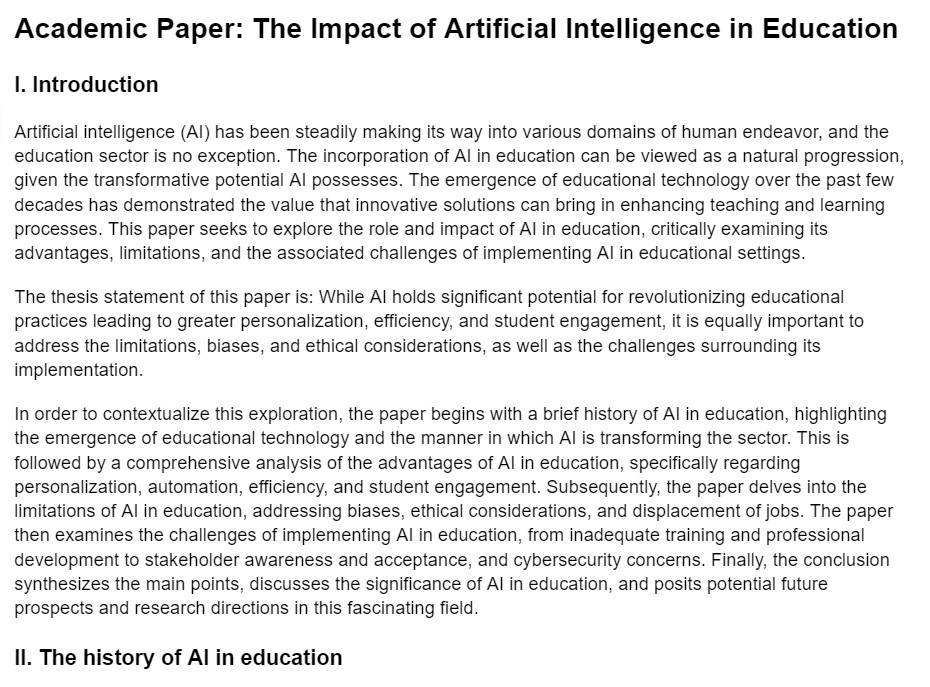 Pros
This is one of the best AI essay writer for free
Specific results as each step is managed.
This is the best free AI essay writer that gives a list of references before generating the text
The results don't show up as 'AI generated essay'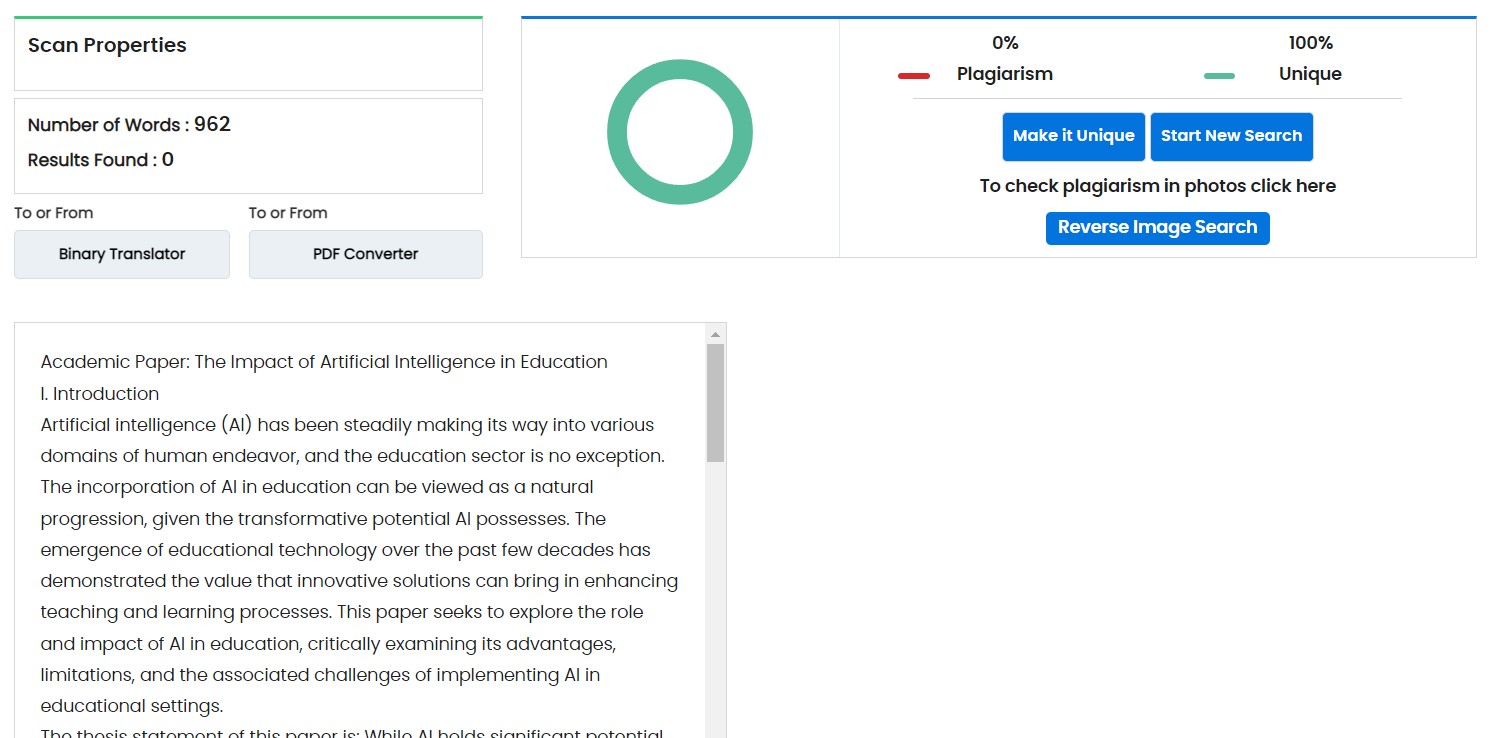 Cons
The references need to be cross verified
It takes a while to generate an essay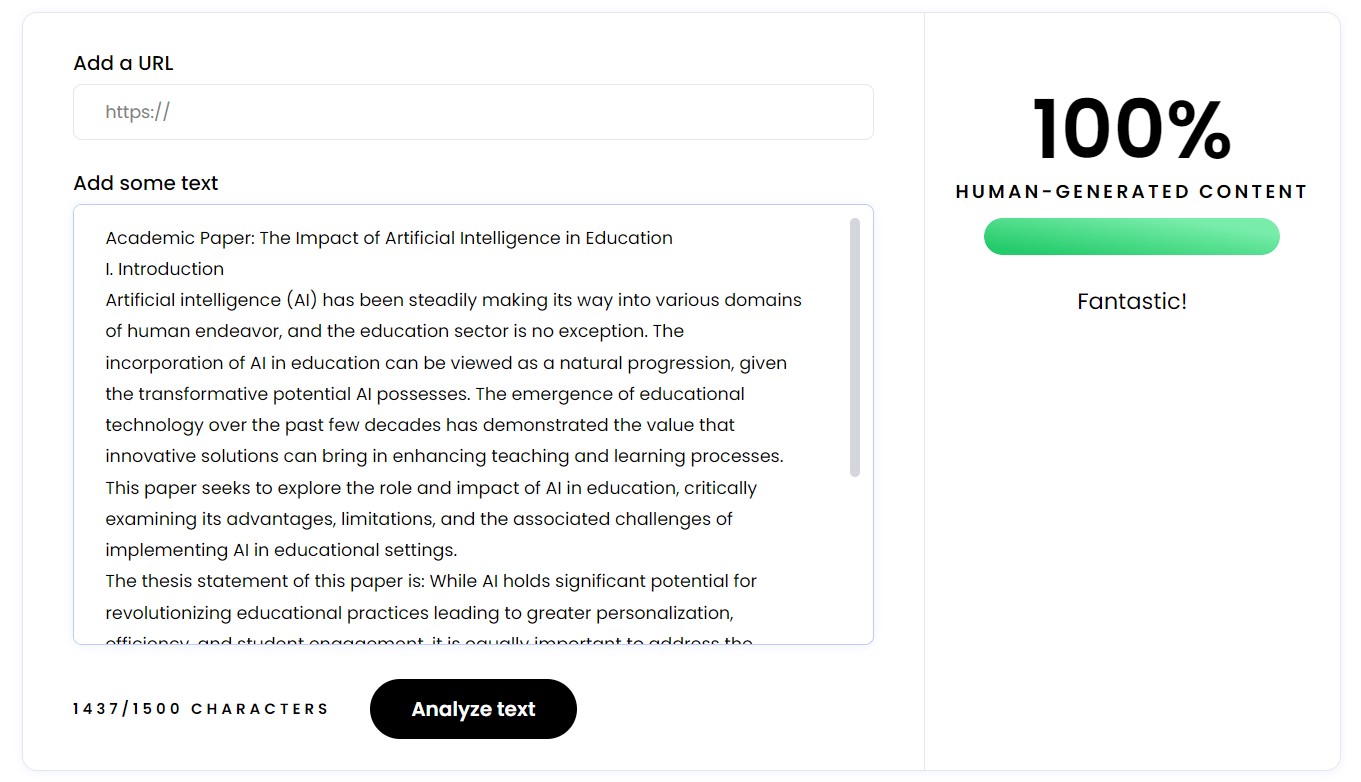 3. ChatGPT: Free AI Essay Writer
The talking robot or conversational dialogue model ChatGPT uses large amounts of text data to mimic human speech. If you don't like the bot's answer, you can tell it to fix it.
ChatGPT 3 essay writer's powerful natural language processing features allow you to automate the content production process.
With ChatGPT's conversational learning approach, you can train the AI, ask it to improve an AI-generated essay and obtain original content that meets your standards.
The free version of this AI that can write papers is available to use but becomes sluggish when operating at capacity. You can avoid these issues with a $20-per-month subscription.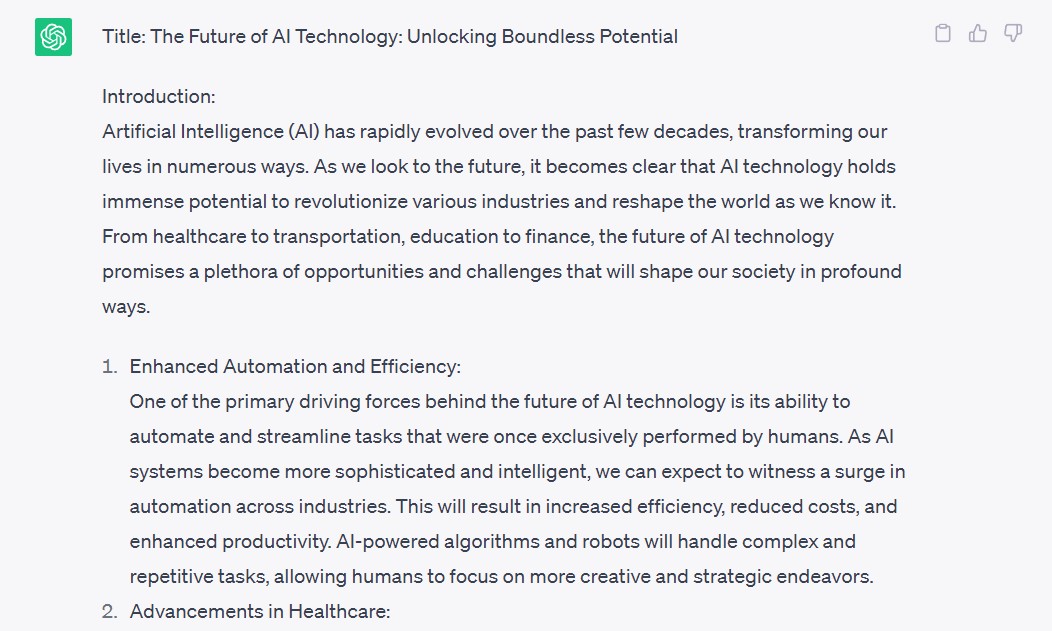 Pros
Can not only generate texts as an AI homework writer, but also help you with outlining or generating more ideas
One of the largest language models in the market
Unlimited free service while the AI writes essays for you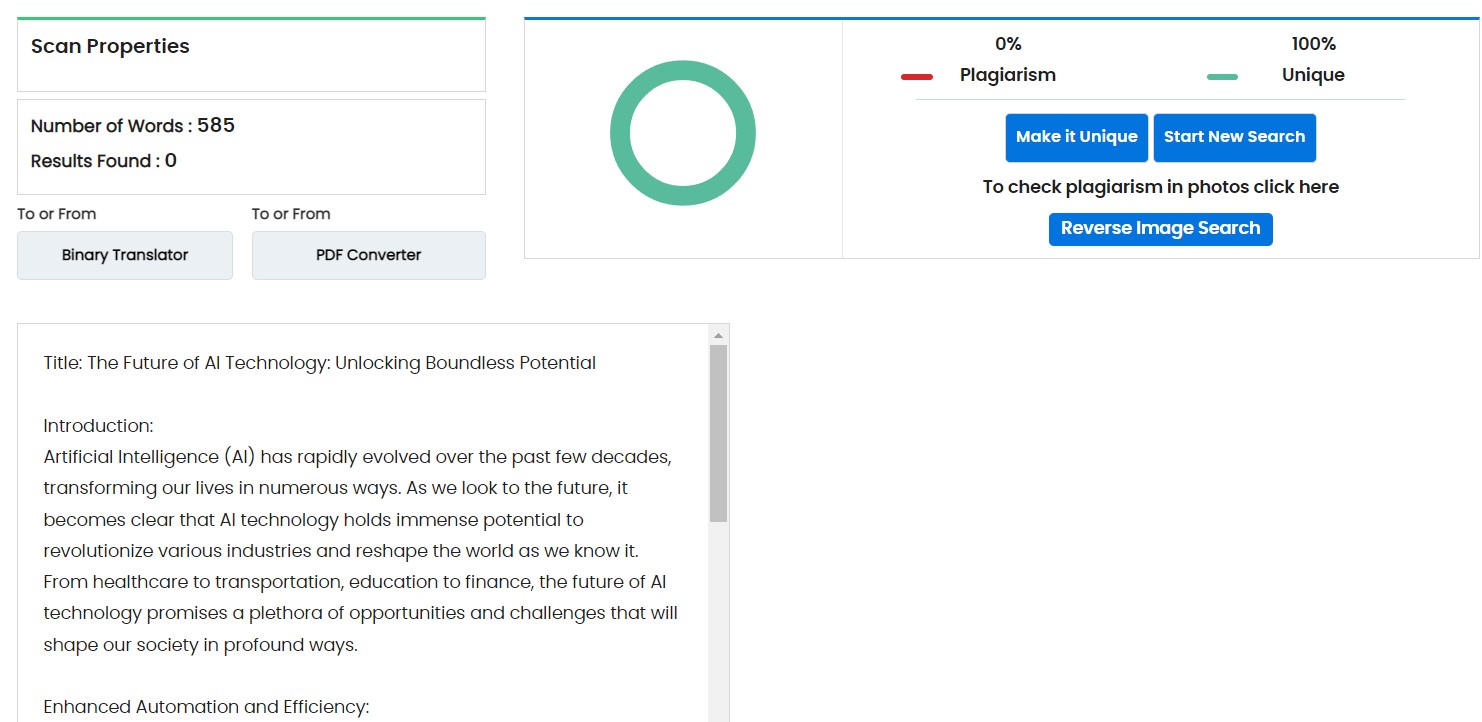 Cons
Tends to give inaccurate information as part of an AI written essay
It may be detected by an AI detector software
Structures may get monotonous
Writing prompts can be confusing for new users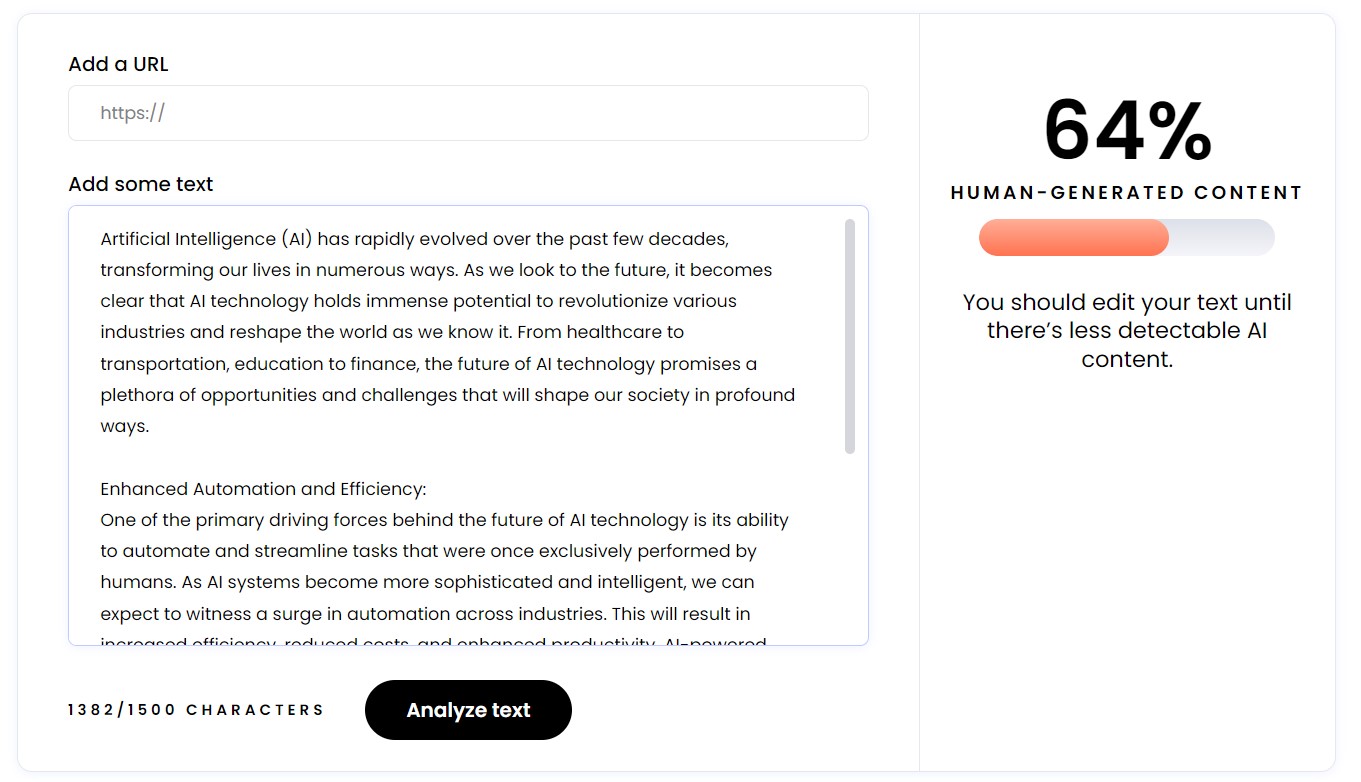 4. Microsoft Bing - AI Bot for Essays
Bing provides a similar level of interactivity as ChatGPT but with some additional customization options from Microsoft and for free. Select Bing's Chat bot function by clicking the icon. Questions are displayed as you scroll down the sidebar. You can adjust the tone of Bing's replies by selecting one of three settings at the top of the chat:
The enhancements made by More Creative style lead to more unique answers.
If you choose More Precise style, you will receive more concise answers.
To find a happy medium, More Balanced will consider multiple perspectives.
You can play about with all three styles; however, you might want to start with Balanced.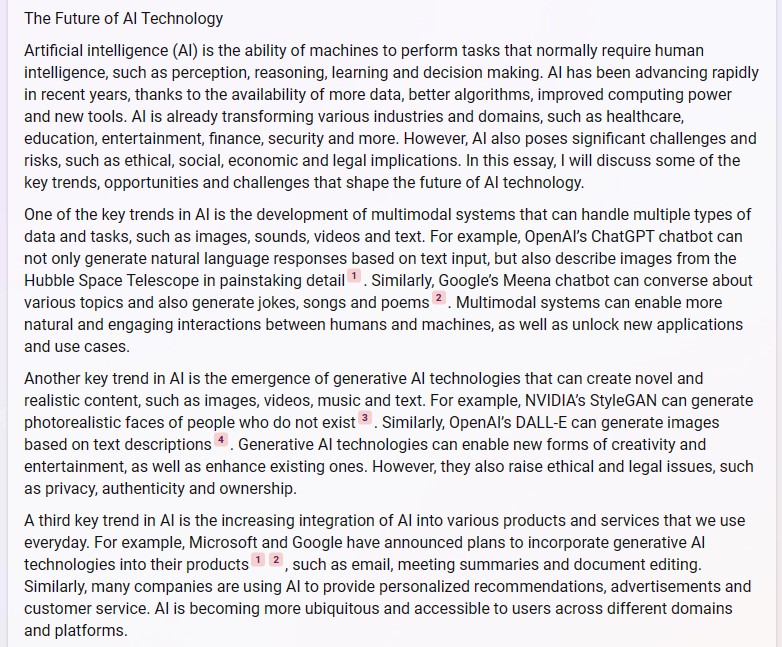 Pros
You can get support in multiple languages
Doubles as a web search engine, and you won't have to open it in another tab to use its AI services
Plagiarism won't be an issue as it cites its sources in the essays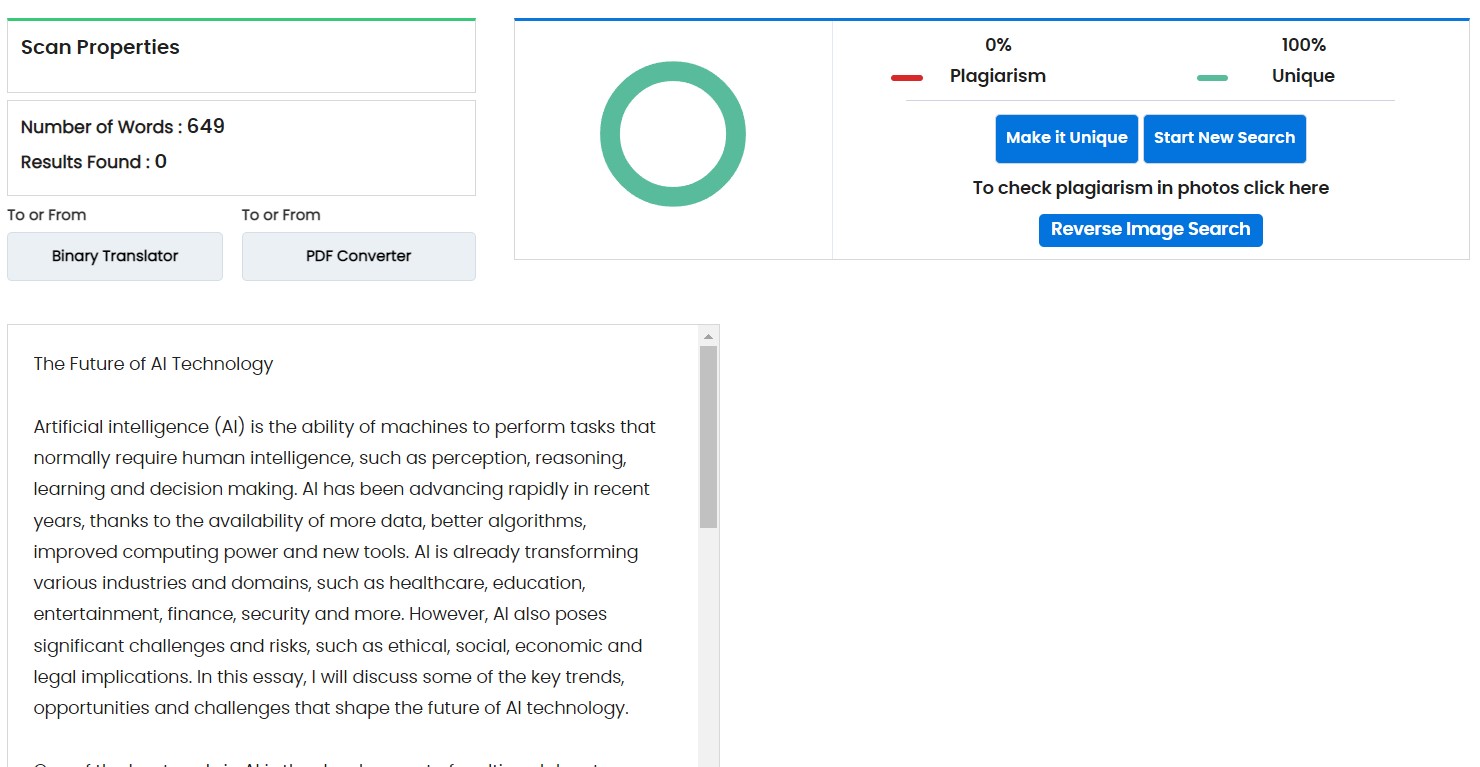 Cons
You can only use 30 chats per session and 200 per day
Responses are dry and usually short
The software is not stable and tends to glitch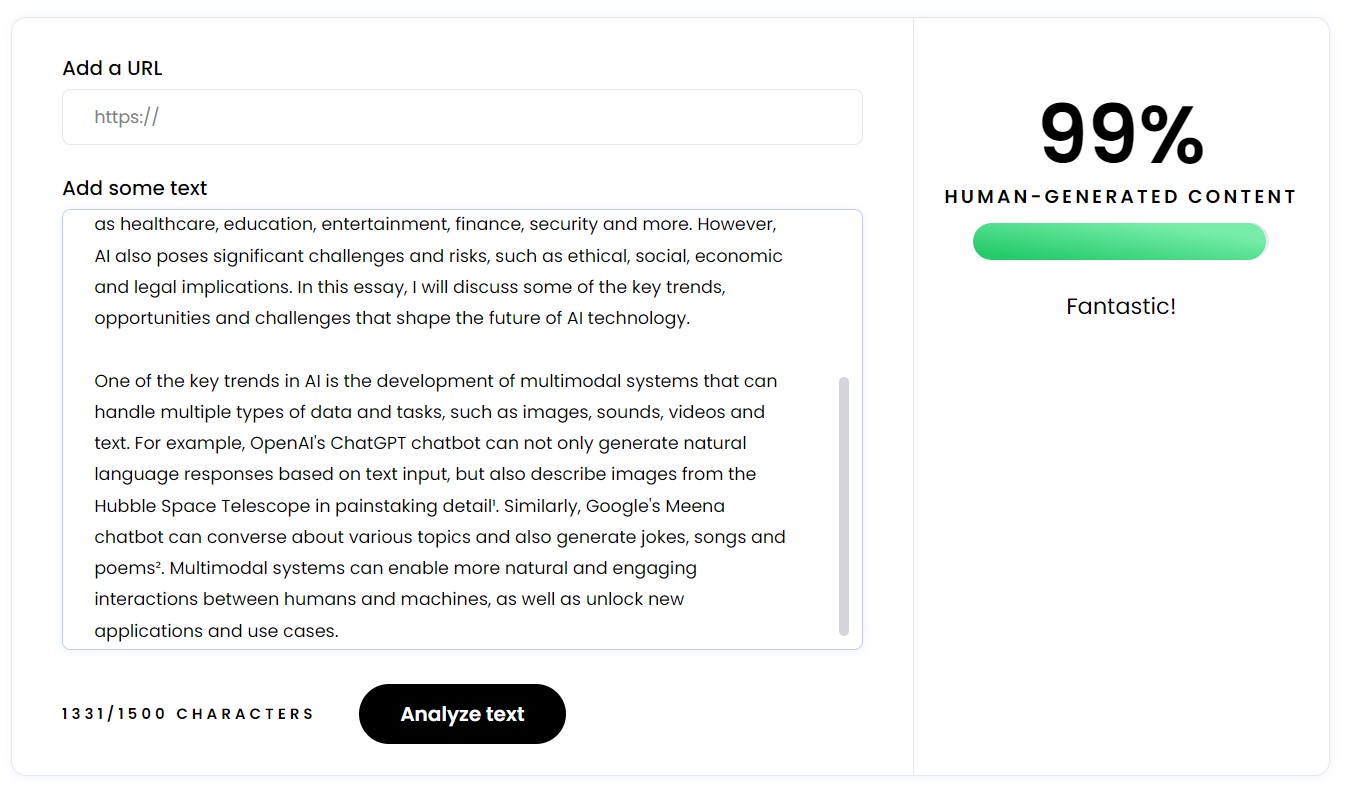 5. Bard
Maybe you've heard of the Google Bard robot, but you're still not sure if it can help you write compositions. This new AI that writes essays is currently connected only to Google Docs and Gmail, but other services are promised to be added soon.
It doesn't seem to have as large a database to rely on as ChatGPT, but the Google backing shows promise of this in the nearest future, and so far it's a completely free essay writer bot!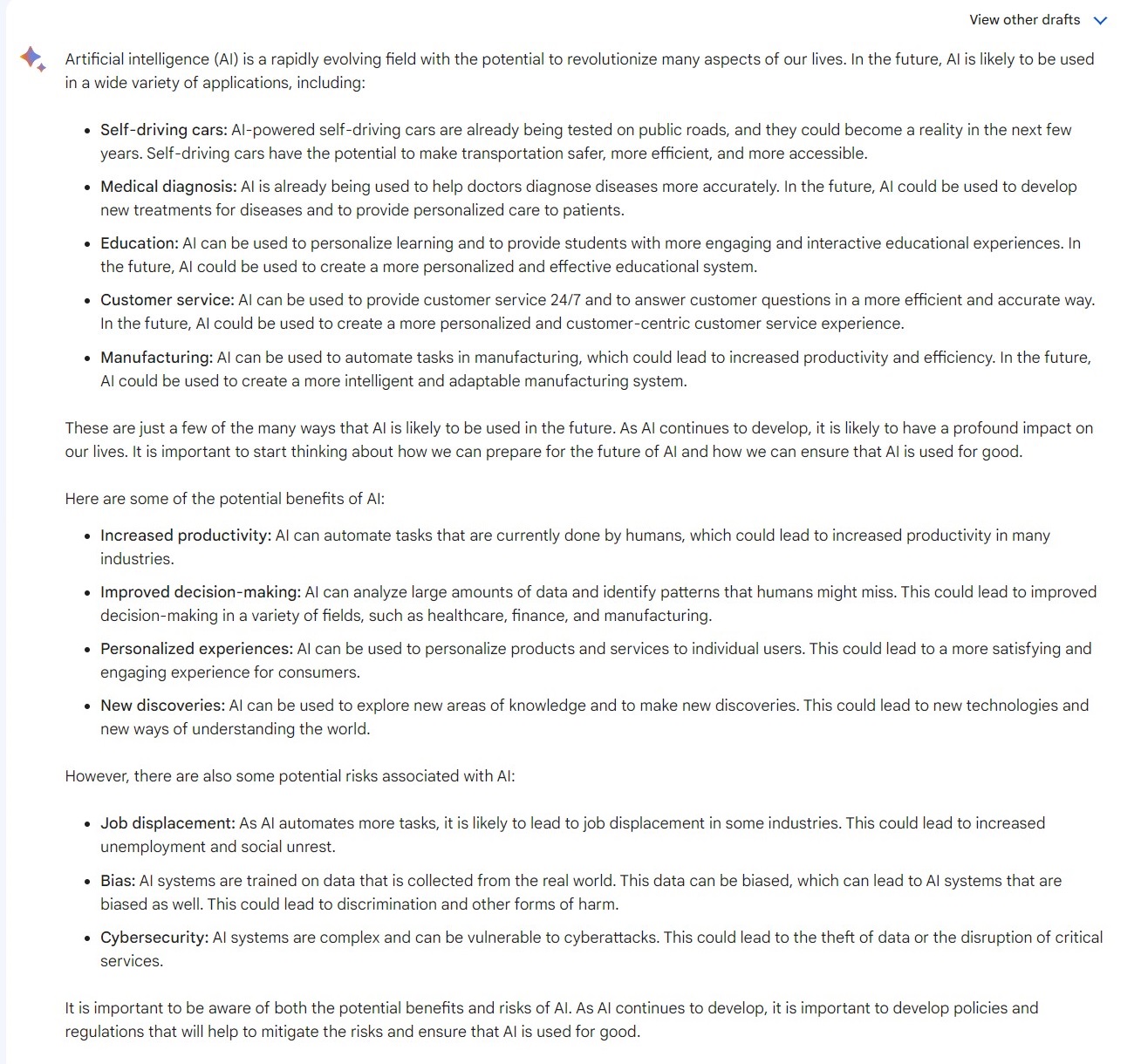 Pros
This OpenAI write essay tool is connected to other Google services like Docs and Gmail
This AI research paper generator has a Google it button that you can use to check its response
The good AI essay tool gives you three drafts to choose from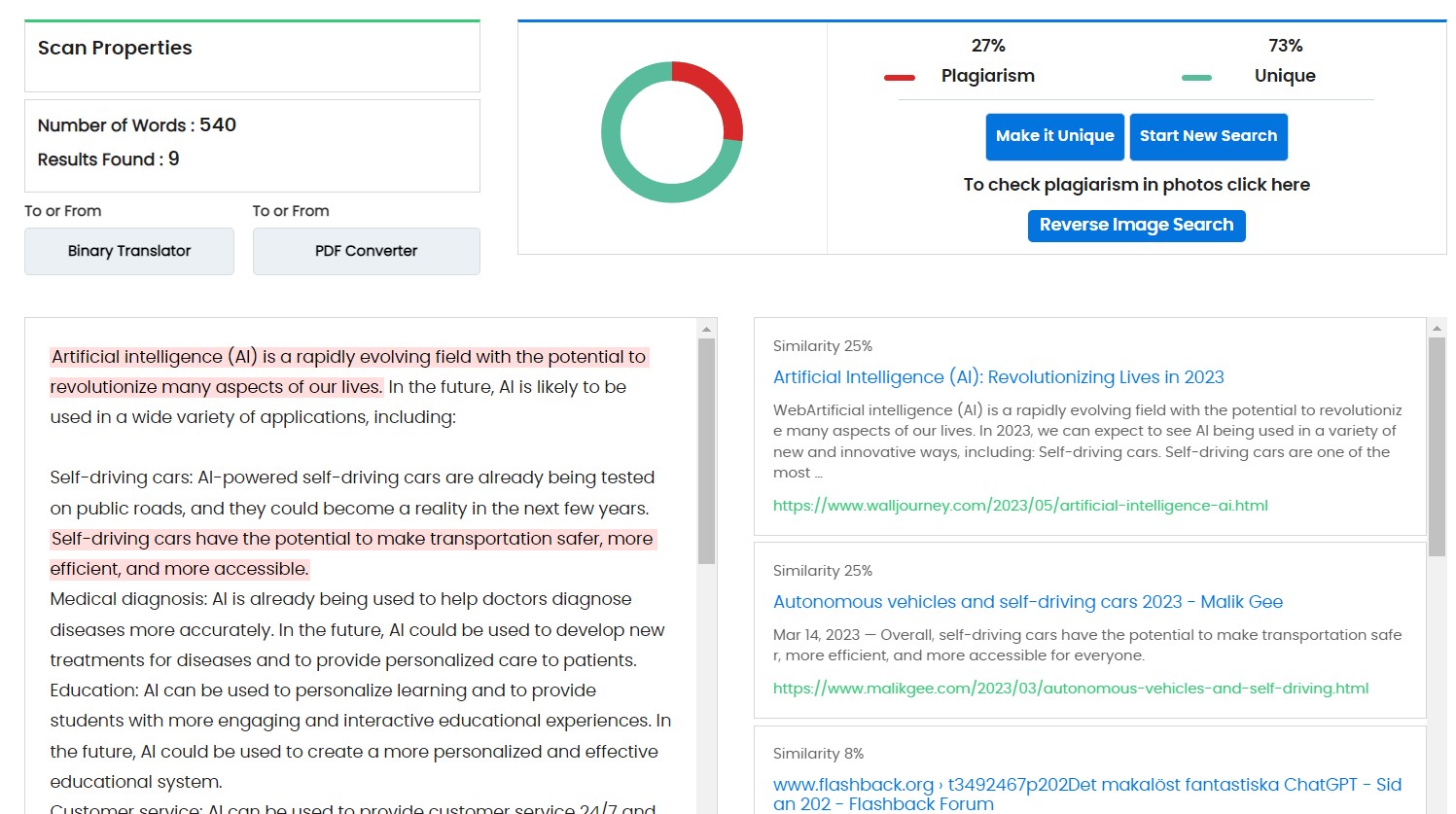 Cons
Rewritten texts are shortened
Readers can feel you used AI to write essays
The references provided may be unreliable, or the links won't lead to the source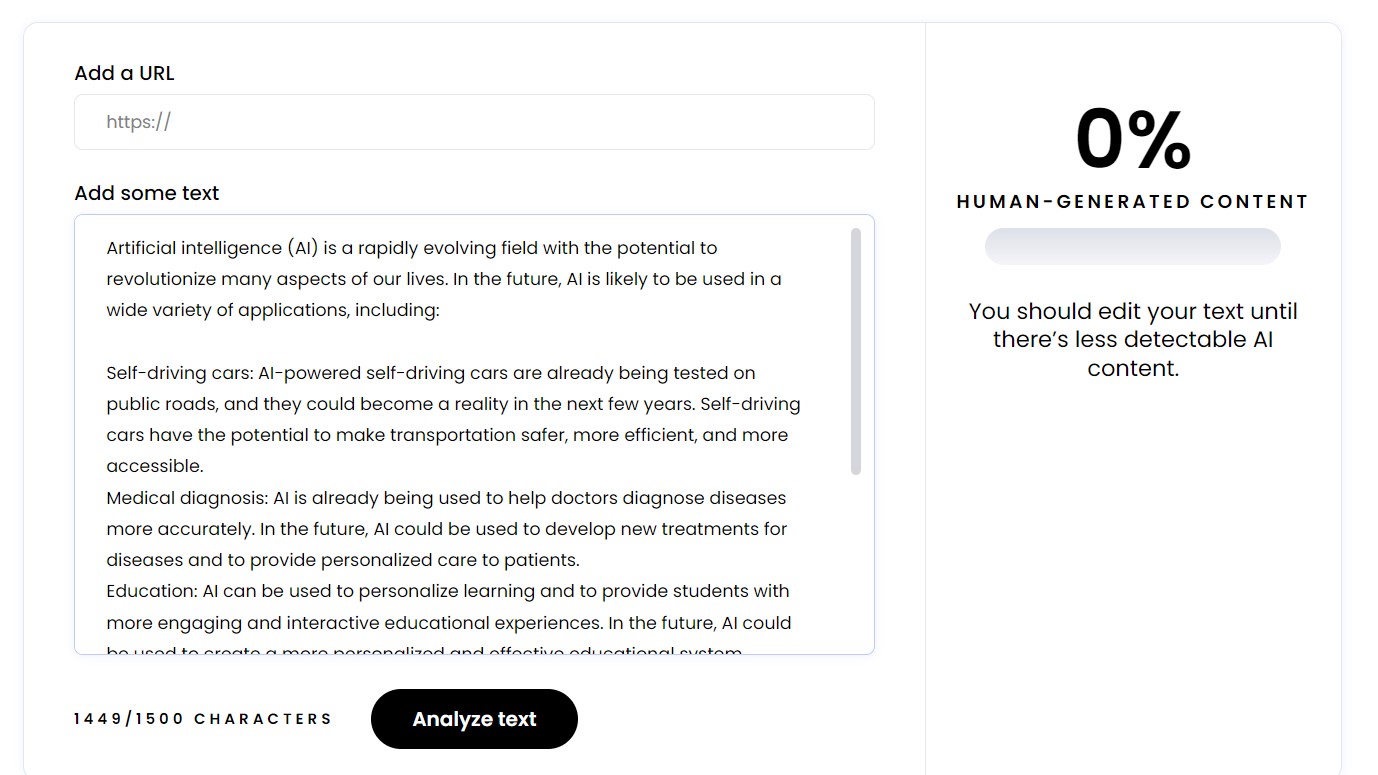 6. Notion AI
In addition to being an AI paper writer free option, it can also edit and summarize texts. The popular note-taking app Notion is currently beta testing a new feature called Notion AI, which uses generative AI to create (essay) notes and other material.
All current users of the workspace platform will benefit from the new AI paper writer, which can be used for a variety of tasks, such as writing complete blog posts, coming up with fresh ideas, checking for typing errors, and translating full pages.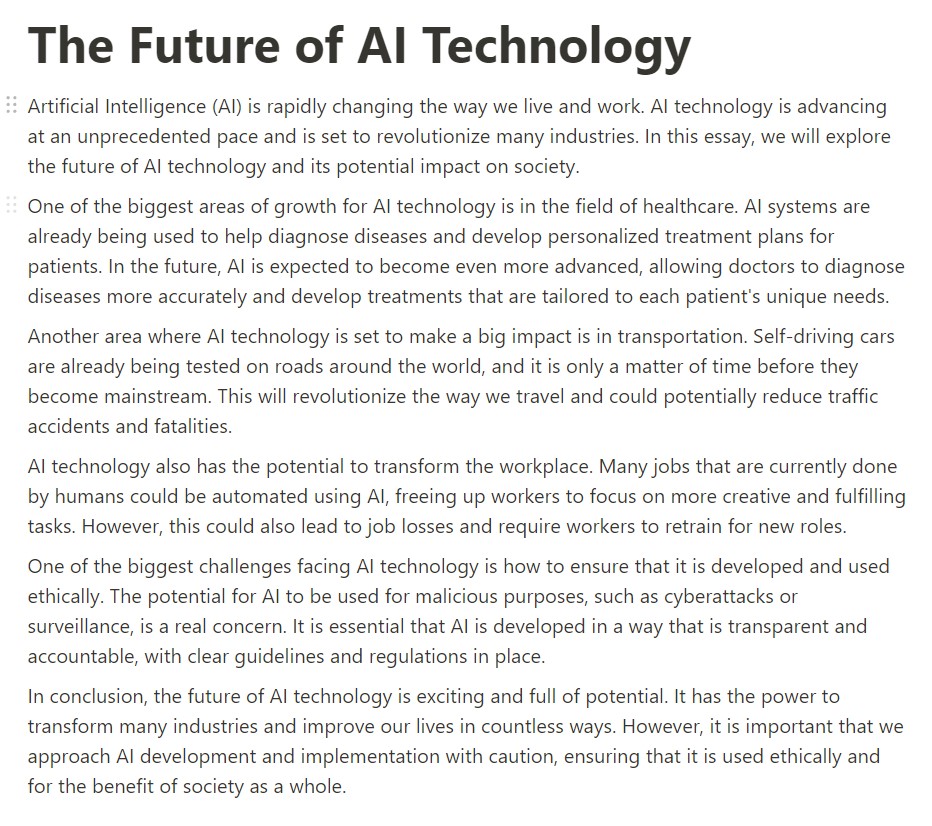 Pros
In-built translator
Can do more than just AI write essays. You can get a job description, product marketing pieces, and more with Notion AI
This AI writing papers tool is free for students and educators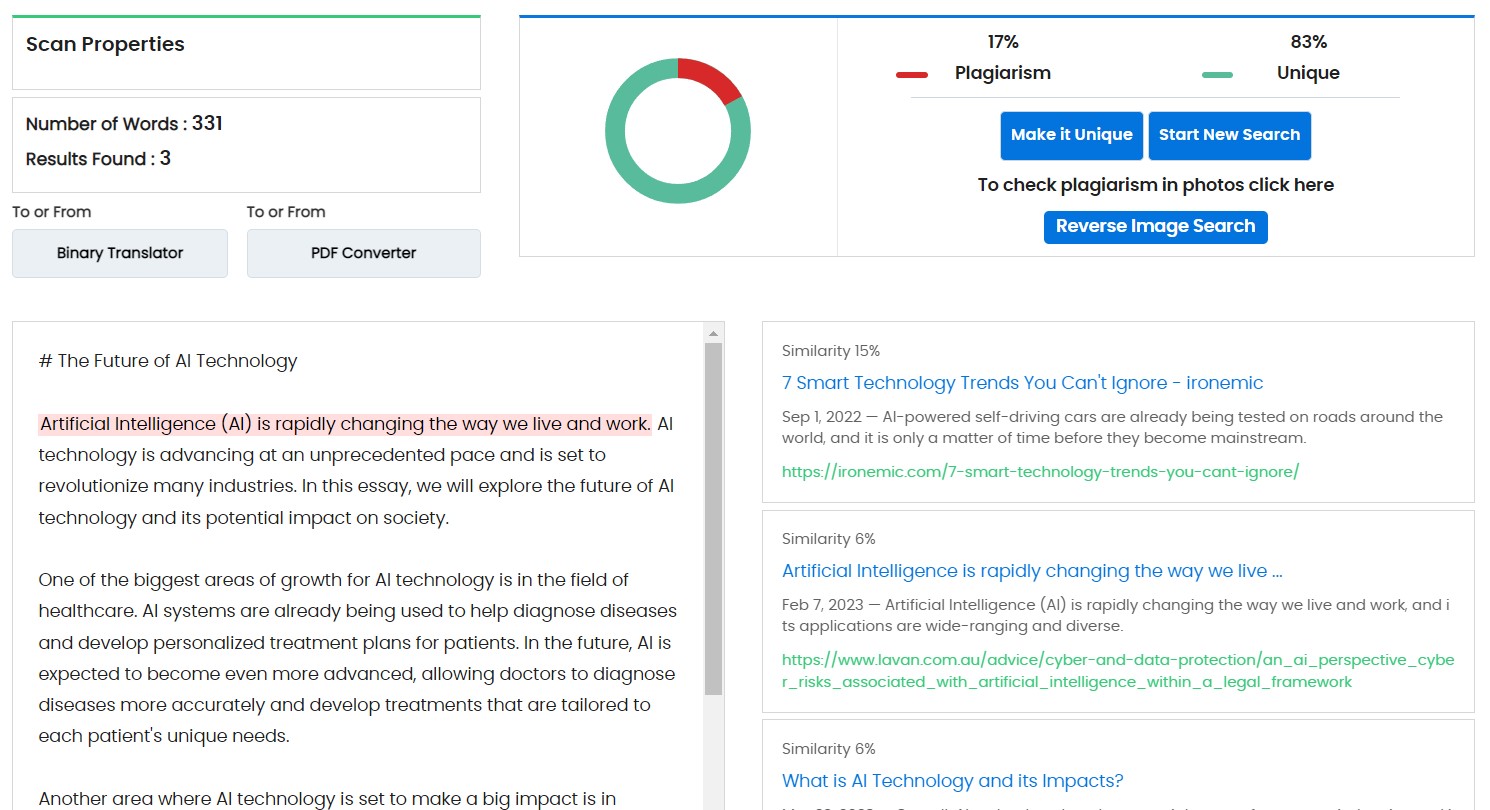 Cons
It costs $10 a month for workers and yet has limitations with its content
Doesn't consider the context of the text when used a continue writing feature
It is easily spotted by AI detectors, so writers will have to paraphrase to avoid it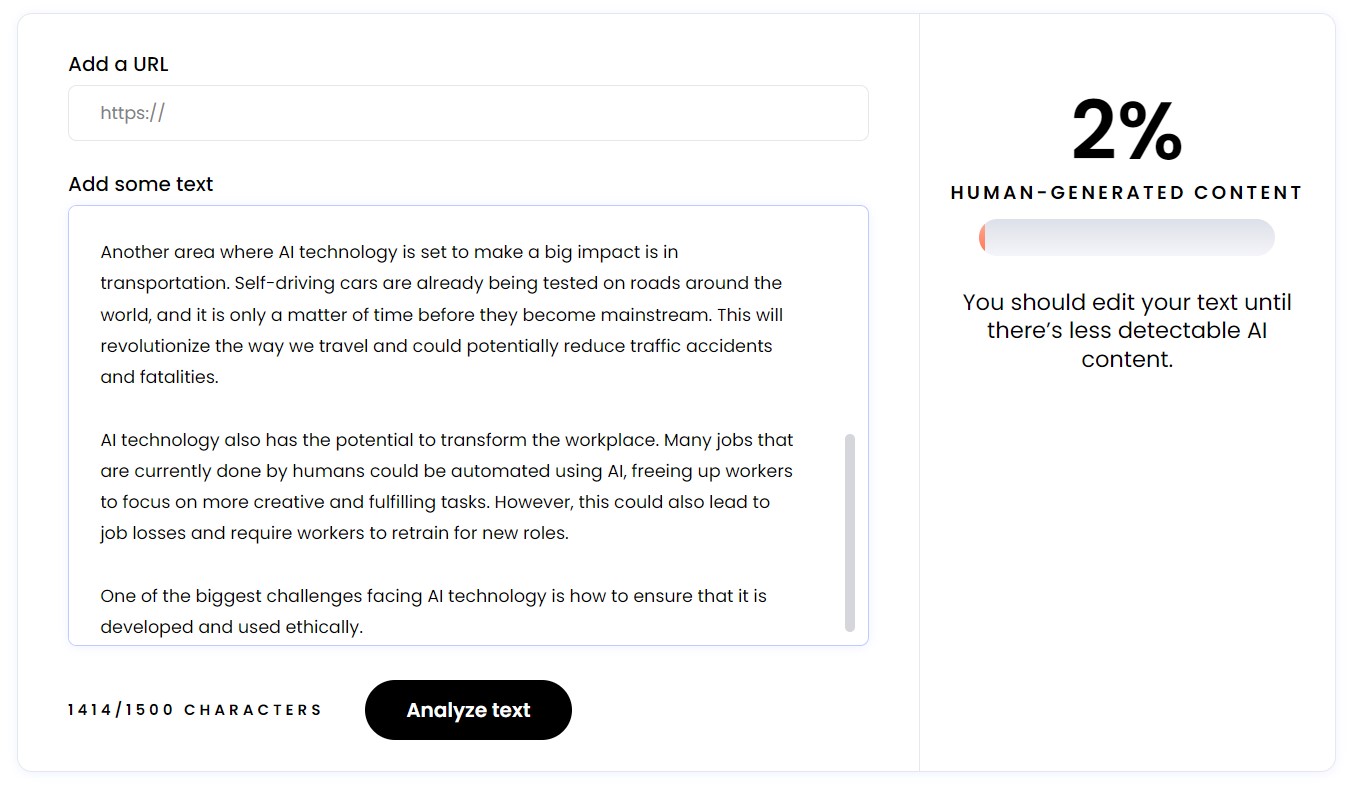 7. Wordtune
Wordtune is a tool that employs AI and ML (machine learning) technologies to rewrite or reword sentences.
Wordtune can be used as an improver for free, or a paid "Premium" version can be purchased. With the Free plan, you get 10 daily Rewrites to play around with different wording options. While this is a terrific way to get started with the tool, we did find that it was restrictive when writing longer pieces of content.
The Premium package comes with unlimited Rewrites if you find yourself needing them. The monthly fee for the Premium plan is $9.99, or $119.88 annually.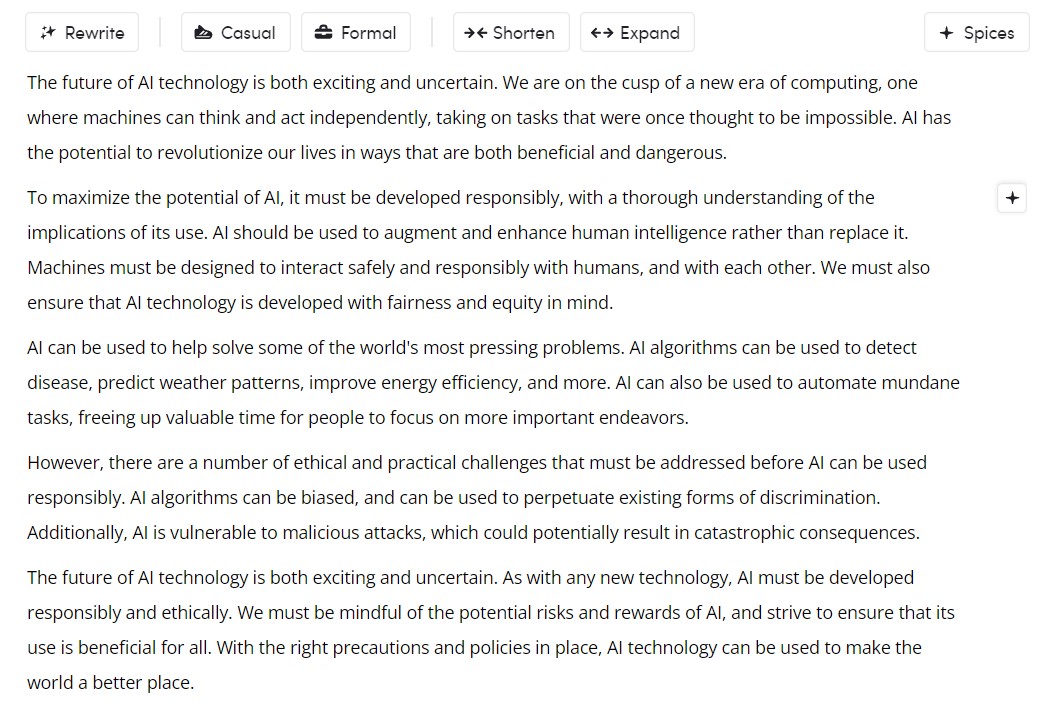 Pros
You can use this software to edit documents either on your desktop or through a browser add-on
The rewriting aid provided by the open AI essay writer is excellent
Simple to operate and learn if you have never used similar software before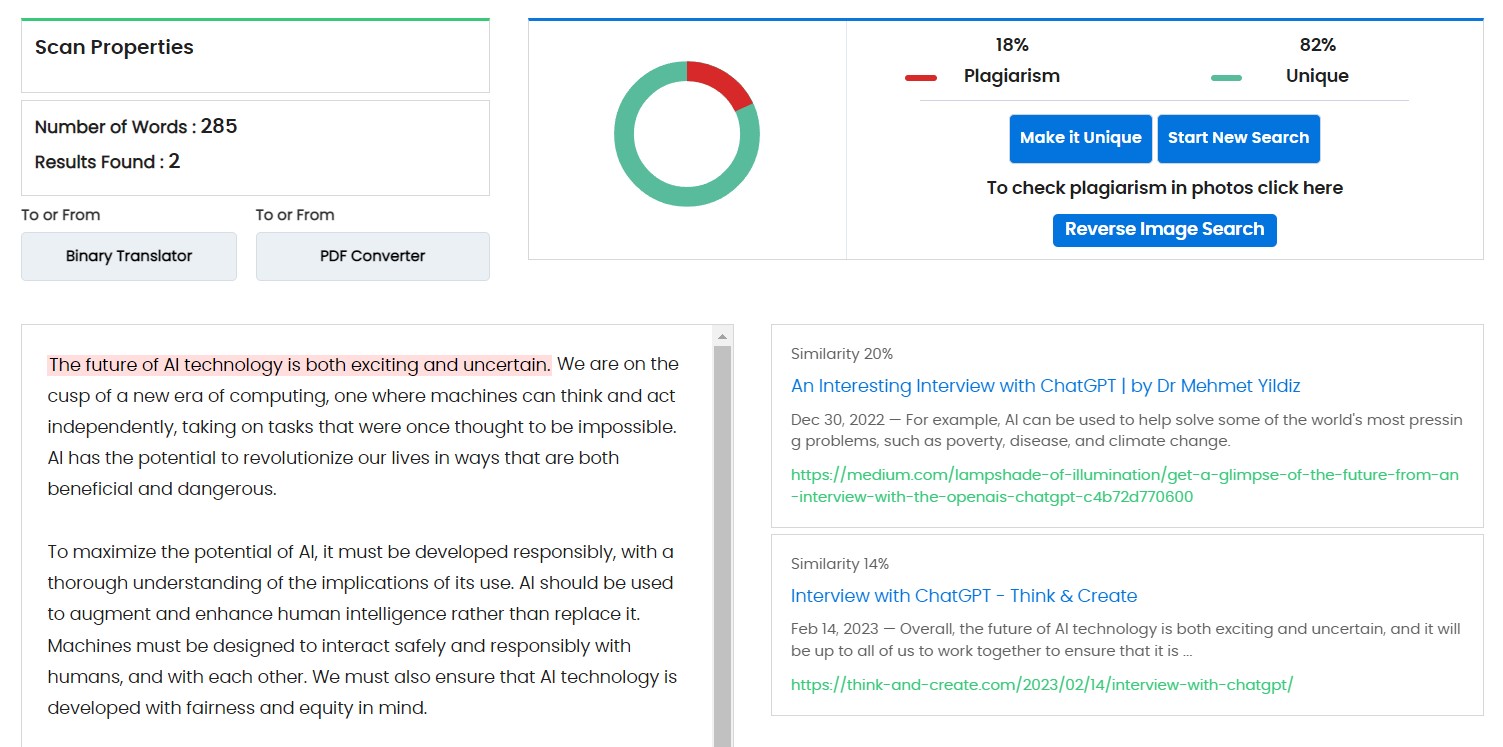 Cons
Not mobile-friendly
Repetitive suggestions when paraphrasing
The free version gives only 10 runs a day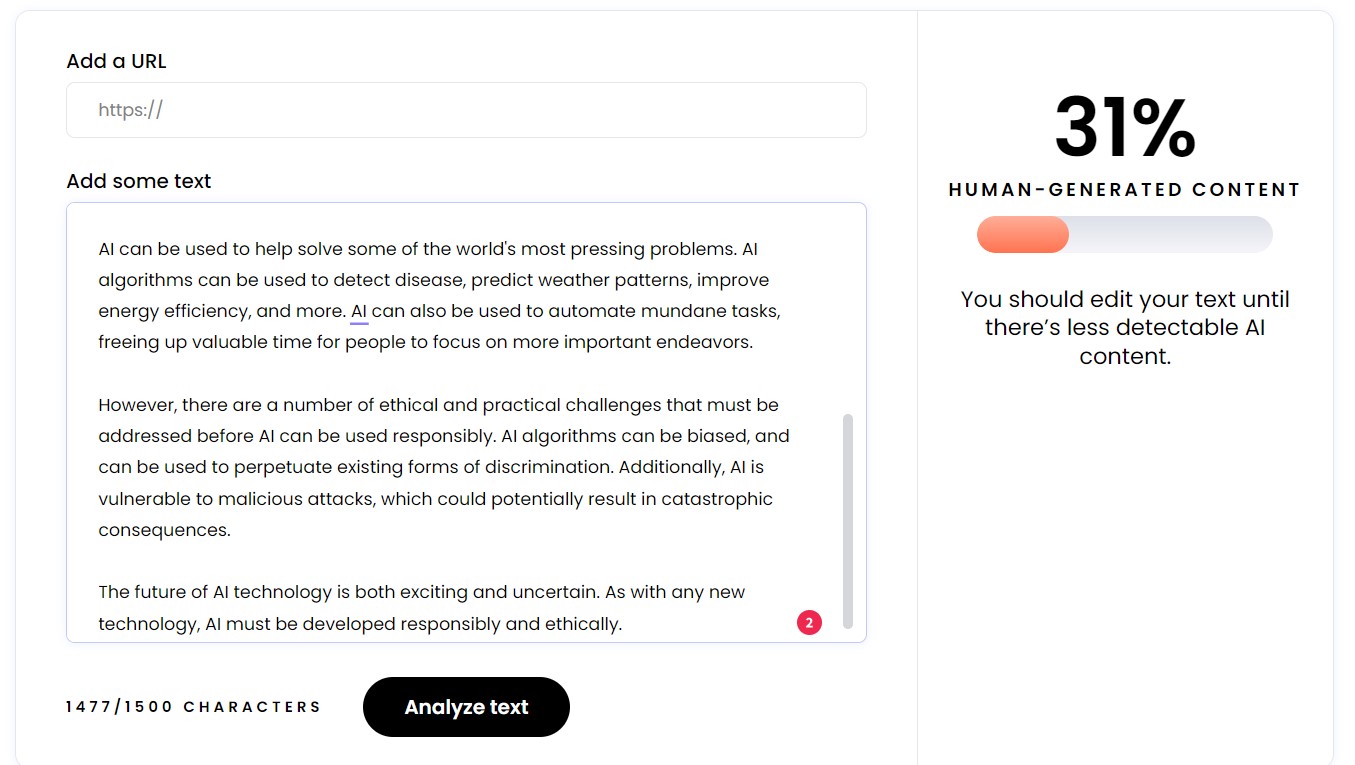 8. Writesonic
When compared to other essay AI generators, the Writesonic AI bot that writes essays has capabilities that are rather standard. It supports several languages, has pre-made templates to get you started, and is easy to use. The Writesonic user interface is serviceable but can become overly busy at times. Beyond that, however, Writesonic operates quickly, and the controls are easy to grasp.
Writesonic's pricing structure is somewhat complicated, ranging from free to test out to $95 per month. The fact that you can get access to the long-form assistant for only $15 per month is fantastic.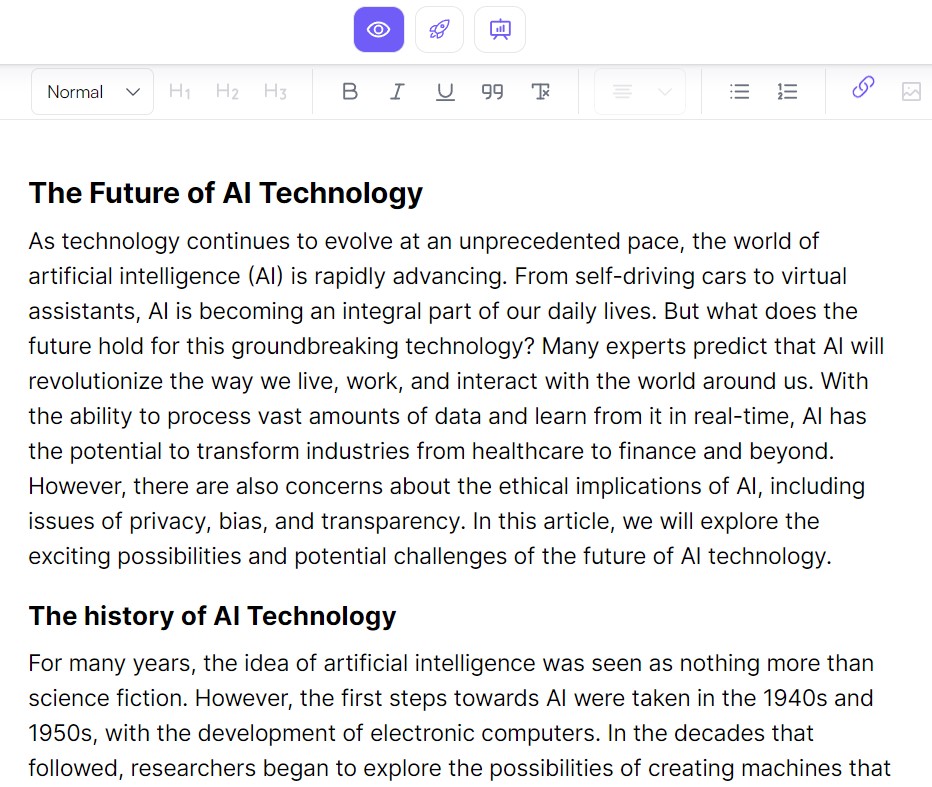 Pros
Excellent templates for AI writing essays
Affordable to a reasonable degree
Writesonic AI essay writer can also find related pictures for your content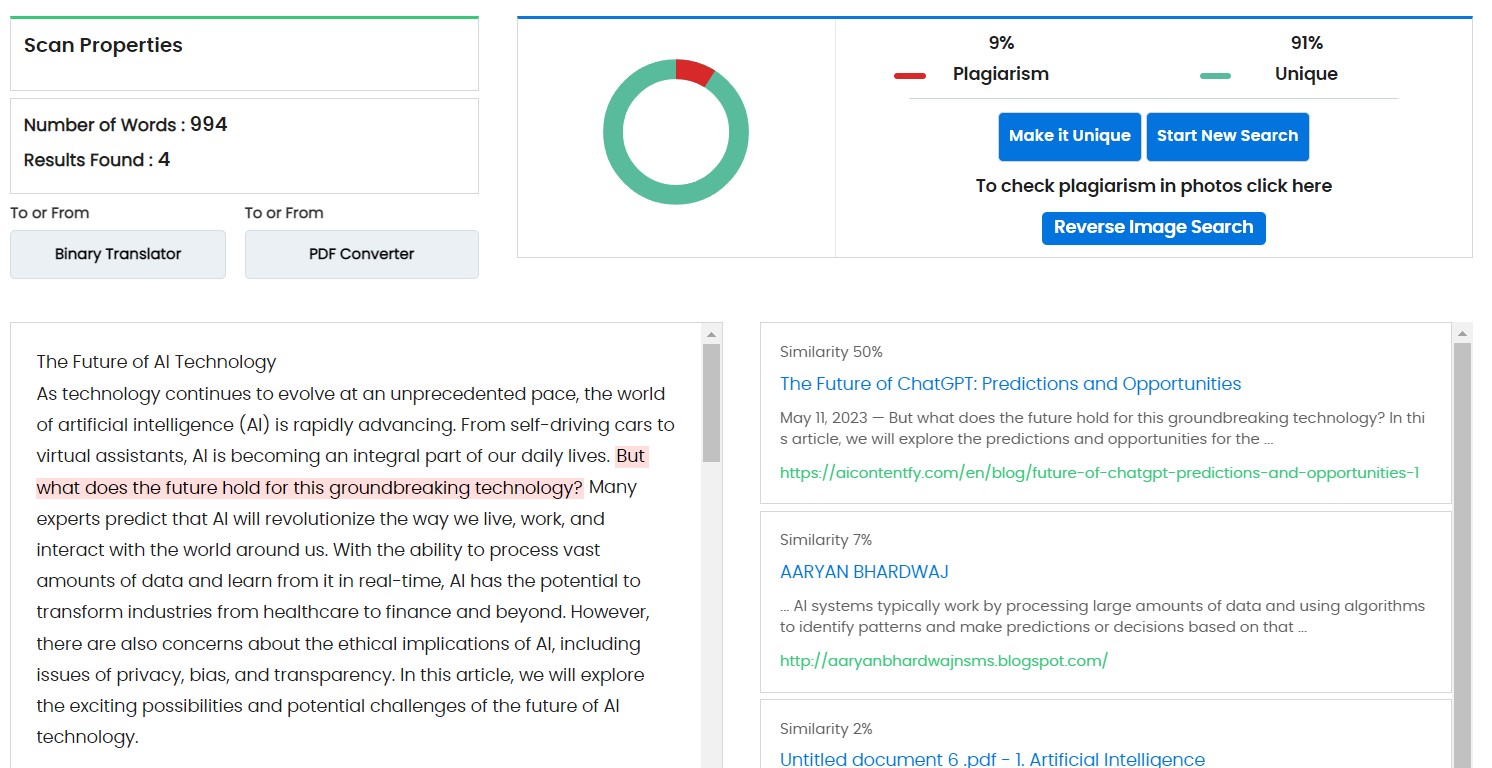 Cons
Grammatical errors can be seen in some of the output
The interface can get cluttered very easily
The payment structure has five tiers, and things can get unnecessarily complex when deciding on a payment schedule
The output at times is weirdly formatted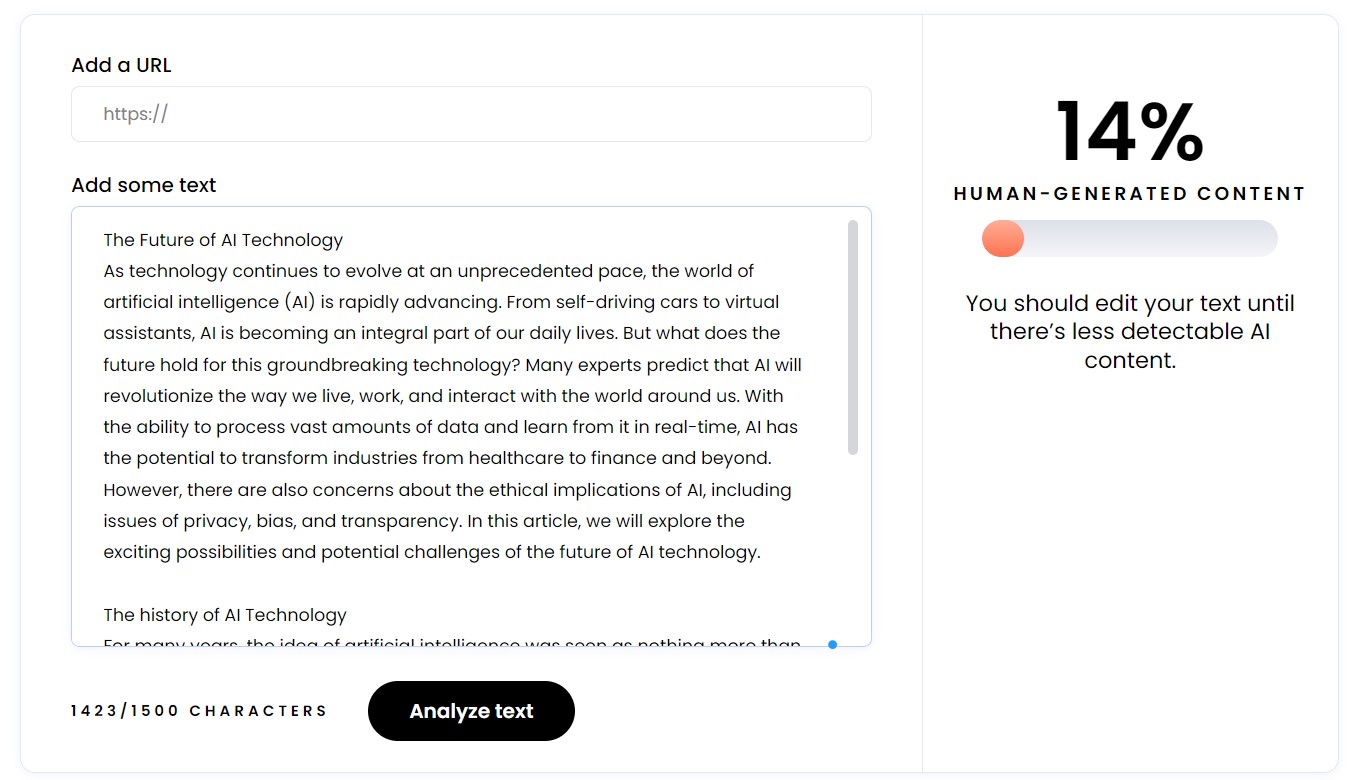 9. Anyword
Anyword easy essay AI is another neural network for creating textual content. Despite the fact that the service is aimed more at people working in marketing, students will also find suitable tools for themselves here.
There is an essay AI writer free trial available for Anyword. You are allowed to use up to one thousand words and test out all the features, even the Pro Beta capabilities, without incurring any costs. Plans begin at $24 dollars per month for all customers.

Pros
There is a function in AI writing called Continuous Optimization which makes your text better at every turn
Multiple formats are supported, making it a very viable one-stop shop for a content creator
There is an option to exclude certain terms, which makes it easier for you to edit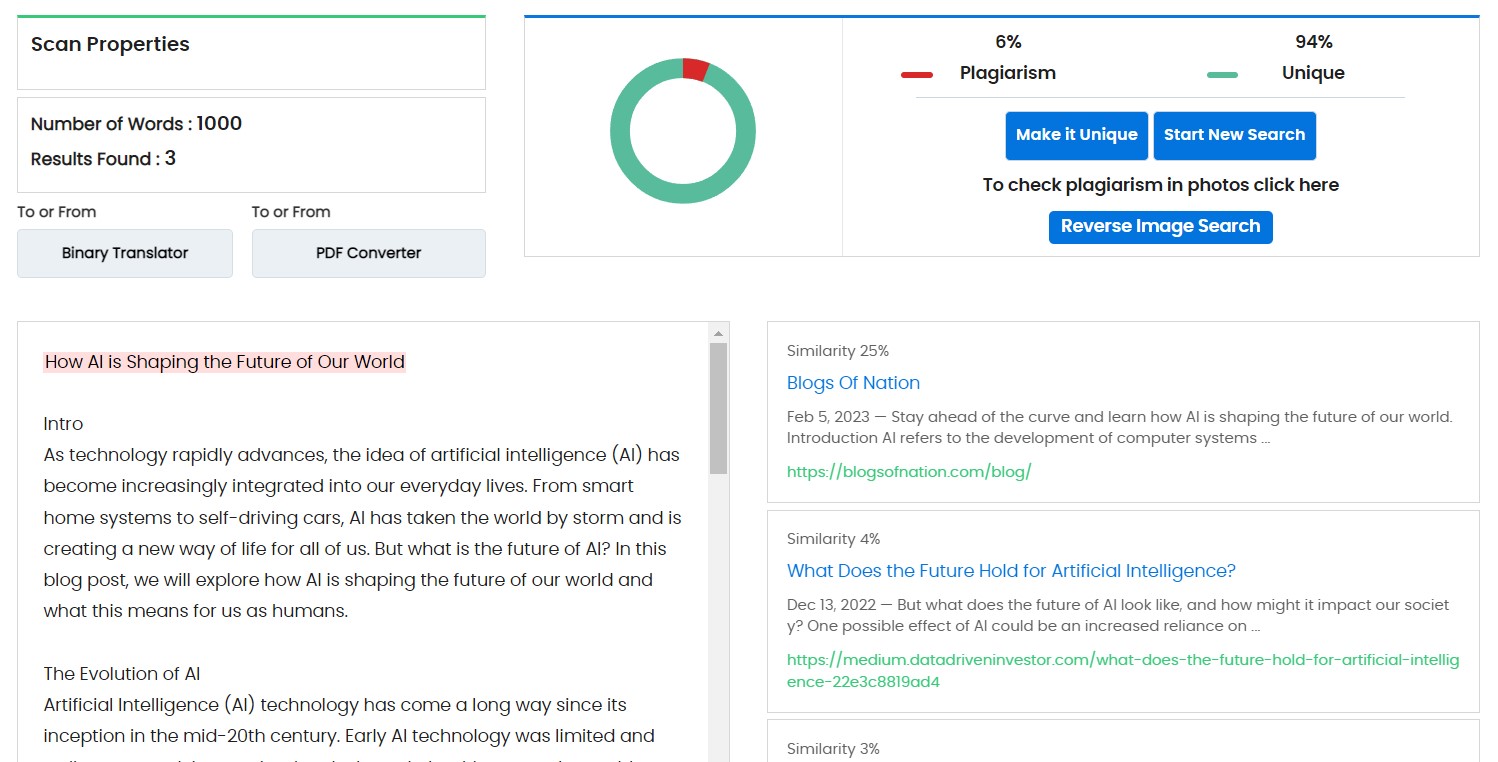 Cons
This is a very pricey option, so only go for it if the trial run impresses you
Responses are all in short form
The output requires a lot of editing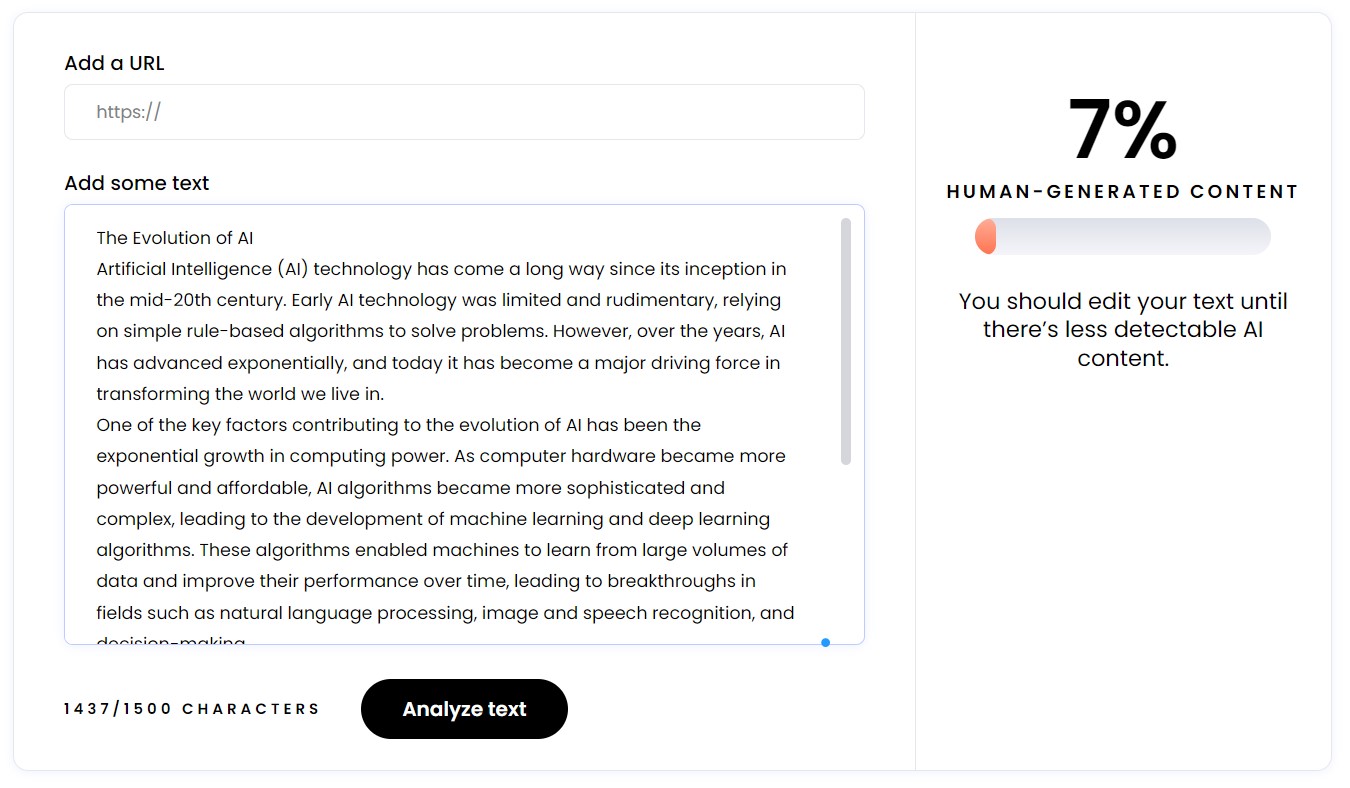 10. Rytr
Even though Rytr's UI can be difficult to grasp at first, it's a huge benefit once you do.
There is a free version of the essay writing tool, but you'll go through those 5,000 characters quickly. At just $9 per month, the Saver Plan is incredibly cheap. To produce information in large quantities, the Unlimited Plan for $29/month is the best.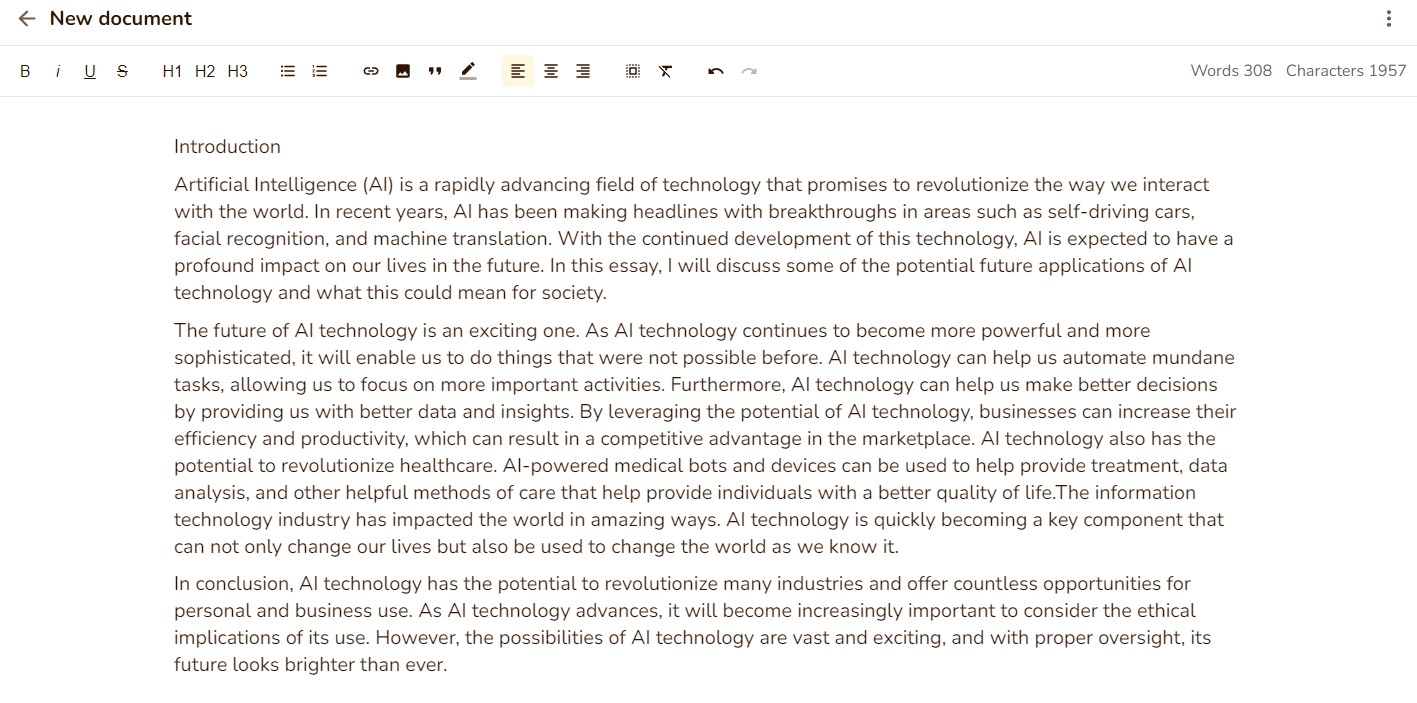 Pros
The good AI writer provides support for a variety of languages
This AI essay generator has a built-in image generator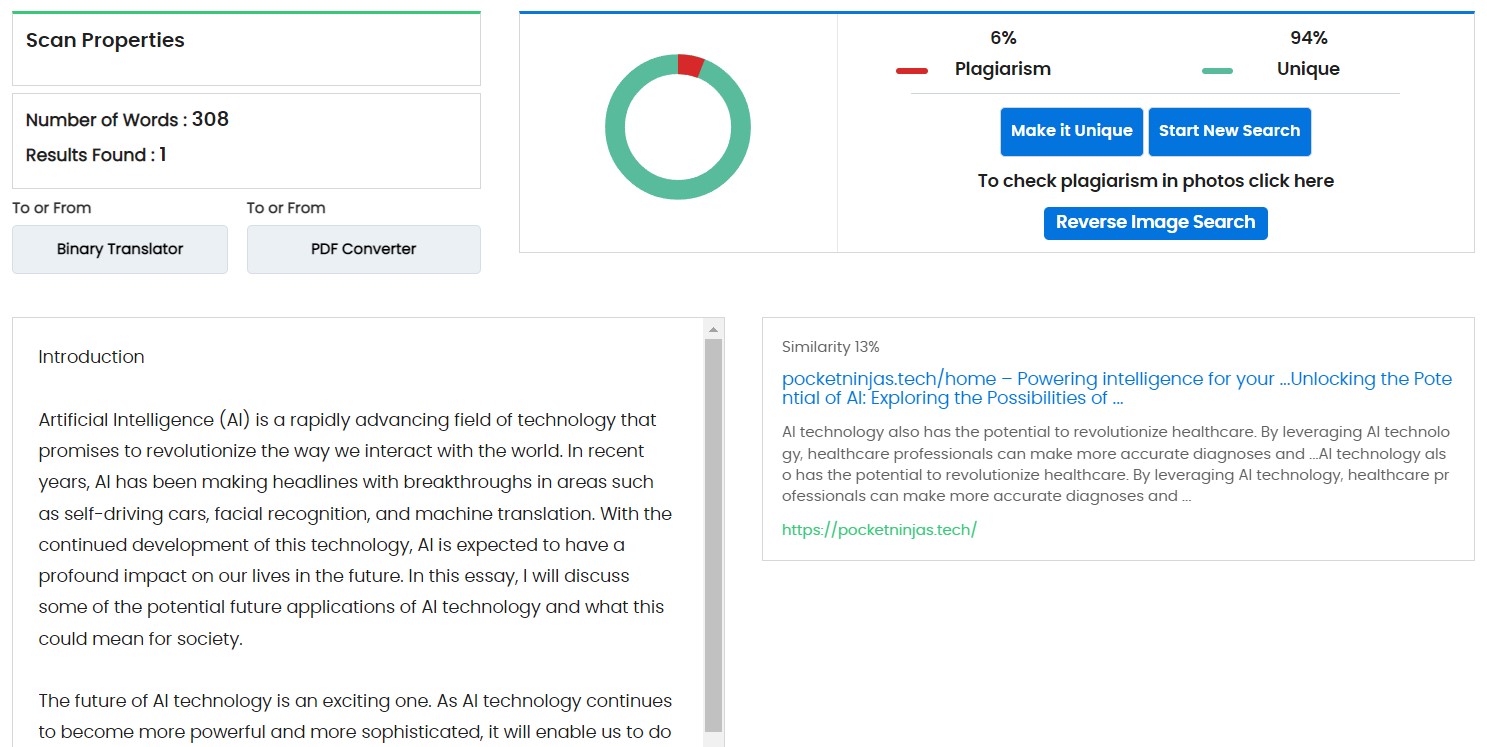 Cons
The output has room for improvement
When asked to keep writing, doesn't consider the previous output
There are no ready-made templates for an AI generator essay. You have to format everything yourself.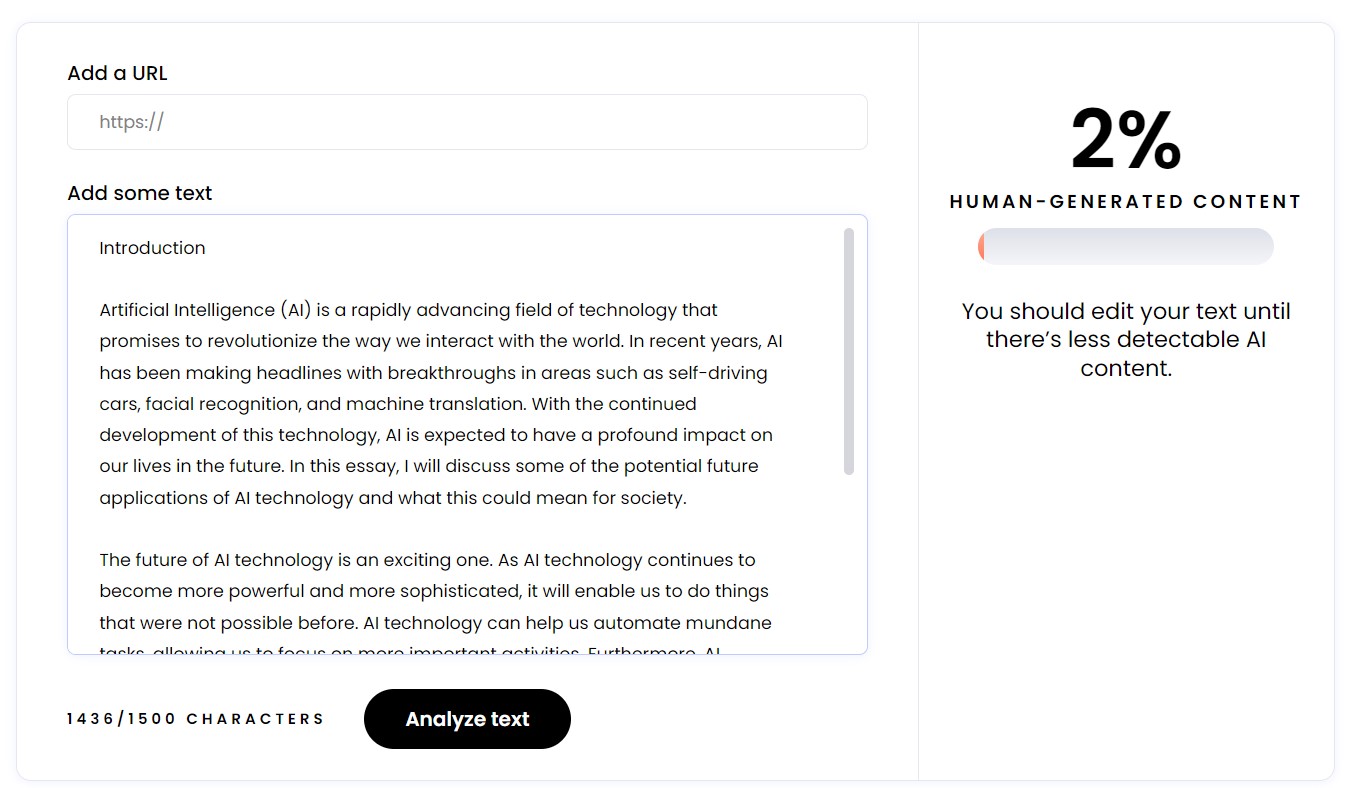 11. Creaitor: AI Program to Write Papers
Creaitor.ai's open AI essay generator-powered writing helper will provide you with a list of suggestions and ideas based on the topic you enter.
There are four pricing tiers to this open AI write essay tool, ranging from free to $59 per month, depending on what kinds of features you want, and it is pretty easy to see the differences and choose as per your liking.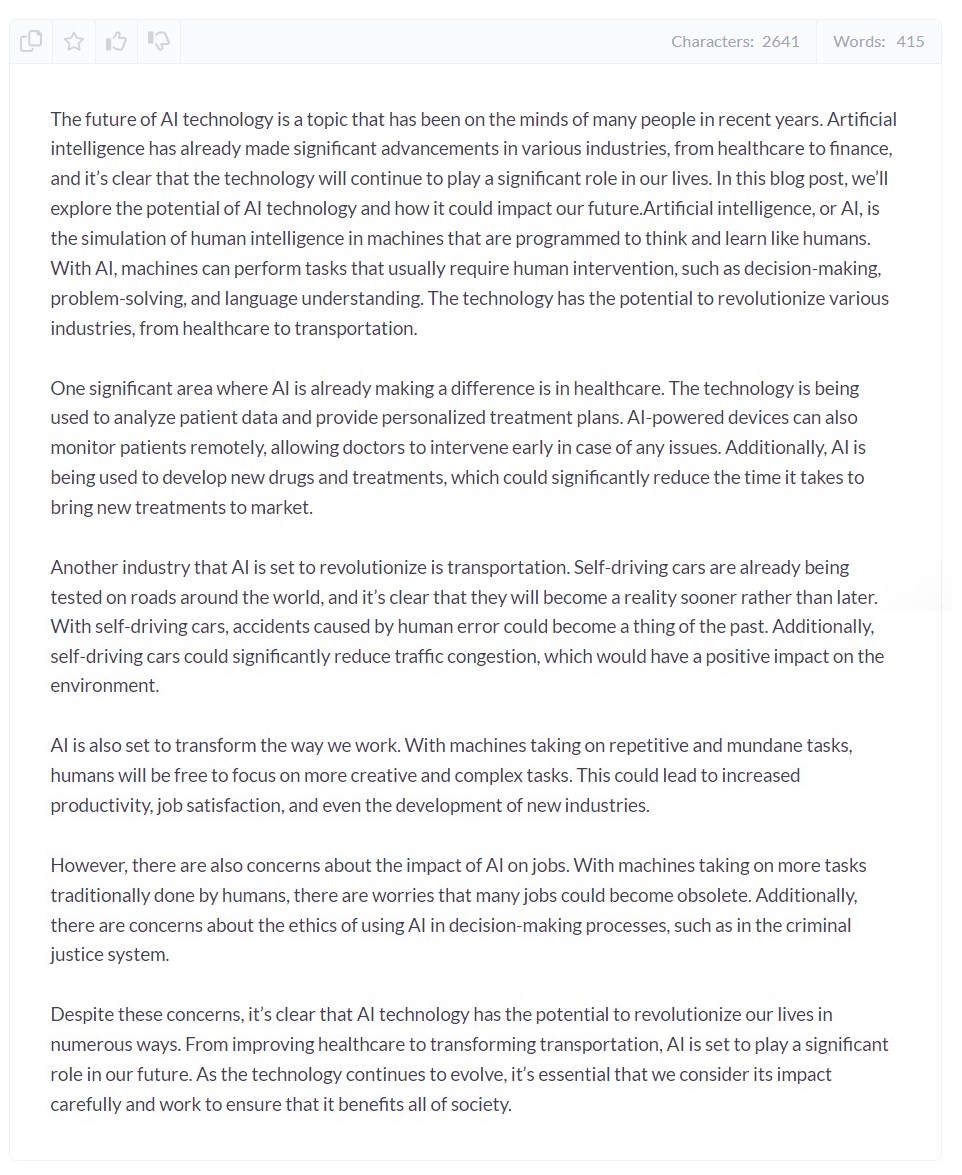 Pros
Can add emojis to the text
You can find templates for specific requirements
Includes a number of useful tools such as a plagiarism detector, grammar checker, and style advisor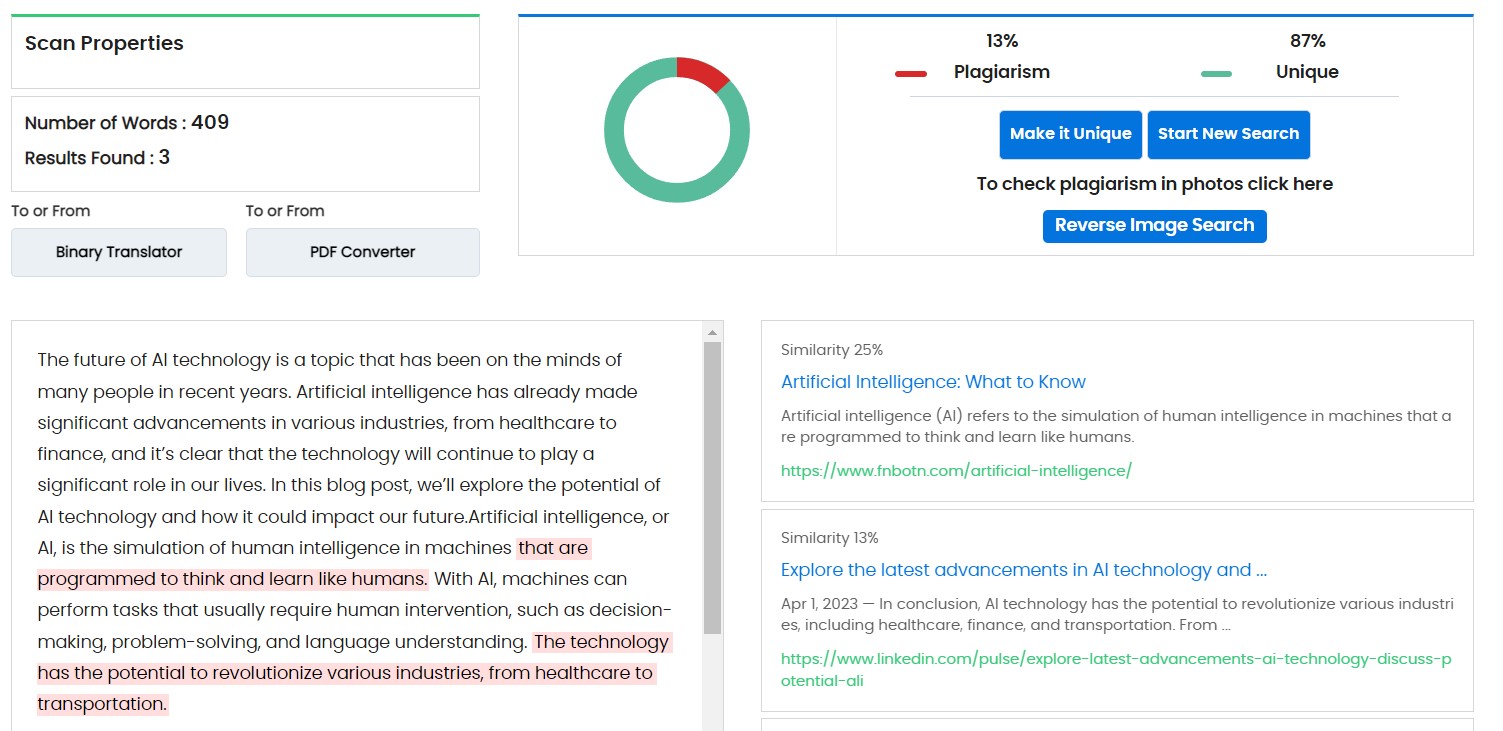 Cons
Open AI essay writer is not helpful for people who have unusual requirements or preferences in terms of how they write
This essay generator AI doesn't allow custom-made templates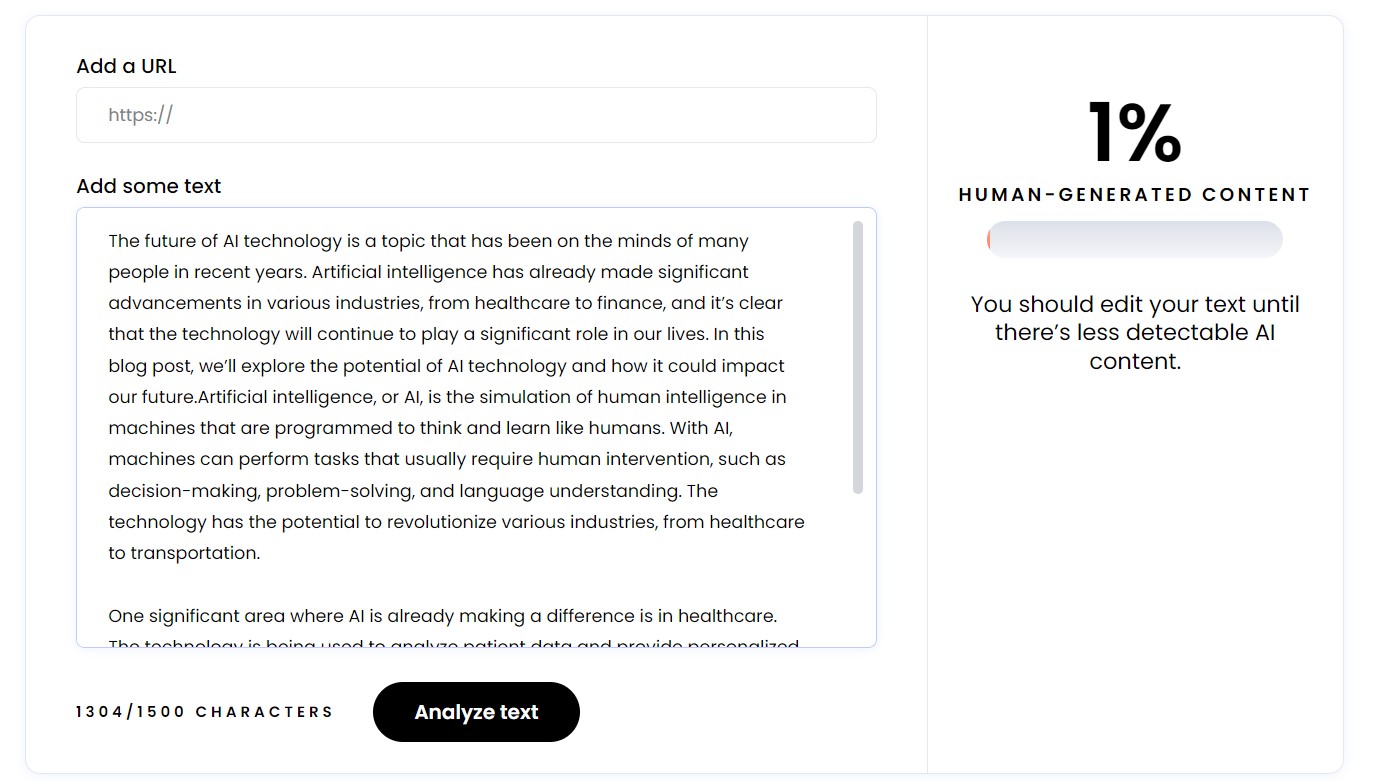 12. Quillbot: An AI Site that Writes Essays for You
Quillbot is mainly known for paraphrasing and summarizing content, but it also has an AI paper generator.
When you sign up for this AI website to write an essay on Quillbot's free plan, you won't have access to premium services like plagiarism detection and sentence restructuring. But a paid premium plan provides access to a wider variety of extra features and is only $4.17 per month, which is a steal.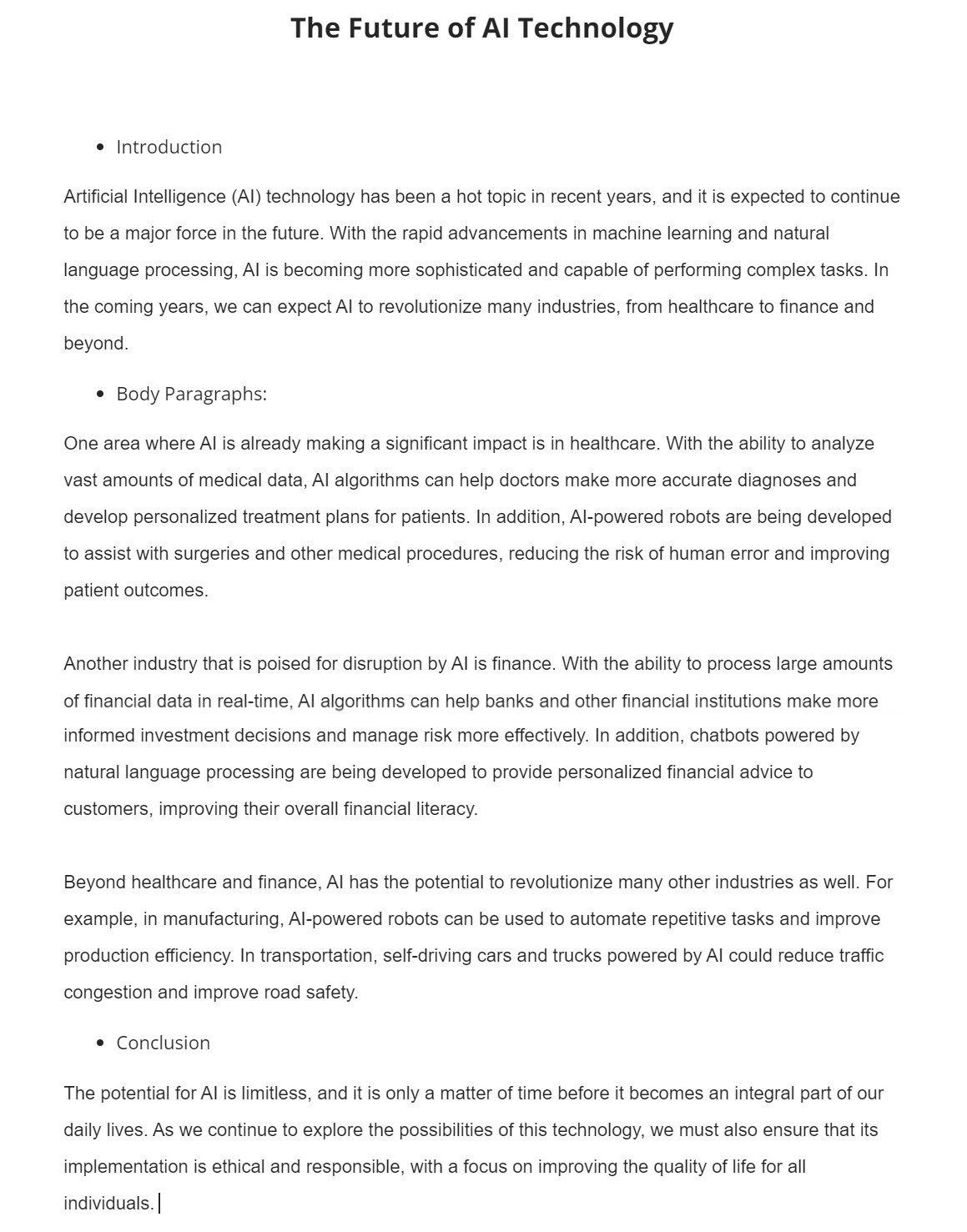 Pros
There is an in-built citation creator and article search
They reimburse you within 3 days if you don't like the service
Fixes any grammatical errors at no cost to you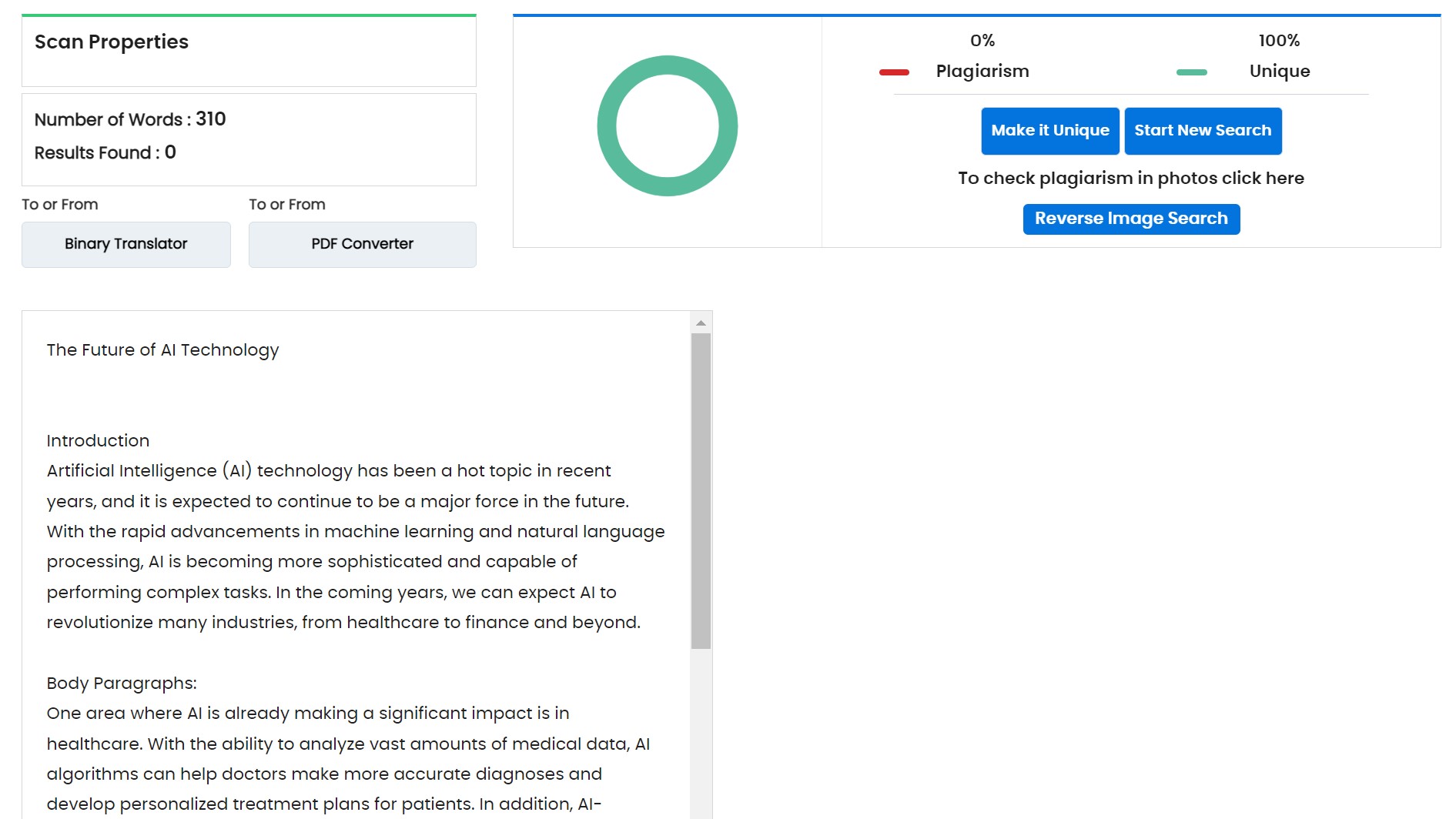 Cons
Suggest Text function sometimes glitches and doesn't see the selected text
When generating, doesn't consider the section title like introduction or conclusion
AI generator is not available in the free plan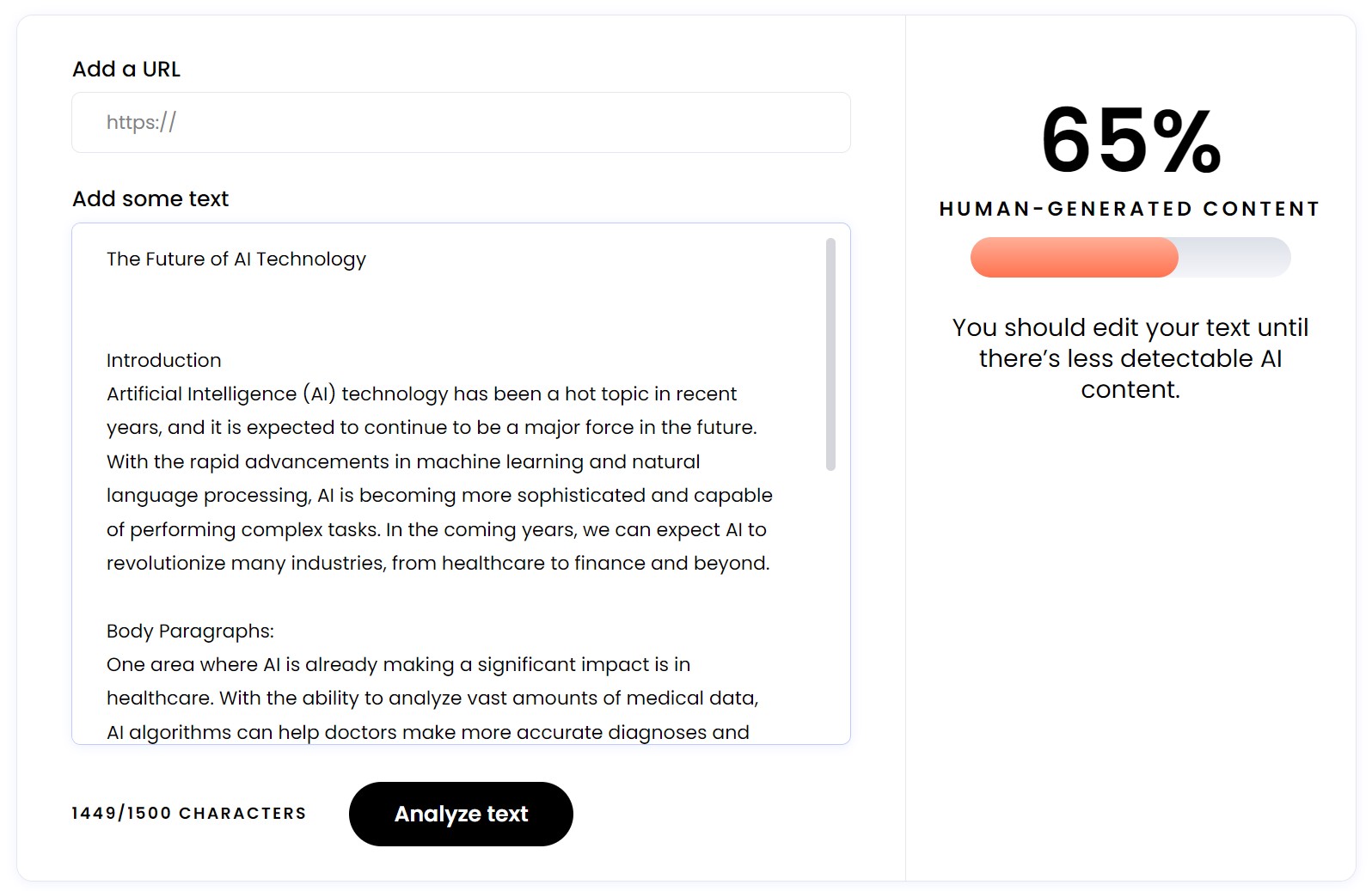 Advantages of AI That Writes Papers for You
Using AI to write papers has a plethora of benefits.
Get better grades: With the help of best AI for writing essays, due to a vast and updated database of a writer, your term papers tend to have in-depth information written in a short span. After all, meeting deadlines aids in receiving a higher grade.
The best AI tools for essay writing are programmed to take the information you provide and cough it back out in a way that makes sense without putting in their two cents.
AI essay writing software can help you save time and help you finish your writing projects in the blink of an eye.
As the AI scans a larger scope of the internet in a shorter period than a human can, you get a broader essay.
Disadvantages of AI That Writes Papers
Every rose has its thorn, and the same goes for essay AI writers. They have their pros and cons, and unfortunately, the cons can be a fly in the ointment.
Lack of creativity: While OpenAI essay writer tools can give you a kickstart by brainstorming, they are not programmed to come up with out-of-the-box ideas independently.
They're usually not free.
Even with its lightning-fast speed and precision, AI that makes essays is not immune to making the odd factual errors.
Essays are not usually cited: If you borrow ideas from several essays without properly citing them, you are committing plagiarism.
If you ultimately decide to use one of these services then in the graph below, you can see the overall results of AI detection and originality assessments. So if you're struggling to choose a service, it will help you to make the right decision.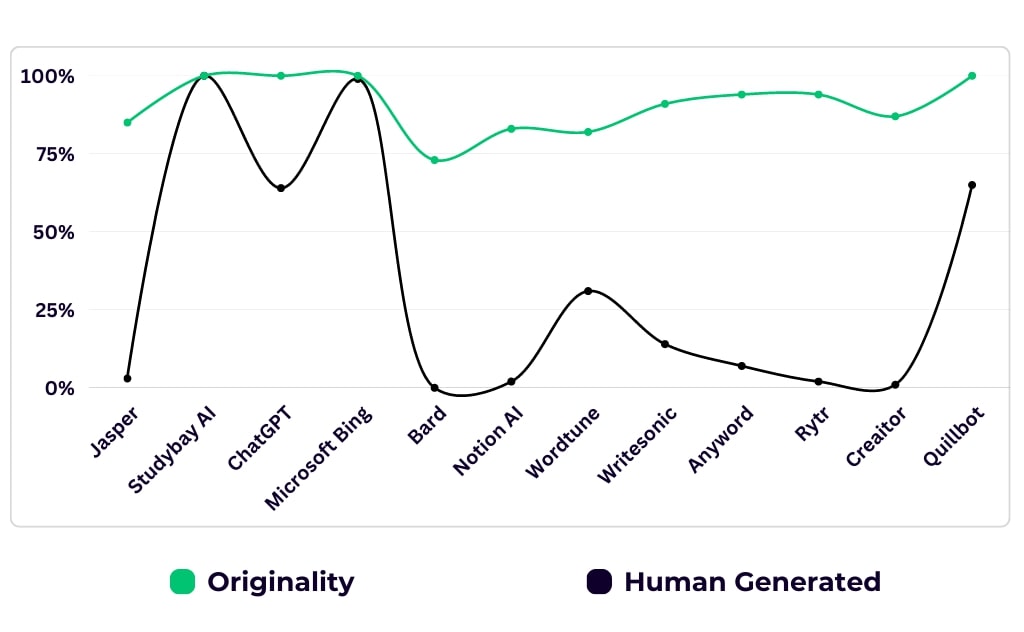 Can the Best AI Essay Writer Be Better Than a Human Writer?
It's interesting to consider the counterargument of whether or not the best AI essays produced by Artificial Intelligence software can compete with human writers. Natural language processing and generation have come a long way in AI, yet there are still some things that human authors can do that essay writing AI can't.
Humans draw on their unique set of experiences and perspectives to create original and fresh content. Paper writing AI has a hard time with this.
Emotional intelligence sets humans apart from the best AI writer for academic writing. They're capable of writing compelling essays.
Essay AI usually sticks to the book and follows set patterns, taking away the ability to produce writing with clever wordplay or puns to make the reader chuckle.
Humans are born with the innate ability to comprehend complicated texts in their original settings. They can read between the lines, sprinkle in cultural tidbits, and switch up their writing to fit any crowd.
Indeed, an AI writes essays of high quality, can generate new material rapidly, and process massive datasets with ease. However, this software cannot write opinions.
All things considered, the top-notch AI paper writing, while impressive, still can't hold a candle to human authors, more so our Studybay writers, when it comes to certain crucial aspects.
The Role of an AI Generator That Writes Essays in Assisting Human Writers
Looking at a blank page and hoping for inspiration is one of the most terrifying things for a writer. An AI essay typer can lend a helping hand to human writers in a multitude of ways. To begin with, it can be a feather in one's cap for conducting research.
The days of hitting the books or digging through the internet abyss are long gone. AI app that writes essays can separate the wheat from the chaff and give writers the cream of the crop. It can also help writers stay organized by suggesting outlines and even rearranging paragraphs for the best outputs.
From dotting the i's to crossing the t's to putting our heads together, AI essay writing has the potential to take our game to the next level.
Final Thoughts
Overall, there are a number of impressive solutions in terms of AI that writes essays for you. In fact, students will also find a lot of writers who will offer to do the same for them by claiming originality. However, we now know essay AI bot cannot compete with the creative writing style of a human author.
Checklist:
Things To Do Before Turning in Your Essay
0/6
FAQ
What is the AI that writes essays for you?
There are a number of artificial intelligence essay writers, like Bard, ChatGPT, and many other GPT essay generators, that will write your school and university essays for you. While some only provide writing prompts, others provide entire essays complete with citations. But this does not guarantee reliable information, nor will it pass through plagiarism tests or evade AI detectors.
Which is the AI system that writes essays the best?
With the choices at hand, it's difficult to pick just one AI writer to stand on a pedestal. Each writer has a varied set of advantages and disadvantages, as you can see in this article. Based on your requirements, choosing the best essay writing AI tends to be subjective.
Can an AI program that writes essays be better than real authors?
In certain fields, like coming up with a topic, organizing the text into a proper structure, and reducing the time taken to complete the essay in general, essay writer AI programs have the upper hand. However, where this makes up for pace and organizing, it fails in terms of creative writing, understanding context, and providing fresh ideas in the essay.
Is there an AI that writes essays at Studybay?
Yes. The company has invested in an Artificial Intelligence writer called "StudybayAI". The AI prompts questions to narrow down the premise, audience, and style of the essay. This results in a tailor-made essay, satisfying both the customers and their teacher and mentors.
An AI website that writes essays: is it worth subscribing to?
It depends on what you want to use them for. If you're a student spending this chunk of money regularly to write a few essays, then they're not. You will still have to cross-verify every bit of information on the AI-generated essay, and that will take up a big chunk of your time, perhaps more than writing it yourself!