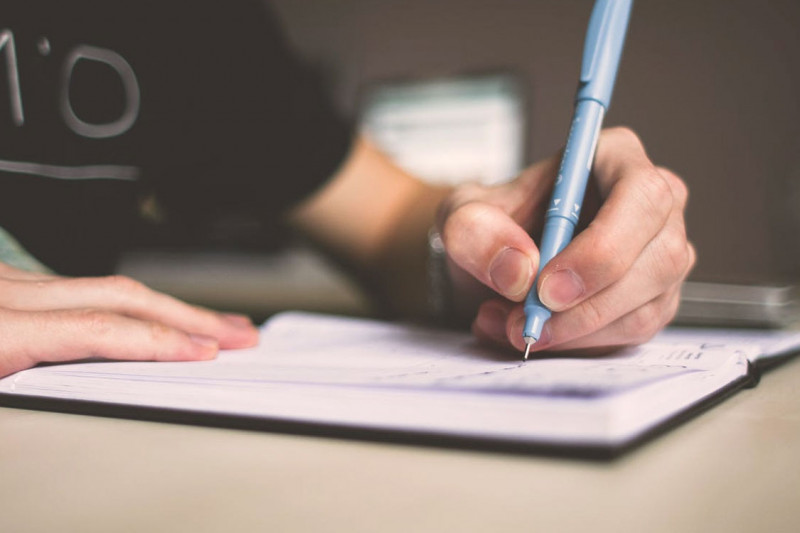 You are here because you searched for "how to write a master's thesis". So, you've come to the right place. The process isn't as tricky as it looks.
There are plenty of things you can do to make the whole experience as painless and enjoyable as possible. With a bit of planning and preparation, you can get your master's thesis started quickly and write it in a relatively short time. In this guide, we will offer you tips on how to write a masters thesis.
What Is a Master Thesis?
A master's thesis is a research project you write for a master's degree. It needs to be written well because your instructors and peers will read it. The primary purpose of this assignment is to show how you can use the knowledge you acquire during your studies in practice. A master's thesis is written under the direction of a faculty advisor.
Writing a master's thesis is different from writing a research paper. A thesis has to show excellent quality and requires rigorous research and analysis. On the other hand, a research paper generally summarizes existing studies.
Master's theses are a way to demonstrate your academic prowess. They're often used for postgraduate degrees. When you write a master's paper, you'll need to make sure that it's of high quality — both in content and presentation — or it will be rejected.
How to Choose a Topic
Your topic must be one you can handle. A research topic that is too broad will be unmanageable, and you will not be able to cover everything effectively. You must narrow the focus of your topic to something manageable, or you will never be able to complete your project.
Here are some tips on how to choose a topic for your thesis:
Choose a Topic That Interests You
The best way to choose a topic for your thesis is finding a question that interests you and for which you already have at least some background knowledge. The topic you choose must be one on which there is considerable scholarship. You will feel more confident in the validity of your findings if other scholars have come to similar conclusions.
1. Choose Your Research Questions
You need to formulate research questions or thesis questions. These are more pointed, focused questions that your written paper will answer. They should be specific and clear. For example, the general topic of the civil war can be narrowed down to the question of why the South lost certain battles.
2. Conduct Research on Your Topic
After choosing your topic, conduct some initial research. This research will help you see what has already been published on the subject and the gaps that exist. Depending on your major, this may require searching scholarly databases or books in the library.
3. Talk to Your Advisor
Your supervisor will be able to guide you during the process of identifying and narrowing down your topic. You should let them know as soon as possible what areas you are considering so they can advise you.
Preparatory Text Work
Once you have decided on a topic, you need to prepare your text work. Now, you need to decide what exactly you will write about your thesis question. Here are some steps to guide you on this part:
1. Conduct a Literature Review
A literature review is an evaluation of the existing body of knowledge on your topic. You will need to examine all relevant sources, including articles, books, and conference proceedings.
You should describe the theoretical background for your study, cite relevant literature and critically evaluate its quality. This review will provide a context for the interpretation of your results. Finally, you should identify gaps in the existing research that justify conducting your research project.
2. Select Your Primary Sources
Primary sources are documents created at the time of an event or issue under study. They are not secondary accounts of what happened but rather the actual source materials that exist today. Some examples of these types of documents include letters, newspaper articles, and photographs.
3. Select Your Secondary Sources
Secondary sources are based on primary sources, and they are usually books or journal articles written by other scholars about your topic. They are documents that reflect the research someone else has done. It is essential to use secondary sources in your text to show that you are knowledgeable about the topic. Also, they allow you to acknowledge what other scholars have said on that particular topic.
4. Plan Your Citations
It is crucial to plan your citations. A citation is a way you indicate that you have borrowed someone else's words or ideas. When doing this, you need to be careful so that you don't plagiarize, which means taking someone else's words or ideas and using them as if they are your own. Most colleges have policies against plagiarism and have stringent punishments for students who break these policies.
The best way to plan citations is to build your bibliography simultaneously when writing your paper. When you cite other people in your paper, there are generally two ways to do it: parenthetical citations, which go in the text of your paper, and reference citations, which go on a separate page.
Each style has its own set of rules for properly citing sources. So, consult with your advisor to know the appropriate style for your discipline. The common referencing styles are MLA, APA, IEEE, and Chicago.
Create an Outline
An outline is essential because it helps you formulate your ideas, organize them into a logical order, and flow from one point to the next. It will act as a roadmap to show you where you're going and what you want to achieve. Plus, an outline will guide your committee to know how you intend to write your thesis.
When planning your outline, check with your faculty advisor or school to know the requirements for your paper. Different fields have different formats. What works for one department may not work for another.
Nevertheless, some elements feature in most master's theses. These include:
Title Page
Table of contents
Introduction
Body: Literature review, methodology, Results
Conclusion
References and bibliography
Appendices
Once you have created an outline of your paper, revise it until it adequately expresses what you want to say in each section.
The Writing Process
You have your outline ready, and now is time to go through the writing process. Since you already know what you need to write in each section, the writing process doesn't have to be a daunting task for you.
The best way to get through writing a thesis is to take the bull by the horns and get started. Here are a few pointers to guide you:
1. Create a Schedule
Create a schedule for writing your text and stick to it. This schedule will help you stay on track when writing your paper. It will also help you allocate enough time for all the steps involved in writing your master's thesis. This may be difficult at first, but it will help you stay focused on the task at hand. You can set aside an hour every day to work on your project. Whatever works best for you, make sure to set aside time every day to write your dissertation.
2. Write a Chunk Every Day
Strive to write at least 500 words a day. You don't want to write too much at once because you could get stuck on what to write next. 500 words a day is easy enough and shouldn't take more than an hour or two each day.
Don't worry about how good your writing is right now. You will go back again and again and revise what you have written. The point is just to get the words out and, on the page, so that you can shape them later into something beautiful.
If you're struggling with a specific part of your project, try tackling it first thing in the morning when your mind is fresh. You may find it easier to focus and write more quickly that way.
3. Write a Captivating Introduction
Write a captivating introduction that sets up your paper and hooks the reader, who should want to read more after reading the first paragraph. To keep them interested in reading your text, make sure you include the following elements:
Introduce readers to the topic of your paper.
Briefly explain why it's essential to study this subject.
At the end of the introduction, include a thesis statement.
4. Put Your Study into Context
You should demonstrate how your study contributes to the existing research on your topic. Contextualization comes after reviewing existing literature and identifying the need for the current research.
The reader also needs to see what value you add to your research field. Putting your work into context shows that you have conducted a literature review of existing research and makes your thesis relevant.
5. Your Conclusion Should Be Powerful
Your conclusion should be your chance to express the meaning of the findings in your paper. The conclusion is where you really get to shine in synthesizing your data and connecting it to the literature and theory you introduced at the beginning of your project. In short, this is where you tell your reader what it all means.
You will need to add some concluding remarks, restate your thesis statement, and provide the reader with the reasons why your research has been significant. In addition, provide recommendations on the direction that future studies on the topic should take.
6. Include All the Necessary Information and Data
Support your ideas and arguments using supplemental information such as a questionnaire, graphs, tables, and charts. It is common practice to include your additional data in the appendices section of your thesis. Also, adhere to the format of the style you use or that which your department requires of you. More importantly, the additional information should be relevant to your topic and add value to the reader.
7. Give Yourself Breaks
The best way to effectively work on the thesis is to give yourself breaks. When you are on a break, your mind will have time to relax and refresh itself, which is when it'll be able to produce new ideas.
Breaks are also crucial for your mental health. Working constantly can lead to stress and other mental issues, leading to your project not being finished.
Final Touches
When you've finished writing, it's time for editing and proofreading. Remember, no one gets it right the first time. Here are some things to consider when doing the final touches on your project:
Check Your Draft Against the University Requirements
When it comes to formatting masters theses, universities have strict formats that students should follow. Each institution has its unique requirements for its master's thesis. For example, some require a certain number of pages or words, whereas others require a particular chapter structure. Make sure that your work fulfills all the requirements before you submit it.
Proofread and Edit the Entire Text
Proofreading is about making sure your text is free of typos, grammatical errors, and plagiarism. Make sure that there's plenty of time for thesis editing and proofreading. Otherwise, you'll have to rush it all at once, which increases the chance of making a mistake. It will also be helpful if somebody else reads your text: he can advise you on how to improve your master's thesis.
As you re-read your document, look for:
Typos
Run-on sentences
Misspellings
Improper grammar and punctuation
Unclear or confusing ideas
Adhere to the Printing Guidelines
When it is time to print your text, be sure it appears exactly as you want it before sending it to the bindery or copy center. Spend some time looking at master's thesis examples in your field to see what is expected of you. As always, check your departmental guidelines in the master thesis writing guide for specifics about dimensions, format, and style.
Useful Tips and Tricks
We have provided you with the guidelines for writing a masters thesis. Here are more valuable tips and tricks to guide you on how to write a paper for a masters degree:
ᐉ

Track Your References
As you start writing, remember to keep your references organized. That will save you tons of stress later on when you are ready to submit your manuscript and need to create your reference list. Also, ensure that every in-citation you make appears in your references list in the correct format.
ᐉ

Avoid Distractions
Writing a masters thesis is a long and arduous process that requires extreme dedication. You need to set aside ample time to complete your project. But if you get stuck or distracted, it can take even longer.
You have to find ways to avoid distractions to have maximum concentration when writing. You can fight this problem by working in a library or keeping your phone in flight mode.
ᐉ

Collaborate with Your Supervisor
You need to establish a relationship with your advisor at your college or university. This person should be someone you trust and can talk to regularly throughout the process of completing your project. Their role is not only to help guide your ideas but also to help keep you on track with your deadlines.
ᐉ

Stay Consistent
Be consistent in writing your text. If you want to do it well, you need to work on it every day. Your goal shouldn't consist only of creating a text of a certain length but also of providing valuable content and making sure that each chapter has its purpose.
ᐉ

Avoid Perfectionism
Perfectionism is the ultimate enemy of productivity. If you attempt to make each part of your project perfect, you'll waste time. You might end up not accomplishing your goals in time. Accept that your first draft will not be perfect and allocate time for proofreading and editing.
ᐉ

Backup Your Data
Regularly back up your files so that you don't suffer any setbacks in case of computer failure. You can save your data to the cloud through services such as Google Drive or Dropbox.
FAQ
How Long Does It Take to Write a Master's Thesis?
The actual time it takes to write a thesis varies significantly by student, project, and field of study. Generally, though, students can expect to spend at least three months writing the document.
How Many Words Is a Master's Thesis?
The internationally accepted word range for a master's thesis is 40,000-60,000 words.
How Many Chapters Should a Master's Thesis Have?
A master's thesis can have 4-5 chapters depending on the nature of the study and university requirements.
Is a Masters Harder Than a Degree?
Yes, a master's is more difficult than a Bachelor's degree as it requires students to further develop their skills and understanding of their field of study.
What is the point of a master's thesis?
The primary reason a student undertakes a master's thesis is to train the student in the art of research and writing under the direction of their supervisors. It also allows them to delve deeper into a specific aspect of the topic.
Is a master's thesis worth it?
A student's master's thesis demonstrates critical thinking and is a priceless addition to the field of study. It is an excellent aid to students intending to pursue a position in research and development.
Do you have to defend a master's thesis?
Once completed, a student is required to defend their master's thesis in front of a panel of professors. Questions are asked to ensure that the student fully understands their topic.
Can you fail a master's thesis?
You can potentially fail a master's thesis by not submitting the project at all. However, there is also an option to fail if you don't defend your project to the proper level of competency.
How often are masters thesis rejected?
Theses are usually a matter of course since students' fates are decided well before the time comes to defend their theses. Even so, around 1% of these are rejected or asked to be revised significantly before resubmission.
What happens if your thesis is rejected?
When a thesis is rejected, it's not the end of the road for the student. Typically, a supervisor will give reasons for the rejection and ask that the student rework the subject matter significantly before resubmitting.
What is the difference between a master's and a Ph.D. thesis?
The most significant difference between the master's and the Ph.D. thesis is the scope of the study done to complete these publications. If broken down to its component topics, one may be able to extract four or five journal papers from a Ph.D. thesis but only one or two from a master's thesis.
What is the difference between a master's thesis and a dissertation?
Generally, the level at which you complete a thesis or a dissertation is the difference between them. Master's degrees require a thesis, while Ph.D. degrees require a dissertation.
Can I use my master thesis for my Ph.D.?
While you can base your Ph.D. dissertation on your master's thesis, the amount of work required would be significantly more. You cannot turn in a master's thesis as a Ph.D. dissertation. Need help with your phd dissertation writing? We would be glad to help you with your assignment!
Why are Ph.D. theses preferred over master's theses?
Master's theses tend to be less in-depth about a subject than a Ph.D. thesis. Because of this, a Ph.D. dissertation is far more desirable for employers since it shows more mastery over a subject.
How long should a defense be?
The defense of a thesis would depend heavily on the field of study and the paper itself. However, a defense usually lasts between one and two hours.
What should a defense include?
The thesis defense happens during the presentation. Within a presentation, there are several steps that a student has to perform:
Presentation of the topic
Listing the objectives
Discussion
Main vectors and potential issues
General conclusion