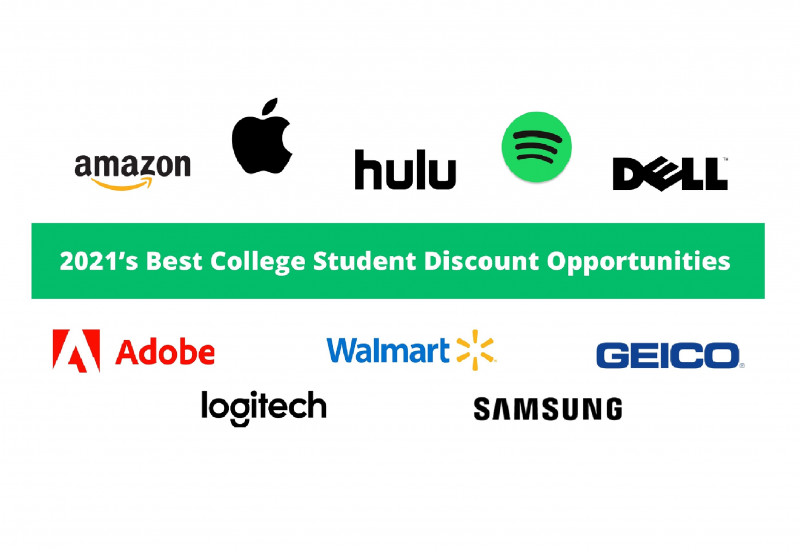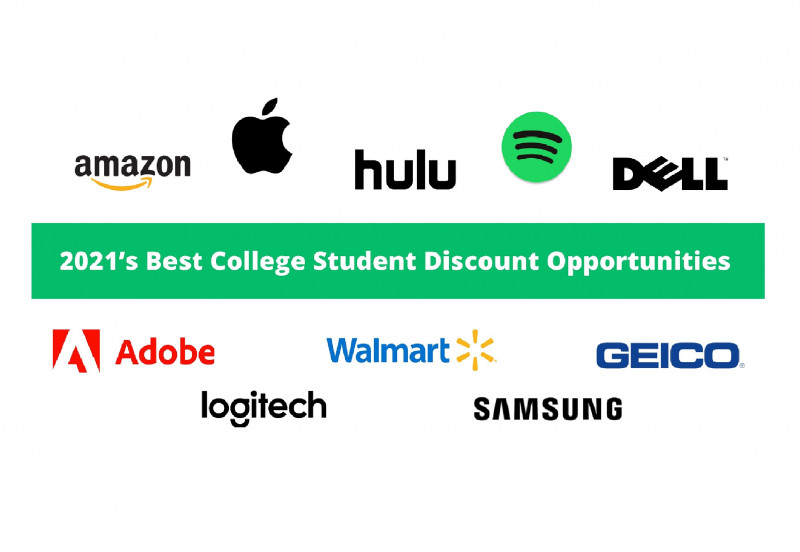 Offering a student discount is good business. That is why numerous brands are joining the list of student-exclusive deals, earning new customers in the college sector, and creating word-of-mouth excitement. And a demographic of $20 million people is worth fighting for.
If you'd like to reduce those $35,720 of average expenses per year, check out Studybay's extensive list of promotions. Having some percentage off your purchase might not make a big difference, but small wins count. The habit of finding the best student discounts will go a long way, so we're happy to share what we discovered for you!
Best Offers for Students in 2021: Black Friday + Cyber Monday
This year, the exclusive discounts are rolling out well before Thanksgiving week. Considering limited inventory and longer shipping times, you might want to start shopping earlier. We recommend looking around for early deals once the items are gone, they won't be around for the actual Black Friday date.
| | |
| --- | --- |
| Brand | Deal |
| | Up to 80% off on more than 700 titles, up to 70% off a retail price for Amazon Warehouse Deals |
| | Up to 50% off electronics, home appliances, toys, seasonal items, food, etc.; 1,000+ early access deals |
| | Up to 50% off TVs and laptops, kitchen appliances, baby items, vacuums, and video games; early deals for many best-selling items |
| | Up to 80% off on furniture and decor, including up to 50% living room seating, 50% bedroom furniture, and 80% on rugs |
| | Up to $750 on select items, 36-page early deals ad for tools, appliances, home decor and furnishings, runs, etc. |
| | Up to 40% off + up to $700 in free gift cards after purchasing purchase two or more qualifying major appliances totaling $1,999+ |
| | Up to 50% on new inventory in the "We Made Too Much" section, available in all shop categories but for selected items |
| | Up to 50% off everything 10,000 styles by more than 850 fashion and beauty brands |
| | Up to 50% off top items in all fashion-adjacent categories (for Him, Her, Kids, Home, Beauty) |
| | Month-long sales event with early deals, extra 20% off discount (or up to) on selections changed up each week. |
How to get the best Black Friday deal:
Skip the in-store sales and shop online; shocking in-store-only morning promotions are at their end;
Use a price tracker or browser extension (e.g., Amazon Assistant, Camelcamelcamel, InvisibleHand) to be notified about prices changes across multiple retailers;
Check social media your favorite stores will definitely post updates on their Facebook, Instagram, and Twitter feeds;
Check all policies in advance to avoid hidden pitfalls;
Beware the cheapest set.
Technology and Electronics for College Students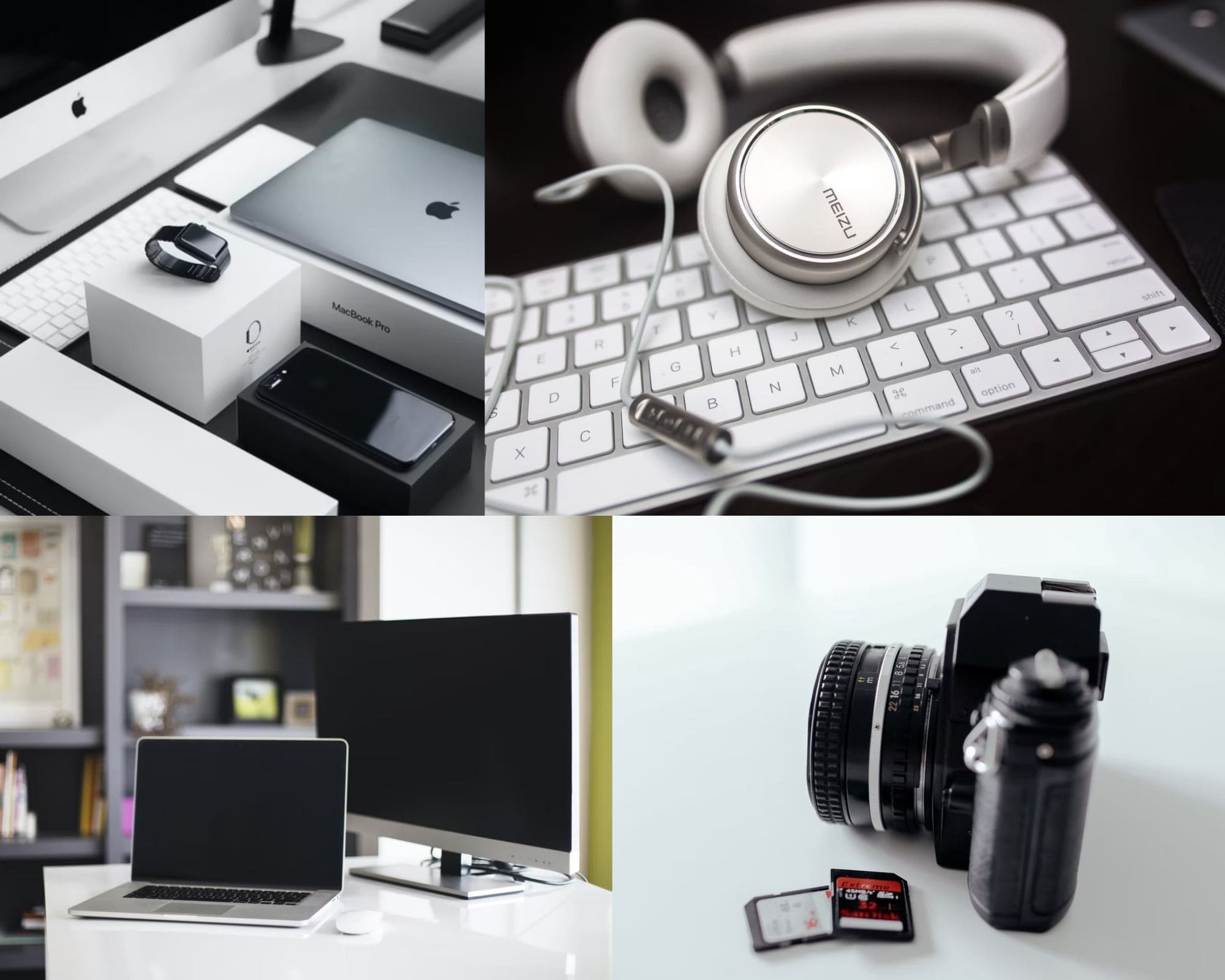 If you're upgrading, trade in the old version and get a little money back. If the manufacturer doesn't have a trade-in program, you can sell the item to offset the cost of a new one. If your current device is in good condition, you might make a considerable dent in the purchase price.
Don't buy extended warranties just because you're offered to. In some cases, they turn out pricier than the actual repair, which you may never need. Read the fine print to understand what exactly the insurance covers and how you can make a claim.
But most importantly, calculate the amount of money you'll pay over your commitment period. If you pay a four-year warranty of $30 + tax, you'll pay over $1,500. It might be a better idea to save the money on your bank account, creating your own device protection plan.
| | |
| --- | --- |
| Brand | Deal |
| | Education pricing for all Mac and iPad models comes at a discount for separate apps and app bundles |
| | 15% off selected items in many categories; it can be combined with other deals for a total of up to 30% off laptops |
| | Exclusive college student discounts up to 40% with membership benefits. The deal requires a .edu email address |
| | Up to 50%, the discount usually ranges from $10 to 20% off retail prices. Members must be registered for the B&H Photo EDU Advantage program |
| | 30% off for standard products and 10% off newly released products with Student Beans |
| | 20% off all cameras and accessories through UNiDAYS verification |
| | Up to $200 off selection items (codes: STUDENT100/150/200), benefits (deals, rewards, best price guarantee, easy financing), exclusive offers through the Dell Member Purchase Program |
| | 5% off sitewide (verified by ID.me); it can be combined with other deals, excluding doorbusters, clearance, and other select items |
| | Special pricing for most popular audio products. It applies to orders of $199+ and excludes refurbished products |
| | Special limited-time deals on selected items within all categories, regular updates on the selection of electronics |
Study Apps
Some people don't like the very idea of paying for software and mobile apps. But there are several examples of beloved free apps that were discontinued because they weren't profitable. Besides, developers have a vested interest in maintaining apps with paying users, and you will be able to enjoy all features without a paywall or severe limits. Now, here's how to cut costs.
Look for combo student promotions, e.g., cloud storage + free mobile apps + file sharing features. Ideally, you want your apps to extend to and synchronize both desktop and mobile devices. This way, you double your opportunities to study and create without having to pay twice.
| | |
| --- | --- |
| Brand | Deal |
| | Over 60% off (20+ apps, including Photoshop, Illustrator, and Acrobat Pro), $19.99/mo for the first year, then $29.99/mo |
| | Free for students and educators from eligible institutions, availability check on the website, additional discount for Teams |
| | 50% off the first full year of Squarespace (annual subscription plan only), student status verified by Student Beans |
| | 50% off one year of membership, scholarship for 10 recipients to get one free year of membership |
| | 50% off a full year of Evernote Personal, does not apply for the monthly subscription |
| | Free basic plan (limited to five projects), only $3/mo for EDU Plus and $5/mo for EDU Pro under the Students & Educators Tab |
| | 40% off Live Standard or Suite, with a bigger university discount if you make a bulk order or subscribe for 6 months outright |
| | $11.99 for six months; it ends automatically but can be renewed as long as you're enrolled |
| | Many perks on third-party services, including a 90-day free trial for Balsamiq Cloud, 2-month free trial at FreshBooks, and free InVision Prototypes for six months |
| | 25% off or $20.99 for a full year of TickTick Premium after submitting the required documents |
Streaming Services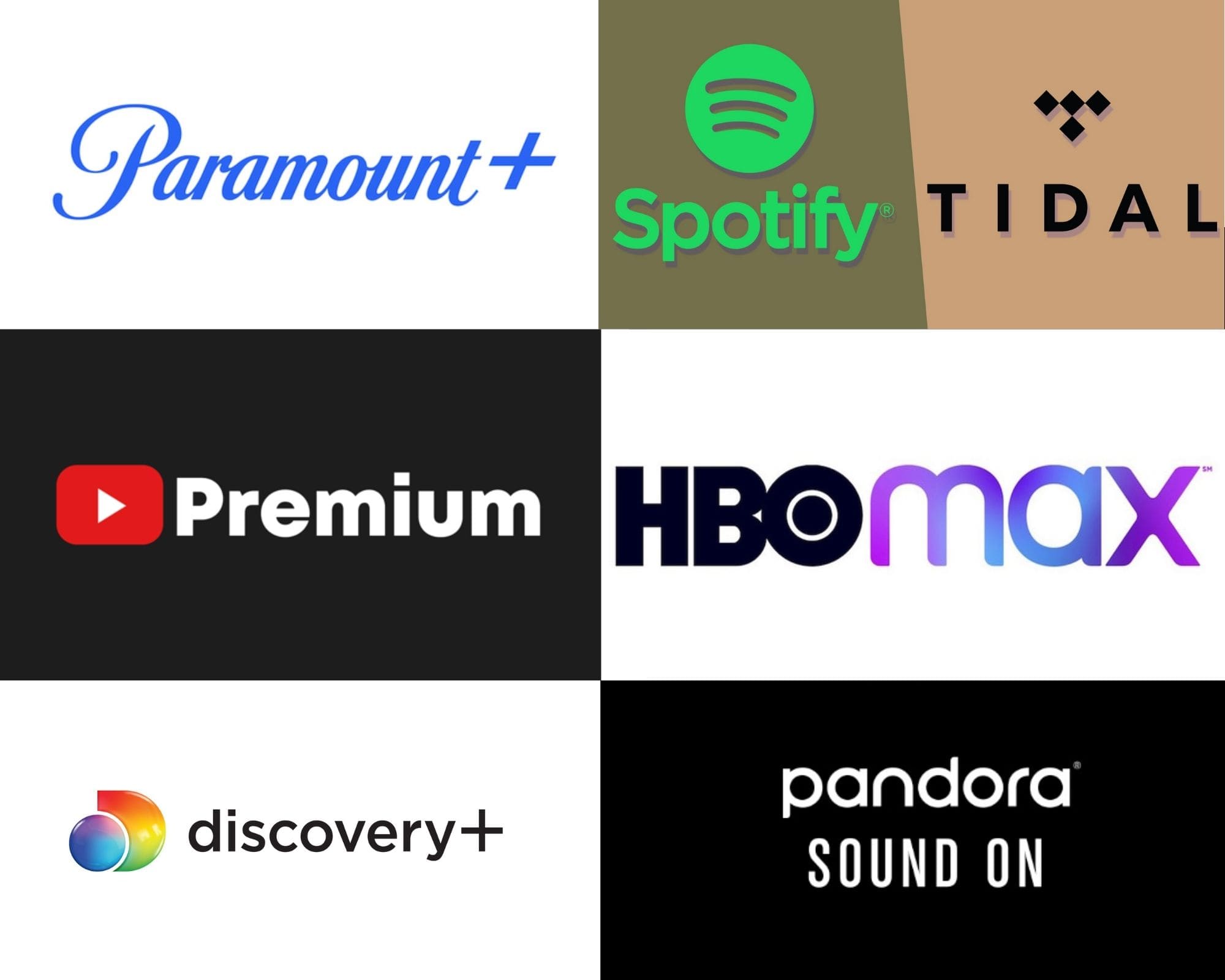 Before buying new subscriptions, drop the ones you don't use. If you've exhausted a handful of decent original shows on one service, there's no point in keeping it. Plus, you can always resubscribe.
While you're weighing the question of canceling existing accounts, consider getting ad-supported subscriptions. You probably don't like watching commercials, but the pleasure of ad-free viewing doesn't make up for extra costs.
See if there are any package offers for students home internet or phone service plans with a free subscription to Netflix, Disney+, HBO Max, etc., or streaming bundles with two or more services. Finally, if the service supports several user profiles, always share your subscriptions with friends and family.
| | |
| --- | --- |
| Brand | Deal |
| | 70% off or $1.99/mo for ad-supported plans, requires student status verification by Sheer ID |
| | $4.99/mo for the music, movies, and television bundle, saves up to 20% ($21.98/mo if purchased separately) |
| | Discounted monthly rate for up to 48 months, up to 50%, verified by the student discounts website UNiDAYS |
| | $7.99/mo for a monthly subscription, 15% off an annual subscription, available at UNiDAYS |
| | 25% off on the essential monthly subscription plan, up to three devices, offline access |
| | $6.99/mo with a one-month free trial (YouTube + YouTube Music + YouTube Kids), only for first-time subscribers, requires annual verification via SheerID |
| | 40% off subscription with limited ads, auto-renewals at $2.99/mo, but the student status must be re-verified through SheerID every 12 months |
| | 50% off both TIDAL Premium and HiFi plans, $4.99/ mo for Premium, $9.99/mp for HiFi, eligibility check by SheerID |
| | 50% off or $4.99/mo for Pandora Premium for up to four years |
| | $6.99/mo for Peloton App Membership on iOS, Android, Web, and TV apps for new and existing members |
Phone and Internet Plans
Explore three uncommon ways to fund lucrative deals:
Commercials At this point, we're practically wired to ignore or skip commercials. But cable providers tend to also offer internet service, which means you can score a bundle deal lurking in traditional advertising spots.
Mailers Before tossing flyers in the trash as junk mail, take a look at them. Some cable and internet providers give valuable promotional information or codes specific to your local area.
Call center agents This is your chance to discover non-publicized plans and discount deals. Explain your circumstances, and the agent might come up with a unique deal that you wouldn't find online.
Monitor your phone and computer usage and consider it when looking at data caps. If you're into data-intensive tasks like downloading large files, streaming video, or playing online video games, don't underestimate the plans you really need.
| | |
| --- | --- |
| Brand | Deal |
| | $10/mo off for one line, $25/mo off for two lines for unlimited plans |
| | Savings on AT&T qualified wireless service for international students from accredited US 2- and/or 4-year colleges and/or universities |
| | Special plans for Spectrum Internet®, Spectrum Mobile™, and Spectrum TV® |
| | 10% off on select plans, one Sprint Perks discount per account |
| | 20% off any plan for all students; get 25% off and student-specific perks from the company's partners |
| | Up to a $100 Visa prepaid card with fast Internet + six months of Amazon Music Unlimited |
| | Special student Internet plans, available in certain areas (can be checked by ZIP code) |
| | Discounted plans starting from $5 |
| | Up to 25% off DISH TV and Internet, $50 gift card to sign up for DISH with the promo code: DISHE50 |
| | $34.99 for 500 Mbps Internet + 2 months free + free installation, $9.95/mo for TrueMesh WiFi |
Books and Magazines
You can easily get magazine freebies at your local library or books store. These places typically keep only the two or three most recent issues of a magazine on their racks. Perhaps you can even get an older issue they're about to discard.
If you have a friend or neighbor with similar interests, you can share magazine subscriptions or swap them. After all, you're unlikely to read the same issue many times, so pass it on to someone in exchange for another magazine.
If you're looking for budget-friendly books for personal reading, go for e-books sold at a fraction of their printed counterparts. But if going digital isn't an option, buy them second-hand.
| | |
| --- | --- |
| Brand | Deal |
| | 50% off for full-time students ( promo code at check-out: STU12W) and other special student deals |
| | 50% off an annual digital subscription, special prices for Quarterly Digital and Annual Digital + Print; it cannot be combined with other promotions like Black Friday deals |
| | 50% off for print edition, newsletter, digital magazine in one offer for students |
| | 50% off for standard subscription (access to all standard-access articles, apps, email briefings, alerts, and portfolio tools) |
| | WSJ+ college discounts (website and app, events, offers, complimentary e-books, newsletters, podcasts, and discussions) |
| | 6-month trial for new members + 50% off membership (Reading, Delivery, Video, Music, Exclusives, etc.) |
| | $11.45 monthly subscription for students with a verified UNiDAYS account |
| | Localized students exchanges, price comparison engine |
| | 30% off selected items, with a confirmed student identity on UNiDAYS or Student Beans |
| | 10% coupon on the featured titles on top of the 10% off discounted items through Student Beans |
Insurance
You're in luck because there are tons of ways to minimize your insurance expenses (and you can combine most of them):
Buy different types of coverage from the same insurer Bundling doesn't guarantee savings, but it can. Major insurers advertise savings of anywhere from 5% to 25%.
Avoid unnecessary add-ons Only pay for what you need. For example, if you don't drive long distances, choose a low-mileage driver program or customizable plans based on usage.
Pay annually and on time Many companies, not only insurers, give you a discount for paying in full and for a long time. As for on-time payments, they help your credit history, saving your money in the long term.
Ask about a group or joint insurance Joint policies are often cheaper than buying two individual ones. Make sure other parties aren't considered high-risk; everyone should be relatively on the same level.
Be healthy, take care of your house, and improve your driving habits Whether it's life, house, or auto insurance, do everything that will make your insurance low-risk.
| | |
| --- | --- |
| Brand | Deal |
| | Personalized discount up to 30% for unmarried, full-time students under the age of 25, other requirements also apply + up to 10% off ePolicy |
| | Good student discount (16-25 years old), must prove academic achievements |
| | Car insurance discounts for good full-time students under 25, quotes available from sales agents |
| | Up to $200 off an auto insurance policy through Good Student, Good Driver, Fraternity, Sorority, and Honor Society Membership, and Alumni Associations discounts |
| | Personalized good student discounts; requires a current grade card and a form signed by a school administrator |
| | 10% off for good students on average but depends on the state (under 23 years old), additional discounts for distant students and teen drivers |
| | Personalized student discount; it can be combined with other programs like Steer Clear |
| | Policy discounts for good students (GPA of B or better), student-away-at-school discount |
| | Combined offers for good student + student away from home; the discount amounts vary based on individual cases |
| | Up to 10% off policy for unmarried, full-time students in states where auto insurance discounts are allowed |
Clothing and General Merchandise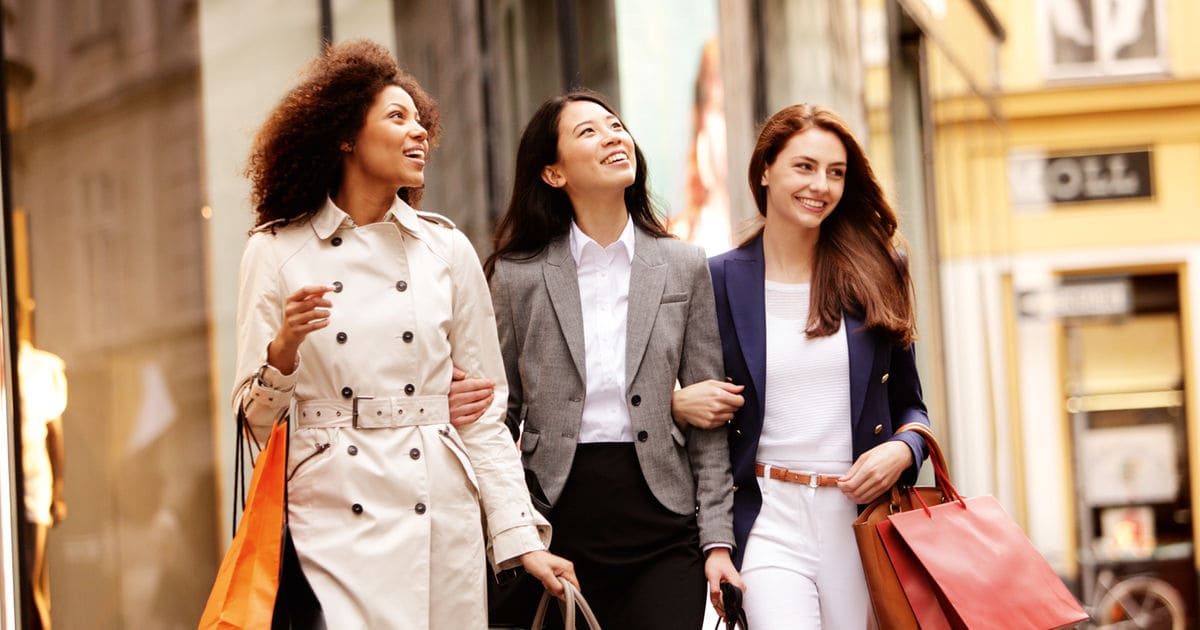 If your favorite online store doesn't have massive year-round student discount deals, they will definitely have several big sales throughout the year. With a bit of advance planning, you can time your purchases for the best sales. This is especially valuable for trendy statement pieces because basics get on sale less often than collections.
Don't shy away from online clearance sales you will find a much larger selection than most real-life stores. Usually, there isn't anything wrong with them; the manufacturer just made too much.
| | |
| --- | --- |
| Brand | Deal |
| | 10% off with a SheerID verification, available once every 30 days with a new promo code each time |
| | 15% off full-price items, discount up to $1,000, claimed through UNiDAYS code at check-out, exclusions: YEEZY, 4D, Ivy Park, Pharrell, limited edition Originals, and other select items |
| | 10% off online and in-store for customers verified by UNiDAYS |
| | 15% off with a verified account on UNiDAYS; it can be combined with other deals, e.g., H&M member and first purchase rewards |
| | 20% off online and in-store, must be verified by UNiDAYS |
| | Up to 70% off + extra 10%, discount code generated by Student Beans |
| | 25% off all items once the student status is verified with Student Beans |
| | 25% off all apparel on the website, unlocked by a simple questionnaire |
| | 15% off all items, including new collections, eligibility confirmed through the website form |
| | 10% off sitewide for those with a valid account at Student Beans |
Eyewear and Contacts
If you have good health insurance, see what your benefits cover. You might be able to use funds from your Flexible Spending Account (FSA) or Health Savings Account (HSA) and pay nothing for eyewear at all.
Most contact lens prescriptions last for one year, and packaged lenses have a four-year shelf life. This means you can buy in bulk not only is it more convenient, but you also save money per package.
As for glasses, think about getting two pairs through buy-one-get-one-free promotions. No matter how careful you are, accidents happen. So, you'll always have a spare that was also free. If you break the glass lens or when your prescription expires, don't change the frames.
| | |
| --- | --- |
| Brand | Deal |
| | 30% off through Student Beans; it can be combined with other sales and free shipping deals |
| | 30% off every item with Bluelight Lenses with a code from Student Beans |
| | 25% off for select full-priced items with a Unidays account, unavailable for limited-edition merchandise |
| | 25% off; it can be combined with deals for free shipping, can be accessed through UNiDAYS |
| | 20% off for verified UNiDAYS members and valid on full-price items only |
| | 10% off any purchase with a valid student status with UNiDAYS |
| | 10% off that can be used multiple times but cannot be combined with other promotions, eligibility verified by ID.me |
| | 10% off on orders over $100 via Student Beans ID, available for all sunglasses and eyeglasses |
| | 10% off for students with verified UNiDAYS status, cannot be used in conjunction with other discounts, product exclusions may apply |
| | 10% off through Student Beans, available for any one-time order made on the site |
Museums and Entertainment
Review the venue's online calendar for information about special lectures, tours, and programs. Those are often free but require a reservation. You can also find great discounts or free tickets during the slow season.
Some sightseeing cards like CityPASS & Go City can help you save 50% on admission to museums and attractions, as can regular bank cards (e.g., the Museums on Us program for Bank of America cardholders).
Brand

Deal

A special discount with a valid student ID, more details at the box office

Participating theatres in Texas: Lewisville, Denton, Hurst, Grand Prairie, Mansfield, Fort Worth

Special student pricing every day at participating theaters

Discounted pricing with a student ID presented at time of ticket purchase

10% discount on first-time memberships, free general and special exhibition admission with a valid student ID at partnering colleges and universities

Up to two $20 discounted tickets at the Alice Tully Hall or David Geffen Hall Box Office for select performances for full-time students with an ID

$12 general admission with a student ID (except for specially ticketed exhibitions), free general admission for students presenting an art-related assignment and through University Partnership Program

Special student rate for select performances, full-time undergraduate or graduate degree programs with a student ID

$10 a ticket for selected presentations, exclusive access to Hope and Robert F. Smith Chairman Student Seats

$2 off one full-priced adult Aquarium admission ticket or $2 off tickets for standard presentations at the Simons Theatre; combo tickets are also available

$15 rush tickets 90 minutes before the performance for select performances
Frequently Asked Questions
How do you prove you are a student at online stores?
Some websites use third-party services like UNiDAYS, SheerID, or ID.me. You can verify your student status through these services by providing your institution name and your school email address or authorizing it via your student portal.
Some stores check your student status directly, so you'll need to upload your dated student ID, class registration, or school bill before check-out.
How do I claim student discounts online?
Some websites ask you to contact customer support and let them know you are seeking a student discount. Their agents will instruct you on what to do next. In other cases, you will need to enter your unique code (generated on UNiDAYS, SheerID, ID.me, or similar services). But it can be as easy as just clicking "Claim Your Discount."
How can I find student discounts online?
The safest option is to use the discount directly offered by your chosen retailer. For your convenience, we've provided the links for the best deal above. You can also check out the Student Advantage Card website for exclusive college deals, some of which aren't even explicitly advertised by brands.
Can I get a full refund for items purchased with a student discount?
Most brands' refund policies would exclude limited-time price reductions during special events or student sales if the item arrived undamaged. But in the case of year-round discounts, you will likely get a full refund. The item must be returned in new condition, with valid proof of purchase.
Can international students get college student discounts in the US?
Yes, if you have an International Student Identity Card (ISIC card). It is the only internationally recognized form of student identification. Before traveling to the US, find local ISIC issuing outlets or apply for one through your university. The ISIC card can also help you get a free drink or dessert at a cafe.
How can I save on taxes as a student?
Claim American Opportunity Tax Credit (AOTC), find out which education-related expenses qualify for a tax credit or deduction, apply for scholarships (those aren't included as taxable income), take advantage of sales tax holidays, and seek out volunteer income tax assistance programs.