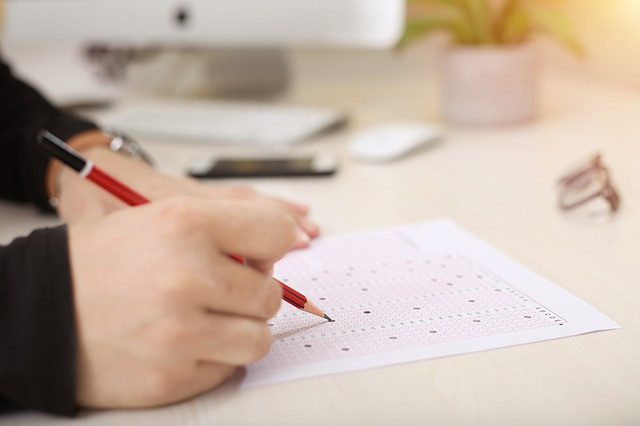 Between completing homework assignments, keeping up with weekly set readings, and writing up essay papers, there's no denying that being a student is often extremely stressful. But there is one aspect of being a college student that many people consider even more demanding: exams. In this article, we'll discuss how to prep for an exam so that you can ready yourself for that upcoming big test with confidence.
Step-by-Step Exam Preparation Plan with Tips
If you struggle to perform under pressure or have a less-than-stellar short-term memory, you no doubt find yourself in a bit of a panic whenever midterms or final exams roll around. But if that's the case, don't worry; this detailed guide on how to prepare for exams should help you to put together a robust plan of action. This article should give you everything you need to pass your upcoming tests with flying colors — but, if not, know that Studybay also offers an test help service to help you get the best grades possible.
Read on to find out some of our very best exam tips to help you do well in your finals!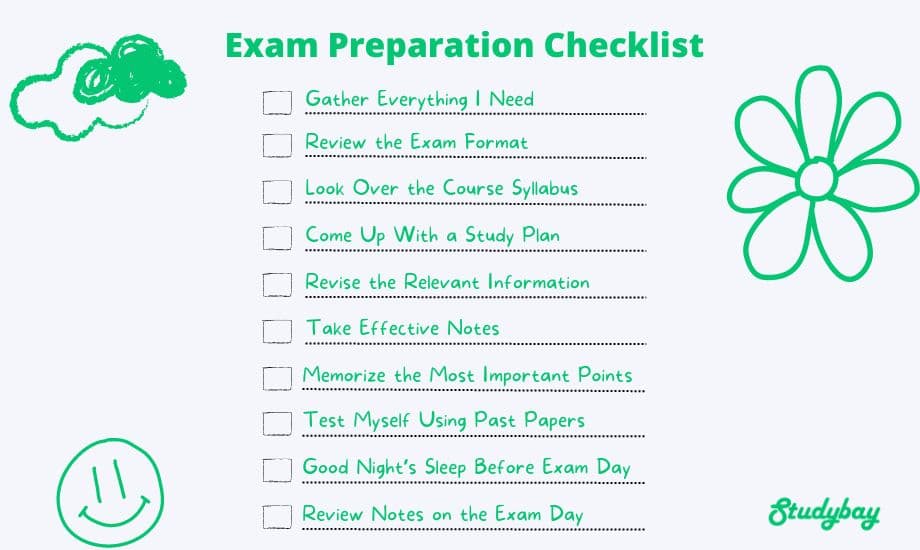 💻Make Sure You Have Everything You Need
When thinking about how to get ready for a test, the first step is to make sure you have everything you require for a productive study session. This includes gathering any relevant course materials you may need and also being sure to prepare your study space adequately.
Make sure you have all the relevant information at your fingertips.

Gather any

class notes

, tutorial PowerPoints, books, or articles you might need.

If you're in a suitable space, you might want to think about having some snacks and a bottle of water with you.

One of the most important

exam preparation tips

is to stay properly energized and hydrated during revision sessions.

If there's anything you can do to make your environment more comfortable to enhance your productivity, go ahead.

This is an often overlooked part of the

prep for exams

. Examples may include lighting a candle, playing some non-distracting music, or using focus apps like Forest.
🔍Thoroughly Review the Exam Format
One of the most important tips for exams is to figure out what sort of format the test will take—for example, whether you'll be confronted with a multiple-choice questionnaire, essay questions, or something else. By taking the time to make appropriate preparations for exams, you'll be able to understand what sorts of questions you can expect to be confronted with and, therefore, will have a better idea of how to revise.
Look at past papers to see how marks are allocated.

This will help when you're

preparing for tests

, as it will allow you to plan out how you'll tackle the exam before you've so much as stepped foot inside the examination hall.

Identify particular types of questions you struggle with and practice them before sitting the exam.

This is one of the most important

exam tips for school students

, as it can help boost your confidence and help you feel more prepared.

Practice different types of questions to make sure you understand how to answer them all.

The last thing you want is to be caught off-guard in the exam by a question you didn't prepare for.
📋Look Over the Course Syllabus
Reviewing your syllabus is one of the most useful tips for exam preparation because it can help you to get a broad overview of the various topics covered in your course. You will have been presented with this document at the beginning of your program. Hopefully, you've kept a hold of it because it can be an indispensable tool in university exam preparation!
Before you start to study, break down the material according to your syllabus.

The

best way to prepare for an exam

is to do so in an organized, logical fashion. It only makes sense to begin by looking at your syllabus.

Use your syllabus to identify any sections that you found particularly challenging.

When

studying

, you can

focus

on those sections, making the most of our

examination techniques for students

to ensure you get all you can out of revision.

Check off items on the syllabus after you've revised them for a sense of completion.

Doing so can help you to stay motivated, making it easier to keep on task.
📆Come Up With a
Study Plan
Once you've taken a look at your syllabus and know what you have to revise, it's time to put together a study plan. This is essential preparation for an examination, as taking a logical approach to your studies will help you to manage your study sessions appropriately.
When putting your study schedule together, keep in mind the following:
Your attention span isn't limitless.

When thinking about

how to prepare for the exams

you have coming up, don't forget that you're more likely to be able to

concentrate

and

retain information

if you take plenty of breaks and alternate study topics.

Cramming should be avoided.

While it may be a common

last-minute

measure among

college students

, we would certainly not recommend cramming when thinking about

how to prepare yourself for a test

. Rather, our

advice

would be to hone your

time management

skills to avoid developing bad

study habits

.

Breaking work up into smaller chunks can be helpful.

To

reduce stress

, consider breaking your work up into smaller bits. This will help you remain motivated, meaning you'll be able to tackle revision more

efficiently

. Using digital school planners like My Study Life can make this easier.
📖Revise the Relevant Information
One of the most crucial tips for the exam season is to make sure that you spend a good deal of time reviewing the relevant exam material. That is to say, when preparing for the exams ahead of you, you should determine which topics are the most likely to come up and revise them thoroughly. If your lecturer is feeling particularly gracious, they may give you a few hints as to what you can expect to find in the test.
There are many different ways to prepare for a test. These include:
Making flashcards and drawing up mind maps.

You might do this using pen and paper or through apps like SimpleMind and AnkiApp Flashcards.

Quizzing your friends.

You could do this in person, perhaps with a few tasty snacks and drinks, or online.

Coming up with mnemonics and stories.

Get that creative muscle working by coming up with stories, simple songs, and mnemonics to help key facts stick.
✍Take Effective Notes
Another one of our best preparation tips is to take notes while you're revising. Yes, we realize you're probably already swimming in class and lecture notes, but the fact remains that writing things down by hand is still one of the best ways to prepare for an exam. In fact, studies have shown that students who take notes by hand learn the material more thoroughly and retain it for longer periods of time.
Further tips on preparing for exams when note-taking include:
Find a format that works for you.

Bullet points, mind maps, flashcards— use whatever method you find most effective. If you make digital notes, productivity apps like Notion can make it easier to organize them.

Try color-coding your notes by topic.

Color coding will not only help make your notes more memorable but also makes the revision process a bit more fun!

Rephrase key takeaways in your own words.

This helps to ensure that you have a really thorough understanding of major points and also should make them easier to remember.
🧠Memorize the Most Important Points
One of the most important exam prep tips is to be sure to commit the most important bits of information to your memory. It's unreasonable to expect you'll be able to memorize the contents of your entire course. Instead, focus on memorizing only the more crucial details—such as important dates, statistics, formulas, and so on.
Try using visual aids like flashcards to memorize information.

You might make physical cards or use apps like Brainscape or the aforementioned AnkiApp Flashcards. When

getting ready for exams, tips

like these can make all the difference in your performance.

Use highlighters to coordinate topics by color.

This is one of our

top tips for exams

that will never steer you wrong! Numerous studies have shown this practice can help boost your memory.

Write out important facts by hand.

When you take notes by hand, they're more likely to stick in the mind. Try writing out especially important facts numerous times to help memorize them.
📝Test Yourself Using Past Papers
In a list of good exam tips, it would be an unfortunate mistake to forget to mention self-testing. Indeed, of all our tips to prepare for exams, taking practice exams is perhaps the single most important. To make the most of past papers, you may wish to consider getting some exam help from one of our experts. Helpers from Studybay have experience in a wide variety of subjects, meaning they can walk you through previous exams and give you the help you need.
Pay attention to the way questions are formulated and phrased.

This will help you develop foolproof

strategies for preparing for exams

.

To benefit most fully, be sure to check what you've written against the correct answer

.

If you got the answer wrong, look and see what you could have done differently.

Take the test with classmates and compare your answers.

With apps like Padlet, you can even collaborate remotely.
💤Ensure You Get a
Good Night's Sleep
Before
Exam Day
Resting well the night before a test is one of the essential good test preparation tips, and no list of tips for students before exams would be complete without it. In fact, while it may not instantly come to mind, this is one of the most significant tips before an exam.
Aim for around 8-10 hours of sleep.

We don't often associate

finals week

with being well-rested, but before your

next exam

, you should be sure to get the proper amount of rest.

Avoid screens for at least an hour before bedtime.

We've all been known to "doom scroll" before going to bed. But to get the best quality sleep possible, try to avoid this.
Try using a relaxation app to help you fall asleep.

Apps like Calm include soothing music, bedtime stories, and guided meditations to help you unwind.
📓Review Your Notes on the Day
Before a big exam, it can be tempting to review up until the very last moment. But if you really want to know how to get ready for an exam, be warned that you should avoid this temptation! Your brain needs time to assimilate information properly.
One of the most essential tips before taking exam is to give yourself at least an hour to process your learning.

If you're revising up until the final few minutes before your test, odds are you'll go into the exam stressed-out and ill-prepared.

Review only the most important pieces of information.

If you try to cram in more than that last minute, it's unlikely any of it will stick.
Conclusion
This article has covered some of our best advice on how to get prepared for a test. Below, we've compiled these tips for studying for exams into 2 simple lists for your convenience:
Do's
Review the format of the exam so that you know what to expect
Look over your syllabus to remind yourself what topics your course covered
Study exam material and take detailed notes—by hand, if possible
Memorize the most crucial pieces of information
Take past papers in preparation for the test
Don'ts
Don't neglect to gather your study materials before starting
Don't forget to get a good night's sleep the day before the exam
Don't revise without deciding on a study plan first
Don't study less than an hour before the exam starts
Additionally, in this table, you'll find some great app recommendations to help you make the most of your studies:
| | | | |
| --- | --- | --- | --- |
| Name of the app | Rating on the App Store | Price structure | Description |
| | 4.6/5 | Pro version available from $25 | Create custom flashcards for revision, or download pre-made study materials |
| | 4.7/5 | Pro version available from $19.99 | Create flashcards with text, images, and sounds, and track your revision progress |
| | 4.8/5 | Pro version available from $14.99 | Listen to soothing music, bedtime stories, and guided meditations to help you sleep |
| | 4.8/5 | $3.99 | Plant virtual trees by meeting study goals to help you overcome distractions |
| | 4.7/5 | Free | Keep track of homework, assignments, and revision with this scheduling app |
| | 4.0/5 | Pro version from $4.99/month | Organize notes, make to-do lists, and collaborate with others with this planning app |
| | 4.5/5 | Pro version from $5.99/month | Form a study group and collaborate with each other over this easy-to-use app |
| | 4.5/5 | Pro version available from $10.99 | Easily create mind maps while on the go with this cross-platform application |
FAQ
What is the best way to prepare for exams?
When thinking about how to prepare for tests and exams, there is no one "right" way. There are a wide variety of exam preparation methods out there, some best suited for individuals, others for study groups; the trick is to find the method that best suits you.
How to prepare for an exam effectively?
If you find yourself asking, "how should I prepare for exams successfully?" just remember that there is a wide range of exam preparation techniques for you to try. Note-taking, flashcards, and mind maps — these are just a few examination tips that can help you prepare for tests. Try out a few different methods to find out what works for you!
What if I have one day left for preparing for exams?
To pass your upcoming exam, you should try and start revising as soon as possible—but sometimes, for one reason or another, things don't work out this way. In that case, making use of our tips for preparing for exams can help you make a quick improvement to your exam prep techniques and, thus, your results.
References
"Want to Do Better at Exams? Take Notes by Hand - Not on a Laptop." The Independent. Independent Digital News and Media, April 2, 2014. https://www.independent.co.uk/student/news/want-to-do-better-at-exams-take-notes-by-hand-not-on-a-laptop-9233179.html.
"How to Make Good Revision Notes | A Student Guide." Oxfordsummercourses.com. Accessed March 2, 2023. https://oxfordsummercourses.com/articles/how-to-make-good-revision-notes/.