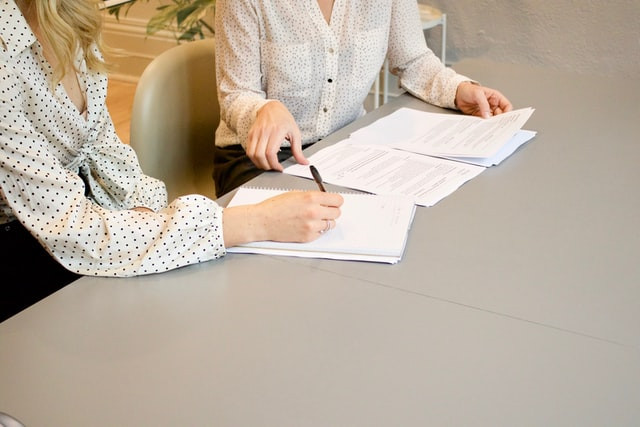 Are you looking for the first job? This period may be one of the most challenging and exciting in your life. You're going to start your career, and, of course, you should do it with a bang!
But how can you impress future employers? Many students are graduating each year, and all of them want to obtain a decent position. Is it possible to stand out among competitors? Of course, it is!
The first thing you need is an outstanding CV. You've most likely heard about this document since it has the typical structure for all countries and professions. It sounds easy, but things become more complicated when it comes to your career, especially if you don't have enough experience.
We have prepared some actionable tips on how to write a cv and a cover letter to make an impression. Follow them to achieve the result you need!
Start With the Definition: What is a CV?
The first thing you should always start with is a definition. If you need to write any paper, it is crucial to understand its features and objectives to develop an excellent final draft.
So, CV stands for curriculum vitae ("course of life"). It is a brief but detailed document highlighting your academic and professional background. Writing a CV, you most likely need to include details about educational institutions, achievements, awards, scholarships, research projects, work and volunteering experience, etc.
You may need to submit a CV when applying for a job or in the situation when your professor assigns you this task to practice your skills. Though there is a typical structure that is generally accepted, CV can be different in some cases. If you're a designer or a game developer, you can even come up with a creative document. Below you'll find some ideas you may use.
Is There a Difference Between a CV And a Resume?
Most likely, you've mentioned that the words CV and resume have a similar meaning. Both documents are intended to summarize the applicant's education, professional background, skills, and achievements. When it comes to such countries as Australia, South Africa, and India, these terms are interchangeable.
However, in the United States and most European countries, CVs and resumes have some differences. The resume typically is a very brief document with concise information about your previous experience. On the other hand, a CV is a longer paper containing details about your academic achievements, e.g., coursework and research.
What does that mean for you? Writing a paper, you should understand your goals. For example, if it is just an academic assignment, your task to consider the professor's requirements. And when it comes to applying for a job, read the description attentively to find out what the hiring manager expects of candidates.
Essential Parts of Professional CV Piece
It is important to understand that you may make mistakes when dealing with an academic assignment and get a poor mark. But it doesn't define you as a student, you still can boost the performance. It is normal when students are not good writers and cannot come up with an A-level paper at once.
However, if you're writing resume templates to apply for a job, you need to be professional. Even if the hiring manager finds you an inappropriate candidate, one will remember you as a responsible one. One of the most important skills for specialists in any field is networking. It would help if you made new friends wherever it is possible. Who knows, maybe you will work with this recruiter in several years. It is ok if you lack experience or skills, but you should develop a perfect CV.
Each resume consists of several essential parts you should consider:
Introduce Yourself
The first thing you need to provide in your CV template is personal information: your name, surname, date of birth, and the position you want to obtain.
Most likely, you have a list of vacancies you like, and there is a temptation to come up with one document for all of them. And it would be a mistake. You can't write something like "I'd like to get any job you can offer", or "It doesn't matter". It is important to provide a concrete position.
In this section, you should also add a type of work, e.g., the part-time job, the internship, the assistant position, etc. The hiring manager should know what exactly you want. Some candidates mention their salary expectations, but it may not be the best idea, especially if it is your first work experience. You can check some examples of how to write self-introduction in our guide.
Provide Contact Information
The next important section is a list of contacts to help the future employer contact you to ask some questions or schedule an interview.
Until otherwise specified in the job description, you need to provide your phone number and email. In modern realities, you can also add the link to one of your social media, e.g., LinkedIn or Facebook.
Please be attentive since if you miss a typo in the number of addresses, it is unlikely that someone will look for the opportunity to contact you. Hiring managers deal with bunches of resumes, and if they can't reach the candidate, they proceed to the next one.
Add Work Experience and Achievements
Your next step is to provide information about your previous work experience. List your positions in reverse date order, making sure that any data you mention is relevant to the job you're going to obtain. For example, if you worked as a waiter during your studies, and now you're applying for an economist position, you shouldn't indicate all cafes. Choose the most appropriate ones where you've learned something significant for your career.
The main point is that you need not just list positions. The hiring manager wants to know about your achievements. Maybe you were the "employee of the month"? Boosted sales by 25%? Use concrete details and numbers to make your CV template more impressive.
If you don't have any work experience, don't skip this section. Think about college projects, volunteering, internships, etc. Include dates, locations, and any other necessary data.
Write About Your Education Background
List and date all previous educational institutions. The high school, college, university, etc. Include professional qualifications as well, e.g., courses, master-classes, conferences, and so on. Online education is in great demand today, and if you have some certificates from such platforms as Coursera or any other, provide the information about them.
If you lack work experience, concentrate on the education section to show that you have the appropriate knowledge.
Consider The Skills that Makes You the Perfect Match
This is where you talk about yourself as a decent candidate. However, you can't write a list of skills just from scratch. It is important to consider the concrete job description and indicate skills your future employer needs from you. Remember that you can't lie or embellish. If you understand that some requirements are not your strong points, you can honestly write about it in your cover letter.
Some specific skills are necessary for people looking for their first job:
working in a team;
negotiation;
organization;
verbal and written communication;
leadership;
analytical thinking;
IT skills.
Of course, you shouldn't just copy the required skills from the vacancy. Try to choose other words to describe yourself, and concentrate on concrete features that make you stand out among other candidates.
Add Section With Additional Hobbies and Interests
Of course, each person is something more than just a set of educational and work achievements. You indeed have some hobbies and interests that affect your personal and professional life. For example, if you like reading fiction, you are most likely a creative person who can think out of the box. People with sports hobbies are well-organized, they know how to set and achieve goals.
Looking for a new employee, hiring managers want to find someone who will become a good team member. That's why when writing a curriculum vitae template you should show yourself as an interesting person who can keep a work-life balance.
Besides, you may not expect it, but you can attract attention to your candidacy with your hobbies. For example, when they are rare enough, or when your future boss has the same interests. So, be sincere and include what you like.
Support Your CV With a Cover Letter
The next challenge you may face is to understand how to write a cover letter. It is not the most straightforward task since you can't just follow a concrete structure and add blocks with data.
A cover letter is a paper purposed to uncover some aspects that are not obvious from your CV template. For example, if you have poor academic performance, you may want to write something about it. Or you may have a desire to tell more about some of your hobbies. One more objective of a cover letter is your motivation to work in this concrete company to obtain this position. It is especially crucial if you're not a very experienced specialist: this paper will show that you are a decent candidate.
Choose the Appropriate CV Letter Format
We have already mentioned that hiring managers deal with numerous CVs and resumes all the time. It means you may miss the opportunity to make an impression with the content of your piece. It would help if you formatted it appropriately. It is the same thing as with your research paper. You may write a fantastic document, but it means nothing until you submit it in a required manner.
That's why it is important to find as much information as possible about companies you want to work in. They may have different missions, values, approaches, challenges, etc. You should use this knowledge in your cover letter to achieve this goal. For example, when it goes about a substantial corporation with a solid structure, you should provide them with a strict application. And when you're applying to a modern design agency, it would be a better choice to submit a creative CV and cover letter.
Read Some Good Samples
If it is your first time, you may feel that theoretical knowledge and tips are not enough to develop a decent result. It is similar to math problem solving when you know all the necessary formulas, but you need the teacher to show you the process.
Read some successful cover letter examples and analyze them to mention some strong points you can use in the paper. However, you shouldn't copy them since your task is to write a unique piece, your personal story.
Besides, you may pay attention to aspects in samples that seem poor to you. Analyze them as well to avoid the same mistakes.
Clear and Readable Fonts
Your CV and cover letter should be readable. Go for one of the traditional typefaces, such as:
Arial;
Times New Roman;
Helvetica;
Tahoma.
If you choose something like Comic Sans MS, Corsiva, Lobster, Pacifico, and so on, your final draft won't look professional enough.
Use 11 to 12 pt font size and single spacing. If you want to highlight some aspects, e.g., your name, section titles, educational institution name, etc., pick a bigger font size, or go for bold.
Don't Use Too Much Graphics
You shouldn't use pictures and any other type of visual content in your CV. If you're a designer, a copywriter, a social media manager, etc., you need to support the resume and the cover letter with a portfolio. But don't include this creative content in the main document.
Graphics may distract the hiring manager of the essential aspects of your document. However, if you think it would be a good idea, you can download a lovely CV template, for example, from such websites as Canva. It will make the sheet of paper more interesting since the traditional white background sometimes looks quite dull.
Keep It Brief and Clear
Most CVs have 1-2 pages maximum since they are intended to provide your future employer with the most important information. They should understand who you are and whether you suit this position at first glance. Leave the touching story about your childhood for the interview, where you'll have personal contact with the recruiter.
Once you finish writing the CV, you need to read it once again and get rid of any details you find useless. Eliminate adjectives, long explanations. Leave only those facts from your biography that have affected your career, showing you as a perfect match for this vacancy.
Show Your Enthusiasm
Each decent employer wants to build a team, not only professionals but soulmates. Companies look for people who can share their values and contribute to creating something new and powerful.
Many people look for a job to earn money. But this approach doesn't make anyone happy. Of course, you want to build an outstanding career, but why not choose the company to help you grow as a professional? And once you find the one, share your opinion with them. Writing your cover letter for a CV, you need to explain why you want to work here. If they are looking for enthusiasts, you will attract the attention you need.
Use a Friendly Yet Professional Tone of Voice
However, it doesn't mean you should compile the CV and cover letter as if you're old friends with the hiring manager. Even if it is a fresh startup with a young team and loyal management, you should remember the business ethics and correspondence rules.
Stay friendly but polite. Write from your heart, and mention how this company may help you and how you can contribute. If you know how to overcome the challenges it faces, write about it and suggest a couple of ideas. This will help your positioning as a professional.
Rely on Expert Help
Regardless of the primary purpose of your writing, you may need assistance from a qualified expert. If it is your academic assignment, you may want to save time and boost your performance with a good grade.
And when it comes to the real-life, when you need to look for a job, a CV template compiled by a seasoned author will provide you with the confidence required in this way. It would help if you didn't worry about this document's quality when you need to concentrate on your knowledge and skills to obtain the desired position.