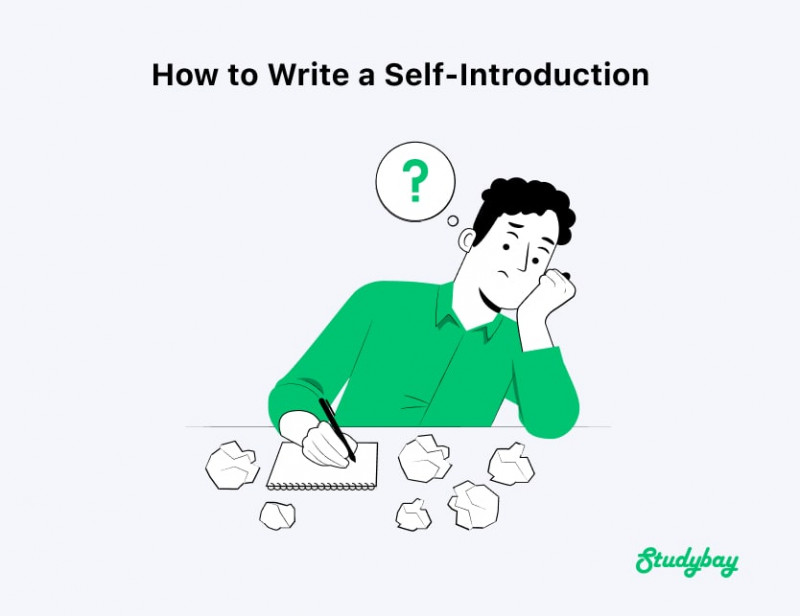 A self-introduction can be intimidating for people who aren't too expressive, especially when dealing with the first time. It goes a long way towards creating an appealing first impression. You might feel it is a bit embarrassing but realize that you need to prepare an elevator pitch for yourself. Your intro is what tells people who you are and where you come from. Your beliefs, social stance (ideally with a reference to your social media platform), and thought process makes everything come under the brackets of self-introductions. You can't build a new connection without opening up to the other party.
Step-by-Step Guide to Self-Introduction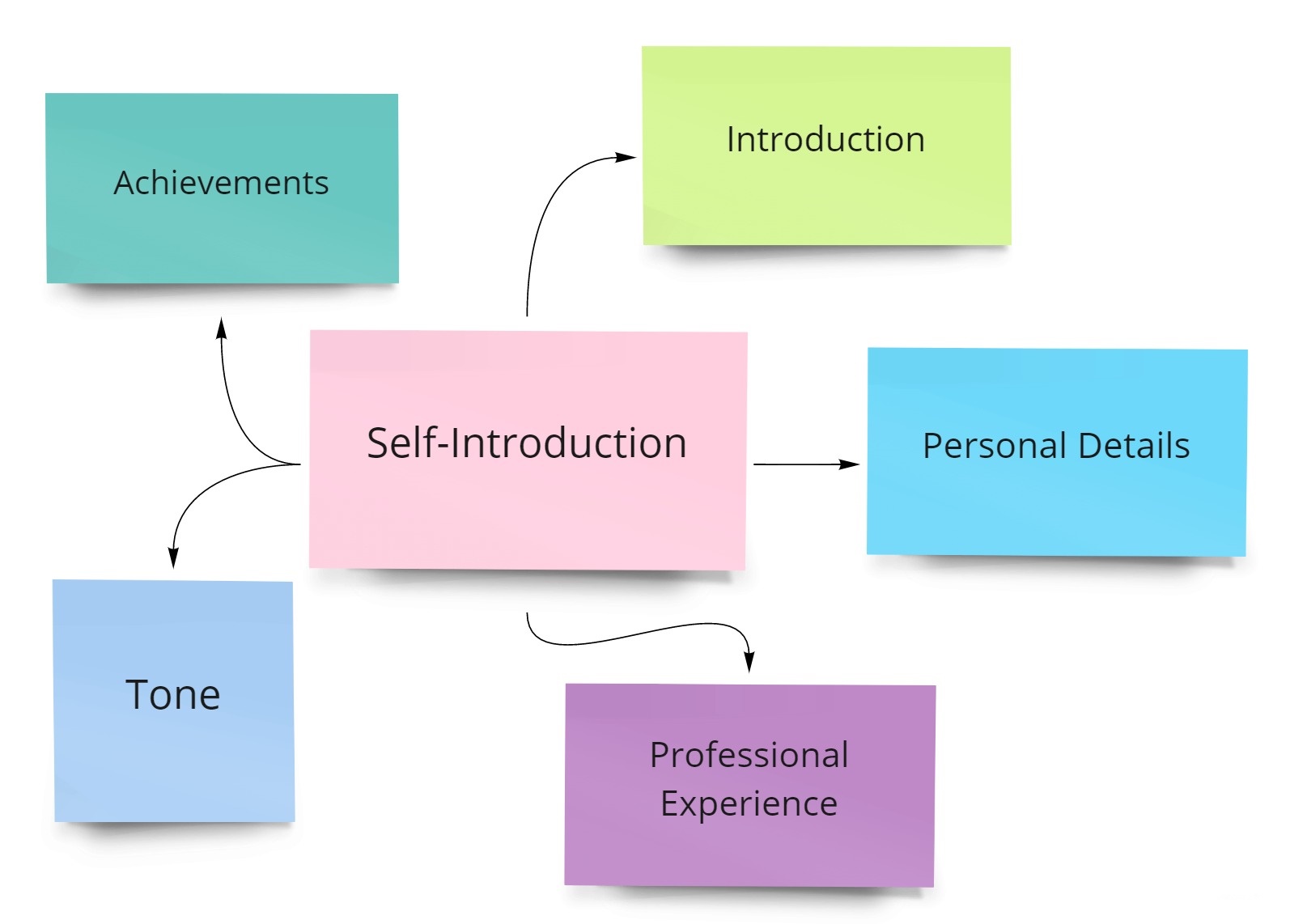 Work on an Introduction
The first thing your readers will come across is an introduction. You need to make it interesting and brief. Look at the position of the person you're writing to and set a decent tone. Your professional introduction should be formal, mainly if you're writing an essay for a job or emailing someone on a professional level. Take very good care of minor issues if you want to set a good first impression.
A concise and small introduction can set a great first impression on the reader. Come up with catchy hooks. Try to use phrases rather than extensive sentences. Your recruiter won't have a lot of time to go over everything you write. They will skim through your writing and remember the interesting bits of it.
Personal Details are Important
You may be an amazing worker, but potential employers want to know more about the people they consider hiring. It helps them understand their workforce better and have a stronger emotional intelligence while dealing with their staff. Let your guard down a bit here. Write about your interests, such as your hobbies. It can be anything; traveling, reading, trying different cuisines, or even making new friends.
Mention your skills and your views on working in a team. Be positive about these things as companies mostly hire team players who can take the department forward. Let the paper reflect your personality.
Time for Your Professional Experience
You are incomplete without your professional experience. Remember that education is a necessity, but it boils down to professional experience. Someone who has more field experience than others already has a chance of bagging the vacant position in their job search. Add details relevant to the job description in your cover letter. Remember, your hiring manager is looking for people who fulfill the new job's needs. People are competitive, and the benchmarks are set too high!
Set Your Tone
Your self-introduction is going down the drain if you don't set the right tone. You don't have to sound too formal when you address someone about yourself. Remain casual but respectful, like in an interview room, so it doesn't seem like you're going over the top. Bear in mind that you are not talking to a childhood friend. You can't use cuss words or swear too much. Subtly is the key. Use your natural writing and speaking style to remain at ease and sound confident. It will help you set the bar right between a conversational tone and a professional tone. Remain along the subject line while attracting the reader to your work by maintaining a suitable tone.
Don't Forget Your Achievements
Use your achievements like college-level certificates and awards to show them your efforts are acknowledged by others and you are dedicated to working even harder in the future. It will reflect that you are competitive and will give your hundred percent in any task.
Including workplace achievements such as promotions and best employee awards will show that you don't lack in any area of your life. The hiring manager will pay attention to these professional achievements, as they can deduce your dedication to your job.
Simple Tricks That Will Get You Through With Flying Colors
It is good to focus on your writing, but there are always some shortcuts that can help you better yourself while standing out. Writing is not everyone's skill set, especially when it comes to writing an introduction about yourself. So there is no harm considering the help of a few tricks along the way and a bit of career advice.
A Catchy Title is Helpful
Never underestimate the power of a title. It is the first thing that a reader sets his eyes on! Keep it creative and unique. You can add your job title here too. Do yourself a favor and take your time to think of a title that leaves your reader speechless. Don't rush in any way.
Keep it Sweet and Simple
There is no need for you to use complex vocabulary. Readers appreciate things that make sense in introductions rather than complicated vocabulary that won't get you anywhere. If they have to get a dictionary to understand you, they would rather move on to some other applicant's report. It is not a job interview. Be vivid but don't go overboard with language skills and words.
State Something Unique
No, it doesn't mean you state irrelevant details about yourself. We want you to start off on a different note. Add a bit of a punch to your intro. Share an unusual but interesting event which helped you become the person that you are. An experience that you can't ever forget. Something that isn't work-related. Such things develop a person's thinking. If you can show it in your writing, then your audience will be pleased with you!
Tell Tales With Care
It is okay for you to share a story from last year if it matters to you. However, be careful about how you present it. Stories play a huge role in personal introductions. They are like your first-hand experiences with life and tell a lot about the way you approach problems. It should not reflect negatively on you as an employee. Your stories should show problem-solving behavior. Don't appear to be negative in areas such as the marketing department of your last job, otherwise, it can harm your chances of getting the job.
Don't Be Bland
Keep your paper interesting. Don't use a boring tone and simple sentences everywhere. Add a bit of crunch where you feel it won't cross the boundaries of your paper. Plain writing is known to repel readers as they find nothing fascinating about it. Write your paper with creativity and honesty.
Check Online Samples
The online world is here for your rescue. You are not alone in this journey of self intros and writing. Get your hands on the best templates online to have a clear mind and direction to follow when you start writing an introduction. These samples will guide you towards better ideas and ways to enhance your content. Feel no shame in shaping their ideas into yours. It is normal to seek help when you are new to something. Download some samples and take your time going over them.
Follow an Easy Format
Formats might be a bit too complicated when you check them online. You can ask around while looking for the best one on the internet as well. Pick the one that fits your need best and work with it. Decide on a specific, clear, and well-structured format that makes it easy to follow the content. Quit shuffling between formats.
Proofread
We always say this, and cannot stress this enough, proofread all your work. Your final draft must be close to perfection. Read everything and make the required edits yourself. You can ask a friend or someone else you trust to do it for you too. Never skip this step if you want to avoid unnecessary errors.
With all this knowledge, you're ready to start with your self-introduction. Without wasting any further time and energy on overthinking, get started with your paper. It may take a few tries the first time you try it, but after a few rough drafts, you'll become a pro!