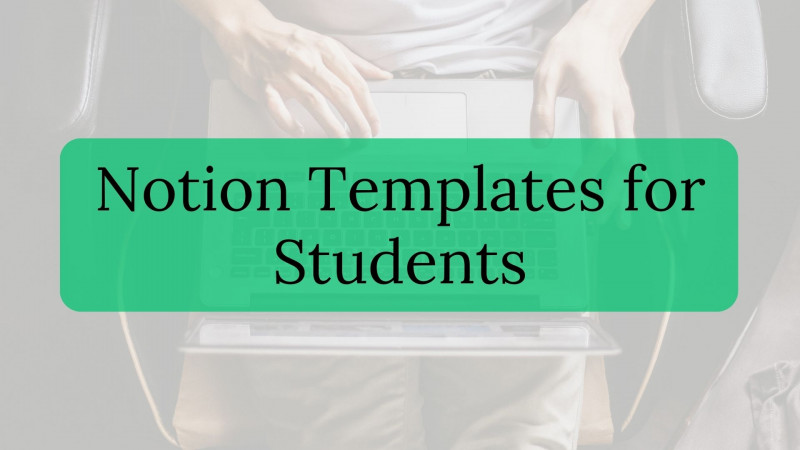 Have you ever wondered if there was a way to maximize your efficiency? To have all your notes in one place and properly organize your study life? If you haven't heard of Notion, you have now. Whether you're looking for the best Notion templates for students free of charge, Notion templates for university students, or Notion templates for high school students, you're bound to find something that fits your needs.
The application is a free-to-use, innovative platform used by people across the globe to streamline workflow. Available on desktop, it helps students and professionals simplify the workspace, maximize productivity and stay organized. Instead of having a diary, a to-do list, a planner, and a notebook, this can all be blended into one space, meaning you no longer need to have seventeen tabs open in your browser.
For students who are on the go, there's also a mobile app, which is available on Google Play and the Apple App Store. This is great to use alongside the site and edit notes and tasks when out and about.
This article will go over some of the student Notion templates that are free to use (and also some that have a price tag) and will explain how they can be applied. Don't be fooled into thinking this is a boring, corporate-style way of streamlining your workspace – instead, be prepared for some cute notion templates for students – free!
What Are Notion Student Templates for?
These templates can be very helpful for efficiency. When your head is filled with studying, exams, coursework, as well as trying to balance sleep and your social life – and working a job as well – you may not have time to sit down and write in a school planner or build a workspace. Using a pre-created dashboard is easier than making your own and will also save precious time, which you'll be able to dedicate to more pressing things in your life. By using a Notion template for college students, you can also build on this and edit it to suit your personal tastes. They come in many forms and can be simple or complex, depending on your needs and how much your budget allows you to spend on student Notion templates.
The Notion templates for college students free of charge can be just for a class schedule, if that's all you need, or they can have more details and functions to help organize your student experience and have all your information in one spot.
While there is a huge variety of templates available on the website itself, you will find others on external sites. Be sure to do your research and ensure the site is legit before making any purchases – reviews are helpful, and the template will almost always be available on the site as well.
Simple Notion Templates for Students
Below, you can read about some simple frameworks that students of any level can use. Some simple student notion templates are free; however, some do have a small fee. Some of the best Notion templates for students are the simplest available, and this is especially helpful if you're looking for something quick and easy to set up without bothering about how it looks if it does what you need it to.
Free Notion Template for Students

The free Notion for Students template was created by Dedic. This Notion template student hub is designed to help optimize your learning process and revision. It's plain and clearly laid out and includes the following key features:
Preparation: here, add the subjects and courses that you are learning.
Information Tracker: this is for tracking the development of interpersonal skills and may or may not be related to your studies.
Class Calendar: a class schedule with all your classes, assignments, and examinations.
Reading List: a list of books and articles that you will need to read as part of your coursework. Mark them as done, in progress, or not started, and give them priorities.
Pomodoro Study Session: this is a type of studying technique where you work for 25 minutes and rest for 5, continuing this for up to 2 hours, after which you should take a longer break.
Backpack List: this is where you can keep a checklist of everything needed to bring with you to class. This includes general items (which you'll need every day, for example, lunch and a water bottle) and also a checklist showing what items you'll need on different days (for example, a specific book only required for a class on Thursdays).
The link to this is here: https://www.notion.so/templates/free-notion-template-for-students
Student Dashboard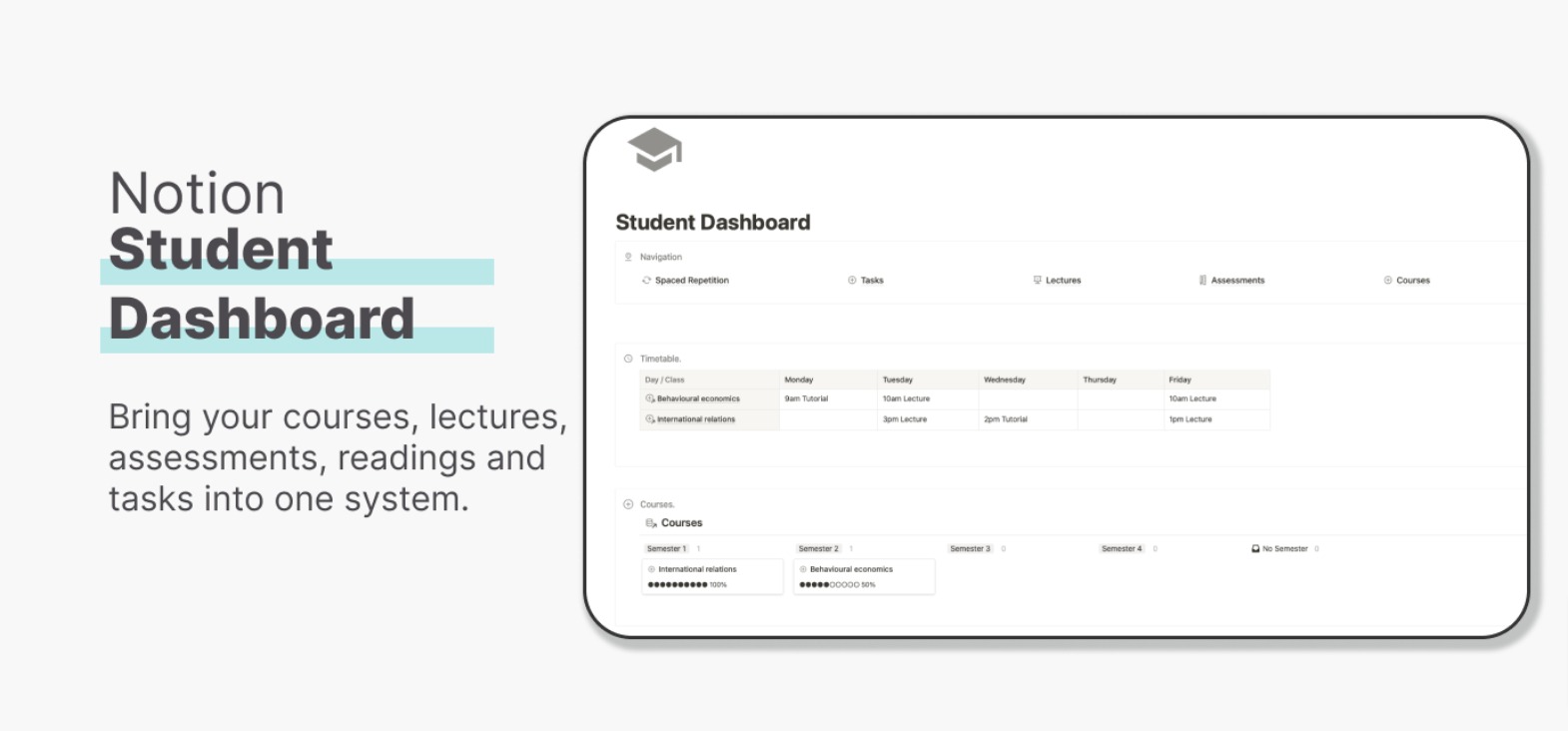 Another Notion college student template created by brand ambassador NotesbyHugh. This template is not free, but it only costs $5. Included, you'll find:
Course Overview: see all your lectures and classes in one calendar view. Each lecture will have its own page where you can keep all relevant information and class notes.
Spaced Repetition: a study planner where you can tell the template your knowledge level on a certain topic, and it will give you appropriate reminders on when to study next.
Assessments: reminders for when assessments and exams are coming up so you won't miss anything
Tasks: categorized by course, you'll be reminded of deadlines and assessments that are coming up, whether today, tomorrow, next week, or at any other time.
View Hugh's template and find out more here: https://www.notion.so/templates/student-dashboard-2
Aesthetic Student Life Dashboard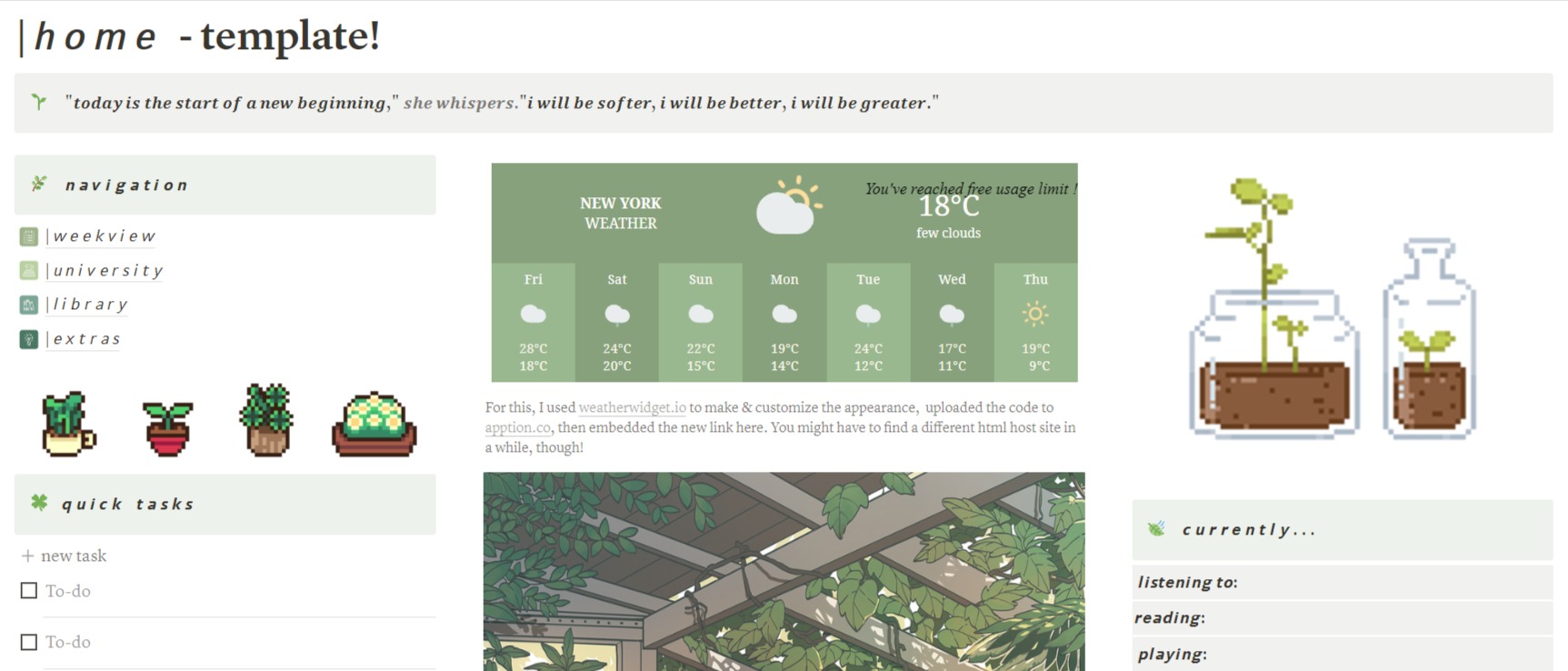 This gorgeous free template is by GridFiti and features a stunning layout with dynamic features like 8-bit-style rain and houseplants. With a green palette that is pleasing to the eye, you will have:
Navigation: you will find your week view and calendar here. You can also keep track of your courses here. The library section is where you can find your assigned reading. The extras section is helpful to track other aspects of your life like budgets.
Quick Tasks: a to-do list, whether for home, finances, or school life
Currently: keep track of what you're currently reading and listening to
Find this template here: https://jungle-hydrofoil-d69.notion.site/template-23c400924a76452c9c0ea0891435d74f
Notion Templates for College Students
Now, we'll give you some of the best Notion templates for college students. These usually have more to them than others, as college tends to be more complex in its demands and requires students to do more self-study alongside navigating academic and personal lives. Below, you will find more information about some free Notion templates for college students, as well as templates for students on Notion that come with a fee to use.
University Hub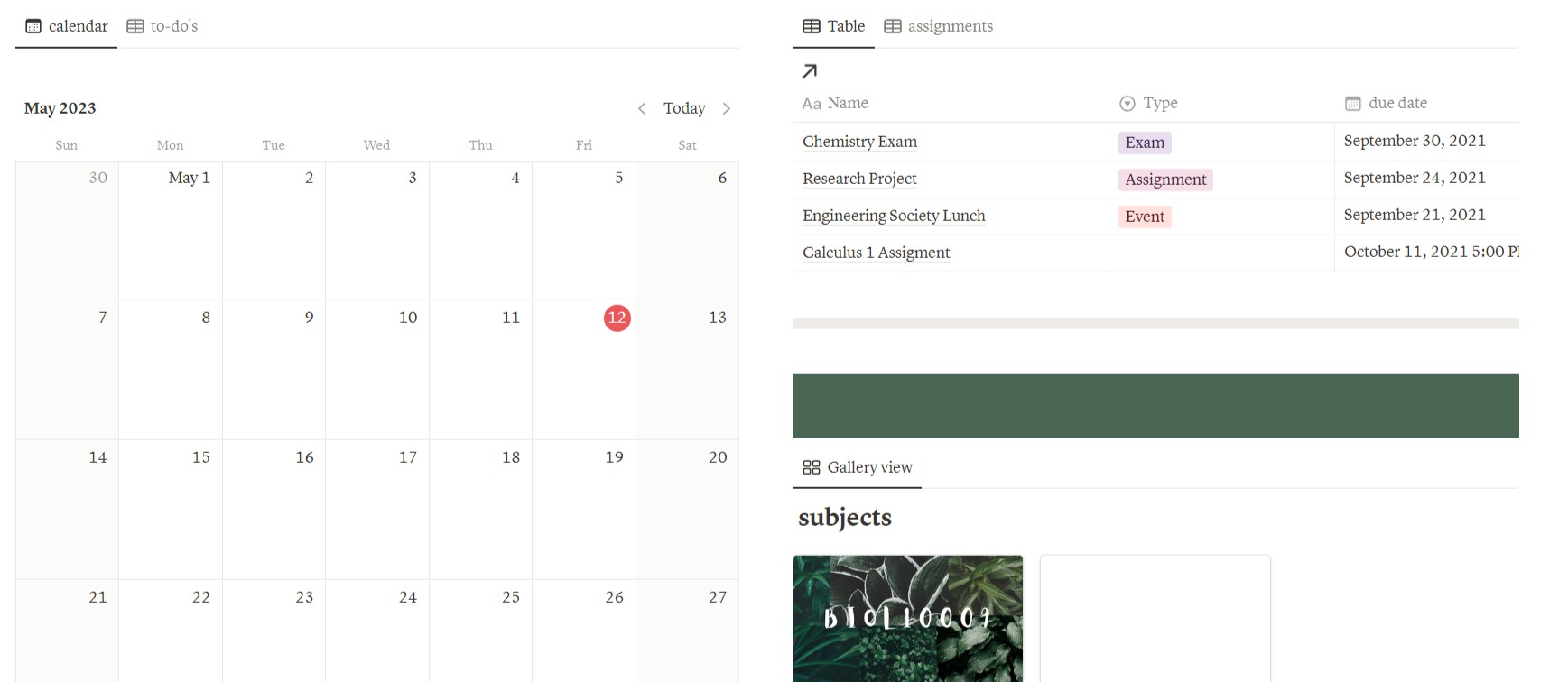 This college Notion template by Emma is a great place to create a personalized learning system and keep all coursework in one place. With it, you can find a plethora of tools at your disposal, and it is one of the Notion templates free for college students:
Calendar: view classes, assignments, and other important college events in a neat overview.
To-do: see upcoming tasks that need to be looked at.
Spaced Repetitions: optimize your learning by using spaced repetitions. Solidify your knowledge by coming back to topics regularly rather than cramming.
Classes: add your classes and lectures and see your subjects at a glance.
Events/assignments/exams: See upcoming events and assignments in a clearly formatted way. These are also visible on your calendar. Link them to subjects and have a clear weekly planner-style presentation.
This template is also customizable to your needs. It's available at: https://www.notion.so/templates/uni-hub
The Ultimate Student Hub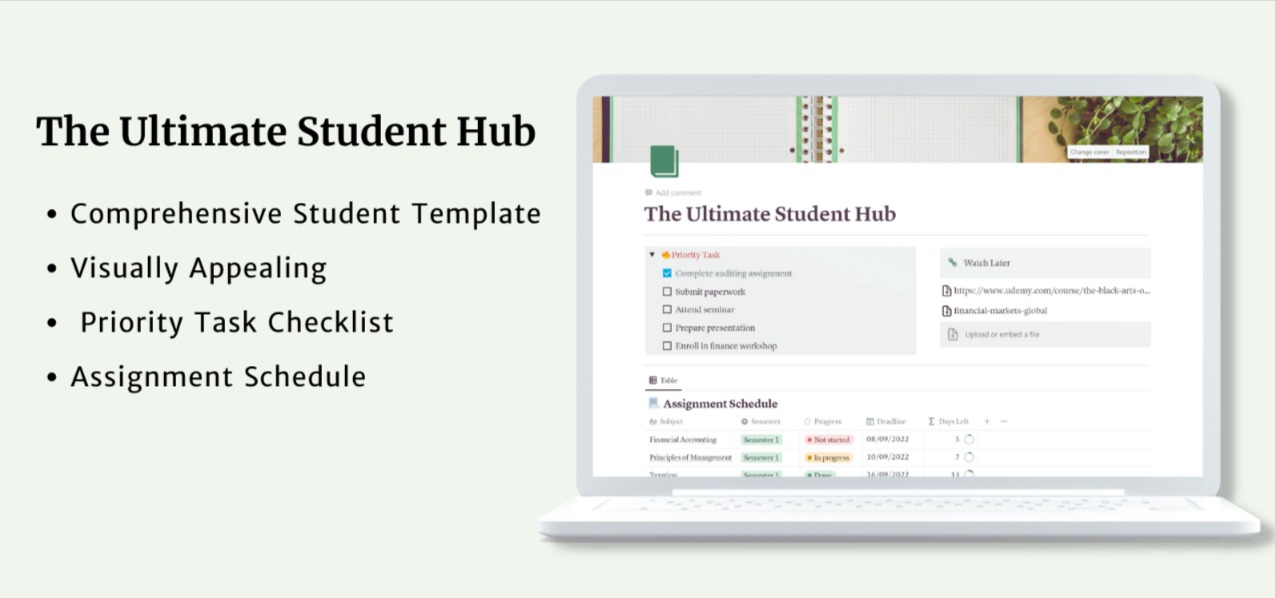 This stunning Notion college template by Swaliha Baza is available for only $12. Not only is it pretty to look at, but it can also provide a range of options to take advantage of as a school Notion template. This Notion university template can offer the following key features for those who want to use it:
Schedule: view your class schedule and any upcoming assignments, exams, or college events.
Courses: keep an eye on your courses and what assignments are coming up.
Finances: track your budgets and goals – important for every student!
Journaling: create to-do lists, or type what's on your mind.
Tracking: track your job applications, budget, and studies.
Customizable: change and edit the majority of this template to fit your individual learning needs.
This template has much more to offer. Check it out at: https://www.notion.so/templates/the-ultimate-student-hub
School Dashboard Template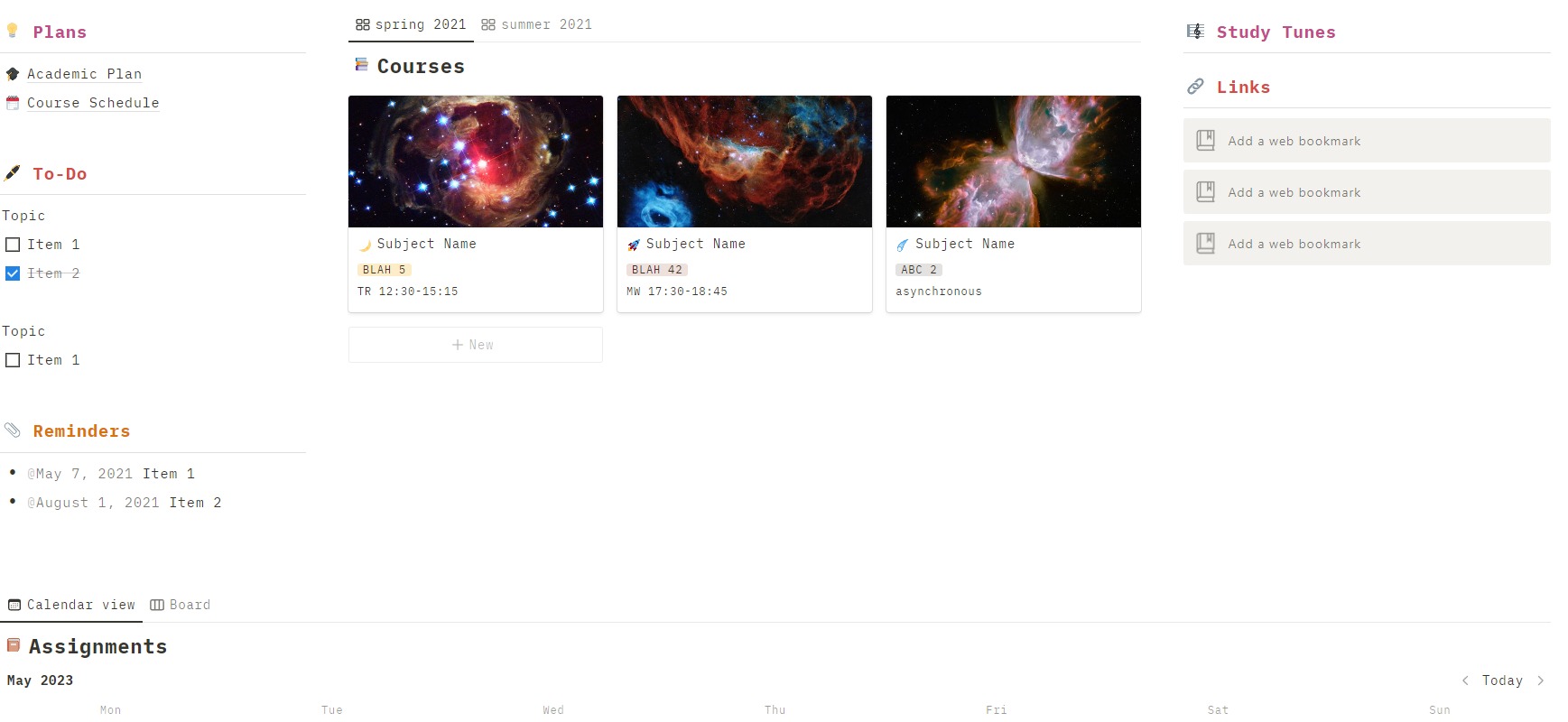 This fun dashboard is great for students starting out exploring what the company has to offer.
Plans: see your academic and study plans
To-do: see the tasks that need to be actioned
Reminders: important events and assignments that need attention
Courses: a list of all your courses in one place
Study Tunes: link your study playlist
Links: add important links to academia, articles, and more
Find this template here: https://angelajt.com/posts/notion-school/
Free Notion Templates for Students
In this section, you can read about some free student Notion templates – budget-friendly solutions are always a win! We've looked at some of the best free Notion templates for students and listed some of them below. Not all Notion templates for students are free to download, but some of Notion's best templates for students are hidden gems among the free downloadable options.
Student OS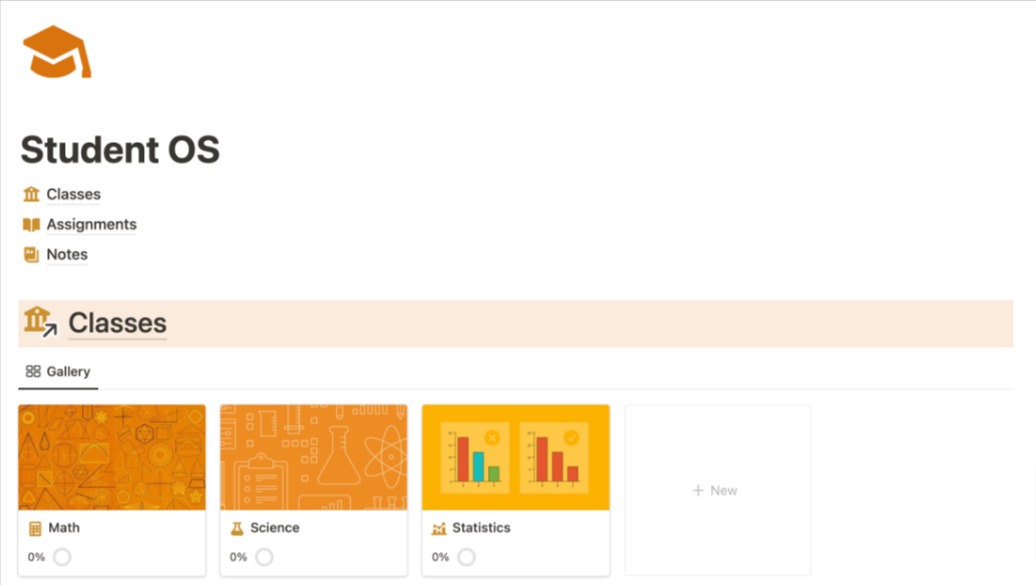 This is a student Notion template designed by Alex, who has created a no-nonsense, clean Notion student dashboard for students of all levels. With this Notion student template free to use, expect:
Classes: an overview of classes and lectures, along with your progression in each one, as part of the class schedule template on Notion.
Assignments: view your assignments and link them to courses. Mark your progress in each one to have a visual representation of your workload at any given time, allowing you to take advantage of Notion's assignment tracker template free of charge.
Notes: upload any notes from classes.
Quick links: add relevant links, e.g., to articles that are relevant to your studies – whether supporting material or assigned reading.
Pomodoro Timer: a visual countdown for your Pomodoro study sessions. This is where you study for a bit, then take a short break, then repeat.
Take a look at this template here: https://www.notion.so/templates/student-os-2
Janice Studies' Student Dashboard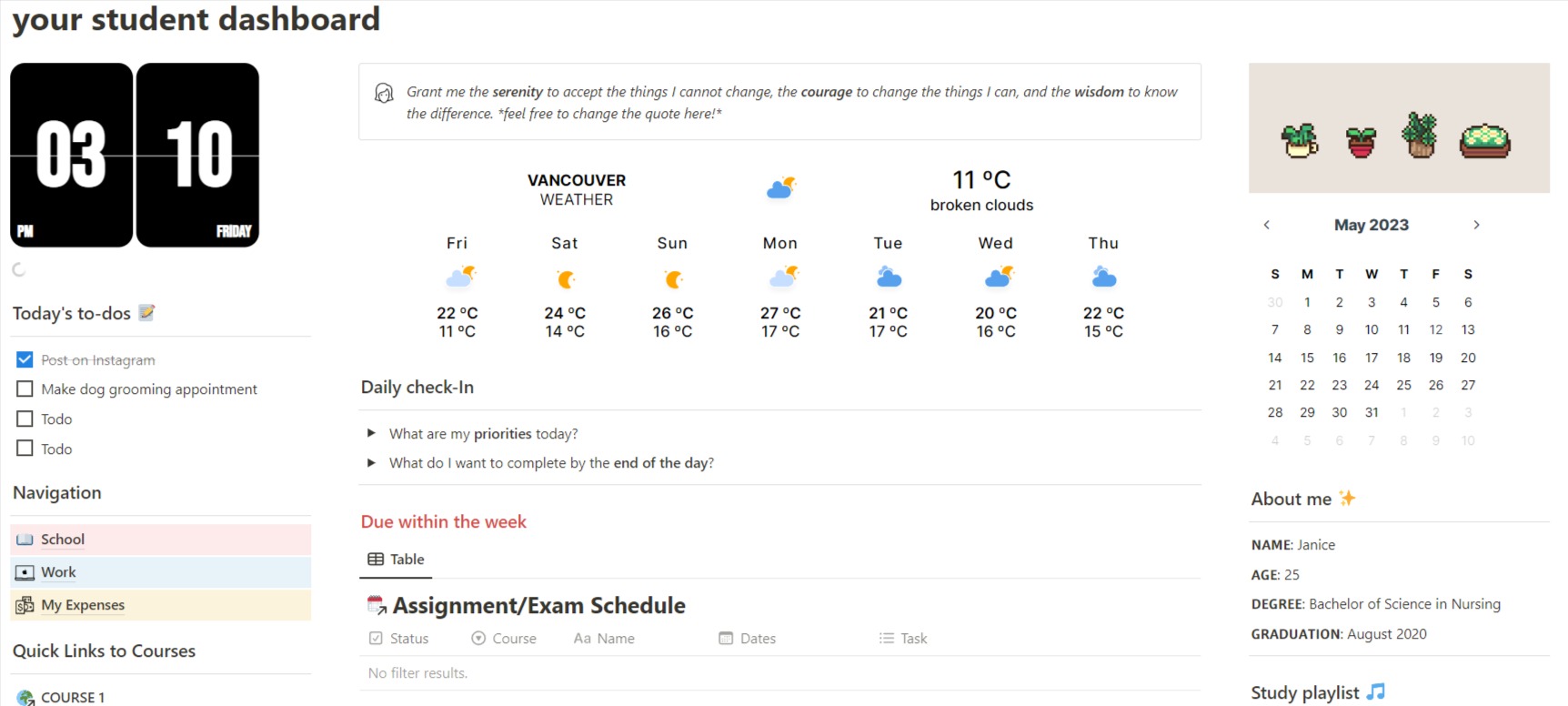 For comparison, let's look at this dashboard by Janice Studies. It's got a more fun and easygoing aesthetic, including a waving cat paw and some succulents – a student's dream. This could be considered the best Notion template for students! From the homepage, you'll be able to view all of these:
Calendar, Time, and Time Remaining: a visual reminder so you can keep an eye on your timekeeping. Also, see how long you have left of the day, week, month, and year.
Weather and Quote: customizable to your location and to whatever quote keeps you going.
Study Playlist: to keep you engrossed in your work.
Due Tasks: weekly and monthly, so you won't miss any deadlines – an assignment tracker.
Navigation – School: here, keep track of the courses you attend and any to-dos, along with a course calendar so you can keep up with your timetable. You can also log any exam dates here.
Navigation – Work: keep your resume here, and make a note of any applications you've made. Also, add a work schedule if you are currently employed.
Navigation – Expenses: track your expenses and log any outgoings/income.
Find this template here: https://www.notion.so/templates/student-dashboard
Student Starter Pack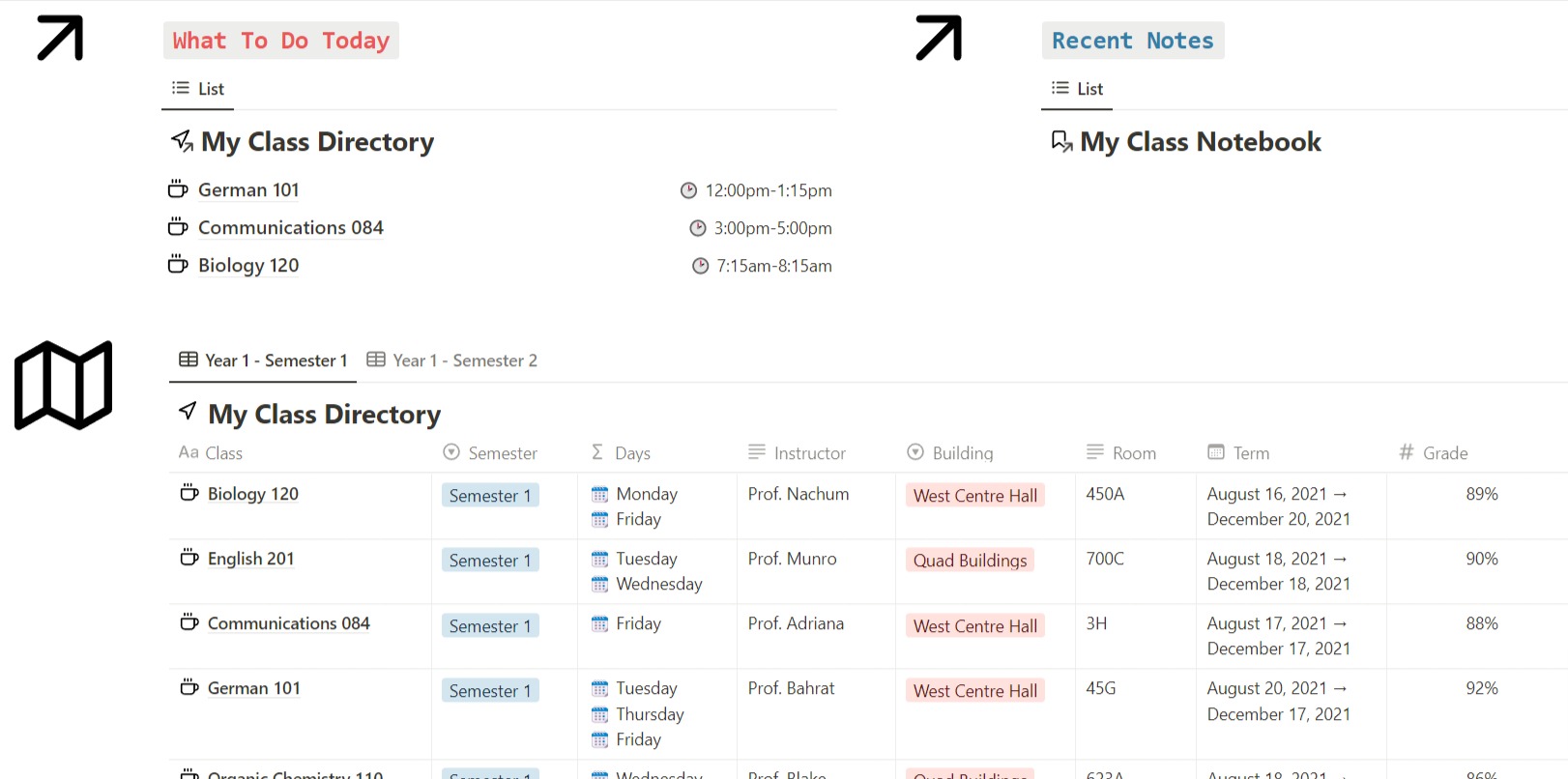 This is a great introduction to how the site works. A simple, comprehensive template to get to grips with how the site functions and how you can make it work for you.
Class Directory: see what classes you have and which are scheduled
Recent Activity: view what you've changed or uploaded, including class notes
To-do List: suggested tasks for you to complete today
View Mode: download a light mode or dark mode version
Find it here: https://redgregory.notion.site/Student-Starter-Pack-b73327f111644efda7fb3526e2c34e0a
Best of Notion School Template
We've compiled a list of some of the best Notion templates for high school students all the way to graduates to help with your studies. Some of these are Notion free templates for college students, but be aware that there are others that you need to pay for.
Student Workspace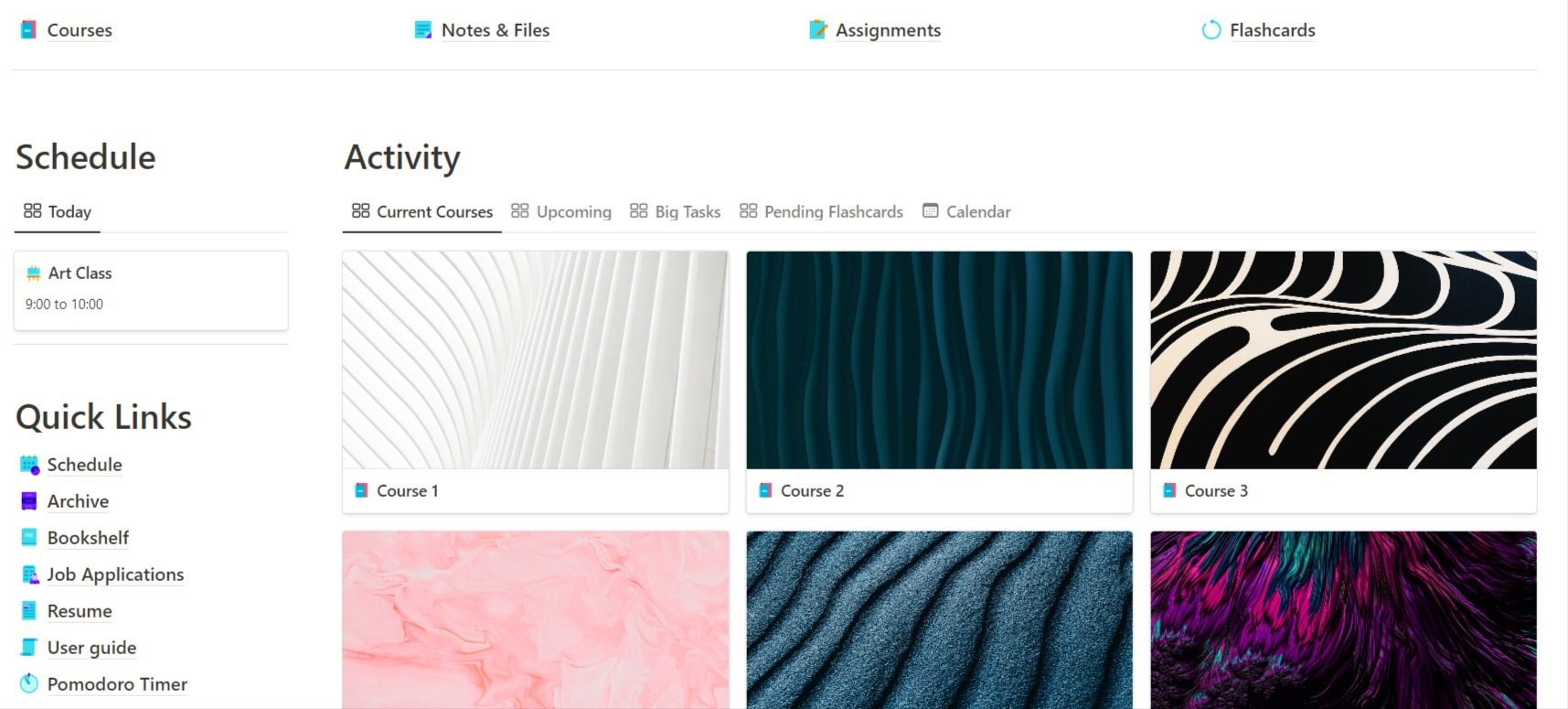 This Notion academic template by Franco Virzi is an easy-to-use, visually appealing Notion template for students.
Schedule: view your schedule at a glance when you fill in your timetable, and see upcoming classes plus their locations
Activity: all your courses are stored here and can be clicked on to expand and show further details such as class notes, exams, assignments, and other daily tasks and important information.
Quick Links: links to your resume, Pomodoro timer, job applications, schedule, and other important pages.
You can find this at: https://www.notion.so/templates/student-workspace
Academia - Academic Management System for University Students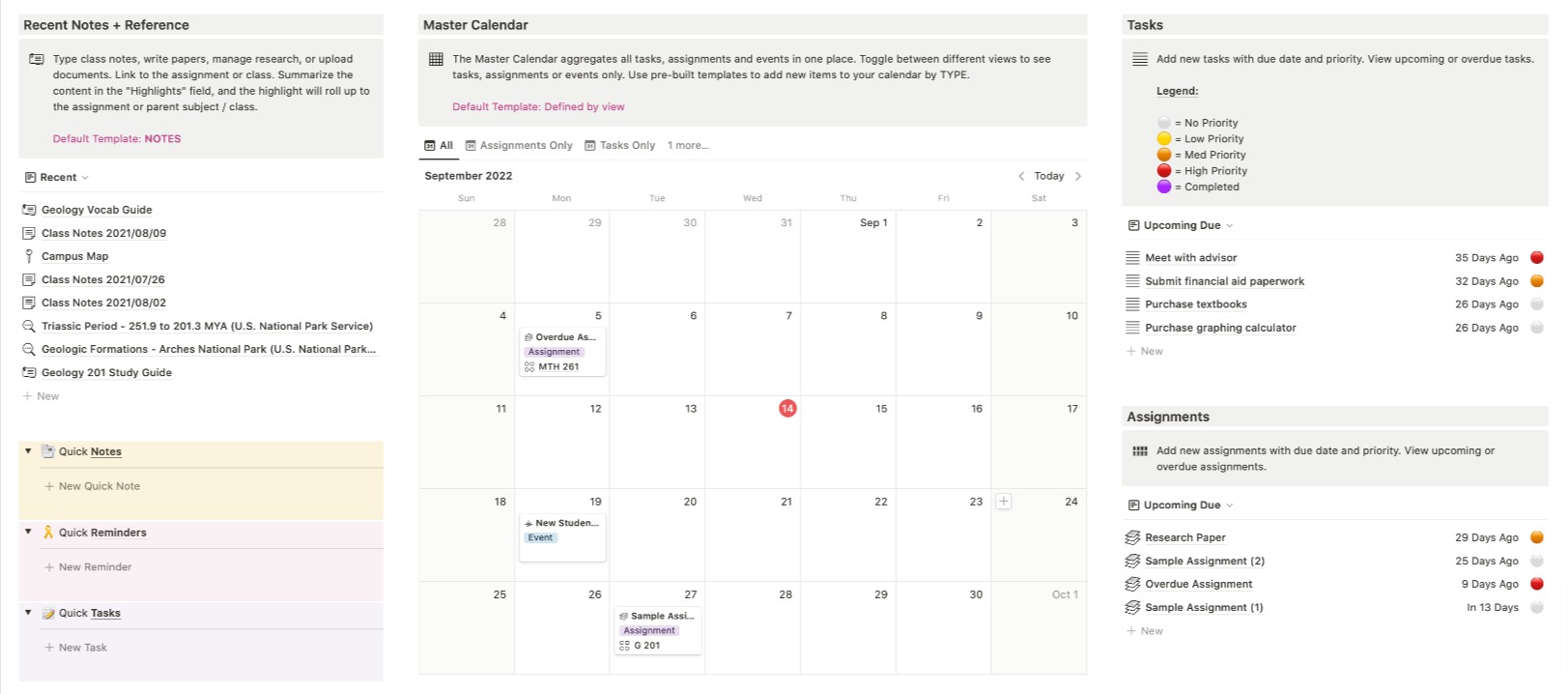 This is one of the more in-depth Notion templates students can use, created by Jamie Butler. At a reasonable $21, it promises to help you keep everything – yes, everything – organized in one dashboard.
Scheduling: drag and drop classes into their correct places on your timetable. One master calendar will help you view your courses and due assignments. You can also pin important tasks to make sure they don't slip your mind.
Guides: available to help you navigate this Notion study dashboard.
Relationships: you can cross-link pretty much everything, meaning everything you add to this dashboard is inextricably linked, e.g., coursework and classes, exams and revision, and much more. Log information such as your grades to update your overall class score.
You can see examples of this and what more it can offer at: https://www.notion.so/templates/academia
College Degree Course Tracker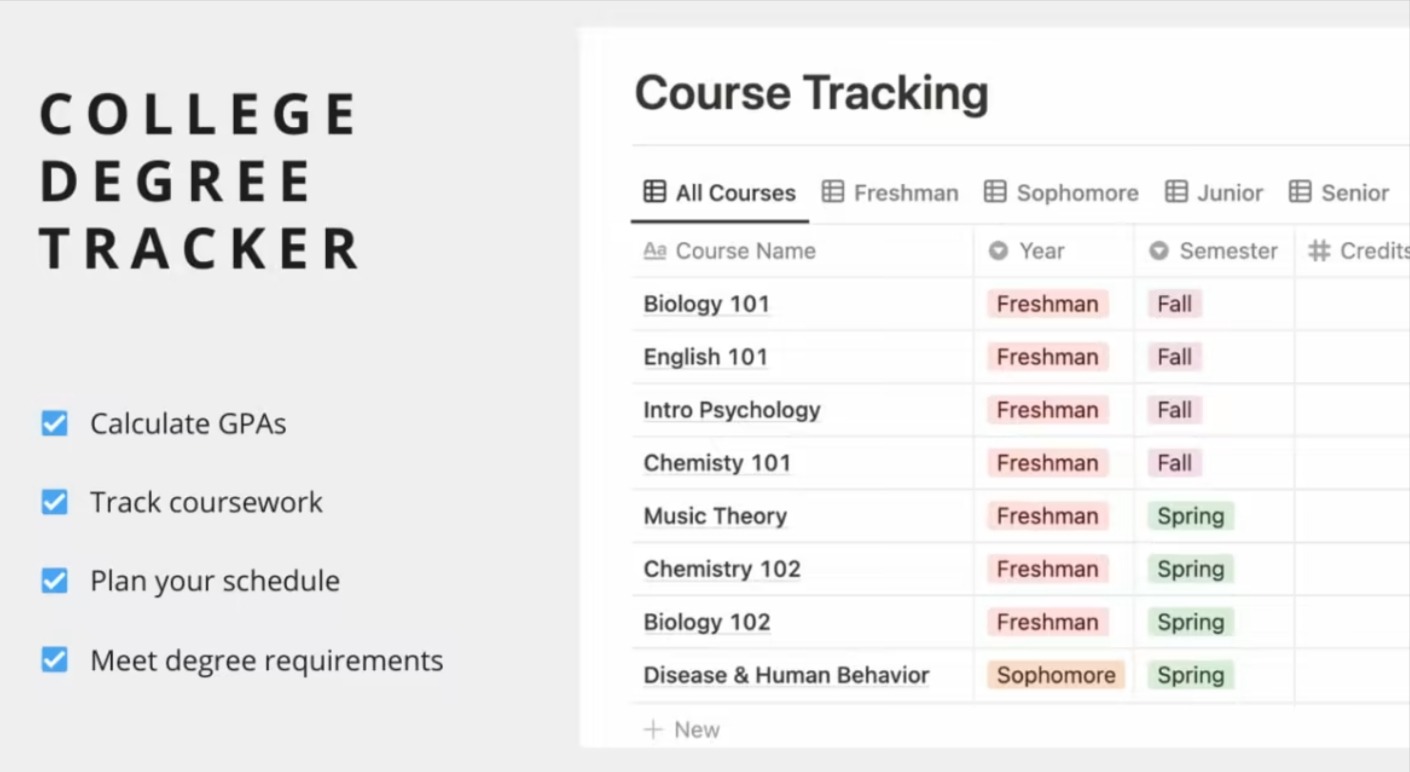 By the title, you can probably tell what this template is geared towards. It's possibly the most unique Notion school template we've seen, and within it you can:
Track Assignments: college is tricky, especially if you plan to do further study. Keep an eye on your assignments
Calculate Grades: work out your GPA or class grade
Plan Schedule: keep track of your classes and social life
Track degree requirements to ensure you're on track: ensure you're meeting all the requirements
Find this template here: https://www.prototion.com/notion-template/College-Degree-Course-Tracker
Final Thoughts
What started as a simple note-taking platform has grown exponentially since it was launched. Popular in student spaces but also in industries such as computer science, marketing, finance, and design, it appears the company behind smart notes now has a far reach and is a hit among many spheres of work.
Providing a streamlined workspace for students using academic Notion templates, it's a sensible decision for anyone looking to improve their effectiveness, whether that's just by using a Notion class schedule template or going for full Notion templates free for students. For those who feel overwhelmed by everything at school, we believe it's a very useful tool to help manage those feelings of stress and stay organized in one space – from a Notion class template down to a grocery list. You can read the reviews and check out the Notion free templates for students for yourself.
Although the platform's benefits may seem too good to be true, we can assure you that they are not. You'll find there's an option to suit all the aspects of your learning style, and you can customize these to suit your needs perfectly, regardless of what stage of education – or life – you're at.
FAQ
Why should I use templates as a student?
You can find Notion templates for students free to help ease the stresses of keeping on top of your schoolwork. Everyone learns differently, so you may find college student Notion templates something to keep you on track.
Where can I find templates?
There are many sites where you can download Notion templates for students. By simply searching for something like "free Notion templates for university students," you'll have access to a huge range of options created by users for users.
How do I download a template?
Once you've found a Notion student template you like, simply find it on the site, and click "duplicate" to start enjoying Notion dashboard templates for students. If you find a template outside of the website, there will be instructions on how to integrate this into your account.
How much is this for college students?
While there are free templates, there will be some people who charge for using their Notion study template. They can start at as little as a dollar, but some good Notion templates for students can be priced upwards of $30.
Is this only for college students?
Not at all! Anyone looking to use Notion templates for school, work, or something else, is welcome. Notion homework templates are especially helpful for high-school students, for example. Students may also benefit from using it to assist with managing other aspects of their life, including finances and work schedules.