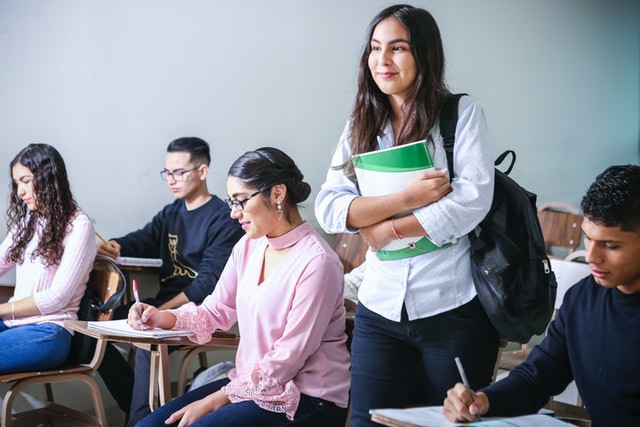 MBA is an abbreviation for "Master of Business Administration". You can get this degree either after your BBA degree or any other bachelor's degree. If you have an entrepreneurial spirit in you, then you should go for it as just a simple bachelor cannot equip you with the complex tools needed in this competitive environment. However, before making up your mind, you must gather details about MBA coursework. In this way, you will make a much-informed decision. You will know what exactly is expected of you and that if you have the caliber to fulfill them or not. Do not skip this crucial step as this is a two-year degree.
An MBA degree serves as a gateway to the business world; you must have a high work ethic and never abandon your commitments. After finding out the coursework MBA details, leaving this program will be responsible for reincarnating that high-school-lazy-jack that used to reside in you. So look for anything and everything that you can find related to the program. Be it the subjects or the mba research topics.
MBA Coursework Guidelines
The coursework for MBA has been updated several times. This is because the business environment is never static and is continually changing. Due to this, the graduates must have appropriate skills suited to the "air" circulating in the business atmosphere. Most of the changes have been made after the global economic disaster in the years 2008-2009. Most of the analysts and commentators accused business schools of teaching the financial instruments that ignited the recession.
These include interest-only mortgages along with others. The issue was not why these were taught; it was the "appropriate application" that was not passed on to the students. Few changes have been made to the core curriculum that dominates the preliminary stages of the degree. This also helps the students who lack business knowledge due to not having a primary business degree such as BBA. This advanced-level program, unlike bachelors, provides real industry experience to students.
How Hard Is The MBA Program Curriculum?
Most of you might have this question at this point. Well, no degree is free from hurdles. You will have to be fully committed to whatever you are doing. This program has an equal share of hurdles. Many people face the dilemma to either take this road or not. It depends on your academic capabilities and, most importantly, your goals. You will have fewer job opportunities and will be faced with more competition because a large pool of students has a primary business degree. Having this degree in your hand will give you that edge over others.
Once you dive into it, you then have to master the skill of time management. Go the extra mile and study the core subjects in detail. Once you have a grip on core concepts, then you can easily tackle the electives that will follow in the second part of your degree. Lectures are relatively fast-paced. Try to take notes. If you cannot write everything, then write the main keywords. You can read about them later. The golden words that you must always remember are that "never skip a lecture". This is the only way in which a business school will work for you.
Most In-Demand MBA Degree Courses
There is a dire need for skilled business persons who can take over the wheel and steer the company in this day and age. You can major in a diversity of courses such as International business management, marketing, operations management, and finance leadership. Businesses provide top positions with many benefits and perks to attract the top talent. Throughout your MBA program, try to cover the cores in detail while conducting extensive research on the electives you want to choose. By the time you reach the second year, you will know the pros and cons of every specialization.
In this way, you can weigh the benefits and choose the best option. If you have a knack for marketing, you can most certainly choose marketing as a major and get a highly paid marketing job in the leading multinationals. Try to give your best throughout your program. The hiring manager will not just see your academic results but your experience as well. Work on field projects as much as you can, and do not forget to get the certificates. Remember, the business courses you choose will have a massive impact on your career, so choose wisely!
Types of MBA Degrees That You Must Know
There are some common types of MBA programs. The first one is a full-time degree, which includes a full course load and is quite similar to BBA's degree. In contrast, a part-time program includes evening classes so that the students can keep their day jobs. Some of you might have heard of an executive MBA degree. It is for experienced professionals who continue their degree after working in the corporate sector. You can also divide these based on the timelines. That means that they can be called "full-time", "part-time," and "accelerated".
There are three types of program concentrations: entrepreneurship, finance, and leadership. You can get jobs related to any of these by specializing in them.
The MBA Core Curriculum
There is always a set of coursework required for an MBA that you have to complete, building your business knowledge. Similarly, in this program, you will go through some fundamental courses related to diverse operations. These can be principles of marketing, finance, economics, accounting, and other must-have courses. You will then have to take additional courses to specialize in the field of your choice.
Now, you might find these boring if you have already been through these in your bachelor's. However, in the master's degree, you will be given a real-world perspective while teaching these. Do not worry, as you will be grasping concepts from a completely different angle as you will see all of the bookish concepts in action. If you want to have an idea, check out a mba essay format, and you will know how a master's level student thinks.
Lets now see all of the core courses in detail:
Finance
For all you who love to work with numbers and update excel sheets, you are in luck. You will be learning a multitude of concepts that can be applied to various types of businesses.
MBA will teach you how to decide between investments. You will be able to learn that beta does not only belong with an alpha, but it is used to denote "risk" in finance. Don't freak out if you are not from that number loving clan.
This degree is planned very carefully as most of the students do not have a preliminary finance background. So, for that, you will be taking an introductory course in finance. In this course, you will be taught basic concepts like payback period, return on investment, and other ratios that help a company find out its financial position.
If you feel a spark regarding this subject, you can choose finance major in the final year. Other than this basic course, you will be going through corporate and managerial finance. Here you are going to explore the complex parts of the financial realm. Once you are done with an MBA, you will have a strong command over the analysis tools and would be able to assist companies in making risky decisions such as mergers.
Marketing
Try to recall a favorite ad from your childhood or that bottle of shampoo that had the cutest packaging. Well, all of that was strong marketing. To this degree, you will be able to learn all of this. You will be identifying a target segment for the product that you are launching. Then you will analyze the consumer demand and how you can position your product in a way that you can make maximum profit.
This will involve more than the 4 Ps, which is always associated with the word "marketing". You will be learning integrated marketing communication (IMC), which means that all of the communication channels must be in line with each other. Consumer buying behavior and brand loyalty are the concepts that will be repeatedly mentioned. New topics and areas such as data analytics will also be visited as this plays a significant role in 21st-century marketing and sales.
Accounting
Never confuse finance with accounting as these will be taught separately and are very different. Finance is all about future growth and management of assets as well as liabilities in the long run. In contrast, Accounting is more about day-to-day operations. Yes, the word "Balance sheet", that you murmured with yourself, is correct.
For example, you will learn the 4 major financial statements that are needed to assess the position of a company. In simpler terms, you will check the inflow and outflow of the money. You will be taught an introductory subject of accounting, and later, most subjects will be added to build upon that knowledge.
Leadership And Teamwork
The leadership courses in this degree will motivate you and provide direction for optimally organizing human resources. Also, you will get the opportunity to learn different styles of leadership and determine your own. You are mistaken if you believe that this course will limit teaching different hiring and promotional techniques.
This course, among all the rest, has seen to be evolved so drastically and dramatically and now includes many other aspects as well. Here, you will be highly focused on organizational strategy and strategic leadership. Besides, you will also be equipped with several effective negotiation techniques. Other critical elements of the course include team-building skills, managing relationships in a corporate environment, and successful leaders' attributes.
Economic Statistics
It is a branch of applied statistics and is concerned with the analysis of economic-related data. The majority of the statistics courses in MBA first lay down probability concepts, followed by linear regression, multiple regression methods, and confidence intervals. You will also be taught about bell curves and their interpretations. The courses in operations research are concerned, linear programming, and PERT are a few essential techniques you will be expected to master.
Business Ethics
Just like human beings, businesses must also function ethically. This concept was non-existent previously, however, due to the increase in financial scams and frauds. This course has been introduced to train the individuals on the "ethical way" of performing business operations. The syllabus circles around the responsibilities of managers, directors, employees, and other stakeholders.
You will be taught ethical concepts with the help of real-world business frauds. Not only will you be taught the golden mean of Aristotle but also some part of environmental ethics. It will help you in becoming proactive in terms of morals and ethics during your job.
Challenges Associated With Managing The Load of Courses for MBA
The hardest part of an MBA is not the complexity of courses but the amount of work-load and school-life balance issues. To succeed, you must master the art of balancing everything that you are doing. If you study every day and then make a combination of two-courses, one should be complex. In this way, you will not tackle two fireballs at the same time. Take a day off. Try to keep Sundays as your free day. Keep up with the class and never skip a lesson.
Duration Of an MBA Program
There are three main types of MBA degrees with different durations:
Full-time: It lasts for 2-years. There are accelerated programs as well that last for 1 year.
Part-time: It is designed for students who have a day job.
Executive MBA programs: You can opt for it after you have spent some time in a corporate job.
Requirements For MBA Classes
Most of the institutions will require a bachelor's degree. You will also submit GMAT or GRE scores, your resume, official transcript, motivation letter, and recommendation letters. After you are shortlisted, you will be called for an interview. It would be helpful if you have some success stories related to the field of business. Be prepared to give an overview of your career progression.
How To Prepare MBA Course?
You must start with the tricky part. Start preparing for the screening tests. These can be the ones conducted by the institution itself or the standard GRE and GMAT. Design your CV and get your recommendation letters signed by your professors. Write an engaging motivation letter to capture the attention of the admission officer.
Why MBA?
This program will help you in developing skills that you will need to excel as a business executive. You will have to move quickly and analyze the rapidly-changing data sets to glean useful information in the competitive business environment. This degree will teach you the exact traits that you must possess to help the business grow and steer the business in the correct course.
You can climb the career ladder much faster by getting this degree rather than waiting for small incremental promotions. And remember, our MBA dissertation writing service will always help you. You can always count on our help and support in your studies!