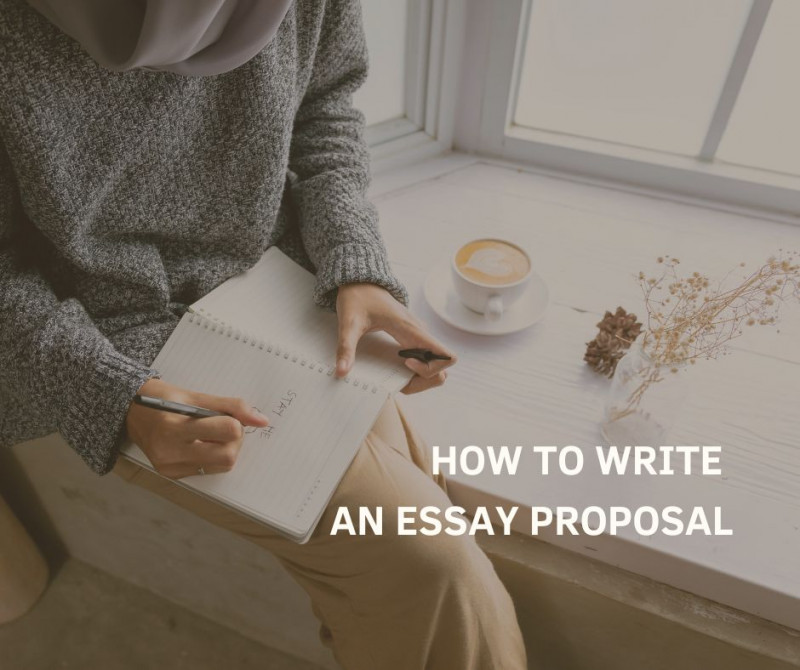 For those who are interested in learning how to write an essay, the question "how to write a proposal for an essay" usually occurs first.
What is an essay proposal?
An essay proposal is a written description of your intended essay.
While a thesis represents the main idea of your research, an essay proposal encapsulates the purpose and content of a particular essay.

The aim of a proposal is to convince the academic committee that your approach and topic are sound with the hope of you getting approval to go on with the actual research.
What to include in an essay proposal
Apart from indicating your plan of action, a proposal should also contain your theoretical positioning and your relationship to previous work in that field. Your suggestions or ideas are more likely to be approved if you create an essay proposal in a clear, concise, and engaging manner.
Knowing how to write an essay proposal that is persuasive and captivating is essential for success in many fields. The various types of proposals include book proposals, thesis proposals, and other science proposals, but they use the same basic guidelines. Some of the elements of a proposal include:
Rationale for the topic selected: You should demonstrate why it is useful within the concerns of the discipline. It is good to also include the limitations of your objective and not promise something that you will not be able to deliver.

Review of published work: This is also known as a literature review. You need to review the work that is related to your topic. You need to explain how your proposed work will build on the available studies and explore new territory.

Outline of your intended approach or methodology: You should perform a comparison with the already existing work where you can also include resources needed, costs, and a timeline of when you will get the work done.
Various disciplines may have varying standard ways of writing an essay proposal.
But in any case, when organizing your material:
Ensure you emphasize the specific focus of your research question
Use lists, headings, and visuals which make cross reference and reading easy
Ensure you use a precise and concrete style to show that your idea is feasible and that it can be put into action
This can be done by beginning with why your idea is worth doing or how it contributes to the field, providing enough details to establish feasibility, and showing your ability to handle possible changes or possible problems in focus.
Prewriting Stage
Making a plan is the first stage in drafting an essay proposal.
Know your audience
You must ensure that you think about your audience and what they could already have known or not know about your topic. This will enable you to focus your ideas and present them in a very effective way.
It is also good to assume that your readers will be busy and not predisposed to grant your ideas special consideration. So, persuasiveness and efficiency together with a refined tone that meets the audience's desires and expectations is a key.
Research
You need to research your project extensively. With a variety of facts and examples, you will be able to convince your audience easily. If your proposition lacks proof that your solution will work, then your solution is not an adequate solution.
Being meticulous as possible helps to make your readers feel confident that you have performed your research well and that you know how to write an essay proposal.
Set an issue
The third step in planning a proposal is to select your issue. You already know your issue. But do the readers know it? And do they believe that you properly understand what you are talking about? You need to set your issue properly by using explanations and evidence in order to convince your readers that you are the right person to do it.
Define a solution
The next step is defining your solution. It should be straightforward and easy to understand. You have to demonstrate how you will solve your issue while complying with the requirements in the request for the document. A proposal must define a problem and provide a practical solution that will convince skeptical or uninterested readers to support it. You can think of your solution in terms of objectives. Your main objective is the goal that you absolutely have to achieve with your project. The secondary objectives are other goals that you believe your project will achieve.
Write an essay proposal outline
When planning your project, you need to keep the elements of style in mind. Take the time to get familiar with the specifics of writing a proposal for an essay before you dive in. You must tailor your paper to a specific style based on your idea and the people who will read it. Write in plain, direct English language and avoid overuse of obscure abbreviations, jargon, or unnecessarily complex language. You also need to prepare an outline.
An outline isn't part of the proposal but helps you organize it. An outline can comprise the problem, the solution, why the selected solution is the best, and a conclusion. In case you are writing an executive proposal, you will have to include things like organizational details and budget analysis.
Writing an Essay Proposal
Once you understand the basic guidelines on how to write an essay proposal, the next step is to write the actual proposal.
The structure and content of your proposal will help an academic committee understand the intent and seriousness of an applicant. A good essay proposal example is also useful in that it will help you organize your research and educate you about the subject you're studying.
The format is determined by the institution, class, or school to whom you are submitting your proposal.
Here is a general essay proposal format that will help get you started:
Introduction – This section will introduce the committee to the issue that you plan to address. The introduction should be firm. Ideally, you need the readers enraptured from the first point.


Background – This section will provide information about the issue and set the stage by highlighting previous studies on the issue. If there are some stark facts that can shed some light on why your issue has to be addressed and should be addressed immediately, that is something you can start with. Whatever it could be, ensure you begin with a fact and not an opinion.


Significance – In this section, you will explain why your study is important to be done. You will provide evidence from studies, reports, and other literature that supports your argument that there is a need for a study on the issue.


Research questions/hypotheses – In this section, you will explain the goals of your study. These questions will guide your analysis. Emphasize why the problem needs to be solved and how it will affect the audience if not solved in time. Use credible sources and facts.


Study Design – In this section, you will explain how you will conduct your study. You will address the methodology that you plan to use to address the issue. This is where you have to know how to address your problem, why you should do it in a certain way, and what the outcome will be.


Conclusion – In this section, you will provide a summary of the information presented in the introduction, background, significance, and research questions/hypotheses. You will also explain how your study will help address the issue that your study focuses on. A conclusion should be only one or two paragraphs long. It should basically mirror your introduction and succinctly wrap up your overall message. In case there could be consequences to your proposal not being undertaken, you will have to address them in this section as well. Leave your readers thinking ahead and it is always good to thank them for their time and consideration.


Bibliography – This is an optional section. The bibliography section provides a list of the literature you've read that supports the content of your proposal. If you choose not to include a bibliography, then just continue with your text.

And if you have some extra content that does not fit in the proposal, you can add an appendix (best guide on how to write appendix in research papers). But bear in mind that if your proposal is too bulky, it might scare people off. So, if you are in doubt, just leave it out.

Having written all sections of your text, you also need to edit your work. Revise your proposal to make it clear and concise. You can as well ask someone else to critique and edit it to make sure that the presentation is attractive and engaging as well as helpful and organized.
Essay Proposal Example
You can find an essay proposal template online. This template will help you to organize the information required to write a good proposal.
The following is a sample essay proposal:
Proposal for an Academic Research Study 2022
The proposed research study will investigate the relationship between narcissism and personal accomplishment among college students.
College students are ideal subjects due to their young age, digital presence, and diverse ethnic backgrounds.
The study will focus on five key factors that contribute to personal accomplishment: ambition, career goals, leadership skills, volunteer work, and social media presence.
The study will utilize a survey design (quantitative) and will collect data from 250 college students (100 from each of three different college campuses).
Data will be analyzed via multiple regression analysis.
The results of the study will provide psychological professionals and educators with insight into the relationship between narcissism and personal accomplishment among college students.
The study will also provide college students with information that they can utilize to enhance their personal accomplishments and strengthen their college experience.
What is a Proposal Essay?
By definition, a proposal essay is a type of argumentative essay that explains, introduces, and justifies your position.
While there are many ways to write a proposal essay, the general format remains the same. The opening states the purpose and significance of your essay, the middle section provides supporting arguments, and the conclusion wraps everything up by restating your main points.
Proposal essays test students' ability to write a well-reasoned and convincing text. This is similar to a business proposition, where someone is trying to sell you something.
What characteristics should good proposal essay examples have?
The good examples of proposal essay should
Have a clear topic – this should be identical or similar to the essay question asked by the university/college
Show the writer's passion for the subject – when writing essays, the writer's zeal and excitement are always evident.
Show a high level of analysis and comprehension – the writer understands the subject matter well enough to be able to explain it in simple terms for their assessors
Show a confident, coherent, and structured argument – the writer understands the subject matter well enough to be able to present a well-argued and convincing position
Show a high level of effectiveness in the use of language – the writing sample proposal essay should be informative and feature extensive and compelling use of vocabulary
Show a professional presentation – the essay should be presented in a professional manner, i.e. consistently spaced paragraphs, heading, italicized literature, and a bibliography
Proposal Essay Outline
The following outline represents a basic proposal essay outline. Of course, every professor will have their own expectations, so be sure to check what they are before you start writing!
Introduction
The introduction to an essay should briefly summarize the main points and establish the purpose of your paper. For example, if you're proposing a new way to approach a topic, your introduction might start with a brief description of the current approach and then present your argument for why your new approach is better. Regardless of what you're proposing, your essay should clearly state your thesis and provide a roadmap for your argument. Examples can help illustrate your points and provide readers with a concrete sense of what you're proposing.
Body
The body of your essay will contain the argumentation that supports the main idea of your essay. In order to write a well-supported essay, you will need to include evidence to back up your claims. This evidence can come in the form of statistics, quotes from experts, or real-life examples. Be sure to include enough evidence to convincingly support your argument.
Conclusion
The conclusion of your essay proposal should wrap up the argument you made in the body of your paper. You should also motivate your readers to take action based on what you've discussed. Perhaps most importantly, you should remind your audience of the importance of your topic and the impact it could have.
How to Start a Proposal Essay?
You should begin writing your essay from the introduction.
First, summarize the background of your essay. This includes both the subject you'll be discussing as well as the relevant literature. Place this summary at the beginning of the introduction.
Next, state the objectives of your essay. These objectives should be centered on addressing the knowledge gap presented by your topic.
Finally, introduce the argument you intend to present. This is the main idea of your essay.
Proofread your final text to ensure that the content is free of mistakes. Punctuation, grammar, spelling, or any other mistakes can make you look less educated and less credible, thus lowering your likelihood to be approved. Also, make sure that the essay formatting is in line with the guidelines required.
Even if this is your first time writing a proposal essay sample, these pointers will get you started in the correct direction. If you're still feeling nervous, however, rest assured that you can approach us for help.
FAQ
How do you write a proposal for an essay example?
The proposal should be between 200 and 250 words. Introduce the topic, your argument, and the opposing side in the first paragraph. The second paragraph should include two to three arguments. Third and fourth paragraphs should offer more evidence. In the final paragraph, restate and emphasize your thesis.
What is a good topic for a proposal essay?
When you write a proposal essay, you should think about subjects that incorporate societal difficulties and social life in the contemporary world. For example, you may write about how effective it is for schooling to be safe.
What is an illustration of a proposal argument?
When you write a proposal for an essay, you should write down the problem and a thesis, which is a plan that can be argued for or against: On a college campus, it might be hard to find a place to park. Even though the school may give out 1,000 parking permits, only 700 of them are available on campus.
How do you write a proposal essay?
Create an attention-grabbing title. Consider anything that will capture and hold the reader's attention. Create an introduction. Provide a resource evaluation. Describe how you put your methods into action. Predict your outcomes. Discuss the potential consequences of your findings.