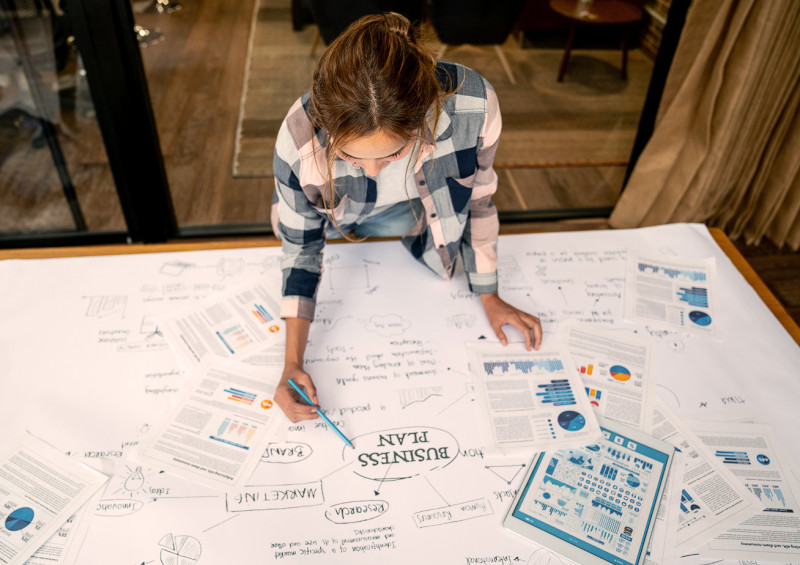 A competent business plan for a corporation outlines its financial goals and how to attain them. One can present a good and detailed plan to potential investors, financiers, and other key partners and utilize it as a guide for the company's next three to five years.
A solid formal business plan should cover the company's goals, products, value proposition, and finances.
Why Writing a Business Plan?
A well-thought-out strategy is necessary for a successful business start, growth, and development.
Reasons why you need it include the following:
➡️ To Determine Whether or Not the Proposed Business Will Be Successful
Creating a plan is the greatest way to determine if a new company idea will work. This technique protects you. Creating it may reveal that your business idea is unfeasible, saving you time and money.
A marketing and sales study or competition analysis often kills a business idea, letting you try something fresh. This is why business planning is important.
➡️ In Order to Maximize the Prospects of Success for The New Venture
Creating a business plan assures that you'll focus on the broad picture and the minutiae of your new company's operations, such as accounting and market estimates.
The method will ease the company's early phases and reduce unforeseen issues. Budgetary and market research can assist you determine who you're selling to, what makes your product unique, how much you should charge, and a basic distribution strategy.
Preparing a budget for plan implementation can help you determine the capital needed for startup and ongoing operations.
➡️ In Order to Acquire Funding
Most startups need funding for launch and operations. Without a solid business plan, banks and angel investors won't lend or invest.
Even well-established enterprises require financial aid to buy new assets or machinery or due to a drop in market demand. You'll have a better chance of getting finance to run or grow your business if you have a current, thorough strategy. Plan beforehand to get a loan.
➡️ An Assignment in Business Schools
Some business schools assign this significant document. Students are given a hypothetical corporation to plan. This exercise lets students launch a business and understand the importance of a full document.
What Is the Format?
There are about two main categories that may be used in business strategies. While the two approaches require very different amounts of work, they typically yield similar results. Complex plans are not certain to outperform their simplified counterparts.
✍️ The Mini-plan (Lean)
The mini-plan is preferred by many users since it can be read quickly and easily or saved to an iPhone or computer for further study. You include many of the same elements that consumers would in a more thorough plan, but you zero in on the most crucial pieces of the story while still getting your point across. Making a paper is often the only thing needed to launch a new venture. If your business is particularly intricate, you may need the extended version.
✍️ The Presentation Plan (Traditional)
This is another way to build a business plan. The introduction of PowerPoint slides brought about a shift in presenting style for many if not the majority of proposals. Although the plan is more concise than its counterparts, it does not necessarily mean that it is simpler to present. However, if you provide the strategy in the form of a deck, it may carry more weight. It's difficult to convey your excitement for the company in writing, and there's no opportunity for readers to ask follow-up questions. In under twenty minutes, you should be able to explain the entire story and go over all the key elements. Everything from the initial concept and implementation strategy to the budget projections is included here.
How to Prepare a Business Plan
Here is some basic information you should have:
Company information.
Management.
Industry as well as rival businesses.
Operations.
Sales and advertising.
Information pertaining to finances
How to Start a Business Plan
So, how do you start a business plan?
The layout is simple yet starting is difficult. Know your audience. If the document will be reviewed by investors or financiers with little industry experience, you don't need to use specialist and sophisticated lingo.
The plan's duration is another something to think about in relation to your target audience. We usually recommend keeping the approach as brief as is humanly possible, but we recognize that some readers may want to see more details, while others may be interested just in the broad strokes of the data you present. A potential business partner, for instance, may want more details than an insurance company doing due diligence.
On the other hand, don't go crazy with this because you can just buy business plan or develop a document that's a hundred pages long since nobody will read it.
Guide to Writing a Business Plan
Let's now look at the steps to write this document. The following is an in-depth tutorial that will teach you how to make a business plan:
✔️ Cover Page
Since it will make the initial impression and will set the stage for how buyers or users will interact with a business strategy, the opening page of the strategic plan is the very first and most significant element of the document.
A buyer or user may get a rapid notion of the company concept simply by glancing at the front page. Nevertheless, the cover page is where the majority of new business owners go wrong since they do not give it sufficient consideration. This is one of the first steps in writing a document.
✔️ Table of Contents
A concise synopsis of the whole text may be found in any document's table of contents, which also functions as navigation to help readers move quickly between sections. The same holds true for an outline of a corporate strategy.
✔️ Executive Summary
The first component of any business plan is referred to as the executive summary. But even so, the executive summary is often composed last because it is both an overview of the planning process and a recap of the whole business strategy manuscript.
✔️ Company Overview
If the company is already operating, "Company Overview" will give you a brief history. If you are starting a new business, write about yourself, your accomplishments, and how you wish to organize and incorporate the firm in this area.
✔️ Problem Analysis
If you see a problem that no one else is solving, you can opt to start your own business to fill the void. Just explain the problem at hand in this paragraph. Simplify the problem's scope and the importance of a solution while creating the problem statement.
✔️ The Solution
In this part, one must identify the best solution to the issue examined in the previous one. The solution must be simple. Use a few technical or industrial facts while writing about the product's details.
✔️ Market Analysis
Before starting a company, it is critical to assess whether or not there is a market for the goods or services that will be offered; thus, doing a market survey is the single most significant aspect in predicting whether or not a business will be successful. To put it another way, market analysis is the process of researching the market in which the company will operate, as well as the size, trend, and orientation of that market.
✔️ Customer Analysis
After one has finished the market analysis, it is now time to move on to the next step, which is termed customer analysis. This step involves determining the customers as well as the requirements of those who are going to utilize the product or services. Analyzing the target market is one of the most important aspects of any effective marketing plan, not to mention the whole company strategy.
✔️ Competitive Analysis
Competitive analysis involves identifying competitors and assessing their products and services, costs, web presence, advertising, sales strategy, and other factors. After identifying competitors, explain how the company is better. This section will discuss the company's competitive advantage.
✔️ Marketing Plan
This is an intellectual property of a business plan. After describing a product or service, identifying its target audience, and outlining the benefits they would receive from using it, the next step is to get the word out to potential buyers.
✔️ Operations Plan
Depending on the nature of the company, it may include a great deal of information. If someone operates a manufacturing company, they would want to provide all of the details on how they will acquire raw materials and resources, as well as how they will construct the goods and distribute them.
✔️ Financial plan
The financial portion of the business strategy is the single most essential section of the whole company plan as it defines a lot of things such as cash flow, revenue streams as well as profit and loss. It is a way of making financial projections. Whatever one ends up writing in the document is going to be considered conceptual as long as they don't back it up with some figures.
If one wants to get funds from outside sources, such as investors, or lines of credit from financial institutions, one needs to have a financial strategy.
✔️ Appendix
It is essential to include the papers that one believes might persuade potential investors that the company will be successful in the future. These papers could contain things like accomplishments, product licenses, honors, balance sheets, resumes of important team members, contractual documents, photographs of products or organizations, and so on. These papers may assist readers in comprehending the narrative in a manner that is both clear and succinct.
Let us now look at the format.
Business Plans for Small Businesses
Here, we are going to look at how to write a business plan for a small business.
Putting information and ideas on paper is a crucial step in building a strategy for the company. Before you can start building your document, you need a viable idea. Consider the summary of the firm to be the "elevator pitch." People who read the business strategy must be aware of the reasons why the company will be successful. The proprietors of small businesses need to get their start in environments that are both simple and inexpensive.
You should network with local companies and the owners of small businesses. Find out what it is that they are doing that is successful. You may learn how people discover your website as well as where they originate from by using your website and the internet resources available to you.
The firm's size is another factor that must be taken into consideration. In addition, the availability of substitute choices for dealing with suppliers, limited cash and human resources, short time limits, and the opportunity to rapidly reprofile the firm in the event that the economic environment is unfavorable are all factors to consider.
After you have finished writing the business strategy, you should thoroughly review it. Making grammatical and typographical mistakes gives the impression that both the person and the prospective company are unprofessional. It is a good notion to offer it to a colleague who can glance at it with new eyes since it will help one to evaluate it more objectively.
Help With a Business Plan
Do you need business plan help? We are aware that the process of developing a plan may seem intimidating to some people. You have such a fantastic idea and a lot of experience working in this same sector, but you've never had to draft a document quite like this one before.
There's no need to panic about it, though. Studybay's business plan writing service is here to assist you in developing a paper that is properly organized. In order to help you in the process of acquiring the finance that you may require while getting your writing help.
Our high level experts, who know how to write an effective paper, have years of expert experience and together have produced lots of different projects. This indicates that our crew, who know how to create a successful plan, will most likely have somebody on it who has prior experience working in the industry that you work in.
Studybay authors use a format that has been tried and true over the course of the previous two decades and has been continuously improved upon. This is the place to come for help with writing a project. Hire professional writers and get help!
Tips on Writing a Business Plan
Let's look at how to write a simple business plan. These suggestions will be useful when it comes to the formulation of material for a document:
☑️ Acquaint with the rivals.
☑️ Recognize who you're speaking to.
☑️ Always be prepared to back up any claims you make with evidence.
☑️ Always use a cautious approach when estimating or projecting the finances.
☑️ Be practical with the amount of time and resources you have.
☑️ Be logical.
☑️ Create a list of the reasons why the concept will succeed.
FAQ
What are the 7 parts of a business plan?
The seven components that make up a document are as follows: an executive summary, an overview of the company, an analysis of the problem, an analysis of the market, an analysis of the customers, and a marketing plan.
What are the 4 types of business plans?
The four types of business plans are the lean plan, the traditional plan, one-page plan (summary), and business pitch plan.
These are the four major variants that we have. Depending on the type of business you want to start, you can select the one that best suits you.
What 3 things should be in a business plan?
The client analysis, the market analysis, and the financial plan are the components that make up this part.
How long should it be?
It ought to be concise and easy to understand, often no more than 15 to 20 pages, regardless of who you are creating it for. Consider incorporating them as appendices if you possess any extra materials that you believe would be beneficial to the readership as well as the objectives.
What should a good business plan contain?
The company strategy, as well as the particular steps you intend to take to put it into effect, should be outlined in a business strategy. What are some of the things you want to accomplish with the company? When and how do you plan to accomplish what you set out to do?
What is the most important part of it?
A strong argument can be made that the executive summary constitutes the most significant part of the plan. It is essential that it be clear, succinct, and properly written. A large number of individuals that go over the document will make their decision on whether or not to continue perusing based just on the executive summary.
What is the first step in creating a business plan?
The very first step in constructing it is to have prior data that pertains to the kind of business you want to run. This data would let you know how to come up with a proper document.
How many words should it be?
It is usually advised that the length of a competent startup plan be between 4500 and 5000 words. That's approximately about 25 pages, considering default font types and sizes are utilized.
How detailed should a business plan be?
It should be well detailed. Cross all Ts and leave no stone unturned. It has to be comprehensive and straightforward especially if you are going to come up with a traditional plan.
Who needs a business plan?
Aspiring entrepreneurs, for example. Every time a person considers starting a new firm, a plan must be created. The most crucial aspect of company planning is knowing where you're headed and how you'll accomplish the objectives. Furthermore, you'll need a technique to communicate the idea if you're searching for funding or to encourage investment.