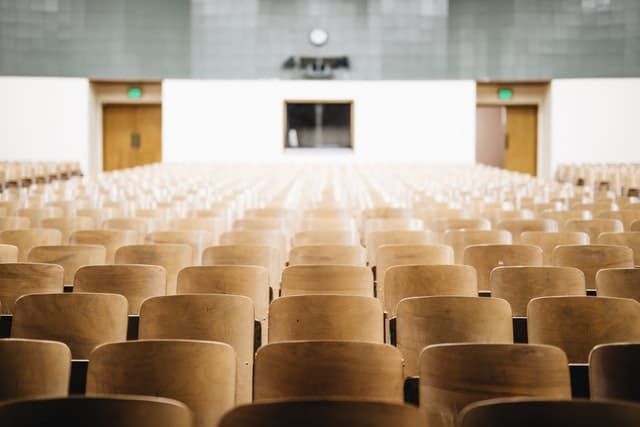 For students and their families, applying to and being accepted to college is a once-in-a-lifetime opportunity. There are various standards for getting into college, ranging from maintaining good grades, writing entrance essays, taking structured entrance tests, to collecting recommendations.
Getting into a school that reflects a student's talents and interests, on the other hand, does not have to be a mountain to climb. The following guide offers tips on the whole process.
Academics Are the Priority 🏆
One of the most significant admission factors at any institution of higher education is a good high school GPA, particularly when combined with a demanding curriculum. Choose as many rigorous classes as you can manage in high school, such as college readiness, honors, Advanced Placement (AP), and International Baccalaureate (IB) courses if you have the opportunity.
These courses can not only help you earn college credits, but they can also help you increase your chances of admission by allowing you to take AP exams.
Whether you want to take advanced classes or not, getting the highest grades possible should be your priority in your four years in high school.
Prepare for the SAT/ACT 💯
Your standardized test scores are arguably the most important factor for entry, followed by your GPA and the quality of your high school education - but many schools have begun to make both assessments optional.
It would be best if you devoted enough time studying for standardized tests before and after your junior year in high school by enrolling in prep classes, finding a coach, going on research trips, and practicing for tests.
Take both the SAT and the ACT when you're ready. Colleges widely accept both tests, and you can do better on one than the other. If you don't get a good score on the first try, you can still retake it.
Apply to a Wide Range of Universities 📜
Make sure you apply to a variety of institutions, including "safety," "match," and "reach" schools when applying to colleges. Early in your junior year, consult with your high school advisor to compile a list of colleges where you meet all of the admissions requirements. That will be your "match" or "safety" schools, meaning schools where you meet or exceed the admissions requirements.
Once you've applied to these institutions, you should apply to "reach" schools, which are colleges that are less likely to accept you due to a large applicant pool. If you apply to schools in this order, you'll have a good chance of getting into at least one college, even if you don't get into your dream school.
Apply as Soon as Possible ⏰
If you're serious about attending a certain college or university, submitting an early application during November is one of the easiest ways to improve your odds of entry since colleges accept many students during their early decision and early intervention rounds.
Early decision is a mechanism in which high school seniors apply ahead of time rather than waiting for the conventional deadlines. With an early decision, you can only apply to one school. The decision is also final because if the student is admitted, he or she must attend the college or university.
So, if you like the school, are confident in your grades and test scores, and have your application ready by mid-fall, submitting an early decision or early action is worth it.
Show That You're Interested in What You're Doing 😍
Admissions officers on the college board want to increase the number of enrolled students who apply, and one way they do so is by monitoring applicants' shown interest. If you are serious about attending a particular institution or a group of universities if admitted, show your concern by visiting the school, taking a campus tour, showing interest in extracurricular activities, arranging optional interviews, and directly contacting the relevant admissions official.
Reaching out to professors in related majors, applying early decision, joining the school on social media sites, and engaging in the school's online workshops for prospective students are all ways to demonstrate your participation. 
If you ever contact school staff, such as teachers or the admissions office, make sure you follow correct email etiquette. 
Carefully Write Your College Essays ✏️
College essays are a crucial aspect of the admission process, and they give you the greatest chance to market yourself and convey who you are outside of your grades and test scores.
This is why you should devote a significant amount of time to creating a brilliant essay that stands out from the crowd. Read the prompt and focus on previous events that are special to your path before you begin writing. Either you can write one or contact an essay writing service.
The aim should be to share a unique, intriguing story about something important to you that corresponds to the essay prompt. If you have an idea, start writing it down to further refining it into something more concise.
Get reviews on your supplemental essays from teachers and other trustworthy colleagues as you compose and review, then continue to edit and rewrite until you're satisfied with it. You can even get professional help from essay writing services. They will get in done according to your requirements while you work on other tasks.
Request Outstanding Letters of Recommendation 💌
Admissions officers give weightage to letters of recommendation while finalizing the admissions decisions because the letters give information about your character that grades and test scores cannot. This is why, when seeking recommendations, you can seek out people who will enthusiastically characterize your abilities, achievements, and personality.
If your targets are top colleges, ask your top choices as soon as possible, so they have time to compose a meaningful and well-considered letter on your behalf.
Consider school counselors, administrators, and colleagues with whom you have a strong bond. Also, ask one of your junior-year teachers or a current tutor, as universities always like to hear from someone who knows you. If the instructor says yes, give them a list of accomplishments to use in the note. These will add up in your CV. Stay a step ahead and work on your CV, perhaps with a professional service.
Take Control of Your Online Reputation 🎤
Admissions officers constantly lookout for potential admitted students' social media accounts to learn more about them and search for red flags. Update your qualifications by learning a foreign language or joining a student body.
Seek Sound Advice and Support 🤝
Apart from the college admissions process, the college application process can be equally perplexing and difficult, and it's not something you can attempt on your own. When you're researching schools, making a selective college list, preparing for standardized tests, and finalizing your application essays in senior year, be sure you're getting regular help from those who know about the admissions process, such as counselors and instructors.
Examine the Financial Aid Options 💰
College students must equate their available federal financial assistance to the actual expense of their preferred school after evaluating available federal financial aid, receiving grant decisions, and negotiating available funds with their relatives.
Practice Tests 📝
Learn about the different kinds of content that will be conducted as well as the test instructions. Your test prep will directly affect your SAT scores and ACT scores. After your freshman year, take the PSAT. Determine what strengths and expertise you need and prepare for the exams by mastering them. Motivate yourself by thinking that you will be in the school year and not on the waitlist.
If understanding them on your own is taking up plenty of time, take assistance from a guidance counselor. Before or after your junior year, take advantage of free downloadable SAT or ACT books, AP classes, college-level research guides, coursework practice exams, tutors, and college prep courses.
Conclusion 👏
Reduce the burden by beginning your college search early - no later than the beginning of your junior year. 
This gives you enough time to look at universities, fill out resumes, write or get your resume written, and take the necessary exams. Keep yourself prepared and centered. Create a file or folder for each college that interests you and fill it with vital information.
Keep your eyes on the prize: acceptance to the college of your choosing. Make a list of the steps you'll need to take to get into the college of your choice using checklists. Remember to polish your application and maintain your academic record.