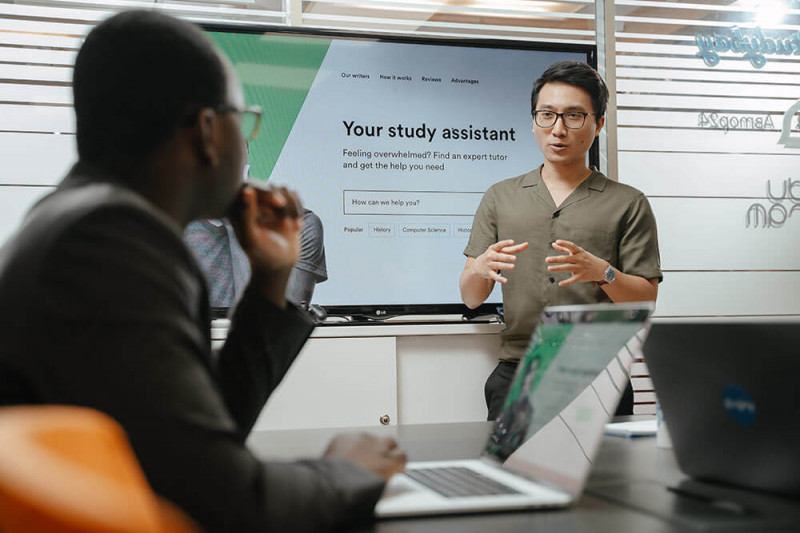 There are a lot of websites for freelancing students, tutors, writers, or any other on-demand experts, but Studybay is different from most of them, and in a good way. It's pretty user-friendly, clear, and convenient even if you're inexperienced with finding jobs online, but the most important thing is this platform can actually help you pay your bills. There's a lot of professional freedom in here, yet the corporate standards are high, so use this instruction to fit in the community of demanded experts.
Well, to start making money you need to join the platform and become an expert first. How to get this status and prove you're knowledgeable, skilled, and experienced enough to help others with their studies?
Get to Know the Platform
Let's start your professional journey by finding out more about the platform itself. How to get there, and what's so special about it?
Figure Out What Is Studybay
Studybay is an online platform connecting ambitious students and top experts from all over the world. It's a great place where ambitious people seeking help with their projects can cooperate with skilled professionals in any subject to succeed in learning. Think of it as of a community of experts and students, ready to help each other. Ones want their studies to be eased, and the others want to monetize their knowledge. As easy as that!
How to Get Started on Studybay as an Expert
You need to sign up as an expert, go through the verification procedure, and then start making bids on projects you're interested in.
First of all, create an account. You can do it on the Studybay homepage.
Enter your full name and email address.
Then provide some more information about yourself. Make sure all the data provided is valid and correct. Also, pay attention to the phone number — it has to be typed in a full international format. Enter all the required info:
Username — this is a name you are going to use on Studybay. Choose it carefully, you will not be able to change it in the future!
Phone number — you'll be using this for 2-factor authentication whenever you need a withdrawal. Also, Studybay support team may contact you at this number if they have questions or news for you.
Country and city — this information will be kept private, as well as any other data provided by you. It's just needed to set the interface correctly for you.
Billing address — this needs to be entered for accounting purposes, as you are going to receive money from Studybay for completed projects. Don't worry, Studybay encrypts all the data, so you're completely safe.
Password — you'll be using it to log in to your Studybay account. Don't share your password with anyone!

After that, read and accept the Terms and Conditions — it contains all the rules and regulations. To work as an expert on Studybay, you need to follow them all.
If everything is entered right, you should be greeted with a welcoming message. Click Start.
Fill the application form. And then you just have to wait for Studybay to check it. Within no more than two working days, you'll get a response on this form by email. If everything's fine, you'll be able to work as an expert in no time.
Now, Help Students Learn
The next step is setting up your profile. You'll need a good description, a great profile picture, and nice convincing samples of your works to win your potential clients' attention. Keep in mind that Studybay is a really professional community, so there are lots of experts to compete with. Make sure you're highlighting all your strengths and being super professional.
Do I have to be a certified tutor or a professor to be an expert on Studybay?
The good news is that you don't actually have to. But sure, having additional certificates showing that you're capable of completing projects will help you win over the auction. Remember, your potential client is the one to make a final decision about who's going to help them with their project. So, provide detailed and valid information about your education and work experience, and do it in an engaging and convincing form.
How long should I wait to hear back about my expert application?
Once you've filled your application form, you have to wait for no more than two business days to get a response to your request. You'll get notified about the decision via email.
If my application is not accepted, can you tell me why it was declined?
Yes, sometimes expert applications get declined. There are several reasons why it can happen, such as invalid information, bad grammar and/or syntax, plagiarized text, or re-applying within less than six months from the last application.
The only thing we can recommend is to be true to yourself. Read the Terms and Conditions really attentively once again, then try to make your application outstandingly good. Remember that you are applying for a job, and for a serious one. Studybay experts are called experts for a reason, you need to match some pretty high standards to become one.
But even if your application is declined now, don't get upset. Let this make you even more motivated. Prepare for your next chance and re-apply in 6 months or more. Hopefully, you will get back to Studybay, but even more skilled and educated this time.
How much does using Studybay cost?
There is a commission fee added to your expert price on Studybay. And the amount of money charged from the client as this commission actually depends on the project and your ratings. But still, the final bid is on you because Studybay only limits your minimum price, and aside from this, you can offer any price you want. Take your competence, your experience, your rate per hour, and all the requirements of the project into account while making an offer. And remember, the more and better you work, the more you get.
You Decide How to Work
One of the main benefits of Studybay for writers, tutors, creators, and other people willing to share their knowledge and expertise is that the platform gives a lot of freedom. You can make many important decisions that will affect your income.
You decide when, how hard, and for how long you work.
You set your own price.
You choose the projects you want to help with.
You choose the subject or several subjects to work on.
You contact your clients directly via chat so you can discuss all the details.
You feel secure and protected. Your client will never get your personal information such as your contact information, and vice versa.
You can contact the support team whenever you need to.
Top 3 Types of Projects
Of course, there are the most and the least popular types of projects. Let's focus on those that can help you get richer.
Essay
Probably the most frequently requested kind of assignment help among students. Maybe that's because they got really much homework in a form of an essay that needs to be done, or maybe there are just too many details to keep in mind while writing. You need to think of a good structure, reliable sources, convincing evidence of your claims, and also make no mistake while putting it all together. That's why some people want to have an extra pair of eyes for their essays for schools or colleges — experts don't lose the track of such things.
Speech Writing
Speech writing is definitely the second popular assignment type. It's as hard to write as an essay but it also has to be performable. This social aspect of speech writing, this strong relationship between the strong written text and the need to deliver it verbally, brings on some extra criteria. So, yes, many people decide they want to hire someone skilled, who knows how to put thoughts into a form of spoken words and still make it sound exquisite.
Case Study
The thing with the case study is that it takes an analytical approach. And yeah, unfortunately for many, not everyone has such a thing. Some study help may come in handy. It's way easier to complete if there's an expert ready to help you go through the case, highlight all the relevant facts, claim the issue, analyze it, and provide effective solutions.
Earn Extra Money or How to Get More Sales on Studybay
There's always some room for improvement. How can you increase your income while being an expert?
Have a good profile. Make sure you look and sound professional, smart, and skilled.
Work for a five-star rating. Feedback matters when you're on Studybay. It actually reflects the quality of your work and let your potential clients know if you're good to work with.
Speak like a human. No one likes pre-generated messages but everyone loves a personal approach. So pay your individual attention to each and every project of yours.
Upsale, upsale, upsale! You have a chat with your client, so you can make a special offer to them. Maybe they need proofread, or you can make a discount on their next project with you?
Level up your skills. Don't forget to follow trends, track new research in your subject, develop yourself professionally, and check out what's going on with your colleagues once in a while.