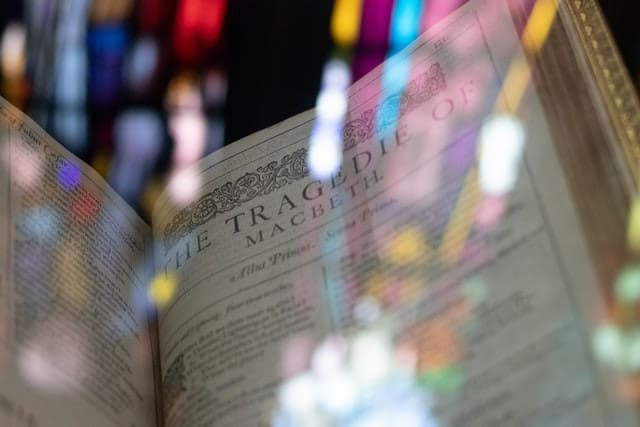 There is hardly a person who has not heard the name of William Shakespeare, one of the greatest authors in history who has made a large contribution to the development of the English language. Given that Shakespeare's figure is monumental for English and global literature, it comes as a mandatory part of the curriculum in high schools and on other academic levels.
If you don't have any prior knowledge of Shakespeare's works and his biography, worry not! This guide will take you through all the essential information needed to create an A+ William Shakespeare essay, alongside a written work sample, tips on improving it, and a list of topics to explore.
The Life of William Shakespeare: Information to Use in an Essay
Research is one of the critical parts of the essay writing process that should not be disregarded. To make the task easier for you, we have collected some facts from William Shakespeare's biography that can prove to be useful in your essay:
Full name: William Shakespeare, also known as the Bard of Avon
Date of Birth: Unknown
Baptized: 26 April 1564
Hometown: Stratford-upon-Avon, England
Date of Death: 23 April 1616
Parents: Mary Arden and John Shakespeare
Spouse: Anne Hathaway in 1582
Children: twins Judith and Hamnet, daughter Susanna
William Shakespeare was the greatest playwright of his time and created around 37 plays. Here are some of the most renowned Shakespeare's plays sorted by year of writing:
The Taming of the Shrew (1590)
A Midsummer Night's Dream (1595)
The Life and Death of King John (mid-1590s)
Romeo and Juliet (1594-96)
1 Henry IV (1596)
The Merchant of Venice (1596-98)
Much Ado About Nothing (1598-99)
Julius Caesar (1599)
Othello (1603)
King Lear (1605-06)
Hamlet (1606)
Macbeth (1609)
The Winter's Tale (1609)
The Tempest (1611)
Besides, here are a few of Shakespeare's most recognized quotes:
"To be, or not to be, that is the question."

- Hamlet
"All that glisters is not gold."

- The Merchant of Venice
"If music be the food of love, play on."

- Twelfth Night
"Brevity is the soul of wit."

- Hamlet
"Hell is empty and all the devils are here." - The Tempest
"It is not in the stars to hold our destiny but in ourselves." - Julius Caesar
The aforementioned information can be used to create argumentative, expository, narrative, and descriptive essays. Check out an example below!
Shakespeare Essay Sample
There is a wide variety of essay topics connected with the life of William Shakespeare. Here is one prompt sample:
Describe William Shakespeare's biography and life as an actor and playwright in Tudorian England.
Shakespeare is a globally beloved playwright with an intriguing biography, which makes such an essay topic rather common in educational institutions. Here is an example of a descriptive essay on this topic:
The Shakespeare biography is a mystery that contains a lot of uncertainty. The great writer's date of birth remains unknown, but it is clear that he was born in 1564, during the Tudor period in the town of Stratford-upon-Avon. There is not much information on William Shakespeare's early years. It is believed he had a good childhood. Seven years of records on his life, starting from 1585, are non-existent. This period is often called "the lost years" by historians.
In 1592 Shakespeare reappeared in London as an actor, where he first performed at "The Theatre". He was a part of the company known as Lord Chamberlain's Men at that time. However, after facing controversy with the landlord, the building was taken apart and rebuilt as "The Globe", an open-air theater across the river. Shakespeare's plays were extremely successful and earned him a big fortune. He was in favor of Queen Elizabeth I and performed his plays at the royal court.
William Shakespeare died on 23 April 1616, and there are speculations that it might have been his birthday. Even after death, the great writer, playwright, and actor managed to leave a mystic aura around his persona, leaving a curse written on his gravestone.
A Few Shortcomings and How Can This Essay Be Improved
The sample essay you have just read through is an example of a text that is likely to receive a B- or B grade. But what are the downsides of this written work that hold it back from receiving an A+ assessment?
No Clear Thesis Statement
A thesis statement of a descriptive essay must introduce the reader to the central idea of your essay. However, the sample Shakespeare essay provides a fraction of what the work focuses on. Here is an example of a better thesis statement:
William Shakespeare's life as a renowned dramatist, poet, playwright, and actor appears as a mix of glory and mystery.
This sentence provides the readers with brief information on the person to be discussed in the essay while highlighting the specific aspects of his biography that will be covered.
Lack of Linking Structures
The sample essay sticks to the chronological order of events in Shakespeare's life. However, the transition from one paragraph to another is not gradual, making the structure seem inconsistent. This can be done by embedding linking words and phrases in the text, such as:
Besides
Also
In spite of
However
Therefore
Furthermore
The list goes on! Integrating such words would enable the essay author to avoid choppy sentences and improve the text flow. Here is an example:
While the great writer's date of birth remains unknown, it is clear that he was born in 1564, during the Tudor period, in the English town of Stratford-upon-Avon. Even though the information on William Shakespeare's early years is not sufficient, it is believed he had a loving upbringing. Besides, for seven years of his adulthood, the great playwright did not appear in any records. That is why this time of Shakespeare's life is often referred to as "the lost years" by historians.
As you can see, linking words make the text significantly easier to read and comprehend.
Not Enough of Essential Details
Besides, it is crucial to keep the thesis statement in mind throughout the whole written work and provide information to support it. The task requires to describe Shakespeare's life as a playwright, which is hardly possible without mentioning at least several of his plays beloved by the public. Here is an example of how the sample Shakespeare essay could be refined in this regard:
Shakespeare's plays were extremely successful already at his time and earned him a big fortune. Notably, early Modern London's public loved his historical plays Henry IV Part I and Richard III.
Even such small alterations create significant changes in the essay, providing more value to the reader.
Weak Conclusion
The essay's conclusion should remind the reader of the thesis statement and be a summary of all the key ideas of the text. The sample essay's final paragraph appears as if it were a part of the written work's main body. Here is what could be added to wrap up the essay in a masterful manner:
While being a public person known to the majority of his contemporaries, Shakespeare remains a mysterious figure. Nevertheless, William Shakespeare's literary works, including his iconic plays, continue to amaze people generation after generation.
This version of the conclusion finalizes the essay while tackling all the topics that have been discussed in it.
An Essay About William Shakespeare: Possible Topics
Now that you've read through the tips to perfect your William Shakespeare essay, you will be able to create an excellent text deserving the top grade. What's left is to select an interesting topic for your essay if it has not been provided by your teacher or professor. Here are some ideas for your written work's theme:
How Did Shakespeare Interpret Historical Events?
The Impact Shakespeare's Acting Career Had on His Playwrighting
The Perception of Women in Tudorian England As Shown in Shakespeare's Works
What Do the Sonnets Tell Us About Shakespeare?
Speculations on Shakespeare's Persona and Literary Works
The Impact of Shakespeare's Masterpieces on Modern English Literature
Why Are Shakespeare's Works Considered to Be a Significant Milestone in Literature?
Shakespeare's Contribution to the Development of English Language
You can take any of the mentioned topics as a basis for your essay about the life of William Shakespeare and his literary achievements. However, if you feel like you are in a bind and don't have enough time or energy to stick to the assignment deadline, you can always turn to the help of a writing service, such as Studybay.
Our experienced authors are ready to help you with any homework and will follow all requirements. Reach out now to get started!