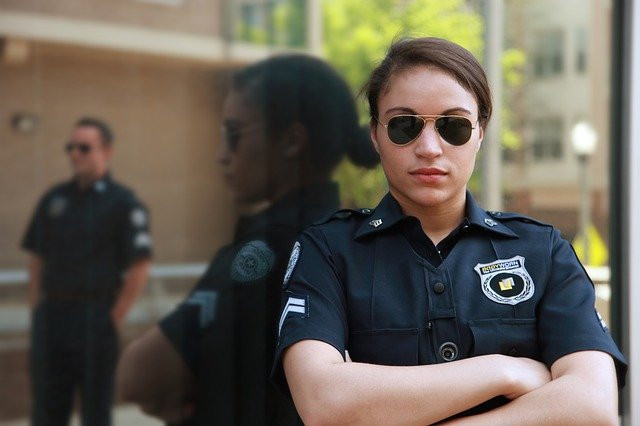 A law enforcement career is one of the most respectable career paths anyone can take. At the same time, working under law enforcement is also one of the most sought careers. A popular choice among law enforcement officers is to be a police officer.
Many people dream of being a police officer, among law enforcement jobs, as it's both demanding and rewarding. It also doesn't require you to graduate with a Criminology degree as you only need a high school diploma or a GED equivalent. However, some police departments may ask you to have a law enforcement degree like a bachelor's degree to be able to get further in your future career in criminal justice.
If you want to pursue becoming a police officer, you'd need to get accepted to a police academy and start there. However, it's not as easy as just applying. You'll need to achieve an adequate education, complete application requirements, and take many tests to qualify and attain your first career advancement.
Some of the best ways to increase your chances of getting into a police officer academy and build connections with law enforcement agencies are using a cover letter or a personal statement, especially if you had gained work experience before deciding to apply.
This guide will show a sample cover letter and talk about important things you should note when making your cover letter. We will also provide tips on how you can make your personal statement great to get you accepted to the academy.
Standard Cover Letter to a Police Academy
A standard cover letter is an important one-page document. It contains the applicant's academic experiences, skills, and personal interest for applying to the academy. It explains why you want to work on your studies with the university of choice. You can even include technical data from the Bureau of Labor Statistics to support your statements in the letter.
Since there are many candidates who are applying aside from you to enter the academy, it is best to write and produce a unique and engaging cover letter yourself. Below is a good sample of a cover letter with additional tips:
Date:
February 16, 2021
Contact Details:
Mr. Matthew Richards
Application Staff
City of New York
7 City Hall Ave.
Sometown, CO 77777
Greeting and introduction:
Dear Mr. Smith:
I am interested in getting into the law enforcement field through the N Academy, where I want to complete my foundation degree and be a police officer in the future. For as long as I can remember, I've been interested in pursuing a career in law enforcement to give back to the community that has shaped me into who I am today. To serve and protect my hometown community after I graduate is my dream job, and getting into this academy will be my first stepping stone in reaching that dream.
Body Paragraphs: Tell your academic experiences and attained education. Highlight skills that make you a worthy candidate to get into the academy.
My tour in your academy last (insert month and year) resonated in me and made me want to work hard to be an asset of the university and a part of your alumni. The following are my accomplishments and academic experiences: (insert relevant accomplishments, like leadership training, charity participation, awards and recognitions, and others.) All of these achievements make me confident that with your university's course, I will be able to reach my full potential.
(Include more paragraphs)
Call to action paragraph:
It would be a privilege to get an interview from you and discuss everything in more detail. To contact me for a future meeting, please feel free to call (777) 777-7777 or email me at [email protected]. Thank you.
Sign:
Tips on Perfecting the Personal Statement for a Law Enforcement Career
If you think making a cover letter is too technical for you as it feels more like a job search and you're trying your best to fit the job description, you can opt to write a personal statement instead.
A personal statement is an essay that shares your unique story, your beliefs, and your passion - all concerned with the purpose of why you want to be a part of the academy. For this instance, you're writing the personal statement to discuss why you want to be a police officer after you attended the academy and why you think getting into the academy will help you with that.
Here are some general tips in writing a good personal statement:
Write a draft.
Do not rush writing your statement.
Choose and use the appropriate words and expressions.
Concentrate your writing on your strengths.
Start with a good introduction.
Only include facts and do not lie.
Proofread your statement.
A personal statement can be divided into three main parts: the Introduction, the Body, and the Conclusion. More tips on writing these parts are included and discussed in the following sections.
Introduction: Hook the Reader
The introduction is the opening of your statement - it is where you make your first impression on the academy's admission committee. An introduction will dictate how they'll perceive you and your intentions.
An intriguing and attention-grabbing introduction is a good start in taking the readers' interest and making them want to know more about you.
Good Introduction
A good introduction draws the attention of the reader and makes them want to read more. When you write a personal statement, that's a starting goal - to have it read by the admission committee with interest. To write a good one, think of how movies and novels start with an incomplete yet exciting scene.
For example, at the beginning of a movie, a scene of a person throwing a dead body on the river is shown. Viewers will get hooked, and they'll ask for answers - such as why the person did it and how this case will get solved. And for them to find out, they will continue watching the movie to get answers. When you write an introduction, you should leave a positive impact like that on the reader.
Bad Introduction
A bad introduction, on the other hand, is the complete opposite. It is written in a dull and boring way - it may be too formal and technical, which makes the reader lose interest in reading more about the aspiring police officer's personal statement.
Examples
Police officers are respected and commended by many people because of their contributions to the community's safety and security. That is why becoming a police officer after attending your university is my dream. My family also wants me to be a police officer because there is a long history between my family and being in law enforcement.
The police force is known and respected for many reasons. There have been many police officers before me in my family, and I want to follow the path they took with the training your academy offers. However, I want to become a police officer for other reasons as well.
From the two examples, which one do you think is a good introduction for a personal statement to be submitted by an aspiring police officer to the police academy? It is the second example. Although they talked about the same thing - why they want to be in the law enforcement position in general - the second one leaves the reader hanging and wanting to know more about why the writer wants to become a police officer.
Main Body: Answering Interview Questions
The next part of your personal statement would be the body. These are paragraphs where you discuss the things you stated in your introduction in detail—using example number 2 above - more reasons and information as to why you want to pursue a law enforcement career.
This part of the personal statement should look like an answer sheet for an interview. When writing this part of the essay, or the essay as a whole, write and think like you're answering interview questions of why do you want to be an officer. Like in an interview, your sentences should be structured, concise, and personalized.
Your personal statement's body should also allow you to share your relevant competencies, like problem-solving skills, that make you an asset to the academy. Include interests and experiences that led you to the conclusion that you want to be a police officer with the academy's help.
Here are some relevant elements you can talk about in the body of your personal statement:
The achievements and experiences you've gained
All relevant skills and talents on being a would-be police officer
Your academic goals in getting into the law enforcement academy
Background and experiences that made you realize you want to be a police officer
Below is an example of a body of a personal statement, continuing from the good introduction from the previous section:
When I was in high school, I watched and heard unending news about injustice daily. And I've wondered, why is no one protecting them, fighting for them? Why is there no one catching the bad guys? And at the same time, I was introduced to some family members who are also police officers that are in the police department, and I felt enlightened and inspired.
Since then, I have been interested and passionate about how the police work and about helping people and driving off injustice whenever I see them. I want this to be my life-long duty, and my first step to fulfill these goals is to be a police officer in training under your university.
I find your coursework most fitting for my curiosity and passion with your academy's many years of experience...
The example above is an incomplete body for a personal statement. You can include more information and details in this part, such as more answers to common interview questions and interests that relate to your future career, such as patrol officers and law enforcement agencies.
Conclusion: Why Are You the Best Candidate for the Police Officer Academy?
This is the last part of your personal statement, the conclusion. It's the closing remark of your essay where the admission committee should see what you can offer and think of you as the best candidate for the police officer academy and why you should be one of the deserving applicants to get accepted.
It doesn't have to be as long as your personal statement's main body, and it also doesn't need to be too attention-grabbing like the introduction. Your conclusion should be short and concise, containing all relevant details in wrapping up your essay. Of course, do not forget to conclude and state that you deserve to be part of the academy.
Making a conclusion based on the examples of the previous sections, here is the conclusion:
I want to take on your academy's policing course to become a police officer and achieve another dream: to provide criminal justice and public safety. In my journey so, I am looking forward to the course that your academy offers. I know that my university life will help me fill the leadership role needed in my future career. Upon completion of my degree, I want to be able to serve alongside other fellow officers to give my best to the community and dedicate many years of service to keeping the country in order.
Summary
Getting admitted and accepted into a law enforcement academy is not an easy task, with endless background checks. That's why there are tools to help you gain more chances of getting in, such as Studybay writing help platform. Remember that a personal statement should be personal - all about you - your thoughts, experiences, and skills. Writing an excellent personal statement would undoubtedly help you express yourself more, enough to be acknowledged by the admission committee in that police academy you're aiming for.
Check out our other web pages for more essay help and essay editing. Alternatively, you may wish to use our proofreading services for polishing and perfecting your essay to give you that extra grade boost!