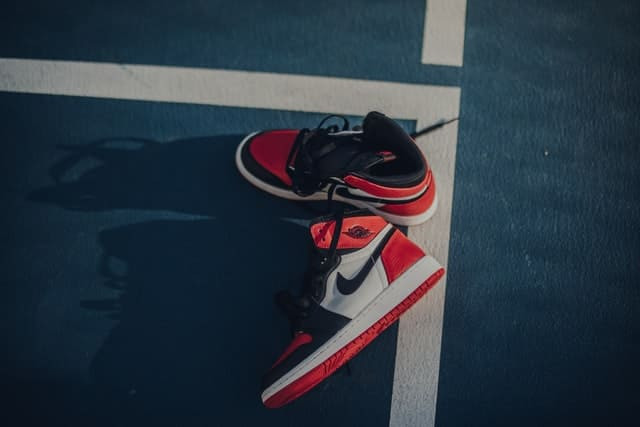 Nike, Inc (NYSE:NKE) is one of the largest sports athletic shoe brands that produce different products. From footwear, apparel, sports equipment, and many more. It's also a competitor of Adidas, Puma, and other popular athletic store brands. 
It started as a small-time business and bloomed to be what it is today with its great management systems, unique designs, promotional campaigns, and celebrity endorsements. 
If you need to know more about Nike, Inc for your essay or research, you are in the right place. In this article, we'll talk about Nike and its manufacturing process so you can further understand its path to success. 
Nike's Manufacturing Process
What kept this shoe company going on for so long? With its management systems and processes, Nike's footwear manages to produce and sell hundreds of millions of its products through its management and complex supply chain. 
What Is Manufacturing?    
Manufacturing is the process of creating different products from raw materials, either by people or through machines. The process results in what's called the "finished goods' that will go to distribution centers and then to the retailers that will sell the goods to the customers.
How Does Nike Make Their Products?
Nike's manufacturing process is not as easy as drawing, cutting, and assembling. No, manufacturing requires management systems and efficient processes that must be followed by workers. 
It's known for selling shoes and different products, but they don't have their company-owned factories. Their factory was initially located in Japan but since then moved to South Korea, China, and Taiwan. Later, they moved again to China, Indonesia, Vietnam, and Thailand to attain cheaper labor costs as the earlier countries' economies started to grow. 
The company has hundreds of contract manufacturers and millions of workers. It manufactures 500,000 or more Nike products per year that go to different distribution centers. Its main delivery hubs are in Memphis, Tennessee, and Foothills Ranch, California.
The company became one of the pioneers of outsourcing and contract manufacturing as part of its production process. This is a huge cost advantage for the company as it decreases production costs as Nike doesn't need to spend on recruitment, training, and developing its infrastructures.
In 2005, Nike released the first-ever Manufacturing Map for its industry to disclose data and transparency purposes publicly. The Map provides all the data and information about Nike's and Converse's contract factories like the site, products, and factory worker's statistics. 
Recently, they also started giving information on their raw materials suppliers in their company supply chain. Sourcing is essential to Nike, Inc, and they have different approaches to it. It has different programs for workers, safety, and environmental with their suppliers that commit to sustainability.
The Supply Chain
Nike's supply chain works around the company's three organizational principles: outsourcing, diversification, and social responsibility.
Outsourcing 
Outsourcing means assigning certain activities of your organization or company to another supplier. The process of outsourcing helps in mitigating the overall cost of a company while also being able to properly meet the customers' demands. It's efficient and more productive.
It also has the benefit of giving the company the opportunity to take advantage of other people's skills and experience who are employed by their supplier. 
Today, Nike completely leaves its footwear and apparel manufacturing to its independent suppliers outside the US. The company's willingness to take the risk of outsourcing helped them value effective management that would later help them in saving operating costs. It also believes in "Lean Manufacturing" or the method of minimizing waste while maximizing productivity by continually communicating with and supporting its manufacturers. Nike, Inc gave the company's suppliers support, help, and incentives to constantly improve each supplier's sustainability and performance. 
However, this approach also comes with its problems. Having outsourced products may mean differences in quality and vulnerability to unpredictable events such as calamities or accidents.
Diversification
Nike is no longer just focused on shoes. To effectively manage risk, Nike offers almost all of the products you can think of when you think of sports footwear, apparel, and equipment. However, it continues to search for profitable opportunities such as several subsidiary ventures. 
The following are Nike Inc's wholly-owned subsidiaries:
Converse, Inc (athletic footwear, apparel, accessories)
NIKE Bauer Hocker, Inc (hockey equipment)
Cole Haan (fine dress, casual shoes, accessories)
Hurley International LLC (action, sports, youth lifestyle footwear, apparel, accessories)
Exeter Brands Group LLC (athletic footwear, apparel)
Corporate Social Responsibility
Nike, Inc also values its CSR and uses its platform to instill change in society. It focuses on the following:
1. Energy & Climate 
To create a substantial environmental impact, the company joined the Sustainable Apparel Commission, a non-profit organization that is committed to sustainability, to implement eco-friendly materials with their products. Such as the use of organic cotton. 
It also launched its Supplier Climate Action Program for carbon reduction on its processes. 
2. Labor
The company also attempts to build a diverse and inclusive workforce to develop a feeling of belongingness. 
3. Chemistry
Nike's also keen on eliminating hazardous materials from their supply chain that significantly affect the consumers, factory workers, and their environment.
4. Water
To answer one of the world's greatest threats, Nike crafts ways to reduce their water footprint through textile dyeing and freshwater use.
5. Waste
Their end goal is to have zero waste from the production of their products. As a step, Nike's finished goods suppliers should divert manufacturing waste from the landfill.
6. Community
Nike shows its dedication to the community through the following:
Partnering with the US Olympic Committee to develop a fun and inclusive culture for girls. 
Made to Play Campaign to encourage kids to move through sport and play. 
Nike: Past, Present, And Future 
Phil Knight, a student, and his track-and-field coach Bill Bowerman founded an American athletic store based in Beaverton, Oregon, in 1964 called Blue Ribbon Sports. It wasn't a footwear manufacturing company yet but instead a distributor for the famous Japanese brand Onitsuka Tiger, which is now known by its new brand name ASICS. 
Knight got the deal with the Japanese company to export famous shoes to the United States. He didn't have a physical store to start with, so he would come back home and sell the shoes with just his car.
The shoes became popular and were in demand in no time. This is because they were cheaper but were of high quality. They were great alternatives to Adidas and Puma that were then the famous shoe brands. 
Unfortunately, Blue Ribbon Sports and Tiger ended their partnership when Bowerman's new product design created conflicts with their legal contracts. Because of this, Blue Ribbon Sports needed to change its name, and Knight chose "Dimension 6." Then his friend, Jeff Johnson, gave him the name "Nike," lifted from the Greek Goddess of Victory.
The first shoes the company ever made were dedicated to gold medalist Otis David who used them in the 1960 Olympics.
Nike's shoes and its iconic "swoosh" logo were displayed on the shelves in 1972 and officially went public by the 80s. Through the years, the company expanded and acquired many product lines, such as Converse and Cole Hann.
You may think that "Just do it," was the first slogan of Nike, Inc, but it isn't. Its first brand advertisement was "There is no finish line," which shows the company's hunger to keep on evolving. And Nike did just that, they evolved, they changed for the better, and eventually ended up with their current slogan "Just do it" which is known worldwide and still resonates with the culture of Nike, Inc. 
Since then, it only kept on growing. With the increased number of retailers and branches worldwide came the opportunity to include other different products and launch campaigns and endorsements led by celebrities such as Michael Jordan, Kobe Bryant, Lebron James, Tiger Woods, and many more. 
Nike also released their online shopping website, Nike.com, for the convenience of their customers and to increase the company's profitability. In the future, Nike plans to bring their purpose focused on people, planet, and play., Some of their targets include Employees, Health, Culture, Edu, Waste, and Water.
Nike Shoes Today
Blue Ribbon Sports sold 1,300 pairs of shoes in the past, as they are just the distributor of a Japanese shoe brand Tiger. The small company that a student and his coach founded in Beaverton, Oregon, is now a worldwide athletic shoe brand. A store that offers footwear, sports equipment, and apparel that's available in all sizes, for every gender, and all ages that sells millions of products per year.
Nike has different collaborations with other brands and celebrities, and some of them are SUPREME, Kanye West, Undefeated, Drake, Dior, and many more. The company grew beyond their running shoes to Nike Air Force 1 and the Air Max series that first introduced Air-sole shoes that changed the sneakers' game. 
The company continues to make, manufacture, and produce various Nike products with innovative product designs through its efficient management systems to make and provide quality finished goods to its customers.
If you find it hard to do your assignment, you can always ask for a paper writing service online to help you with your paper.