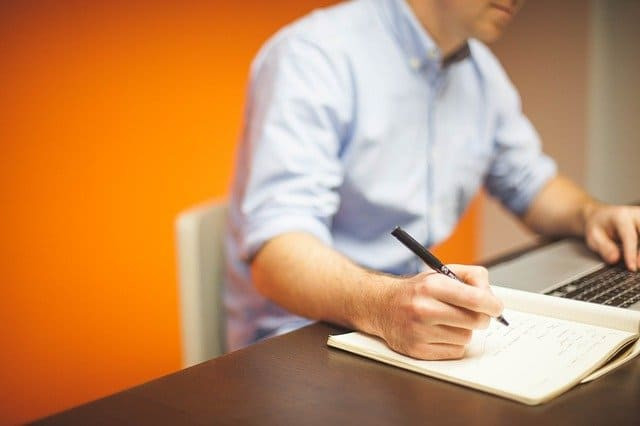 What started as a partnership of four friends Arvind R. Vakil, Chimanlal N. Choksi, Suryakant C. Dani, and Champaklal H. Choksey, in 1942 has grown to become a national paint manufacturer and distributor in India by 1966. Asian Paints is now an international company, being among the leaders in the Asian market. Due to its impressive expansion and wise organizational tactics, Asian Paints is an amazing choice of a research topic on business strategy.
Studybay has collected all the necessary information from reliable sources for you to create an informative paper on the Asian Paints business strategy. Read on to find out everything you need, or reach out to our experts for immediate homework writing help!
Asian Paints Company Overview
Asian Paints is a globally renowned Indian paint manufacturer and distributor. To be able to produce a comprehensive business strategy report about it, it is crucial to be aware of the company's key figures. Take a look at an overview of general information on Asian Paints:
Name of the Company: Asian Paints Limited
Registered Address: 6A, Shantinagar, Santacruz (East), Mumbai - 400 055
Website: www.asianpaints.com
Total Turnover in 2020: 19,739.97 crores
Total profit after taxes in 2020: 2,653.95 crores
The company has a wide range of products and services.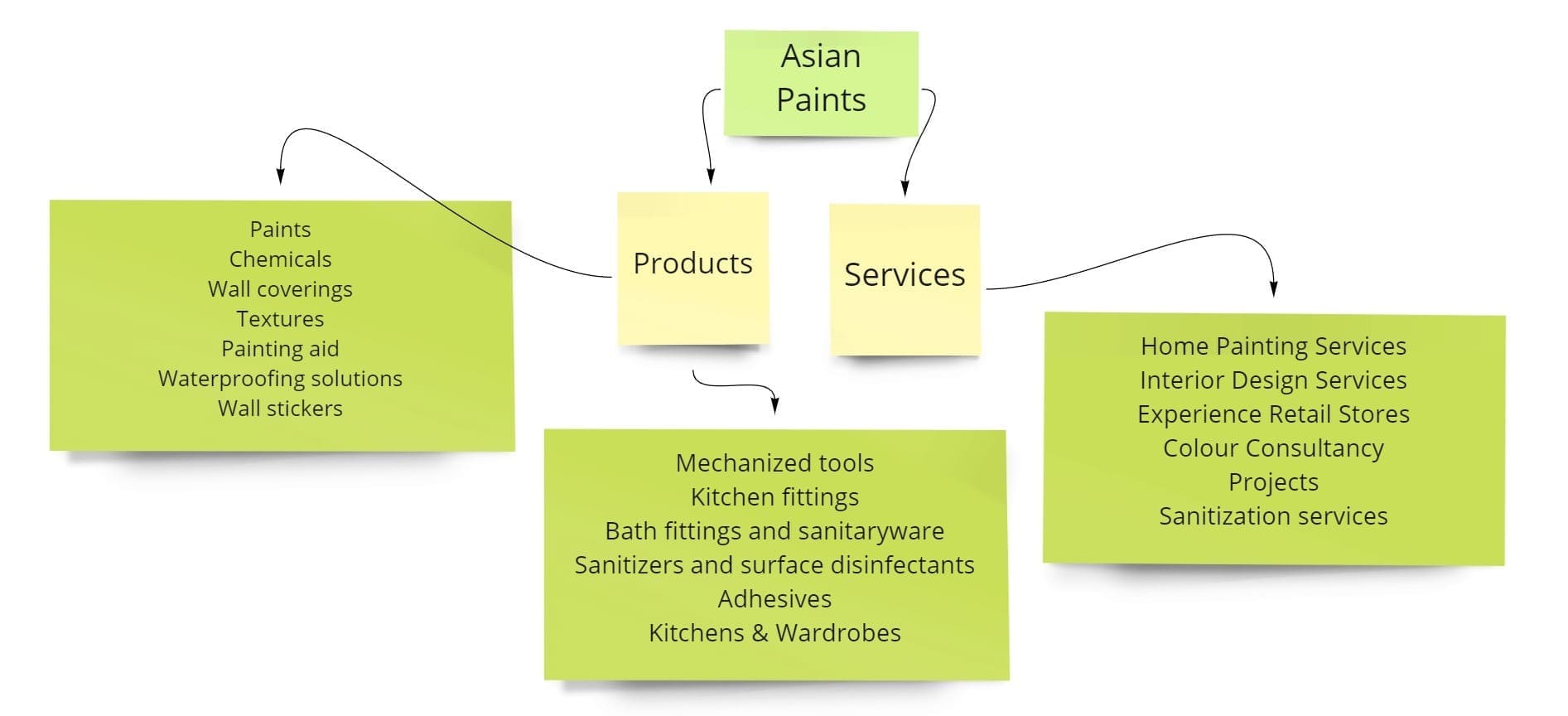 Looking at this impressive variety of products and services, you could already get an idea that Asian Paints takes a holistic approach in business. For such a company, having a clear plan is a necessity. So, without further ado, we present to you our analysis of the Asian Paints business strategy.
Asian Paints Business Strategy
The Asian Paints' business strategy is based on four main pillars:
Defending the current market position
Deepening the existing competencies
Discovering new markets and competencies
Developing fresh market opportunities
According to its annual report, AP offers its services at local, state, national, and international levels, being one of the largest paint companies in Asia. Here is how the brand currently implements its business strategy:
The company focuses on providing its products and services to urban and rural communities, making them the brand's two major target groups.
The Asian Paints' urban market operations are characterized by:
Having a strong network of intermediaries, such as painters and designers, who have an influence on consumer decisions
Using the influence of these intermediaries as the brand's marketing arm
Occupying a segment of the intermediaries' market share, enabling AP to be present in different steps of the value delivery system
Considering two major growth opportunities: forming a service arm to engage with large markets, aiming at middle-class customers, or focusing on providing value-added services, targeting its premium segment.
The company has the potential to benefit from both approaches by weakening the influence of intermediaries across Asia. Establishing a strong brand name and a powerful image would enable AP to empower the end consumers in urban markets.
AP's rural market strategy differs due to the fact that the majority of this customer segment representatives would not appreciate the service-related offers. Therefore, the brand has chosen a product-related strategy for this market segment:
Gradually penetrating the market by offering well-tailored products fitting the regions' consumer ability
Upgrading the customers' interest towards higher-range products after gaining trust and loyalty to the brand
The company's international strategy implies utilizing the experience gained in India and scaling its supply chain management, launching newer products at a faster pace.
Asian Paints Marketing Strategy
The Asian Paints' company vision is to become one of the world's five leading decorative coatings brands while building influential long-term partnerships with market leaders. Bringing such grand plans to life would have been impossible without a wise marketing strategy.
AP's marketing tactics include:
providing products in small packs
creating an exterior paint segment
establishing a consumer helpline
the "Color Next" program forecasting paint trends through research
opening signature stores at a variety of locations
offering special textured paints
providing samples
offering color consultancy
Color Idea store
Besides, the company is continuously generating new approaches to sustain its leading position in the market and expand its influence.
Asian Paints Supply Chain
Asian Paints has managed to create an impressively efficient supply chain management system. The company's supply chain runs through a broad spectral range of functions from the collection of raw materials up to major distribution. The brand uses cutting-edge technology to ensure harmonious cooperation of its manufacturing facilities, regional circulation centers, outside control centers, partners, and distribution branches.
The key players ensuring the supply chain's effectiveness are:
The IT Department
This part of the company backs up all its operations when it comes to creating:
educated future predictions and estimates
coming up with valid plant, depot, and SKU combinations
enhancing retailer relations
optimizing acquisition costs
scheduling manufacturing processes for certain factories
Human Resource
Another essential part of the supply chain is HR. Asian Paints' HR department ensures:
a focused and goal-oriented attitude of the staff
efficient and timely training
career growth opportunities
providing the employees with additional motivation to bring out creativity and innovation
R&D
Since AP focuses on innovation, it would not be able to survive for long without an in-house research and development team. The Asian Paints' R&D department takes care of:
assisting the IT department with market predictions
developing the company's paint industry and home solutions portfolio
supporting AP's in sustainable development, value reengineering, and costs optimization initiatives
Subsidiaries
Asian Paints is a parent company of some international subsidiaries, namely:
Apco Coatings operating in the South Pacific
SCIB Paints being among the top 5 Egyptian decorative paint companies
Berger International Limited present in the Middle East, South East Asia, and the Caribbean
Industrial Coatings Limited - PPG Asian Paints taking care of the powder coatings market share
Asian Paints SWOT Analysis
Yet another useful technique to assess the company's business strategy is conducting its strengths, weaknesses, opportunities, and threats analysis.
Strengths
Being an established market leader with over 75 years of experience
Having a large distribution network
Consumer trust and loyalty
Competitive advantage of having an extensive portfolio
Weaknesses
Not fully covering the industrial coatings segment
Not present on the Western market
Opportunities
The development of the Indian market
Presence in the emerging markets
Innovative solutions in the home decor and painting spheres
Growth in rural markets
Threats
Volume-based economy
A range of limited raw materials required for production, including water
Crude prices inflation
How to Create a Masterful Report on the Asian Paints Strategy?
Now that you have all the essential information on AP's business strategy, what's left is to compile it into a report.
To produce an A+ written work, ensure that you:
are aware of your educational institution's report requirements
use only credible sources
provide the information in a well-structured, logical manner
proofread and edit your text if needed
check your writing for plagiarism
submit the report on time
At Studybay, we understand that it may be overwhelming to take care of such a wide array of details when you have a lot going on in life. If you understand that you don't have time to complete the Asian Paints Business Strategy Report assignment, it is best that you turn to professional help. Our Studybay experts have years of experience and relevant education to create top-notch written work for you. Reach out now!