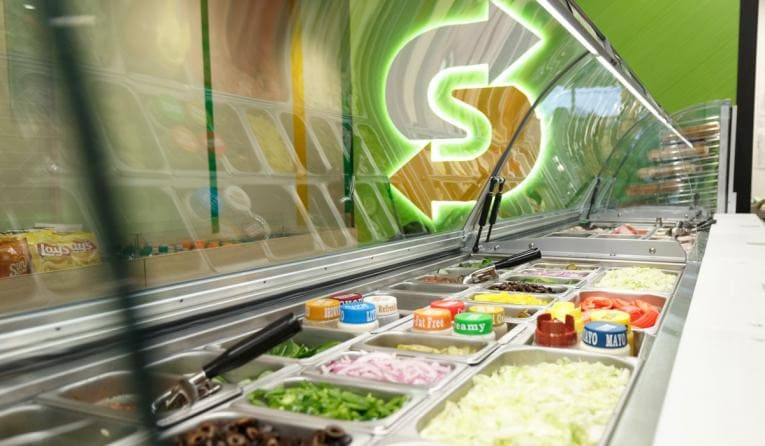 What is Subway, and how are they still thriving in the fast-food market today? Here is a brief history of Subway Restaurant or "Pete's Super Submarines."
In 1965, Fred DeLuca was 17 years old when he opened his first submarine sandwich shop in Bridgeport, Connecticut, by borrowing $1,000 from a family friend, Dr. Peter Buck. After they changed the business' name in 1968, they started franchising, releasing new products, and continuing their marketing campaigns to keep the business flourishing.
Today, Subway has 44,000 branches worldwide and has become the leading choice for nutritious meals. According to statistics, Subway is the fourth most valuable quick-service restaurant globally, just after McDonald's, Starbucks, and KFC. It was also the largest fast-food chain in both America and the world in 2020.
Unfortunately, the sales started dropping in 2014. It was heavily connected with the issue of one of their most known campaigns - Jared Fogle, or the man who lost 200 pounds by eating Subway sandwiches and an effective spokesperson for Subway - was tried and convicted for child pornography and illicit sexual conduct with a minor.
As of 2020, there are only 22,226 Subway branches in the US due to prior years' sales decline and the effects of the coronavirus. Meanwhile, it is still the leading sandwich chain in the US fast-food market as of 2019, and it's still optimistic about its future and recovery after the pandemic.
What's the Marketing Strategy of Subway?
To help you with your homework about the marketing strategy of Subway, you need to understand how they compete with Pizza Hut, KFC, Burger King, and Dominos.
A marketing plan depends on its marketing strategy that outlines the advertising strategy. This is what a company will follow to generate leads and reach its target market. It identifies the target market, the value proposition of the product, campaigns, and the standards to be used to obtain the effectiveness of the strategies.
Marketing strategy helps companies achieve their goals and increase their market share. Subway's marketing program focuses on health, the freshness of their custom-made sandwiches, and their consumers. They use a classic marketing strategy focusing on marketing campaigns, consumer trends, market demand, product leveraging, and innovation.
What Tools Does Subway Use for Its Marketing?
It's essential to know what tools a business uses for their marketing to explain it in your economics assignment adequately. Like any other business and restaurant, Subway utilizes different marketing strategies to achieve its goals and objectives. Here are some of them.
Subway's Mission and Vision
Mission: "To provide tools and knowledge to the entrepreneurs for them to be able to compete in the QSR Fast Food Industry worldwide by offering value to customers by providing high-quality food that is good for them and made the way they want it."
Vision: "To be the world's Number 1 quick-service restaurant chain delivering fresh, delicious sandwiches and exceptional service."
Slogan
"Eat Fresh" has been Subway's slogan since the year 2000. The tagline is simple and effective in attracting customers, especially those who want to eat fresh and good quality sandwiches at reasonable pricing. Its Eat Fresh slogan is realistic, appealing, and practical.
Marketing Mix
A marketing mix is a variety of actions that a company should use to promote its products in the market. Subway uses 4Ps or Price, Product, Promotion, and Place for their marketing mix as part of their marketing strategy.
Price:
Subway products have a higher price than their competitors in the market. But it's because they make sure to serve high-quality products to their customers.
Product:
It provides and develops various healthy food products on its menu from breakfast, snacks, drinks, bread, veggie salads, foot-long, etc.
Subway offers sandwich customization where a customer will choose what to put in their sandwiches.
Subway products are made on the spot in front of the customers to instill the "freshness" of their sandwiches.
Their "Subway Sandwich Artist" is trained to serve guests, prepare and maintain food safety and sanitation, and ensure that the sandwich they create is fresh and hygienic.
Promotion:
Their "Eat Fresh" slogan is effective in attracting customers.
Marketing campaigns include being featured in movies like Terminator 2, a commercial with the cartoon character "Peter Griffin," celebrity endorsements, sponsorships, and various campaigns on television, newspapers, posters, and social media.
Subway uses a mix of geographical and demographic segmentation for their target market and focuses their promotions to the age group 18 to 35.
During National Sandwich Day, Subway offered a "Buy one take one" promo for its products.
Place:
As stated above, Subway has more than 40,000 franchises around the world, including non-traditional places and eco-restaurants offering dine-in, takeout, and catering services.
Subway does market research in choosing their branches in premium places where customers are health-conscious and can afford their price to ensure profitability.
Franchising
Franchising is an agreement in distributing products and services. This method is between Subway and their franchisee or the people who pay for the right to have their own business under Subway's name.
Sample Essay on Subway Marketing Strategy
What is Subway's marketing strategy that made them one of the leading fast-food restaurants in the quick-service restaurant (QSR) industry worldwide?
Subway's a fast-food restaurant owned by Doctor's Associates Inc. It started as a takeout sandwich station in Bridgeport, Connecticut, founded by Fred DeLuca and Doctor Peter Buck back in 1965. Before the brand name became "Subway," Buck and De Luca called their first sandwich restaurant "Pete's Super Submarines."
Subway's main product is their made-to-order sandwiches, but they developed and added more meal choices to their menu when the business grew. Franchising contributed a lot to Subway reaching across countries - with over 40,000 branches worldwide in traditional and non-traditional places. Eventually, because of their fresh ingredients, Subway became the leading choice for nutritious meals. It also received many awards and recognitions, like being the "Most Loved Fast Food Chain in the US" last 2012.
Subway has different marketing strategies that paved their way to success. Their primary target market is those in the age group of 18 and 35, to who they tailored their famous slogan "Eat Fresh." This is because most in this age bracket are health-conscious. Subway's promotional activities include commercials, sponsorship, charities, posters, celebrity endorsements, and movie features to keep its relevance.
Like any other business, Subway also faced a drop in sales. This led to the closing of many branches during the pandemic. According to statistics, more than 22,000 branches shut down in the US in 2020. However, Subway is still optimistic about their future, recovering after the pandemic and providing healthy food to their customers as their most vital competitive advancement.
What Makes the Sample Essay Suitable?
The sample essay provided important information about Subway. The essay presented its history, present status, and future goals. It also talked about Subway's marketing strategies and how they help the company grow.
To conclude, we talked about Subway's Marketing Strategy and how they affect the business. If you still find it hard to deal with your paper writing, you can always ask help from us to finish your paper.