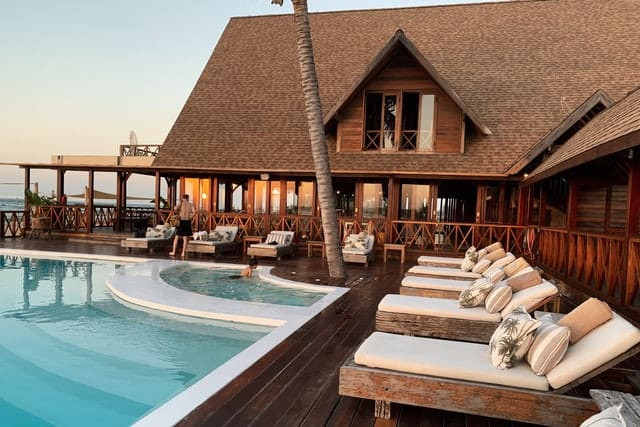 Students studying in business, management and related specialties will undoubtedly be given the task to analyze one of the enterprises/companies/hotels, etc. There are many areas of such evaluation. It is best to take the following steps: to give a brief description of the enterprise (company, organization), then carry out a SWOT analysis and draw a strategic conclusion based on the results of the SWOT analysis.
In our article you will find an example of an excellent analysis of the hotel complex, namely - you will see how you can perform the task on the example of Shangri-La hotel assignment.
If you are interested in this information, or you need accounting homework help or economics homework help, read our material to the end.
What are Shangri-La Hotels?
Shangri-La Hotels and Resorts is a fast-growing luxury hotel chain, Asia's largest premium hotel system. It is the leading brand in the Asia Pacific region. Shangri-La is a large independent company with headquarters in Hong Kong. Shangri-La owns or operates more than 80 hotels around the world, mainly in the Asian region. All hotels are four and five stars. Many of them are simply dazzling. The conventional classification of Shangri-La hotels is quite simple:
Traders Hotels (four star business hotels)
Kerry Hotels (Look & Style five-star designer boutique hotels).
Guests looking for a complete hotel experience will be impressed by Shangri-La Hotels. Here they can pamper themselves with exquisite spa treatments, enjoy the serene atmosphere of Chinese luxury and comfort. Excellent restaurants and excellent oriental cuisine are another achievement of this chain. In addition, good bars, modern nightclubs, private pools, excellent gyms, golf courses and children's rooms are not a complete list of services from the Shangri-La hotel chain.
The development of this company is a good source for case studies in economics, hotel management, tourism and business. If you are interested in this topic, use the "Write my research paper" service and experienced writers will complete your task.
Historical Background
In 1970s, Kuoka's hotel business was launched, which will eventually grow into the world-famous Shangri-La hotel chain. The name is of literary origin. Shangri-La is the land from James Hilton's Lost Horizon. According to the author's idea, this fictional country is located in Tibet and looks like paradise, utopia and the kingdom of eternal youth.
Robert Kuok built the first hotel in Australia. Shangri-La Singapore was opened in 1971. It is difficult to judge what it was like in the first years of its existence. Now it is a five-star luxury hotel with 750 rooms. Shangri-La Singapore is considered the finest hotel in Asia, and has hosted the Shangri-La Dialogue, the Asia Security Summit since 2002, bringing together defense ministers, senior military officials and ministerial leaders from 28 countries in the Asia-Pacific region.
In the 80s, Kuok was actively involved in expanding his own business. The second Shangri-La hotel was built by an entrepreneur in Hong Kong in 1981. Shangri-La Kuala Lumpur, launched in April 1985, was not immediately successful, but in the end it worked quite efficiently.
Where Can You Find a Shangri-La Hotel?
Now, Shangri-La Hotels are built all over the world. However, this hotel chain is the most popular in Asia, where most of the brand's hotels are located. There are about 30 of them in China alone. Several hotels are located in the states of the Persian Gulf in the Middle East. More westerly destinations are the cities of Toronto and Vancouver in Canada. Three hotels in Australia. There are hotels of this chain in two European capitals - London and Paris. The network also covers the tropical islands of Bali, Fiji, Maldives.
What is Special About Shangri-La Hotels?
There are some services that differentiate Shangri-La Hotels from others. The Asian brand of this class has become a well-deserved benchmark in guest service over the years. Top managers of the hotels, as well as their staff, have put service and maintenance in the "don't worry about anything" category at a five-star level. A warm, welcoming atmosphere, competent service and pure Asian hospitality await guests. No snobbery or condemnation of the client's actions is allowed here, and you will never hear "I don't know" - the hotel staff will help you find a solution to any problem of the guest.
Key Success Factors for Shangri-La Business
The success of the company is primarily influenced by the manner of doing business. In the Shangri-La hotel chain - it is high-quality hospitality and attention for each client. However, we have identified several key success factors for this Chinese company:
Unique luxury quality of service and Asian hospitality.
Differentiation of services provided: from pleasant spa treatments to medical therapy on the territory of the resort hotel complex.
Specially designed training programs for hotel staff: from behavior in everyday life to the ability to resolve conflicts and behave in unusual situations for full customer satisfaction.
"Fascination". Special offers, advantageous promotions and pricing according to the loyalty programs that "involve" customers in their relationships with the hotel allow them to attract the attention of customers.
Marketing strategy: the use of effective advertising through TV and online commercials.
Compensation and Career Expansion: this is a driving make for the employee to perform high standard shows within the business and making its employees valuable. If employees are encouraged, they are willing to provide and fulfill customers in any circumstances, therefore gain customer devotion.
Shangri-La Basic Steps of Care
Customer needs are met through three basic steps of care:
Care 1: Shangri-La Hospitality from Caring People
Making the guests feel very special and important throughout their stay in the hotel and concentrating on the core ideals of Shangri-La's hospitality.
Care 2: Delighting Customer
Delighting guests constantly, not just the first time they visit but each and every amount of time in order to accomplish strong customer devotion.
Care 3: Recover to get Loyalty
The need for recovery when flaws happen. A well done restoration may be a possibility to gain further determination and loyalty, and the other way round if recovery is poor. Five steps to recovery as developed by Shangri-La hotels: Hear, Apologies, Delight, Fix the Problem and Follow-up.
Six Encounters in Shangri-La Hotel
Effective management of the hotel chain is ensured through the following encounters:
Check-In: Customers are always served at the reception or online.
Room Encounter: In addition to the main accommodation, customers can expect extra rooms for friends or children under 12 years.
Meals: Shangri-La provides a nutrition plan for children under 12 years of age. The hotel also has retail shops and a poolside café where you can enjoy free food and drinks.
Spa: provides a unique service for treatment activities such as rubbing, aroma remedy and bathing.
Vacation Planning: Specially trained people will kindly help hotel guests plan their trips, provide information on rooms, airfare and car rentals.
Check-Out: identical to check-in but may be crucial to determine the ultimate end result of satisfaction.
The perfect functioning of these services is ensured by the smooth operation of all managers and staff of the company.
Organizational Structure of Shangri-La
Shangri-La's organizational design involves five major levels to be able to group its employees. More specifically:
Level 1: Divisional Manager
Level 2: Departmental Manager
Level 3: Sectional Manager
Level 4: Front-Line Supervisors
Level 5: Front-Line Employees
Note: Decision comes from the upper level of the structure.
Shangri-La Hotel Value System
The company's competitive advantage is ensured by a system of values: intangible and valuable physical assets.
Valuable Intangible Assets
One of the most important intangible assets of Shangri-La is human resource - its employees. This is why corporate management intensely invests in employee development (to get know-how assets).
The hotel brand has become a kind of sign of the quality of Asian hospitality. So the brand name Shangri-La can be called another intangible asset.
Unique products such as spas and treatments could also be regarded as their intangible assets.
Valuable Physical Asset
Architecture. Despite belonging to the same management company, all Shangri-La hotels are somewhat different from each other. They are different and individually decorated. However, they have one thing in common - the best architects and designers worked on them. The appearance of these hotels is quite elegant, modern and not aggressive. The furnishings in the rooms have - comfortable furniture made of high quality materials, successful zoning of space and creative art decoration with rounding of all corners in the room. Elements of traditional Asian decor are visible everywhere - for example, carved rounded arches made of natural wood, as if in an old temple.
Shangri-La Hotels and Resorts provide hotel facilities like Airport Transfer, Parking, FOREX, Non-Smoking rooms, baby-Sitting or Child Health care, Facilities for Disabled, Dining and Entertainment, Restaurant, Bar/Lounge, sports activities & Leisure, Spa, Sauna, Heavy steam Room and Fitness Center. They have invested in these assets in order to provide customers with a great experience throughout their stay in the hotel.
Analysis of Shangri-La Business Competition in the Market
Competition can both motivate the deployment of larger capacities of the enterprise, and slow down its development. Despite the fact that one of the strongest competitive features of the Shangri-La Hotel is the quality of services provided to its customers, it still has competitors.
Other world-class

luxurious hotels (Hilton Hotels & Resorts, Marriott International) have strong competitive pressures affecting Shangri-La hotels. In order to maintain their market position, they use a strong competitive strategy. These hotels are not inferior, and to some extent prevail in the quality of service.
New entrants create strong competitive pressure. Beginners are always a threat to what already exists. It is even more difficult if both focus on the same customer segment.
Threat of displacement by retail trade. There is some threat of crowding out the large Shangri-La chain by local high-quality small motels and new hotels. However, most customers do not change the uniqueness of providing services in the Shangri-La hotels.
Cooperation with service providers and sellers. Shangri-La, like any other hotel, is constantly negotiating with suppliers of food, electricity and materials. In the event of higher prices for its consumers, Shangri-La will be forced to increase its costs. And this, in turn, will lead to higher prices in the hotel chain. Thus, the agreements between buyer and seller and buyer bargaining power create competitive stress.
SWOT Examination of Shangri-La
Strengths
Recognition of brand name;
Unique quality of services (Shangri-La hospitality);
Expanding the provision of services on the Asian continent and worldwide;
Luxury establishments such as Shangri-La Spa and Merchant;
Strong relationships with suppliers;
Innovation of unique products.
Weaknesses
Strong competition from five-star hotels in Europe and North America, which reduces the chances of survival of Shangri-La;
One of the problems of Shangri-La hotels in China is the dependence on decision-making from front-line workers;
Shangri-La does not usually own most of its chain. This means dependence on other hotel owners.
Opportunities
Geographical location in China provides considerable economic opportunities for the development and expansion of the tourism industry;
Training programs to prepare first-level employees to make better use of decision-making powers;
The situation with the Olympic Games in China has increased sales of Shangri-La;
Expand to other geographic areas;
Acquisition of local hotels.
Threats
Strong competition: local competitors seek to cooperate with international brands and create alliances;
The need to revise wage policies (compared to higher wages on other continents): in the Asian region it is cheaper to work than in European countries and North America;
Global Recession: expanding business outside of Asia requires adaptation to the culture and values of other peoples.
Target Market
Shangri-La Group is associated with luxury and a wide range of services for its customers. Therefore, the customer base of hotels consists of people of the upper class. For example, the Golden Sands Resort, located on Batu Ferringhi Beach, is mostly popular with travelers from European and American countries. They are known to have a higher consumer capacity compared to local travelers. Therefore, the management of Shangri-La focused on tourists who have higher financial and consumer skills.
The marketplace for Trader Hotel mostly contains business travelers and the ones which come from the upper class sets of society. Business travelers are able to acquire services from high quality hotels as their expenditures are accommodated by their companies.
Strategic Positioning
Hotels of the Shangri-La chain are not equally well-known everywhere. Very little has been heard about them, for example, in Europe and on two American continents. But the staff at any of these hotels speak good English. In general, the Shangri-La brand, for its individuality and wide opportunities for tourists, annually occupies the top positions in various ratings according to the versions of "Condé Nast Traveler" and "Travel + Leisure", receiving the highest marks from both visitors and competent, non biased experts. Most Shangri-La hotels are located in capitals and large cities, but some of them can also be found in resort, beach areas, far from the noise of the city.
The Main Directions of Business Strategy
Shangri-La works in many areas of business development. However, we have identified several key vectors of business strategy.
Expansion of the brand outside of Asia

is one of the main directions. Shangri-La has already earned recognition in the Middle East, so it is worth consolidating its position in the United States and Europe. It is much easier to develop in the East, because the basic cultural and ethnic values of Asian countries correspond to the company's principles. It is a bit more difficult to move to European countries, in the States and Australia. Bringing the brand to new cultures is no easy task. However, Shangri-La in the new market adheres to its principles - the quality of service at the highest level and Asian hospitality.
Strengthening corporate responsibility in five key areas

is the second most important vector of business development. We are talking about development in terms of: Environmental Protection: water consumption, local climate change, air quality and biodiversity conservation;
Health and Safety: welfare program to improve the health and well-being of employees; preparing all staff for natural disasters and protecting all employees, customers and the public.
Employees: fair employment, decent career growth, social protection, honest work practices and protection of human rights.
Supply String Management: efficient use of supply chain satellites, full compliance of suppliers with local legal requirements related to the environment, individual rights and other regulatory methods of work.
Stakeholder Relationships: customers, employees, people of the neighborhoods where they operate, shareholders and suppliers will take part in a clear, honest and respectful way to the company.
Modern Challenges of the Company
Shangri-La's net profit in 2019 was $ 2,431 million from its services. However, in 2020, profits fell to 652 million. This is the lowest figure for the company in the last 5 years. Until 2020, Shangri-La's market performance improved every year and rose to a better market position. The COVID-19 pandemic made its adjustments.
To reduce the impact of the pandemic on business development, Shangri-La's management has taken the following radical measures:
reduction of operating costs of hotels, utilities, procurement and wages;
voluntary reduction of staff in headquarters salaries and unpaid leave;
suspension of new projects and revision of capital expenditures.
To overcome the crisis and improve business development, Shangri-La can take the following steps:
to control costs as much as possible and to adapt them to the modern realities of the pandemic;
to seek to increase the number of hotel chains in Europe, the United States and the center of the East;
to improve program training of employees;
work on the study of cultural features and the environment in potential areas of development.