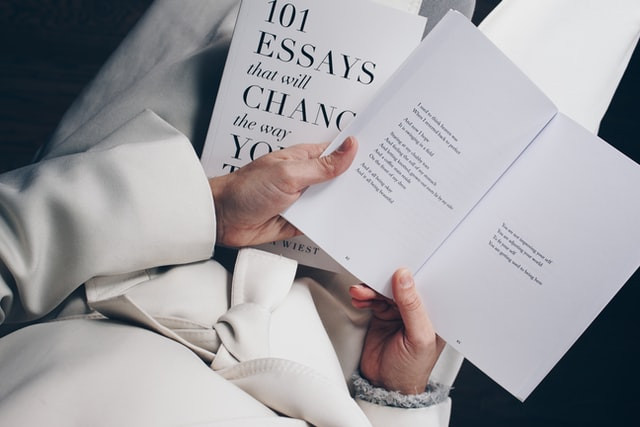 Every student exploring cultural and other social studies may face the task of writing a thematic essay. This type of educational activity is an independent reflection of a person on a scientific problem, using ideas, cultural backgrounds, associative images from other areas of their own culture, personal experience, and social practice.
The result of such work can affect a lot of things, including the final grade or the teacher's impression. So, we have prepared some of the most important guidelines for writing an essay. Of course, we will try to give specific examples. Well, let's go for an A +!
Good Essay Sample
This is a good essay on the topic "The Culture and Society" written by Chloe. Some of the principles of creating a first-class work will be explained taking the excerpts from this text as a reference:
"Culture plays an essential role in the life of a person and society. It acts as a means of accumulation, storage, and transmission of human experience. It is the culture that shapes people into who they are as they gain knowledge, learn the language, symbols, values, norms, customs, and traditions. Culture is the glue that holds all these achievements. To prove this, I conducted research and found out what culture really gives to society.
First, culture helps to develop a variety of skills. Cultural involvement and creative potential were essential to the "universal man" of the Renaissance. One of the most famous examples is Leonardo da Vinci. He combined scientific and writing activities with art. In the modern world, many celebrities agree. Jared Leto is a prime example. He created a rock music band, then developed his acting skills over time. Thus, the desire to master new knowledge in the culture of cinema, music, art helps to develop.
Second, culture creates new needs. The culture of energy-saving and rational use of natural resources covers for such needs as:
creation of infrastructure for sorting and utilization of various types of waste;
installing solar panels on homes;
access to budget electric transport.
For example, in 2017, Tesla Motors presented buyers a model of an electric car worth 35 000 dollars, while now the cost of cars is about 100 000 dollars. Therefore, it is essential for people to preserve nature's culture and not deplete resources, so people are inspired to create new projects to satisfy their needs.
Third, culture contributes to the economy. The turnover of the cultural and creative industries is $1,3 trillion, and the growth rates are outstripping the industries of production and services. Cultural tourism accounts for about 40% of the global industry's revenues and has shown steady growth over the past decade. Thus, throughout the world, culture is an increasingly important source of employment and income.
Fourth, culture helps cities. In 1997, the Guggenheim Museum was opened in the city of Bilbao in northern Spain. The design's originality turned this place into a vibrant landmark that breathed new life into the provincial town. In the first three years of the museum's operation, tourists who visited Bilbao left more than $110 million in regional taxes. This influence of architecture on the urban economy is now called the "Bilbao Effect."
Fifth, culture preserves and transfers knowledge to the whole world. For example, culture conveys knowledge about society's life in southern England in the first half of the 19th century. From what dances were popular to the traditional daily routine. You can glean such information not only from history books but also from the novels of Jane Austen. You can already find London life details at the end of the century in a series of books about Sherlock Holmes.
Thus, culture is truly the glue that holds all achievements together. The culture is not only complex and diverse but also highly mobile. It is a living process, constantly moving, developing, changing. Culture helps the world to be better in every way. You can draw strength and inspiration from it. I advise all people to learn about culture because it is of great value to the modern world."
Why Is it a Good Essay?
Generally speaking, Chloe managed to create a good written work, which is likely to receive a B grade. Her work is concise and covers a variety of cultural aspects.
In Chloe's essay:
534 words or approximately 1 typed page;
An average reading time is about 4-5 minutes.
Such a volume is enough to concisely explain the importance of cultural features. On the other hand, reflections on cultural differences and the value system are not too long, which will allow the professor to study the work quickly. And this is great because no one likes lengthy "everything and nothing" essays.
However, there are no clear criteria for the volume of essays on cultural studies, as they highly depend on your educational institution. Sometimes short essays are highly rated, and the long ones don't impress the teacher. After all, the most important role is played not by the number of pages of the essay but by its content.
Creating an A+ Importance Of Culture Essay Structure
Writing a good length essay is not enough to prove an understanding culture of the issues. An essay focusing on such a vast topic should have a clear structure. It doesn't matter if you write about material culture, health care, cultural traditions, or globalization — your text should contain an introduction, a body, and a conclusion for an excellent mark.
An Interesting Start: Let's Intrigue The Reader!
It is important to gradually reveal the topic but not lay out all the trump cards immediately — that is why any essay about socialization or even cultural identity needs an interesting intro.
Let's analyze Chloe's essay introduction in detail. The advantages are:
It gives a brief overview of what culture is;
The reader is smoothly led to the main body of the essay.
However, there are some disadvantages as well:
The introduction doesn't hook the reader, it appears monotonous;
There is no focus provided in the intro, making it unclear what the essay is going to be about
In fact, you can do better! The main key — make the introduction more specific. The introduction should be able to explain why a student is exploring a topic of, for example, cultural values or ethnicity.
Also, don't make the introduction too small. Regardless of which cultural heritage you are going to write, 1-2 sentences will definitely not be enough. Here is an example of what an A+ introduction would look like:
"Culture plays an essential role in the life of a person and society. We feel its presence from early childhood, as it gradually shapes us into who we are. Culture acts as a means of accumulation, storage, and transmission of human experience, making it a fascinating and diverse topic to study. In this essay, I decided to focus on figuring out how cultural aspects influence our lives nowadays. "
Here the author not only gives the reader a general idea of the topic but also provides information on what the essay will be focusing on in a brief yet intriguing manner.
Body: The Most Informative Block
When creating an essay about material culture, the values of different groups of people, enculturation, and other similar topics, it is important to structure the text. If you have any arguments, main thoughts or provisions, it is better to highlight them at:
Paragraphs — if the essay is quite small (up to 500 words);
Subheadings — if the essay is long enough (more than 500 words).
For example, in Chloe's, each cultural component of cultural influence on human beings has a separate paragraph.
Here are some additional tips for improving the body of the essay to receive an excellent grade for it:
Make sure it contains enough examples. This will allow you to write about the sense of belonging to different cultures more clearly.
If you are sharing any socialization research, do not forget to attach a link to the source. You can do this in the "Sources" section, or you can highlight a couple of keywords in the text with HTML.
Likewise with the intro, when writing about the daily lives culture or globalization issues, remember to use linking words.
Let's take a look at how Chloe's essay's main body could be improved using one paragraph as an example:
"Also, culture plays a crucial role in urban development. For instance, in 1997, the Guggenheim Museum was opened in the city of Bilbao in northern Spain. The design's originality turned this place into a vibrant landmark that breathed new life into the provincial town. Notably, in the first three years of the museum's operation, tourists who visited Bilbao left more than $110 million in regional taxes. Since then, this influence of architecture on the urban economy is now called the "Bilbao Effect."
You can see that the use of linking words ensures a better flow of thought in your written work, contributing to a clear and logical structure. Also, note how the term now contains a link to a reliable source.
Logical Conclusion
We have come to a very important part of the essay, the conclusion. It will allow the professor to understand how deeply the student has understood the topic. Unfortunately, the conclusion of Chloe's essay is watery and doesn't provide value to the reader.
Worry not! We will give other ideas for completing your essay on organizational culture or different ways of life topic. As a rule, there are three good tricks for creating a logical ending:
Citations. The most common and easiest way to complete an essay, but not always the most actionable. The teachers are already a little tired of quotes from great people. So, you should do your best with the choice of a suitable quote.
Rhetorical question. Firstly, although rhetorical questions do not require an answer, they involve an invisible dialogue with the reader. Thus, you should present your perspective after the question, and the reader can agree or disagree with it.
Summarizing the author's position. It is a good way to outline the main idea of the work. Make sure that the summary doesn`t turn into a retelling — be brief and just generalize. The goal is to bring the reader to a new level of thinking on a given topic.
Here is an improved variant of Chloe's essay, providing its summary:
"My research has proven that the importance of culture is difficult to overestimate. A variety of cultural aspects are the glue that holds members of society together. It has been this way in the past and keeps being true until now. Culture is a living process, constantly moving, developing, and changing. Our goal as human beings is to acknowledge its impact on society and contribute to its development."
Well, the structure is clear! Are you ready to write about Asian culture, modern values, or other interesting topics?
Best Ideas For Culture Essays
Sometimes the head is ready to turn into a melting pot while choosing a suitable topic for writing a culture essay. In fact, you can choose any country or nation from different parts of the world and write about their culture. Also, you can reveal one of such topics:
Material culture in the 20th and 21st centuries
New generation cultural values
Cultural change: how moving to New York will change the norms of human behavior?
The ritual culture in the ancestors' lives
Globalization and the cultural impact
How to identify a person's culture by dialogue?
Why did the culture of the ancient peoples praise various gods?
Why do some modern people appreciate the culture of ancient traditions?
Will the new cultural norms completely destroy the old traditions?
A cultured person is a good person — is that true?
However, culture is not only about traditions, habits, and upbringing. You can write about certain parts of human life, such as clothing, religion, speech, or food culture.
Speech Culture
Speech is a reflection of a person's inner world. When we feel bad or good, we always try to share it with a friend or family. On the other hand, speech is an indicator of how a person relates to the world around him and how he was brought up.
That is why the culture of speech is a great topic for an essay in which you can reveal the following points:
the impact of the rapid language modernization on the speech culture
profanity and where did the taboo on swearing come from
culture of formal and informal communication
The main points of such essays are usually concluded in a similar thought:
«Speech represents one of the essential characteristics of humanity from other living beings in this world. At the same time, people have figurative speech, so they can transmit some elementary signals and fantasize, use logical thinking, and much more. In fact, having the ability to speak makes us human.»
Clothing Culture
There are many aesthetic education methods, but the culture of clothing is considered one of the main ones. You can write an essay about:
the formation of aesthetic preferences depending on the particular country culture
business dress culture
the clothing culture in different decades
In addition, the formation of aesthetic taste is influenced by personal characteristics, i.e., age, lifestyle, specialty, place of residence — this topic is also perfect for a culture essay.
Religion Culture
For thousands of years, religion has been an important factor in the cultural life of people. Without faith in something divine, most likely, no nation would exist now in the form in which our contemporaries see it.
For a long time, religion was the only worldview culture system. However, the world does not stand still, so now God`s existence is a huge question — this is why agnosticism and atheism appeared.
In your essay, you can cover the following topics:
How does the country of residence affect the culture of religion?
How do modern culture and religion interact?
Culture in Christian and Muslim families
In general, you can write on any other similar topic because religion is a very wide area with many unanswered questions.
Food Culture
When a tourist arrives in a new country, the first thing to do is trying the local cuisine. And this is the first step towards a foreign culture! Food, its type of presentation and the way of eating, its taste — this is a whole complex of cultural characteristics of a particular nation. For example, in India, you cannot eat with your left hand, and in Muslim countries, pork meat is prohibited.
Thus, you can easily write a culture essay about:
tabooing certain products in different countries
food intake culture and features of national dinners
table culture
All the examples and tips provided will allow you to choose the most interesting topic for creating the perfect culture essay. Enjoy the writing!
Check out our other web pages for more essay help and essay editing. Alternatively, you may wish to use our proofreading services for polishing and perfecting your essay to give you that extra grade boost!