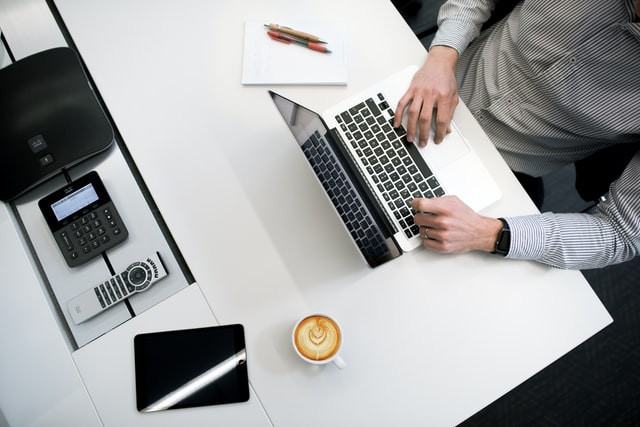 A consulting paper is often prepared as an RFP. Keeping it brief and clear, as well as engaging at the same time is what makes for a winning proposal. You may add details as long as you don't drag on anything. One-size-fits-all doesn't apply here. Each consulting paper is unique to the client's needs. Be persuasive as you're calling out to potential clients and the ones who have sent a request for proposals.
Let's Start with the Consulting Proposal Basics
A consulting proposal template covers all these basic steps which make a project proposal what it is!
Cover Page
A cover page is the first part of a proposal. Include your brand name and brand logo with vibrant colors to catch attention. Always add your name, the client's name, followed by the submission date. Cover pages make it easy to recognize documents and separate them from other customers' marketing proposals.
A Salutation
It might seem like an obvious step, but some consulting services forget the value of address clients personally. It can help you develop a personalized relationship with the client, and they feel like they can rely on your services even more.
Write an Executive Summary for the Marketing Proposal
An executive summary gives an insight into the problems prospective clients are facing and what you can do to help them out. You can post templates of your work on your social media as well to attract more clients. Don't get too much into the details; understand that it is a summary of the entire proposal. Remember to thank the client for approaching you over other services and give them more to look forward to in the specific project. You can set metrics to see your performance too.
Time to Focus on the Project Scope
Don't beat around the bush here. Buzzwords can cost you. Try to limit yourself to the things you can manage for the business. Don't try to be the savior. Never commit to doing things your services can't manage. If you are working on the business's marketing strategy, you will mention the number of visits your team members will make, the number and duration of phone calls the client should expect, and how many people will work from your end. You can't be spot-on accurate here, but you can try your best to give a suitable estimate.
State the Deliverables
The deliverables are all about the "what" in your consultation. You will inform the client in this section about the tangible items or products you will provide them. It can include a presentation of changes, Documents, or a detailed analysis of a marketing strategy. They can help the firm enhance their workflow more than they could've otherwise.
Prepare a Timeline
If you feel like you will achieve milestones in this project, you must have a timeline for it too. You can't just expect to meet targets without having a preset timeline for them. It will outline the deadlines and important specific project dates. It is a critical part, so give it a lot of thought to set expectations in the client's mind for your work. It is best if you include every date you can come up with in this timeline!
Can't Ignore the Costs
Payment structures can't wait. Pricing is an important aspect of working with someone. Be loud and clear about what you charge and expect the firm to pay you. If you waste time shying away, you won't get what you deserve for all the effort you have put in the proposal writing and offering services. Mention payment terms and portals that you use to receive payments. Include everything. You charge in the form of installments or charge the entire amount after the work. You can also charge in advance for the consulting project.
Benefits of Working on a Consulting Proposal
Let's take a look at the benefits you can get from working on such projects.
Make the Job Easier
Clients remain grateful to consultant services as they prepare everything for themselves. Just by paying a sum of money, they get multiple ways to solve their problems. These problems could have delayed their production, but they don't have to wait anymore, thanks to the consulting proposal.
Legal Implications
A consulting proposal comes with clarity. It doesn't provide vague descriptions of tasks. If your client suddenly refuses to pay the agreed sum, you have proof that you stated all your payments and progress methods in the paper already. The situation can flip as well; in case you don't hold to your end of the bargain, you can get in trouble. So it makes working together fair.
Marketing Becomes Better
Even if you don't get to work with potential clients, a look at your proposal can make them want to work with you in the future. A well-written piece works as a marketing tool for your services. You can reach out to many clients this way and secure your position in the market.
Improves Writing
The workforce will be efficient in completing tasks already, but do they write well? Maybe some of them do. But never forget, there is always room for improvement. Constantly working on such lengthy and formal tasks will help your team members develop strong writing abilities for other projects too. They will learn ways to edit each other's work as well. Proofreading becomes their habit while writing becomes natural for them!
Why Do People Avoid Working on Consulting Proposals?
Consulting proposals are the sort of written work that people run from. It is not because they are difficult to write or there is a lack of material to refer to or anything.
Lengthy
It is a long paper, and you need to organize and filter a lot of content. Sometimes people run out of formal words to use, and the tone becomes vague while writing.
Tiresome Process
Long formal papers can leave people drained out of energy. Documentation is not a joke. It is a tedious process, and writing the same kind of thing makes it boring too.
Becomes Uninteresting After a While
Imagine working on the same kind of paragraph repeatedly. Although the information is new, the tone and style of writing are the same. Boring.
Poor Writing Skills
Not everyone has great writing skills. Some of us face major struggles when it comes to writing skills. It takes time and experience to enhance writing skills, but if someone can't do it, they avoid writing as much as they can. It is just a skill that they don't possess.
Tips for a Consulting Paper
Take a few tips and improve your paper!
Try to Shorten it
There is no point in writing stories after stories in a paper. You should keep it brief and informative. The audience isn't bothered about how long your proposal appears to be; it is the content of it that matters to them. Keep in mind that you are trying to get your proposal approved by the audience before they go to some other service and have to start the work as soon as possible. So it makes no sense coming up with over thirty pages when your work can be done in three to four pages.
Your Buyer Should be the Centre of Attention
Don't divert the focus on yourself. Your buyer should already know about the services you offer and your position in the market. Don't waste pages praising yourself. Talk more about how you will find solutions to their problems and the process you will follow. Even if you want to include something about your firm, try to limit it to two-three lines only. Don't ramble on about yourself. Be humble and address the buyer's core concerns the way you would consider yours.
Discuss Everything You Include in the Paper
Phone calls and meetings give a lot of information that you can include in the proposal. To make sure you are up-to-date and are not including anything that the customer has not agreed on. If the customer reads something like this and is struck by confusion, it is goodbye for you. They won't sign your proposal, and you might even have to re-evaluate it. All the hard work will go down the drain.
How does a Consulting Paper Display Your Experience Without Saying it?
Like we mentioned earlier, a consulting paper is not about praising yourself. You have to be subtle about your services. You can't guarantee that your services will come up with a solution that eradicates the problem. Hence, you can't outright say that you're the best. There are ways your work and effort can talk for you, though. Let's find out what these ways are!
The Way You Write
Writing styles and the content says a lot about the experience of a firm. An organization working for years will have a more formal tone and write professionally compared to a new or a mediocre firm that hasn't conducted many consultations.
Type of Solutions You Can Give
Many times, firms come up with average solutions that might or might not work for people. When businesses come to you for consultation and pay you an amount for it, they expect an expert-level solution to their issues. They go to multiple services to see which one offers a professional and easy solution.
The Case Studies You Present
Consulting proposals can include case studies as well to explain the situation better to the business. You can relate the two situations and take out the similarities. Then a solution can be taken out of the similarities. Such analytical skills can impress the clients you work with, and they are more likely to approach you again rather than going to someone else.
Show the Business Can Rely on You
Sound confident with all the solutions you present. Make sure you don't seem to be confused about the problem that the business presents to you. The client must feel like they are working with a reliable service and can trust their decisions. If they show reliance, you conveyed that you are an experienced firm with a strong foot in the market!
Learn New Ways to Enhance the Content of Your Paper
One of the most important things in a proposal is the project details, which can only be explained by using good content. Good content doesn't mean you write to your heart's content. Let's find out what people mean when they say that your consulting proposal's content should be good to attract an audience.
Relevant Details are Appreciated
Good content comes with relevant details. If you beat around the bush too much and waste the reader's time, then sadly you will repel your audience and won't get anywhere with your service.
Proper Sentences and Grammar
Such writings are for professionals to read. They should follow a formal pattern and a proper sentence structure, and good enough grammar. Try to put in your best. If it doesn't work too well for you, then view a business proposal template to learn more about the sort of grammatical structure people use in these proposals. If you make too many mistakes, your proposal is most likely to get rejected. Prepare it on google docs to keep it safe and avoid basic errors.
Proofread
Always proofread your formal proposals before you send them to your buyer. It will create a lasting impression on them as you can find your own mistakes and alter them. If you send out a paper full of errors that you could've changed yourself and your proposal gets rejected, you will feel like a failure. Your firm's reputation will also be at stake if you don't consider small acts such as these.
Come Up with a New Idea Every Time
You should try to come up with creative and new ideas to solve your client's problems. They will realize something is wrong if they come to you again and you go around handing the same solution to all problems.
Do Your Homework
Don't start working with someone unless you are aware of what they do. Familiarize yourself with their work and business so that you can construct a mental outline for their paper in your head. It will be easy to follow and will save you a lot of time. You can use this time to analyze other facts about them that you can use to impress buyers.
Different Types of Consulting Proposals
Let's dive deeper into the types! It might be interesting.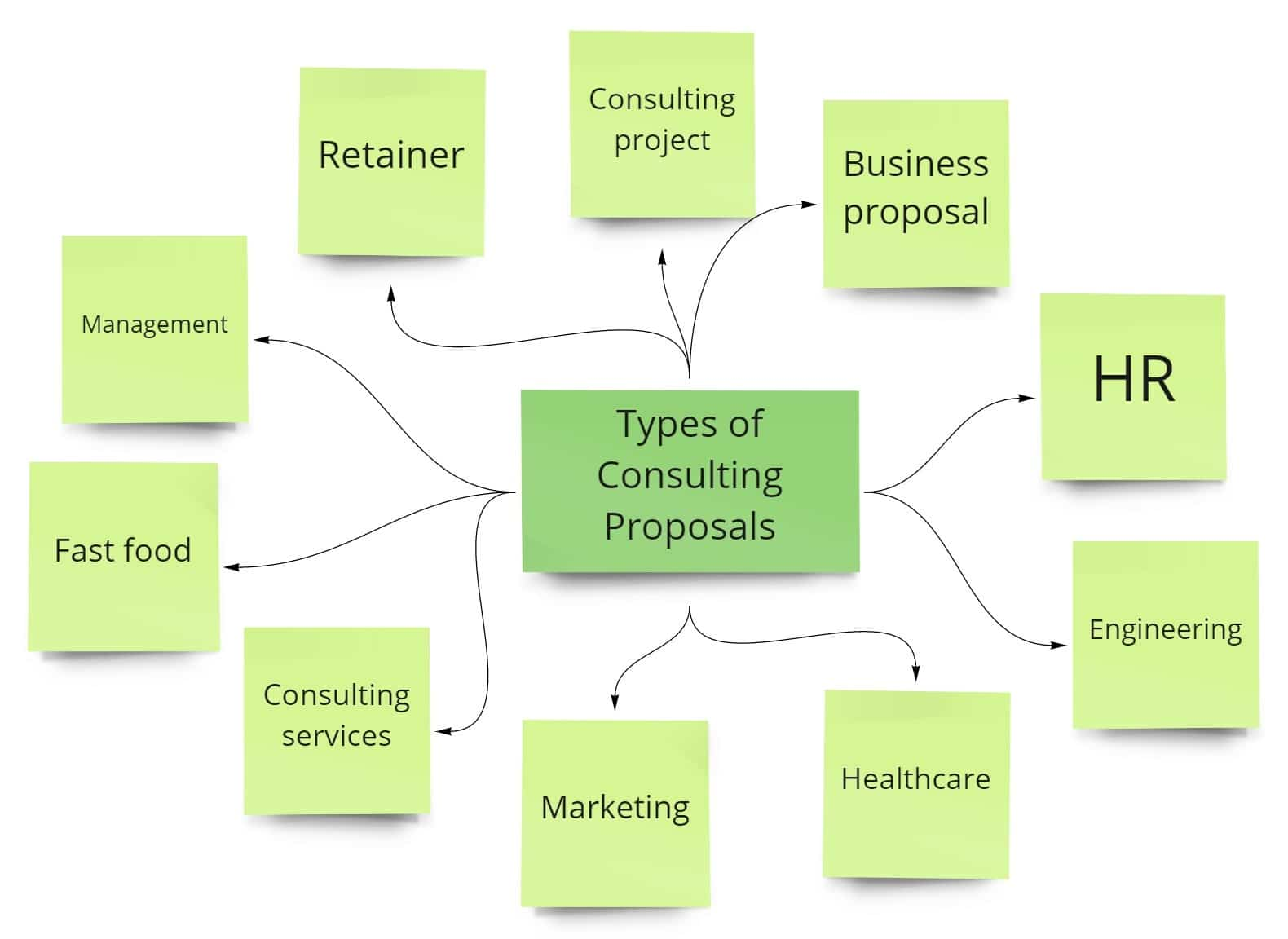 Try to view a sample template for at least four of these papers and try to imitate what professional writers have tried to do in these. You will be teaching yourself like that.
Farsighted Scope!
Instead of promoting yourself, you will subconsciously train yourself to cater to the needs of your customers. You will specialize in all areas that might put a tough time on firms. When it is time to tell potential buyers about your strengths, you will have many skills to share with them. Not only is it a matter of pride for you, but also the integrity of your services. So always focus on the scope of your work. Work on your weaknesses and use your strengths to cover them in a consulting proposal.
Start Your Own Consulting Business!
If you feel you are ready to start it all by yourself and be independent to make consulting decisions for others, remember that it is a great responsibility. But if you are talented and ambitious, then tighten your seat belts because we are taking you on a ride to start your business professionally!
Gauge Your Skills
Self-awareness is very important in this field. You need to understand whether you're good at analyzing issues that a firm can face at any level. Your sixth sense isn't all you need in this industry.
Fund Your Business
You will need to finance yourself if you have a start-up now. Do your research well enough to make sure you don't fall short on capital or don't have to borrow a lot of money from others or even loans from a bank. Examine every possible cost. It can be direct cost or indirect cost. The amount of fixed cost goes into the work like rent and electricity every month of the place you work at. You would need people to work for you as well. Hiring them will cost you as well. You can't avoid this cost as you will need help with all the work.
Grab Opportunities
As a new firm, you should consider working with all firms as an opportunity to make more clients and market your company better. At this point, it doesn't matter if they are big firms, all you need to do is work and market yourself using the work you do for the businesses.
Be Realistic
You should say what you can do. Don't overstate things in a proposal. Have self-awareness. Know what your team can execute. You will have to work practically once the proposal gets approved. Be smart and know the extent to which you can provide a service.
Market Your Consulting Firm
You must market your business effectively; otherwise, clients won't approach you. Why not? Well, you're a new start-up, and people aren't aware of what you do. So marketing yourself is the best thing you can do at this stage. Find different platforms to market your services. You can ask influencers to post about your pages and the work you do. Prepare promotional videos and post them on social media.
Create a website for your services that is easy to use and access. You can consider telemarketing and direct marketing, but all that will cost you money. Your personal social media page is a good way to market your firm while keeping costs balanced. You just need a social media marketing manager to create posts and blogs for the firm. Reach out to big firms with samples of your work, it might seem demeaning in the beginning, but once they reach out to you, your effort will pay off!
Is There a Drawback of Preparing Consulting Proposals?
Sadly, there is one drawback that can hit your firm when you prepare a consulting proposal. You will only type and state all the solutions. It might seem easy, but there can be unexpected complications that occur when a firm starts pursuing that technique. So, try to come up with different solutions that are practical and possible. Don't put in a hundred percent hope in your proposal as it is just writing, not reality.
Bottom-line
Finally, now you know everything about a consulting proposal and are ready to write one by yourself. Without any further delay, get ready to start your work and launch your start-up. It will be a great way to keep yourself engaged, develop contacts, and make more money!