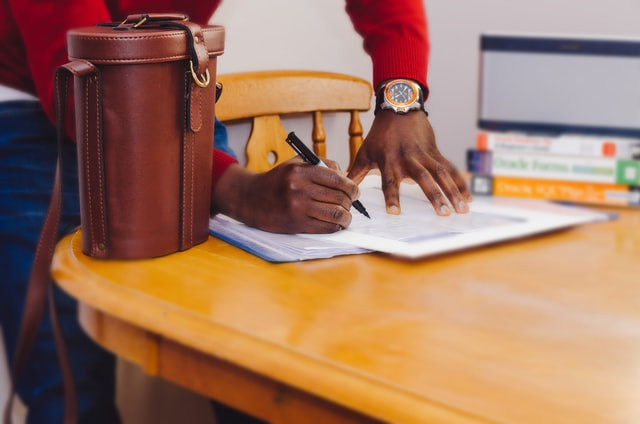 Though the name of this essay type might look complicated, the definition of it is the other way around. You will be discussing a diverse set of ideas. Here arises the question of where those ideas will come from? You will be gathering them yourself. The sources can be newspapers, journal articles, speeches, interviews, and observations. In this type of essay, you will be engaging in breaking apart huge concepts. The perfect synthesis essay will be able to show the skeleton of all the arguments to the reader.
Steps For Writing a Synthesis Essay
Synthesizing Sources
Before you begin with the journey of writing a synthesis essay, try to follow these pre-writing steps. You will be able to organize your essay professionally. Another benefit of doing so is that the last part, the "editing," will become relatively more comfortable.
Begin With the Prompt
It would be best if you started with understanding the prompt. This will require you to reflect on the topic that you will be tackling. So, why is it essential? If you skip it, the chances are that the evidence you have collected might not be in line with the topic. An example of a prompt can be: "Argue in favor of the action that can be taken to eliminate stress during college life."
Draft a Tentative Thesis Statement
After you have understood the prompt, the next step is to draft a thesis statement. Remember, this will be a rough idea. It will help you to jumpstart your writing process. You will be changing this statement in the later steps. Do not try to be hard on yourself. This is a part of the initial research, so it is totally fine to have rough corners.
Choosing Sources
After drafting a thesis statement, start hunting for supporting material. Remember that all of the sources will link back to the thesis statement that you formulated. You might find a lot of evidence. However, not everything will make a significant contribution to your essay. So, try to narrow it down to six to seven sources. Do make sure that each of them is in a different format. Using journal articles as an only source will make your content dull.
On the contrary, having the support of articles, essays, and videos will add extra oomph to your essay writing. If you are still lost, then try to take help from writing services. You can check that how professional writers nail a synthesis paper by incorporating various sources. Do make sure that the service is not a scam. One way of checking it is the testimonials.
Close Reading
The next step in the pre-writing phase is to read closely. Go through all of the sources. You must highlight and take notes while you are at it. In this way, you will have the central ideas that you will then link to your making claim. Yes, it is time-consuming, but it is worth it. You will not have to go back and forth to see which source contained the strongest point.
Evaluating Sources
In the final step, you will have to reflect and evaluate the material that you have collected. This will involve you to re-read all of the highlighted ideas. You will then rate each point according to its importance. The shortlisted sources will then be used to create new ideas for the prompt. Do not get stuck to a source just because it looks intriguing to you. Stay in-line with the topic and the rough thesis statement that you had crafted.
Composing a Thesis or Claim
Once you are finished with the pre-writing steps, you will have to write your final thesis statement. Previously, you wrote it to make sense of what you will be gathering to support it. Now that you have all of the different sources, analyze the major points and align all of the information. Your thesis statement must contain the three essential parts, what, why, and how.
Formatting the Essay
Now that you are done with the planning and thesis statement, it is time to move towards the essay format.
Introduction
You will be starting with a hook or an attention grabber. The next few lines will be about the background information, and you will end this paragraph with your thesis statement. Do not state everything that you have gathered from a variety of sources. Try to give your essay a diverging effect by starting with general information and getting more specific afterward.
Body
Each paragraph will begin with a topic sentence, followed by the supporting point. After that, you will provide the evidence and share your point of view. Try to ensure that all of the body paragraphs are of equal length. When stating a source, put the relevant in-text citation at the end of the sentence.
Conclusion
When concluding your essay, make sure that you are not summarizing your content. Try to finish strong by going over the most important points. Before tackling this part, you must go through an essay example to check how to write a powerful conclusion.
Checklist:
Proofreading and Editing
0/18
Synthesis Essay Topics
If you are not assigned a specific topic, then it is excellent news! You can use your creativity to formulate unique topics that interest you. So, to give some inspiration, here are topics that you can synthesize:
Social Media
Do social media websites turn people into introverts?
How is media playing its role in setting beauty standards?
Do Youtube videos play a part in altering consumer purchasing habits?
How has journalism evolved with the advancement of social media?
Education
Should students be given the independence of directing their education?
How does class strength play a role in student's academic performance?
Is it important to integrate technology into teaching methods?
Should teachers alter their teaching methods?
Should there be a single curriculum that must be followed across all states?
Climate
How is global warming affecting the world?
How is air pollution contributing to global warming?
Is global warming affecting agriculture?
How is global warming affecting marine life?
What measures are different countries taking to address the issue of global warming?
Technology
How is technology changing due to the advancement of artificial intelligence?
Are drones privacy threats?
How has technology created a divide between the rich and the poor?
How have transportation systems changed due to the introduction of modern technologies?
How are workplaces changing due to artificial intelligence?
Is it true that with the rapid advancement of technology, there will be fewer jobs for people?
Society
Should the death penalty be applied?
Which level of education is required to be employed?
Should tobacco production be made illegal?
Are video games good for children's health?
How is the modern organizational structure treating the minority workers?
Health
Is it correct to make marijuana legal?
Is animal drug testing ethical?
Is the current US healthcare system providing enough health benefits to the poor?
How can people alter their lives to avoid taking medicines and doctor visits?
How is poverty affecting the health of newborn babies?
Miscellaneous
How does art plays a role in our daily lives?
Why do the children have a lower attention span?
Are TV Ads a form of art?
Do people care about whether a business is operating ethically before buying a product?
What is the importance of crowdsourcing?
What are the factors that contribute to gender inequality?
How to change the culture of body shaming?
How are makeup brands contributing towards the issue of skin color?
It is never easy to tackle an essay assignment, let alone a "synthesis essay." Always start with the planning first. Do not jump to conclusions without analyzing every point. Try to start fresh and never forget to take that cup of coffee before you begin "synthesizing."