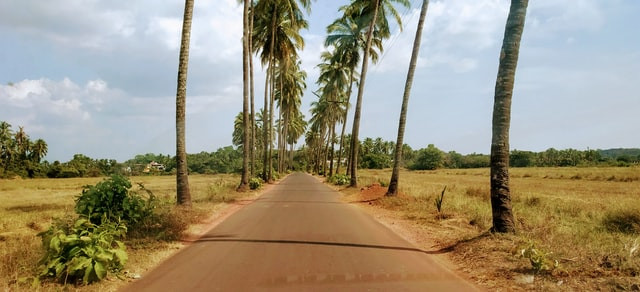 Goa is the smallest state of India, which was declared as part of the country on May 30, 1987. It is a fabulously beautiful destination, so a lot of travelers who visit this coastal area fall in love with it. 
In this article, we'll go over crucial information on Goa, provide a sample essay, explain why it could use improvement, and finish up by providing tips for crafting a gorgeous, informative essay. 
What You Need to Know About Goa, an Indian State
Goa has been a perfect destination for visitors for decades now. Millions of people flock to this small Indian city along the Arabian Sea coast. Its beautiful beaches and tropical landscape with coconut trees make the place extremely popular. However, its lush landscape is not the only reason why this part of India is preferred – it is very unusual and does not look like a typical Indian city, such as Mumbai or Delhi, for instance. The uniqueness is there because the Portuguese dominated Goa, which influenced their architecture. As a result, tourists can see various churches – like the Basilica of Bom Jesus, for example - and it makes the area stand out. You can still feel that Portuguese flavor when walking down the narrow streets and eating their dishes. 
There are several splendid locations within Goa - like Calangute, which is famous for its bars and restaurants, and Baga, a beach known as a magnificent spot for water sports. Panjim used to be a fishing village and was declared as the capital by the Portuguese; one can still see the charm of its wonderful past. So, visitors can behold the churches and the buildings that remain intact because they have managed to overcome the testimony of time. 
Sample Essay On Goa
Here is a sample essay about Goa. While not perfect, it covers the basics: 
Goa is a state located in the southwest of India. This location is recognized as part of the Konkan region; it is geographically separated from the Deccan highlands with Western Ghats' aid, where you can see the breathtaking Dudhsagar waterfall. It is environed by the Indian state Maharashtra toward the north, Karnataka toward the east and south of Goa, and the Arabian Sea off the western coast. Panaji, with its red churches, terraced hills, and small rooftops, is the capital of the state. The city is also famous for Miramar, a lively area with sandy beaches and palm trees. 
Goa has a rich history that starts at ancient times, and it lies next to the former Maratha, a huge Hindu empire created in 1674 that had a great impact on the area and its culture. However, the modern territory of Goa was formed in 1987. Despite being the smallest state of India, its history is long, while it was influenced by different events. Goa has numerous similarities to Indian background, particularly as to multi-social tasteful and frontier impacts. 
The Satavahana and Mauryan Empires administered modern-day Goa in the Iron Age, while the Kadamba kingdom and Vijayanagara Empire governed it during the medieval period. In 1510, the Portuguese invaded Goa and defeated the Bijapur Sultanate. After that, they ruled for approximately 450 years and vigorously influenced Goan culture, architecture, and cuisine. This period in the state's history ended when the Indian Army annexed it after a 36-hour fight in 1961. However, Goa conceded statehood in 1987. It is barely possible to say what was the original name of the state, but Goa was known by different names in ancient writing like, for instance, Gopakapattana, Gomanchala, Govem, Gopakapattam, Gomantak, Govapuri, and Gopakapuri.
When we hear about this place, the first thing we have in our mind is the image: having a delicious drink by the magnificent beach because the state is famous for its beautiful beaches. Tourists usually know the area as North and South Goa. The first one is ideal if you want adventure sports, while the second is the best choice if you need to relax. More than fifty famous beaches are located in Goa; all of them are a feast to the eyes. It is always advised to visit Baga, Morjim, Candolim, and Colva beaches. Many go there to behold the sunset showing the philosophy and peace of life. Whether you are planning to have an unforgettable time with your friends or a peaceful family holiday, Goa has everything to make it perfect for you. 
A well-recognized symbol in Goa is the cashew, so some even go there to purchase this nut. Another unique thing you can find in this state is Feni – an authentic liquor made of cashew nuts. It is possible to buy it anywhere, let it be Anjuna, Ponda, Salcete, or Vasco da Gama. Noteworthy, the drink produced in South Goa is usually of higher alcohol content (43-45% above) compared to the Feni consumed in North Goa. Other than that, the state is popular for the preparation of pork and prawns, a wide range of alcoholic drinks, and colorful carnivals. 
Goa significantly contributes to the tourism and economic system. The internal excellence of Goa is easy to notice due to its energetic societies and overall brilliance.
Why Is It Not an A+ Essay?
Even if you know everything about Goa, it can still be hard to write an A+ essay. Here's why you might end up with a lesser grade:
There might be no logical structure;
Your essay could lack clear and thoughtful meaning;
You might fail to introduce extensive research and sophisticated understanding;
There could be an absence of artistic creativity and style;
Your essay could have a few mistakes. 
Speaking of the sample essay on Goa, it lacks logical structure. The author did carry out extensive research, but the parts of the text do not seem to be connected in many cases. The introduction of the essay is long, while the last part is too short. In addition to that, there is no proper conclusion, so a reader may think that it is a fragment of a bigger article, but not an essay. 
Tips on Creating a Brilliant Essay About Goa
Writing an essay about a country is a vast topic, so you need to plan in advance which sub-topics to cover. The biggest challenge is narrowing down the material. What you can do is break up the topic into three main parts – a political aspect, a social aspect, and the economy. The next thing you can do is to talk about Goa's past, present, and future; it is a wonderful way to discuss any state or country. 
You can write a brilliant essay about Goa if you combine all the mentioned aspects, and here is what you can do for this purpose:
You can discuss the political, social, and economic aspects in the first section about the past. In other words, you can mention the Konkani language, Portuguese invasion, territory, etc.;
In this section, you can describe what is happening in the country these days. For example, you can write a few words about ancient buildings, such as Se Cathedral, national parks, Sahyadri, and the Bondla wildlife sanctuary. Generally, you should specify why Goa is special and what unique attractions it can offer, and it is important to include a few words about celebrations. For example, you can describe how they celebrate the New Year;
The last part should contain your predictions regarding Goa. For instance, you can write that Goa will always be an ideal place for parasailing, water scootering, and other related activities. 
You can make up a different structure if you prefer; there are no strict rules when it comes to what information should be in every part. However, you should always make sure that you mention politics, society, and economics. 
Let's see what you can do considering the above tips. The introduction is good – but instead of being focused on Goa's geography, it is better to add some information about the language locals speak and what this state is famous for. For example, you can add that the main language is Konkani, but they all speak English. 
"When we hear about this place, the first thing we have in our mind is the image: having a delicious drink by the magnificent beach because the state is famous for its beautiful beaches" – in this sentence, the word "beach" is used twice, so it is better to replace one. For instance, you should write, "the state is famous for its beautiful scenery." 
The following two sentences do not seem to be connected at all – "Goa significantly contributes to the tourism and economic system. The internal excellence of Goa is easy to notice due to its energetic societies and overall brilliance." It means that you should either replace one or add a sentence to make this part more logical. For example, it can be – "Goa significantly contributes to the tourism and economic system, and it will he main source of income in the nearest future. Moreover, the state brings the bigger share of the country's profit thanks to Goa's internal excellence, which is easy to notice due to its energetic societies and overall brilliance."
Summary
Goa is a wonderful place. It is like heaven on the Earth; so many people around the world love this state and go there again and again. Even though writing an essay about Goa might seem to be confusing at first, it is an easy thing to do if you follow the structure. Obviously, you should know a few things about this part of India to build a good text, but it is crucial to make it logical. Use the sample essay and tips provided in this article and write a brilliant A+ essay easily.