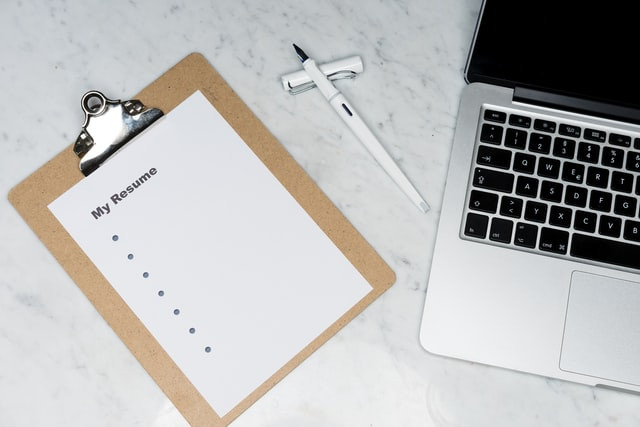 To write a good resume, you will need to focus on your professional bio's main facts. Therefore, your professional business card should look like this:
Position;
Contact details;
Experience;
Education;
Professional skills;
Recommendations;
Additional Information.
The document format should be easy to read. Make up large margins, not small print, but not too large print, sufficient line spacing. Your appearance can tell a lot about you. Therefore, do not hesitate, select a creative photo, and feel free to use it in your fabulous resume.
The cv should fit on one, maximum of two pages. Use creative quality white paper for the printed version. The entire document should have the same storytelling style, and the same goes for abbreviations - if you've used abbreviations anywhere, use them throughout the text. However, it is better to abandon abbreviations and write the names completely.
Most Important Sections
Each section of the document should separate from the previous one. The parts are given here to be the most basic:
Name and contact details. First of all, it is customary to write the surname, name, and patronymic.
Purpose. In part "Purpose," there may be a specific position indicating the department.
Work practice. This is your vocational or text biography - a roster of the types of activities that you had to do.
Education. The first place should give to the primary formation from the goal formulated above.
Personal qualities. In the document, you must show your inherent qualities, and the "portrait" must turn out to be holistic.
Recommendations. Write the full name and contact phone number of the head of the department you trained, temporarily, or permanently worked. Be sure to warn referees about the possibility of calling.
How to Choose the Best Resume Format
When starting a job search, a job seeker is primarily concerned with writing a resume. The first step is the choice of the resume format, which largely determines how your skills and abilities will be perceived.
Many job seekers believe that a resume format is just a form that the applicant must fill out with their work experience and seniority, career success and professional skills, and submit it all to the employer. They think that the resume format is just a wrapper around which nothing depends - and that's a big mistake.
When choosing a resume format, you need to proceed from your own experience, professional skills, and achievements, while focusing on the employer's requirements. For different types of organizations, you can create several resumes, which will differ in format and content. In each of which only the strengths of the candidate will be presented. Alone your merit will be able to further help in this position in a particular organization.
Reverse Chronological Resume Format
The chronological document is a paper that rosters career and educational stages in reverse chronological order. The advantage of a chronological document is that the employer sees the applicant's occupation development for the vacancy and analyzes his vocational growth.
The chronological document clearly shows your vocational development. It has an advantageous position if your practice indicates occupation growth. This will make a significant impression on future employers. If you have had breaks from your business life, then the reverse chronological document form may not show your benefits.
This document form is suitable for the stable development of your careers, when you are always, from one place of work to another, climbing the occupation ladder of your specialization. The largest format is suitable for bank employees, accountants, formation workers.
What to Include
A chronological document is the simplest and most common type of document. It is organized according to the principle "first things first." The main focus of the document is on practice. It describes in reverse order. Starting from the last job:
business period;
company name;
position;
duties;
professional ability and achievements;
the number of years of vocational practice in the area for which you are applying;
achievements confirming your ability in the position for which you are using;
specialized knowledge and character traits, which will show that you can achieve your goals;
name and location of the educational institution;
the name of the specialty for which you received the diploma;
specialization in which you studied;
degrees, educational courses, seminars, grants, awards, and distinctions while studying.
Functional Resume Format
Another type of document is functional, it emphasizes the main advantages of the seeker. Skills and vocational success are important here. This information provides at the beginning of the document, immediately after the general information about the seeker.
The advantage of a functional document is that it is best suited for young vocational, university graduates, and students with no practice but concrete ability. Information about where and in what period you worked is not mentioned. Or you are described in general terms.
The structure of the document by "thematic groups" for the resume includes leadership qualities / leadership positions, organizational ability, vocational achievements. What is directly related to future work? To emphasize your practice, not the sequence of events, do not put dates.
What to include
Use a functional document if:
You have nothing to say about your previous job. You are applying for an ordinary position;
You return to this field of activity after a long break;
The chronological order of demonstration of your practice will work against you;
You have worked in different places. Past practice does not reflect your career growth.
The main advantage of this type of document is that it allows you to focus on your most exciting career. And extraordinary moments, on your ability, rather than on the place and time of their acquisition.
To write a functional-type resume, it is essential to rethink your vocational practice and present it in a structured way. Because this document focuses on the candidate's abilities, it is necessary to have a clear idea of the position you want to apply for and select from your practice only what will require your future responsibilities.
Combination Resume Format
A combined document is a combination of a chronological and functional document. The advantage of a combined document is that the employer sees occupation growth and vocational and private ability development.
The combined document demonstrates your qualifications and achievements and allows you to get an accurate idea of your work's chronology. This document will enable you to emphasize the practice that directly corresponds to the real vacancy.
A combined document is handy if you fall into one of these categories. You want to change your profession and want to emphasize your general training and qualifications. Instead of specifying concrete vocational responsibilities that you had to deal with in previous jobs, you must draw the employer's attention to your real achievements and the professional ability and practice.
What to Include
Details in the combined document:
name of the document type;
home address, phone number;
full name;
personal data (date of birth, marital status);
information about formation (indicate the educational institutions where you studied, course retraining, which can help you select your candidacy);
degree;
information on practice (note which positions you held before, where you work now, practice);
additional information (most often provided at the employer's request: about your positive qualities, attitude to work).
The combined type of document is useful if you fall into the following categories:
You want to change your profession. You want to emphasize your general training and qualifications without certain specific responsibilities.
You were not able to go through the initial selection stage using a chronological document.
You want to get a job that you can handle. However, your CV has little to do with a specific position.
Best Resume Formatting and Design
Most sample resumes have a section where you can add a portrait shot. Including your photo on your document is a great way to introduce yourself to the recruiters.
Most documents print on plain white paper. The colors most commonly used in a document are light gray and blue. Each recruiter has a stack of documents on his desk.
A beautiful and exciting frame, like the one in the resume examples above, can help make your document stand out from the crowd. Using a structure in your document will allow you to show your personality without distracting the manager from relevant information.
For a document to be valid, its concept must be holistic. Remember to use the same fonts, icons in the same style, and colors across your document. With a consistent color scheme, your document not only looks great but is also easy to read.
Resume Font
Indentation is not the least important factor in the concept of your document. Use 0.5 - 1 cm margins on the sides and 2 cm at the top and bottom, this is standard formatting, and it is hard to go wrong with.
Classic font formatting with Times New Roman and Arial is very helpful when reading huge documents from seasoned MBA candidates. Every recruiter has a different opinion on fonts, but they all agree that curvy literary fonts are discouraged when reviewing candidate applications.
Name, contact details should be centered, while headings and bullet rosters should align to the left. This is because most people read the text from left to right, so this formatting is convenient for the recruiter's perception.
Use bold and italic emphasis as needed, but better avoid underlining when formatting your document. It is known that the underlined text is difficult for readers to perceive.
Evenly-set Margins
Use single spacing. In general, the line spacing should be consistent with the presentation structure. It is better to highlight it in bold, and not in italics or underlining. The document is broken down into short paragraphs. Margins have the following parameters - top, bottom, right 2 cm; left 1 cm.
Make optimal margins, headers, and footers for your document. Mandatory fields in the document are order and recommendation. It is allowed to narrow the margin by a centimeter and use the 10th instead of the standard 12th font size.
Simultaneously, the option with font size reduction is acceptable only if the document is sent to the employer by e-mail or delivered in person. If the document is forwarded by fax, it is better not to use the font size less than 12; otherwise, the document will be impossible to read.
Line Spacing
In a Word, line spacing is the distance between lines in a paragraph. It measures the bottom edge of the previous line to the top line of the next (by the height of lowercase letters). A single interval is called a range equal to the height of the point.
It will be the same on paper, but when editing is of great importance. In text documents, it is customary to use two types of line spacing: single and one and a half. The text is printed 3 line spacing from the heading.
Set the spacing to single and press Enter three times. The multiline heading itself prints using single line spacing unless otherwise noted. If you write your headline at 1.5 intervals, you will have to indent by three one and a half.
Line spacing can measure in lines or points. You can decrease the line spacing to fit other lines on the page or increase it to improve readability.
Section Headings
The document's headline is a short description of how valuable you are as an employee, one sentence long. Just as headlines attract the readers' attention, your document headline concept gets the recruiter's attention to your document and read it in its entirety.
Quality document title in turn:
Highlights you as a strong candidate for the position;
Emphasize your main strengths;
Motivates you to invite you for interviews.
This is a way to reach out to the recruiter through the headline to introduce yourself and your abilities. Here you will indicate your opportunities for a new position. 
The job title includes generalized information about your vocational activity and the part "purpose" - plans and goals for the future profession. As headlines in the news, the document's headline is at the top of the document, on the first page, next to contact information.
Enough White Space
Choose from vocational and modern document templates for your convenience. Fill out the information about yourself, and view the final version right in the editor, change models in one click. This way, you will not be convinced that you have entered too much information.
When you print the text, you will notice that it has enough white space and is not overflowing. When you build it yourself, you will probably make a conceptual mistake.
An online editor will make it easy to customize your document. Add and sort parts to showcase your strengths in the best way. Change colors, fonts, and concept details, and there is enough white space to read carefully and not get lost.
Flashy design decorates the document better than bright. With a lack of practice, many want to attract a recruiter's attention with a non-standard configuration. Alas, it doesn't work that way. Your vocational resume should be your interview ticket, not your invitation to a party.
No Graphics
You created a document, wrote a cover message to it, the cover letter format should be by the company's requirements. Then sent it in response to the vacancy, and waited for feedback, but no one called back. I wonder why the hiring manager did not contact you?
The technology is known as a candidate management system or only ATS. The point is that before your professional resume gets into the hands of the hiring manager, it will go through ATS filters, where the document automatically checks for the necessary information.
If in the requirements, the head indicated that there are no graphics, then do not add a photo because it may not test on this system. In other, fewer media vacancies, vocational knowledge, experience, and formation play a significant role. After all, agree, appearance is not the main thing.
Resume Length
What is the optimal length of the document? Many believe that one page is the best option and others that the ideal amount of document is two pages.
You may have come across the idea that a vocational document should consist of one page. However, this is not a strict and definite rule; there are cases when it is also perfectly reasonable to submit a two-page document.
The two main things to focus on are relevance and readability. The length of your document depends on it. Also, the selected type of design affects the structure of your paper depends on it.
If you have a lot of experience and a lot of relevant ability, you can safely use the text on two pages, or divide the first page into two columns. Following this advice, your resume writing should make a great first impression when it appears in front of the recruiter.
Resumes for Business Position
Responsibilities of an economist in a document can describe as follows:
Prepared analytical and management reports in the 1C Enterprise program every month.
Checked expenditures against the approved budget, thus avoiding cost overruns.
Drew up work plans and payment schedules ensured a 25% reduction in the deviations from the production schedule.
You analyzed the implementation of plans and the use of resources, making it possible to reduce costs by 1.5 times.
It develops and implements changes in the reconciliation process of accounts payable and receivable. As a result, the reconciliation time reduces from 40 to 15 minutes.
In the achievements section, tell us about your main vocational successes. For specifics, it is better to cite measurable indicators as a resume and speak in the language of numbers.
Resumes for Tech Jobs
An applicant for the position of a production technologist must have leadership qualities and be demanding, first of all, of himself. These features can directly or indirectly reflect in the document.
To fill out the form, you will need:
Business photo - a neat appearance and confidence in the eyes will have a positive impact on the first contact.
Information sources about the education received, passing of advanced training courses, and other training will allow you to correctly indicate the name of educational institutions, the required dates, names of programs.
Employment record book or other documents reflecting work experience.
Recommendations, certificates, diplomas, and other papers are testifying to the merits of previous jobs. Such documents, supported by scans or files confirming your vocational level.
The cover message, if you don't know how to compose it, then there is a cover letter template , which will tell you in which direction to move.
Contact details.
Resumes for Education Positions
We suggest that you temporarily switch from teacher to a student's role and learn how to write a high-quality free resume. In the Responsibilities and Achievements section, describe the results your students have achieved:
She taught history and social studies to students in grades 5-11 in 3 parallels (more than 600 students).
Weekly she conducted at least 30 lessons in her subjects, led two electives and additional individual experiences.
The progress of students in the 2019-20 academic year in the subjects of history and social studies is 100%.
Also, you need to add a letter of recommendation, and to increase the chances of getting a position, write a cover message. How to write a cover letter correctly? It is necessary to indicate what is not acceptable for a document, such as private interests and qualities. Pay attention to the description of vocational skills, especially proficiency in modern teaching and upbringing methods, computer programs.
Resumes for Healthcare
A doctor is a person with a higher medical education who treats sick people. There are many useful and necessary professions in the world, but the doctor - consider one of the noblest since ancient times.
The contact details must specify the purpose:
Take a vacancy for a doctor;
11 years of successful practical experience in the field of health care;
High responsibility;
Devotion to a favorite cause;
Selflessness;
Communication skills.
Achievements and skills:
I qualify a doctor-therapist of the highest category, a doctor-cardiologist of the 1st category;
Knowledge of the ethical foundations of treatment and psychology.
Personal qualities and character traits:
Psycho-emotional stability, stress resistance.
Patience, kindness, sensitivity, and discipline.
I lead and promote a healthy lifestyle.
Resumes for Writers and Freelancers
Full-time resume writing is a dream of every aspiring writer. Just write all day and get paid. Write a document like this:
All you are rightfully proud of is editing and proofreading skills.
Work experience with publications.
List all the software that you know how to use.
Where did you work? List all the companies and media for which you prepared materials, everyone you collaborated as an author, including freelance, as an editor, as a publisher.
Awards and Membership. All resume writing and book club memberships, all prizes, all honors, and certificates.
Education is optional. Writing is an area where amateurs often outnumber professionals: philologists and linguists.
List of publications. Everything is like in a school essay: job title of the publication, year, page.
Data. Name, nickname (if any), email address, phone number, website/blog, Instagram.