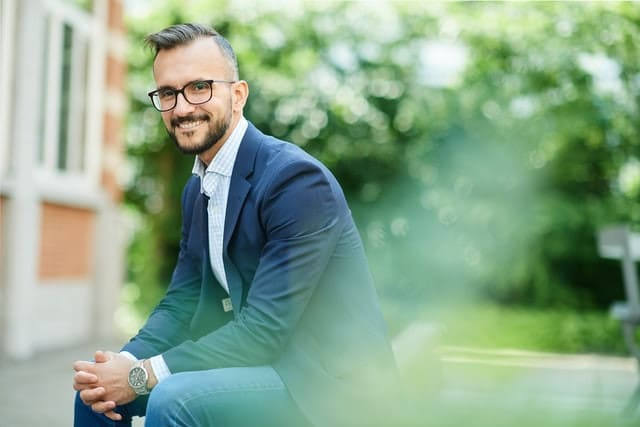 Being asked to write an essay that tackles your ambition in life can be tricky. Essays that do so hope to make the writer understand their desires and aspirations in life. Here is an example of a "Why I want to Be A Manager" Essay that will help you relay your ambitions to the reader.
Students can use this guide in their essays to receive higher marks. Those applying for jobs can also borrow inspiration from this guide to impress hiring managers or the human resource department in their company of choice.
Essay Sample - Why I Want to Be a Manager: Be a Good Manager by Being a Leader
When we hear the word "manager," we often think of an essential member of a company or an organization that is head of the management team. Landing a managerial role is one of my ambitions in life. Being able to have a job that I am really passionate about is a great opportunity that I don't want to miss. Through this job, I'll be able to learn different management styles and improve my management skills.
Successful managers are essential to have good management. They are the ones who are responsible for instilling the functions of management and controlling the departments of a company. Managers are important personnel in an organization because they guide their departments to work together and take one direction to succeed in reaching organizational goals.
In addition, companies believe that having successful employees will lead to the success of the business. Having great managers with excellent communication skills that promote teamwork is one of the most vital components of an exceptional employee.
I always ask myself how I can become an effective manager. How will I fulfill my management roles? My answer is: Be a leader. Leading employees in an efficient manner requires excellent leadership skills. A great leader must have a positive attitude because they are the ones who will take the organization to new heights.
Good leaders find great opportunities in difficult situations. Nowadays, the workplace environment is stressful and energy draining. Without a proper leader, people in this kind of environment can be less productive. In this situation, effective managers play a significant role in building cooperation and growth culture.
Leadership is essential to build a great workplace environment that helps staff members to connect with other co-workers. This will encourage the staff to be more confident with their abilities and help them increase their productivity.
As a person who heads the employees, managers can use their leadership skills in motivating their team members. They can also be an inspiration to the employees to develop talents and explore their maximum abilities. Leadership is an important skill that a manager should have.
Becoming an important part of the company comes with a lot of responsibility. That being said, I am ready to take a management position and become an effective manager to help the company succeed.
Essay Analysis
The example has the basic structure of an essay: an introduction, a body, and a conclusion. However, did the writer include the critical aspects of the subject and talked about it in the essay? Here are the few errors that the author should take note of:
Unsupported Topic Answer
An effective essay should have a clear central idea. For this essay, it's answering the question: "Why do you want to be a manager?"
However, a big chunk of the essay focused on explaining why "leadership" is vital for an organization and why a manager needs to be a leader, not answering their "Why" of wanting to be a manager.
To effectively answer questions through an essay, you can add a personal experience or statistics. To illustrate, the example essay can include:
My mother was a manager of her company for many years before retiring. She was a hard-working, punctual, and respected member of her company. Every time she took me to her workplace, everyone showed how they admired her leadership and skills. I want to be just like her - she not only helped the company be successful but also played an important part in her co-workers' growth.
Lack of Major Information
The essay only relied on one focal characteristic of a manager - leadership. Paragraphs in an excellent essay have topic sentences that are then supported by the subsequent sentences to expand the idea of the essay.
The author could have included more types, roles, and characteristics of a manager. For instance, the essay above can include the following characteristics:
Sincere enthusiasm. If the leaders are sincerely enthusiastic and passionate, they'll help their co-workers create a productive environment in the workplace.
Great communication skills. Leaders must be excellent in motivating, delegating, and instructing the employees they are in charge of. Poor communication will lead to poor outputs. Leaders who lack this skill will be perceived as being weak and fail as a leader.
Loyalty. A great leader understands that loyalty is reciprocal. They must express loyalty in ways that benefit the team members.
Decisiveness. Good leaders must have the ability to take risks and be decisive in their decision-making. They should be empowered to make decisions and take risks knowing that they will hold themselves accountable if it goes the wrong way. Leaders who aren't decisive are usually ineffective.
Unclear and Disorganized Structure
Although it might look like the essay has a beginning, middle, and end, it doesn't mean that it has appropriately constructed content. When writing an essay or anything that requires you to keep the readers' attention, always try to be in your audience's shoes.
While reading your output, ask yourself questions that you'll typically ask if you had been the reader and not the writer. These questions can be:
Did I understand this part after reading it once?
What can I do to make this section easier for my readers to comprehend?
Did the subsequent sentences in the paragraph support the topic sentence?
Did my paragraphs connect to each other smoothly?
Were my readers encouraged to read everything in my essay?
Points for Improvement
Everyone can improve their writing. Using the sample above, here are the following tips you can take note of so you don't commit the same mistakes the author did:
Plan and Outline
Unclear sections and disorganization can easily be avoided when you take some time to sit down and write all your thoughts into paper first. Think of the following and write an outline before writing:
What do you want to be included in your essay?
What are the main points you want the readers to focus on?
What's the goal of your essay?
Outlines will make writing easier because you will know where you're going. It will give you an idea of which topic you need to write about next, knowing what point you're building toward, and how you can get to your conclusion.
Dividing your writing into smaller sections will help you be more organized. Outlining also:
Saves you time
Assist you in selecting critical contents and sections
Helps you write cleanly, accurately, and directly to the point
There are two types of outline:
Keyword Outline

displays a quick overview of the ideas you'd like to include in the essay in the form of two to three words.
Sentence Outline, on the other hand, is more detailed. It provides the general information of the topics using sentences.
Include Relevant Parts
For the topic "Why I want to be a manager," you can incorporate the following parts:
What inspired you to want to be a manager
What characteristics you need to be a manager
What you're doing or did to become a manager
Reliable Sources of Info
Following are some good research papers you can refer to and cite for your paper:
Always Remember
To summarize, once you finished writing your essay, check if:
The subject or question has been answered
It has been divided into sections for easier reading
You used proper grammar, and you didn't unintentionally plagiarize any parts
If you want assistance and professional help from experts to make sure that you have an essay that's a cut above the rest, reach out to Studybay today.