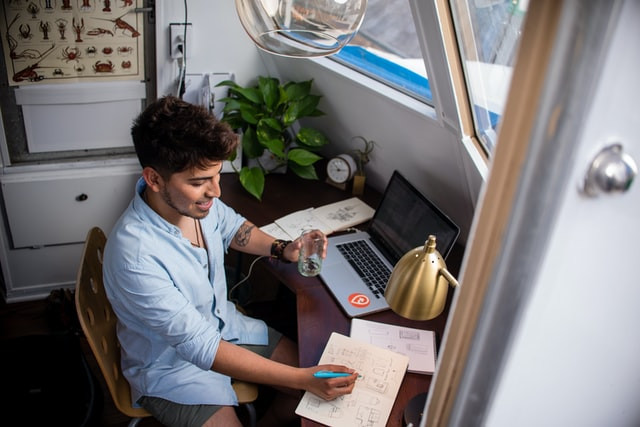 If you are reading this expecting to find a single life-changing tip that will guarantee you a winning essay, that is next to impossible. Even if you could manage to gather all the scholarship essays that have won, you will not identify an aspect common in all. Their uniqueness has led them to success, and that is what you should do too. It needs to be exclusive to you. Come up with a personalized piece of content drenched in the essence of your personality. It is the perfect opportunity to showcase your talents, skills, and achievements in high school. Let the reader know what you are most passionate about, what makes you deserving of this financial aid. What stands out to the checking counselor is your individuality and your story. How you may be wondering? The tips below will help you get started.
Introduction to a Scholarship Essay
What exactly is a scholarship essay? It is an opportunity for you to show dedication towards your goals and your deservingness for support. Make a case for yourself, inform as well as persuade the reader using this essay. You need to understand that your essay is just like the rest of hundreds of essays they receive for a checking committee. It is in your hands to attract their attention by offering them something out of the box. Of course, the main highlight here should be your school achievements and goals, but the way you convey it to the reader has to be creative. However, make sure it should not appear like you are bragging. That can come across as a negative trait.
Difference Between a Scholarship Essay and a College Essay
Does the definition above ring a bell? If it does, you are not wrong. Scholarship essays are quite similar to college essays. The primary strategy behind writing them is somewhat the same. However, there are a few significant differences you should wrap your head around.
Firstly, the purpose of writing each of them differs. When reading college essays, the admission counselor evaluates the student's personality to see if he or she would easily mesh with the rest of the student body and fit well with the school. Meanwhile, when reading scholarship essays, the committee checks if the applicant stands for the institution's interest and specific demographics and talents so that students try to embody the ideals.
Secondly, the prompts for most college essay topics are broad. You are likely to get the freedom to choose a topic. On the other hand, scholarship essays are more focused and narrower. They aim to relate to the institute's mission and vision, giving you less room to experiment with.
The college paper format regarding the length is something that again differentiates both types of essays. College essays are lengthier and can allow up to 650 words, whereas scholarship essays remain below 500.
Tips for Writing Scholarship Essays
Grab The Reader's Attention
Never underestimate the impact of a powerfully written introduction. It has to be concise and not vague at all. Try to start to make it intriguing for the counselor and leave him wanting more. If you have great content in the essay's main body, but the introduction does not punch a pack, it might defeat the entire purpose of this essay. Hence make every word count. It would help if you started working on your opening hook ahead of time to ensure that your reader forms a positive perception about you from the beginning.
Choose a Topic of Your Interest
Studies prove that you are more productive and creative at doing something you genuinely enjoy. Be authentic while deciding on what to share. This way, you will also come across honest and authentic, and you would have better chances at impressing the audience. Let us break it down for you. Suppose the prompt asks you to write about a specific time when you did something that made you proud. You might be able to think of a few options right away or even make some in your mind. However, that is not the right approach to take here. Do not think about what they will like to hear; rather stay genuine and narrate an experience that made you content. Choose a topic you can resonate with and what makes sense in your head. Describe the event in such a way that you make the reader a sensory part of your essay.
Research And Brainstorm
Do not dive straight into the writing process. Learn the critical details. It will show the reader that you have put in effort into this and that you genuinely care. For example, find out who are the people getting this aid from this organization? You should always check out their website for additional information. Please familiarize yourself with their vision and mission statements. When informed better, your content will automatically be tailored according to the requirements and standards predetermined by the organization. Because of the competitive nature of this need, you must put in all of your effort to distinguish yourself from the rest. However, maximize your chances by finding and applying for as many scholarships as you can. Your chances of getting selected out of five are way less than if you apply to 50. So, what are you waiting for? Let us get to it.
Ethos, Pathos, And Logos
Umm, what-os? If you have no idea what that means, you have nothing to worry about. These are modes you can use when you write a scholarship essay to persuade your readers and make your techniques appear more convincing and powerful.
By breaking it down into simpler terms, ethos refers to the way you can establish your reliability, credibility, and authority. For your scholarship essay, this would be by relying on your story and personal experiences. The reader can see your authenticity if your content has come straight from the heart. Pathos is how well you can utilize the element of emotional appeal in your essay. For example, if you have had to lose a family member who impacted your life, it would be acceptable to add it here. But make sure you are not making anything up for gathering sympathy. Finally, logos is about your rationale behind decisions. While you make a point, you need to ensure it is backed with logic and makes perfect sense. For instance, you can use statistical proofs of a claim you have made in the essay. The implementation of these three will make your work look more sorted and help you stand out from the rest of the candidates.
Honesty Is the Best Policy
Never embellish or portray things that are not real. Putting on a deceptive appearance and hiding behind a false facade will bring no benefits to you. The checking counselors have years of experience as an eye for made-up stories. Refrain from risking everything at stake. If the reader feels that you are not honest at some point, your chances for selection will go straight out of the window. Understand that the power of authenticity is unbeatable. Everybody has had some experience in life that is interesting or impactful in some way or another. You have to deliver just that.
For example, if you have been a tutor, you might be inclined to write something dramatic and over the top like, "For the last three years that, I have had the honor of changing and shaping thousands of lives for the better."
Now hold on, this is no way of writing your experience effectively. Try saying, "After three years of my experience as a tutor, I have helped up to 200 school going students in courses like Math and English, which in my opinion has played a significant role in improving my skills as well."
Storytelling
An essay that you want to stand out should hook the audience from the very first line. Take your time to brainstorm ways for coming up with a structure that is most likely to draw in the reader.
Other than this, the story you are aiming to write should feel genuine and real to your life.
Do not hesitate to share tangible and personal details. If you state that you are a helpful person, that will not suffice. Think about a time when you helped somebody and narrate it to them through the essay. It will have a lasting and powerful impact on the reader. Also, your work will look more credible. Quote real-life experiences and make your essay compelling and one of the memorable ones.
You do have to tailor your work according to the prompt; however, never tailor yourself for the reader. That is one of the common mistakes applicants make. Make your answer specific to the question asked. Nevertheless, this means that you should be trying to project a particular image of yourself in the application. It would help if you did not shy away from describing your traditions, cultures, and experiences. That might determine how you can get your foot in the door.
Significance of Professionalism And Sincerity
While you are bound to refrain from using specific words and references, you should not drown your voice while writing. Being professional does not mean that you cannot express yourself. Do not clutter your essay; make it organized, tidy, and easy to follow for the reader. Use a tone appropriate but not made up at the same time.
Evaluation By the Checking Committee
There is no harm in doing a little extra work to determine what the committee wants from an applicant deserving of the aid. The reader tends to form an impression in the first thirty seconds. The majority of the applicants do not make it past the very first stage. Make an impactful start. Ensure to add all the required details. To make the second cut stand out from the rest. Differentiate your work from all the "Ok" essays by writing a "Great" one. Your response should be rounded-off and comprehensive. Double-check or maybe triple check for possible errors. Finally, you will be compared with the rest based on your academics, services, leadership qualities, creativity, and exceptional circumstances, if any. You cannot be sure what the reader weighs more, hence cover all of these aspects effectively.
What to Avoid?
Now that you have a fair idea of what to include in your scholarship essay and high school students' essay. It is time to understand the things you should avoid. These rules are not written in stone but provide you with a decent guideline to follow to maximize your selection chances.
Inspirational Quotes
Everybody loves an inspirational quote. A quote can be empowering, but if you are thinking of writing these in your scholarship essays, that can be a recipe for disaster. Adding overused and mainstream quotes is just going to be a waste of your words and a distraction from showing your personality. Instead, include advice and words of meaningful wisdom and have touched your life in some regard.
Cliches
While writing the impact of winning this financial aid, people usually creep in these cliches and go overboard with them. These can be themes, stories, or phrases, or maybe idioms that have been overused to the point that they no longer hold power and meaning in the reader's eyes. All this will do is weaken your application and chances.
One most used theme in these types of essays is the "underdog" or "Cinderella" storyline. Refrain from portraying yourself as a victim of injustices and misfortunes. Nobody would be interested in reading your complaining and whining throughout your essay. You do want them to consider you deserving but never write things that show you will only achieve something if you get this money. That is a no-no. Be specific and realistic. Humble yet ambitious. Find the right balance between all these elements.
Foul Language
It is self-explanatory and quite noticeable. If you are thinking, why would anyone swear and use profanities in their scholarship essay? You are mistaken. Every year these committees receive loads of applications from high school students with such essay examples. It is reasonably easy to get influenced by the web series you have been binge-watching, and it might be unarguably one of the best ones out there.
Nevertheless, that is no reason to quote curse words and phrases in an essay this seriously. You are required to maintain your professionalism throughout your application. It would signify a sign of respect to the people on the receiving end. For example, never say "I have worked my ass off since I was a kid.", Instead, use something like, "I have been a very hardworking person from the very early years of my life."
Do stress your perseverance and excitement but do it so that it does not offend anyone or make your work controversial. It is better to be safe than sorry. Learn practical ways to paint a picture of your thoughts and ideas and the use of imagery to enhance your writing skills. You can start brushing up on these skills at school.
Emojis And Pictures
No matter how much you love using emojis, your scholarship essay is not a place to incorporate them. It does make text exciting and colorful, but at the same time, it also makes it informal. You have to avoid that at all costs. It would be surprising for you to find so many essay examples with the same repeated mistake. The same rule applies to the pictures. Unless you have been given the green light for doing so, please resist the urge to use these emojis and visual aids to support your point or in an attempt to make it enjoyable. After all, it is not your art project. Stick to the provided standard. Mostly it comprises the font; Times New Roman, size;12 and black. Also, ensure the requirements regarding the spacing, headers, footers, margins, and others. An essay, according to the direction, is sure to impress.
Extreme Declarations
It involves seeing and understanding only one side of the coin and stating it as a fact. Avoid either of the perspectives. Making fatalistic declarations regarding the future will make you look impractical and frankly quite foolish to the checking committee. You want to appear confident but not complacent. For example, never say, "If I fail at getting this grant, there is no way I will be able to finish my high school and make a life for myself." You need to see the bigger picture and show that to the reader as well. One essential advice is to replace these with open-minded hopeful approaches, which offer flexibility and a proactive mindset. For instance, while writing on a prevalent issue in the world, say, "The damage done to the planet is undeniably immense; however, I am excited to utilize this degree to reverse these effects and turn things around." This way, your essay will look more compelling, dynamic, and pleasant to read.
Your Autobiography Details
With a word limit this tight, a scholarship essay does not offer you much room to explain all of your stories. When being asked about yourself, it becomes relatively easy to go too far. Only include the necessary details and stay focused. You do not need to include the entire autobiography of your life. Neither do you have that kind of word space, nor the reader has the patience.
Essay readers emphasize your ability to follow guidelines and instructions. So, even if you believe your story to be incredible, the chances of doing justice to it in just 500 words or maybe less are hard, if not impossible. Hence, include only a few details, but that worth mentioning in your essay examples are a significant incident, an aspiration or a challenge at school, or your high school achievements. These make good topics to add to your scholarship essay.
If you need a website that writes an essay for you, you're on the right page! Feel free to send us your request!