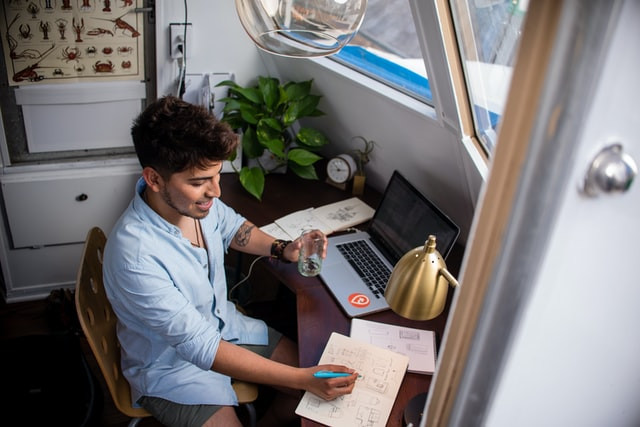 When writing scholarship essays, many experts recommend coming up with a piece that directly addresses the scholarship requirements to help you stand out.
The scholarship essay serves a dual purpose: to inform the committee about the student's background, goals, and achievements and to convince them that the student is the best candidate for the scholarship award. As such, the essay must be written with clarity, purpose, and originality, engaging the reader from the first sentence to the last.
A well-crafted scholarship essay can provide the gateway to a student's academic and career success, offering financial assistance and recognition for their hard work and potential. Therefore, students must approach the task with diligence, care, and an unwavering commitment to excellence.
In this text about writing a college scholarship essay, we examine different perspectives to nail down a technique that can be reliably deployed to write a good essay.
Scholarship Essay: Definition
A scholarship essay is a written composition accompanying a scholarship application and is often deemed the most significant component of the selection process. It is a platform for students to showcase their strengths, experiences, and aspirations compellingly and captivatingly. Indeed, it embodies a student's academic and personal journey - a means to illuminate their character, values, and potential to scholarship committees.
Scholarship Essays vs. College Essays: Is There a Difference?
The distinction between scholarship application essays and college essays can be subtle but significant. Applicants need to understand the distinct goals and expectations for each type of essay. By tailoring their writing to the specific scholarship essay requirements, applicants can increase their chances of receiving the desired award.
Here's a brief breakdown:
| | |
| --- | --- |
| Scholarship Essays | College Essays |
| Focuses on a specific prompt or question related to the scholarship application | Typically, broader in scope and not tied to a specific prompt or question |
| Usually have strict word or character limits | May have recommended or suggested length, but often have a more flexible word or page count |
| Emphasizes personal experiences, achievements, and future goals | May cover personal experiences, but may also focus on academic achievements or analytical arguments |
| Often require an understanding of the mission and values of the scholarship provider | May not have a specific audience or organization in mind |
| May require additional materials, such as transcripts or recommendation letters | Typically do not require additional materials beyond the essay itself |
Scholarship Essays vs. Essays Contests: Are They Different?
When it comes to scholarship essays and essay contests, there are some similarities, but also some important differences to consider, as seen in the example of the Studybay Annual Essay Contest 2023. Both require a well-written, thoughtful essay that effectively communicates your ideas and perspective. However, the key difference between the two is the essay's purpose.
In scholarship essays, the primary goal is to demonstrate to the scholarship committee why you deserve to be awarded the scholarship. The essay is typically one part of a larger application process, and its purpose is to provide a more in-depth view of who you are as a person beyond what can be gleaned from grades and test scores. On the other hand, in our example of the Studybay essay contest, scholarships are awarded based on the creativity and originality of your ideas, and the monetary prize is meant to support your college education.
For the Studybay essay contest, the writing process focuses on one of the topics provided, which are all relevant and thought-provoking questions about the world we live in today. These topics offer an opportunity to showcase your unique perspective and writing skills, which is the primary goal of this essay contest. The top three winners will receive financial rewards, which can be used to further their education.
In summary, while both scholarship essays and essay contests require strong writing skills, the key difference is the essay's purpose: to demonstrate financial need and qualifications for scholarships or to showcase creativity and writing ability in essay contests like the Studybay Annual Essay Contest 2023. Be sure to check out a guide on how to write a compelling scholarship essay before getting started!
Writing a Scholarship Essay: Step-by-Step Tutorial
Writing a scholarship paper, as we've mentioned, one of the most important steps in the process is writing a compelling essay that stands out to the selection committee. In this tutorial, we'll break down the steps you can take to craft a strong scholarship essay that showcases your unique strengths and qualifications.
Let's dive in, shall we?
What to Include in Scholarship Essay: Outline with Example
To create a well-structured scholarship essay, divide it into three parts: introduction, body, and conclusion, each with its unique purpose and length.
Let's use this sample essay to break down what that looks like:
The Intro: How to Start a Scholarship Essay
You must have a strong hook that instantly catches the reader's attention. Scholarship statements can begin with an expression of fact or opinion. Then, you should clearly outline your thesis statement.
In a scholarship-winning essay, the main thesis is why it is you who deserves to be accepted. Why are you the one who deserves to attend college?
The first sentence is very important in writing an essay for a scholarship. Both scholarship essay writing and regular writing depend heavily on the reader's engagement. People or committees simply cannot be/get engaged if it's something they have read at least dozens of times in the past. It doesn't have to be wild.
Trying to decide what to include in a scholarship essay? Write something creative!
Let's examine our sample:
As I sit down to write this essay, I can't help but feel a rush of excitement and nerves at the same time. This scholarship opportunity is not just about funding my education; it's about my dream; my dream to become a filmmaker.

When I was eight, my parents took me to see Star Wars for the first time. From that moment on, movies were my escape from reality, a place where I could immerse myself in different worlds and stories. I was fascinated by the power of storytelling through film and knew that one day, I wanted to create and share my own stories with the world.

I've taken every opportunity to learn about filmmaking, from watching countless behind-the-scenes documentaries to attending film workshops and classes. In one of those classes, I realized that filmmaking was not just a hobby but a calling.
The Body
I still remember the first time I held a camera in my hands, the rush of excitement as I captured my first shot. It was a feeling like no other. And with every film project I've undertaken since then, that feeling has only strengthened.

I have spent countless hours studying the craft, watching films, reading scripts, and practicing my skills. I have also participated in several filmmaking workshops and courses, including a summer program at NYU's Tisch School of the Arts. These experiences have taught me the importance of collaboration, storytelling, and the technical aspects of filmmaking.

But as much as I love filmmaking, I know it's not an easy path. Making a film takes hard work, dedication, and financial resources. And that's why I'm applying for this scholarship. It would be an incredible opportunity to further my education in filmmaking and bring my dream one step closer to reality.

With the scholarship, I could enroll in more advanced film classes, purchase better equipment, and attend film festivals to network and learn from industry professionals. I know that with this scholarship, I could take my filmmaking to the next level and produce films that entertain, inspire, and make a difference.

Filmmaking is not just a career for me; it's a passion, a way of life. I want to use my skills to tell stories that matter, stories that touch people's hearts and open their minds to new perspectives. And with this scholarship, I know I can take one step closer to making that dream a reality.
The body of the last draft focuses on the writer's experiences and achievements in filmmaking. The writer uses specific examples, such as attending film workshops and classes and a summer program at NYU's Tisch School of the Arts, to demonstrate their passion and dedication to filmmaking.
They also explain how the scholarship would help them further their education and advance their filmmaking skills by enrolling in more advanced film classes, purchasing better equipment, and attending film festivals to network and learn from industry professionals.
The writer's language is clear, concise, and focused, with each paragraph building upon the previous one to make a compelling case for why they deserve the scholarship.
The Conclusion
Starting a scholarship essay may seem daunting, but the ending can be challenging too. In writing a scholarship letter, consider novel but appealing ideas. For example, you could:
End with a quote. It may be pretentious, but it could work.
End with an action. This is a great way to leave your scholarship essay application open-ended.
End with a description. The main goal is to leave a lasting impression.
Back to our sample:
As I conclude this essay, I am reminded of the quote by renowned filmmaker George Lucas: "A lot of people like to think they're cool, and they're hip, and they're aware of what's going on. And they're not. Filmmakers are." With your help, I hope to join the ranks of these cool and aware individuals who use the art of storytelling to inspire and bring positive change to the world. Thank you for the opportunity to share my dreams and aspirations and for considering my application for this scholarship.
The writer expresses their gratitude for the opportunity to apply for the scholarship and how it would allow them to continue pursuing their passion for filmmaking. They thank the reader for considering their application.
There are so many ways you could finish. When learning to write an essay for a scholarship application, remember that your story is yours, and you choose how to tell it. Our job here is to give you a refresher on the format and make it a less intimidating task.
Overall, the essay follows the writing process scholarship essays should follow. It has a clear introduction, supporting body paragraphs, and a conclusion summarizing the main points and reiterating the writer's desire to receive the scholarship.
Format Your Essay
Every guide on how to write an essay for a scholarship application will tell you that formatting is key. Unless your paper is formatted properly, you're highly unlikely to be successful.
As you learn how to write an essay for a scholarship, you must also know how to format it. The most common formatting requirements include:
Times New Roman as the font
12-point size
Indenting the first line of a paragraph
PDF format.
There are no strict rules on the writing process, just the formatting.
Grammar, Plagiarism, AI-Created Content
Crafting an excellent scholarship essay also entails ensuring its quality by checking for three crucial factors:
Grammar. Would you like to learn how to type a scholarship essay without mistakes? Numerous spell-checking websites, apps, and services are available for you to utilize.
Plagiarism. If you want to know how to write a scholarship essay without plagiarizing, utilize Copywritely or similar services to check it.
AI-Created Content. What do scholarship essays look for? Original and well-crafted content that accurately reflects your personality and aspirations. AI is pretty cool, but it doesn't know you.
Tips for Writing a Winning Scholarship Essay - Writing a Scholarship Essay Made Easy
We've compiled several tips to help you master the art of scholarship essay writing and increase your chances of winning.
Scholarships Are Not One-Time Deals Winning scholarships isn't a one-and-done deal. You'll need to perfect the art of writing a scholarship essay to increase your chances of success since you'll be writing one every year.
Read and Follow All the Requirements While applicants may have great scholarship essay ideas, they may often make the mistake of not following all the instructions. Demonstrating that you're respectful, perceptive, and diligent by carefully examining and sticking to the guidelines will set you apart from the competition.
To ensure you're on the right track, create a separate checklist for each section, including content, structure, word choice, and formatting. Ask yourself questions like:

Formatting (General) - Did I follow the correct formatting guidelines?
Content (Uniqueness) - Does my essay stand out?
Content (General) - Have I addressed all the required points?
Word Choice (Suitability) - Does my writing sound professional?
Word Choice (General) - Did I avoid using slang or informal language?

Introductory Sentence Knowing how to start off an essay for a scholarship can be daunting. However, the best approach is just to start writing. Experiment with different opening sentences and select the one that best captures your unique voice.
Revisit Your Work Take a break from writing to read over your piece before submitting it. Revisiting your scholarship essays for college can give you a fresh perspective to help identify areas for improvement and refine the ideas presented to create a winning essay.
Have Someone Else Review Your Work Most scholarship-winning essays result from multiple revisions, so it's crucial to have someone else review your work before submitting it. A fresh pair of eyes can help you identify areas that need improvement and offer valuable feedback.
Revise and Proofread Diligently One round of revisions is not enough. Revisiting and proofreading your essay multiple times can help you catch errors, typos, and inconsistencies that might have slipped past your initial review.
Select a Topic You're Passionate About To craft a compelling essay. It's essential to choose a topic that you are truly passionate about. Writing about something that interests you makes the process more enjoyable and enables you to convey your ideas with sincerity and authenticity.
Research the Provider's Values and Objectives Understanding the values and objectives of the scholarship provider is crucial in crafting an essay that aligns with their mission. Conduct thorough research and tailor your essay to demonstrate how your goals and aspirations align with theirs.
Adhere to Guidelines and Limits Sticking to word limit and formatting requirements is crucial in demonstrating your ability to follow instructions and attention to detail. Create a checklist of scholarship application essay tips to ensure you miss nothing.
Plan and Brainstorm Creatively The brainstorming and planning phase is crucial in crafting a successful scholarship essay. Allow yourself enough time to generate creative ideas and organize them into a cohesive structure. A solid foundation can set you up for success.
Incorporate Ethos, Pathos, and Logos To craft an impactful essay. It's essential to appeal to readers' emotions, use credible sources, and incorporate logical reasoning. Incorporating ethos, pathos, and logos helps applicants writing essays for scholarships create a well-rounded essay that resonates with the reader.
Be Honest and Genuine Inauthenticity can hurt your chances of securing a scholarship. Avoid exaggerating or embellishing facts and instead focus on highlighting your true accomplishments and aspirations. An honest and genuine essay can make a lasting impression on the reader.
Show, Don't Tell Subtlety and nuance can make your essay stand out. Rather than stating your accomplishments outright, use descriptive language and storytelling techniques to illustrate your experiences and achievements.
Be Concise and Specific Brevity is key in crafting a successful scholarship essay. Stick to the word count and avoid being verbose. Use precise language to convey your message effectively.
Avoid Overusing Exclamation Marks Using too many exclamation marks can come across as unprofessional and detract from the impact of your essay. Use them sparingly and only to emphasize critical points.
Emphasize Your Resilience Scholarship providers value resilience and perseverance in their applicants. When learning how to write a scholarship statement, remember to emphasize your ability to overcome challenges and demonstrate your determination to succeed.
Be Authentic and Professional Demonstrate your professionalism by writing clearly and concisely while staying true to your unique voice and personality. An authentic essay can make a memorable impression on the reader.
Avoid Shameless Self-Promotion When learning how to write a scholarship essay about why you need it, it's immediately clear that highlighting accomplishments and aspirations is part of the package. However, take care not to come across as arrogant or self-promoting. Strike a balance by humbly acknowledging your achievements while remaining grounded.
Express Gratitude Briefly Expressing gratitude is a crucial aspect of any scholarship essay, but it's essential to keep it brief and to the point. A simple thank you can suffice.
Proofread and Edit Thoroughly After completing your essay, take a break and revisit it with fresh eyes. Proofread and edit thoroughly, correcting grammar and spelling mistakes and polishing your language and structure to ensure a well-crafted essay.
Give Yourself Sufficient Time The mark of a winning scholarship essay is ample time and effort put into it. Rushing your essay can lead to a subpar submission. Note upcoming deadlines and make sure you leave enough time to craft a thoughtful essay.
Reuse Your Past Work Your past work can be a valuable asset in writing a scholarship essay. You can reference, quote, or rework it to fit the scholarship essay requirements. Just make sure to always tailor your essay to the specific scholarship you are applying for and avoid any plagiarism.
10 Things Better Left Out of Your Essay (Scholarship Essay Tips)
With so many different pieces of advice, you might find it hard to figure out which things not to include. Worry not; we will help you understand how to write a scholarship personal essay to the best of your ability.
Platitudes and Cliches
When thinking about how to start off a scholarship essay, most people turn to cliches, overused phrases, and tired tropes. Be better than that when pursuing post-secondary education.
Motivational Quotes
Motivational, inspirational, overused, cheesy; call them whatever you like, including them is not advisable for anyone writing a scholarship essay.
Cliched Stories or Ideas
When creating a winning scholarship essay, it is best to avoid tried and true concepts and storylines. This means that you need to challenge yourself when creating something original.
Strong Declarations, Extreme Stances
Think about why you need the scholarship essay. No extreme declarations should be involved because they will make it hard for a reader to relate to you if they don't share your views.
Emojis, Pictorial Content, or Creative Fonts
Articles containing tips for writing scholarship essays always mention that you must stand out. There are better ways to do it than this. Search for more specific scholarship tips, avoid things that might make you look highly unprofessional, and reduce your chances of getting into a graduate program.
Too Many Details About Yourself
Winning essays for scholarships are deeply personal, but you need to know when to stop. Oversharing is a thing. Boring people with your biography is also a concern. One of the underrated tips for writing a scholarship essay is to limit the number of personal details and anecdotes.
Profane Language
No form of profanity is acceptable when writing an essay about yourself for a scholarship. Although strong language might seem okay when writing your own personal essays, you don't want to use this language on a college admissions paper.
Controversial Topics
It might be tempting to talk about a hot-button issue. If you feel inclined to write about an ongoing political or cultural conflict, avoid the temptation and stick to the subject of your essay.
Insults
If you want to make yourself look better by putting down others, don't. Do not do this in real life, and especially do not do it when writing an essay. This is the scholarship essay writing help that you need to take into consideration.
Textspeak
A long, long time ago, it was known as SMS Speak. Either way, you should not include textspeak when writing scholarships essays.
Winning Scholarship Essay Examples
SCHOLARSHIP ESSAY EXAMPLE #1
Fund for Education Abroad Rainbow Scholarship $7,500 by Steven Fisher
Prompt: The Fund for Education Abroad is committed to diversifying education abroad by providing funding to students who are typically under-represented in study abroad. Please describe how you and/or your plans for study abroad could be viewed as under-represented.
As an individual who is the first in their family to pursue higher education and hails from a low socio-economic background, I perceive myself as a student who is underrepresented in the realm of academia. My parents migrated to the United States from Mexico with limited formal education and insufficient financial means to provide me with comparable opportunities to those of my peers. Notwithstanding the aforementioned obstacles, I have diligently strived to achieve academic excellence and have aspired to pursue overseas education in order to acquire a comprehensive understanding of my area of expertise from a global standpoint.
My intentions to pursue overseas education may be perceived as underrepresented due to my inclination towards studying in a non-conventional destination. Contrary to the preference of numerous students who opt to pursue their studies in Western Europe, my inclination lies in delving into the multifarious cultural and linguistic aspects of Southeast Asia. I am submitting an application for a program in Vietnam that offers an opportunity to undertake a comprehensive study of the language, history, and culture of this intriguing nation.
It is my contention that pursuing academic endeavors in Vietnam would afford me a distinctive vantage point that is not frequently encountered within the realm of international education. Vietnam is a country experiencing rapid development with a cultural and historical heritage that is relatively unfamiliar to the United States. Moreover, the Vietnamese language is not frequently included in the curriculum of American higher education institutions. Therefore, I perceive this as a chance to enhance my linguistic proficiency and cultural awareness.
As a member of an underrepresented group, I posit that my distinct viewpoint can provide a valuable contribution to the diversity of perspectives and concepts within the study abroad cohort. The prospect of acquiring knowledge and engaging with academics and learners from diverse geographical locations is a source of enthusiasm for me. This presents an opportunity to broaden my comprehension of the worldwide matters that affect my area of expertise.
Nevertheless, it is acknowledged that pursuing education overseas can incur significant costs and may not be a feasible option for a considerable number of students from underrepresented backgrounds, including myself. The opportunity to apply for the Fund for Education Abroad scholarship is greatly appreciated. The receipt of this scholarship would furnish me with the necessary financial backing to actualize my aspirations of studying abroad.
Apart from its financial assistance, it is my belief that the Fund for Education Abroad is dedicated to advancing diversity and inclusivity within the study abroad sphere. The provision of financial aid to students from under-represented backgrounds serves to dismantle the obstacles that impede their access to transformative opportunities associated with international study programs.
In summary, it is my contention that I belong to a demographic that is inadequately represented in the realm of post-secondary education. Furthermore, I posit that my intention to pursue academic endeavors in Vietnam may be perceived as emblematic of this under-representation. I express my gratitude for the chance to submit a scholarship letter for the Fund for Education Abroad scholarship and aspire to make a constructive impact on the study abroad community.
SCHOLARSHIP ESSAY EXAMPLE #2
Bright Futures Scholarship $1,000 by Julie Hanson
Prompt: In what ways can we encourage responsible use of social media while also recognizing its potential risks and benefits? Consider your own experiences with social media and how they have informed your perspective.
Social media has become an integral part of our daily lives, allowing us to connect with others, share our whole life story, and discover new ideas. However, we cannot ignore the dangers that come with this constant connectivity. As someone who has experienced both the benefits and the risks of social media, I believe it is important to raise awareness of these dangers and encourage responsible use.
My volunteer work with a local nonprofit organization has opened my eyes to the potential harm that social media can cause. While we use these platforms to promote our events and causes, we also see the negative impact that cyberbullying and online harassment can have on our community. As a result, I have become more conscious of my own social media use and have taken steps to ensure that I am not contributing to the problem.
Furthermore, social media can also be a hindrance to developing leadership skills. It can create a false sense of connection and prevent individuals from developing meaningful relationships and face-to-face communication skills. This is particularly concerning for me as I aspire to attend my dream school, which values collaboration, communication, and leadership.
Despite these dangers, social media can also provide new ideas and opportunities for personal growth. Through social media, I have been able to connect with individuals from all over the world and gain a new perspective on various issues. It has also allowed me to share my own experiences and contribute to important conversations.
However, we must also recognize that the content we consume on social media is often curated and may not reflect reality. This can create an unhealthy comparison culture and lead to feelings of inadequacy and low self-esteem.
In conclusion, the dangers of social media cannot be ignored. As individuals, it is important to be aware of the potential risks and take steps to use these platforms responsibly. As a society, we must also recognize the importance of promoting digital literacy and ensuring that individuals are equipped with the skills necessary to navigate the ever-changing landscape of social media.
It is my hope that by raising awareness of these issues, we can create a more informed and responsible social media culture. By doing so, we can harness the power of these platforms to connect with others, gain new ideas, and make a positive impact in our communities.
SCHOLARSHIP ESSAY EXAMPLE #3
Compassionate Care Scholarship for Nursing $5,000 by Tiana Leyton
Prompt: Describe your career aspirations and explain why you want to pursue this particular path. What experiences or influences have shaped your decision, and how do you plan to use your education to make a positive impact in your chosen field? Please be specific and provide examples to support your answer.
As a highly empathetic and motivated individual, I have always been drawn to the field of mental health. Specifically, I have a strong desire to become a mental health nurse, and I firmly believe that pursuing this career path will allow me to make a significant and positive impact on the lives of those struggling with mental illness.
My commitment to helping others through community service is a fundamental reason for my desire to become a mental health nurse. Throughout my life, I have always felt a deep sense of compassion for those around me, and I find it highly gratifying to be able to effect positive change in their lives. As a mental health nurse, I will have the opportunity to work closely with patients, providing them with the care and support they need to overcome their mental health challenges. Whether it involves administering medication, providing counseling, or simply lending an attentive ear, I am confident that I have the requisite skillset and empathy necessary to make a meaningful difference in the lives of those struggling with mental illness.
Furthermore, I am deeply passionate about the field of mental health itself. Mental illness is a complex and multi-faceted issue that demands a comprehensive understanding of the workings of the human mind. As a mental health nurse, I will be able to engage with the latest research and treatment methods and apply this knowledge in practical and meaningful ways. Conducting assessments, devising treatment plans, and staying up-to-date on the latest advancements in the field are all responsibilities that I eagerly anticipate, knowing that each day will present a unique set of challenges that will help me grow both personally and professionally.
Perhaps most crucially, I am drawn to mental health nursing because I believe that it will be a career that challenges and fulfills me in equal measure. I understand that working in this field requires substantial emotional strength and resilience. Nevertheless, the rewards of helping others overcome their mental health challenges are immeasurable, and I am convinced that it is a career path that will allow me to experience an unparalleled sense of purpose and fulfillment.
I am highly motivated and committed to becoming a mental health nurse. My passion for helping others, coupled with my enthusiasm for the field of mental health, has led me to believe that this is the ideal career path for me. As an international student, I recognize the importance of scholarship programs in achieving my educational goals, and I am grateful for the opportunities that these programs provide. With the support and guidance of scholarship committees, I am confident that I can become a successful and impactful mental health nurse. I am excited about the personal and professional growth opportunities that lie ahead, and I am committed to making a positive difference in the lives of others.
SCHOLARSHIP ESSAY EXAMPLE #4
Emily Johnson's Local Heroes Scholarship $7,000 by Whitney Trey Abraham
Prompt: Describe how you plan to contribute to your community in the future. As you begin the essay writing process, consider your passions, interests, and experiences, and explain how they will inform your contributions. Additionally, discuss any specific initiatives or projects you have in mind and how you plan to implement them. In your conclusion paragraphs, reflect on the potential impact of your contributions and how they will benefit both you and your community.
As a college student, I am aware of the importance of community involvement and the transformative influence it can have on those around us. Throughout my life, I have been fortunate to receive support from my community, and I am determined to give back in meaningful ways.
One of my passions is education. From my personal experience, I have witnessed the impact that a lack of resources and guidance can have on students. As the first person in my family to attend college, I am fully aware of the challenges of navigating higher education without a support system. Drawing upon my own experiences, I plan to establish initiatives that will help underprivileged students surmount obstacles to success. In particular, I intend to create a mentorship program that pairs high school students with college students, providing them with guidance and support as they prepare for college.
Through this mentorship program, I hope to furnish students with the resources and support they need to navigate the college application process, comprehend financial aid, and make informed decisions regarding their college of choice. By linking them with college students who have undergone the same process, I aim to demystify the college experience, build their self-confidence, and endow them with the knowledge they need to succeed.
Another project that I envisage entails the environment. Climate change is a pressing issue that affects us all, and I firmly believe that it is imperative for individuals to take action to mitigate its effects. I intend to organize community events such as cleanups and awareness campaigns to raise consciousness about the importance of sustainability.
Through these events, I aspire to engage members of my community and prompt them to take action to reduce their carbon footprint. Furthermore, I intend to collaborate with local businesses and government officials to institute policies and programs that promote sustainability efforts.
Besides these projects, I am committed to supporting my community in other ways. I am mindful of the financial burdens that paying for college can impose on families. So, I plan to use my degree to give back to my community by providing complimentary financial planning and investment advice to those in need.
I firmly believe that everyone should have access to the resources and tools they need to make informed financial decisions. By offering free financial planning services to members of my community, I hope to empower them to take control of their finances and achieve their financial aspirations.
I am sure that my passion for education, environmentalism, and community service will allow me to make a tangible impact on those around me. My experiences have instilled in me the importance of giving back, and I am committed to utilizing my skills and resources to make a difference.
The scholarship provider's investment in my education will not only benefit me but also my community. With their support, I will have the opportunity to pursue my passions and create initiatives that will make a lasting impact on the people around me. I am grateful for the opportunity to contribute to my community and look forward to the impact that my contributions will have.
SCHOLARSHIP ESSAY EXAMPLE #5;
Ayn Rand Essay Contests $2,500 by Jeremy Toby Norris
Prompt: Explore Francisco d'Anconia's speech about money in Ayn Rand's novel Atlas Shrugged. Your essay should be between 700 and 1,600 words in length and should argue a thesis with evidence and clarity.
Throughout her novel Atlas Shrugged, Ayn Rand espouses the virtues of capitalism and the dangers of collectivism. In Francisco d'Anconia's speech about money, he warns that when destroyers appear among men, they start by destroying money because it is the base of a moral existence and the protection of men. Francisco's speech is a warning of the dangers of collectivism, and it is as relevant today as it was when Rand wrote it.
In his speech, Francisco argues that money is the foundation of a moral existence. It is a symbol of man's effort, productivity, and intelligence. Money is earned through work, production, and trade, and it represents the values that an individual brings to society. In contrast, when money is taken through force or fraud, it represents the opposite of the virtues that money embodies. Francisco argues that paper money, in particular, is a check drawn by legal looters upon an account that is not theirs, upon the virtue of the victims. The day when it bounces, marked "account overdrawn," will be the day when the looters have exhausted the virtue of their victims, and the system of wealth distribution that they have created will collapse.
Francisco's speech serves the purpose of exposing the moral bankruptcy of collectivism. In Atlas Shrugged, the looters and the moochers are the collectivists who want to redistribute wealth from productive individuals to non-productive ones. They want to use the power of the government to achieve this goal, and they are willing to use force if necessary. Francisco's speech is a warning that the collectivists' system of wealth distribution is a fraud, that it is based on the looting of the productive individuals, and that it will inevitably collapse.
In the current economic world, we see the same forces of collectivism at work. Governments around the world are increasing their spending, their debt, and their power. They are redistributing wealth from the productive individuals to the non-productive ones. They are creating a system of wealth distribution that is unsustainable, and that will inevitably collapse.
One of the ways in which Francisco's warning is applicable today is through the use of fiat money. Fiat money is paper money that is not backed by any commodity or precious metal. It is a creation of the government, and it is used to manipulate the economy. When the government creates more money, it decreases the value of the existing money, and it creates inflation. Inflation is a hidden form of taxation, and it is a way for the government to redistribute wealth.
Another way in which Francisco's warning is applicable today is through the growth of the welfare state. The welfare state is a system of wealth distribution that is based on the looting of the productive individuals. It is a system in which the government takes money from the productive individuals through taxation and redistributes it to the non-productive ones through welfare programs. The welfare state creates a class of moochers who are dependent on the government for their survival, and who have no incentive to become productive. In this sense, the welfare state is a form of collectivism that is based on the looting of the productive individuals, and that is unsustainable in the long run.
In conclusion, Francisco's speech about money in Ayn Rand's Atlas Shrugged is a powerful commentary on the role of money in our society. Francisco's words serve as a warning against the dangers of those who seek to destroy money, and they highlight the importance of protecting the base of our moral existence. Today, his statement remains relevant, as we continue to see attempts to undermine the value of money and the economic systems that depend on it.
It is clear that our economic world today is far from perfect. We see issues such as income inequality, corruption, and cronyism that threaten the integrity of our economic systems. However, we must remember the fundamental role that money plays in creating a moral and just society. As Francisco explains, money is a symbol of the hard work and effort that people put into their lives, and it should be respected as such.
As individuals, we can work to promote economic systems that are fair and just, and that protect the value of money. We can support policies and institutions that encourage innovation, entrepreneurship, and hard work, while discouraging corruption and cronyism. We can also work to educate ourselves and others about the importance of money and the economic systems that depend on it.
Ultimately, we must recognize that the value of money goes far beyond the paper or metal it is printed on. It represents the values and virtues of a society, and it serves as the foundation of a moral existence. As Francisco warns, we must watch for the day when our accounts are marked "overdrawn," and we must do everything in our power to protect the base of our moral existence.
FAQ on Writing Scholarship Essays
How to write an effective scholarship essay
The most important part of writing an effective essay is planning. You need to map out how you are going to write the essay. Sometimes, we can get lost in the moment. It is easy to waste time thinking about how to start off a scholarship letter. There has to be a clear plan and a clear schedule.
What is the easiest way to start an essay on earning a scholarship?
The simplest technique for starting an essay for a scholarship is to introduce yourself. Then, you can mention your educational status. Then, you can talk about why you want to write an essay for a scholarship and why you need this scholarship program.
Do I have to be honest in my essay?
Almost all the advice for writing an effective scholarship essay focuses on honesty. Most tips for scholarship essays mention that you have to be honest about your career goals, your need for financial aid, and so forth.
How much time does it take to write a post-secondary education scholarship essay?
It might and should take a long time. When writing a scholarship essay for college, you have to be prepared to spend 1-3 weeks coming up with good ideas, figuring out what to put in a scholarship essay, and finishing the first draft. Then, it will take 2-4 weeks to proof, revise, and perfect everything.
Is it okay to ask for help when writing an essay to earn a scholarship?
It's always okay to ask for help. Understanding how to write winning scholarship essays is somewhat of a challenge. Advice given by someone with actual knowledge is always of great help. Other people competing for this scholarship award will readily ask for advice.