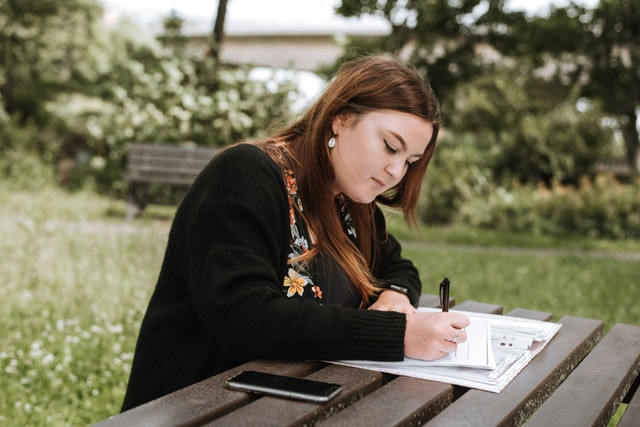 When writing a proposal, first, you need to select a topic that interests you the most. Once you are done selecting it, ask yourself why this research is innovative? How is it going to contribute or provide a solution to the problem being studied? For that, make sure there is a fair amount of literature and theories in that particular area. The literature that has already been written will help you explain your topic. When doing so, make sure you use reliable resources. But, how to make sure your research proposal is good enough to make an impression? To find that out, continue reading.
Writing An Exceptional Psychology Research Proposal
Do you want your paper to stand out from the rest and score excellent marks? If yes, make sure you do a great literature search. This will help you write a strong literature review with reliable sources. Also, it will help you write a meaningful rationale. A strong rationale leads to strong study results.
Tips For Performing a Literature Search
As a student, you probably have access to various academic databases. Make sure you make the most out of it. These databases, such as Medline and PsychInfo, etc., help you find reliable and up-to-date sources. Apart from them, you may also use Google Scholar for searching relevant journal articles.
When searching, type all terms that you think are appropriate and relevant. For instance, are you searching about the impact of the internet on the levels of depression among college students? You could use the following terms:
Youth, internet, and depression.
Depression in young adults.
Depression in college students.
Impact of internet on depression among youth.
Can the internet cause depression in young adults?
Using different terms will help you perform a comprehensive search for your study area.
Coming Up With an Impressive Research Question
The best way to come up with a great research question is to do extensive reading. Once you have read and comprehend your area of study well, it will be easier to identify gaps.
Identifying the gaps means you will get a clear picture of which areas you haven't done much work on. This will allow you to perform another research on the literature to find out material in those areas. Consequently, you will come up with a clearer and precise research question. Having a clear idea about your study question will help you craft a robust research methodology.
Psychology Research Proposal Sample
If you're confused about how to go about your proposal, here is a sample that is sure to help you get started:
Title
A proposal should start with a title page. This page should include your topic and give a clear idea of your proposed study approach. So, make sure you include the following:
The proposed title.
Your name.
Name of your research supervisor.
Your department and university name.
Check with your university's website or department if there is any specific requirement for this page's formatting.
Abstract And Table Of Contents
After the title page comes the abstract, the abstract is generally around 250 to 350 words. It includes key snippets of the entire document. When crafting it, ensure you mention the title, research question, the methodology proposed, and the methods used to analyze the results. You may also include the implications of your project and how it will contribute to the existing literature.
After the abstract, you need to add a table of contents. This will help the reader navigate your proposal.
Introduction
This section should introduce your research problem and give a brief context of it. This explanation should indicate your research questions. And make sure the ideas and information should flow logically. Moreso, keep the following questions in mind while writing this section:
Who would be interested in this topic?
How much research is already done in this area?
What aspects of the problem are missing from the existing knowledge?
Is your study going to contribute some new insights to the existing research?
Why is this study critical?
It's a good idea to use separate sections to explain and provide information that will give a clear understanding of the problem's background and context, including aims and objectives and significance of the study.
Since it is the first part of the document, it serves as an initial pitch. Hence, ascertain that it clearly defines what your project is all about.
Research Questions
Once you have done writing the introduction and background, it's time to formulate your research questions. Ensure they are clear and well stated and give a clear indication of what issues your study will be exploring. Additionally, they should also indicate why they are worth investigating.
Hypotheses
Not all research studies have a hypothesis. But, if you are trying to find a relationship between two variables, this section is necessary.
Purpose Of The Study
This section includes your intention behind the proposed study. Why do you think this study is worth conducting? What is the purpose of carrying out this project? What are the advantages of doing it?
The purpose may include the following justifications:
Little to no research on the topic.
To gain meaningful insights that may help transform the lives of respondents.
Background Of The Study
This section includes the issues of your proposed study and determines your discipline. This may also include a brief review of the literature you studied. Besides, add a summary of intrinsic developments and debates in the area.
Literature Review
A full literature review makes sure the reader is convinced that the proposed study has a solid base in the current knowledge. This is why it is vital to demonstrate that you are well-aware of the essential theories and publications in your study area.
Besides, it also demonstrates that your project is going to contribute something new in the research area. Your project is not repeating what other researchers have already done. Thus, try to depict how exactly your study is going to contribute.
Furthermore, it is also essential to compare and contrast. What are the intrinsic debates, theories as well as controversies on this topic?
While writing this section, try to be critical. Try to discuss the weaknesses and strengths of various approaches. Demonstrate how your project will build on or challenge the already published studies.
Empirical Justification
In this section, include the past research studies that reveal data on your proposed topic.
Literature Gap
In this section, you will identify the gaps in the current literature. What past studies have offered and what your study is going to offer. Sometimes the area of research might be widely studied. But, there must be a different aspect to it that you may select to study.
Proposed Methodology
This section should include an overview of the theoretical resources you are using for your study approach. And most importantly, you should explain your methodology comprehensively. What kind of research are you conducting - qualitative or quantitative? What is going to be the sampling method and the sample size? And how will it be done? What instruments will be used to collect the data?
Also, why do you think this is the best methodology to use? Are there any limits to other methods and approaches?
Since a literature review follows the section, restate your key objectives. This will help the reader stay on track. So, make sure you elaborate on what actions you will take to answer the questions. However, ensure you don't just write down the name of methods and instruments. Target convinces the reader why this is the most appropriate method to find answers to the questions.
Analysis Of Results
Once the data is collected, it will be analyzed and interpreted to yield the study results. Here you will explain what methods you will be used to analyze your data.
Scope, Limitations, And Delimitation Of The Study
Describe any limitations, scope, or delimitation here.
Conclusion
Now summarize the entire proposal. Highlight the key details and wrap up the entire document in a few sentences.
Once you've completed your proposal, add a bibliography of the sources/references used. Also, don't forget to add an abstract and table of contents after the title page.
Timeline
The timeline is an essential part of your thesis proposal. It includes an outline of phases with an indication of their timeline. This demonstrates how your project will be developed and implemented, including crafting your dissertation.
Usually, you are required to complete your project within 3 years if you're a full-time student. For part-time students, it is usually six years.
So, whatever the duration is, make sure you create a feasible work plan and timeline.
Bibliography
At the end of the document, you must include a bibliography of the sources/citations used within the document. Make sure you have used a good range of appropriate and reliable sources.
What Is The Purpose Of The Proposal?
Often, students are required to submit a proposal for their thesis. This document aims to help understand what they are doing and what resources are available to them. It will also help them have a clear picture of how they will carry out their study.
How To Craft a Strong One?
Just like the above example, the document should contain a snippet into each section. Make sure you state the problem clearly, and why is it important? Also, formulate your questions and hypothesis carefully. Moreso, choose the right methodology to test your hypotheses or answer your questions.
Once you are done writing all the sections, ensure the document is formatted according to your university's requirements.
Your document will indicate that you are well aware of all the research requirements with all these elements, also included that you are fully prepared for the project.
Topic Suggestion For Your Psychology Research
Selecting a topic can be a daunting business. To help you get started, here are some prompts:
Social Psychology Prompts
Looking for some ideas for your social psychology study? Check out the prompts mentioned below:
Social identity theory by Tajfel Turner's.
Discuss the outcomes of social influence.
Behavior in Mob riots.
Perceiving the self.
Violent and aggressive behavior.
Discuss reasons that lead to dehumanization in the Stanford prison experiment.
Societal behavior patterns.
Street demonstrations and aggression control.
Obedience, conformity, and compliance as a function of social status.
Physiological Psychology Prompts
If you are looking for ideas in the area of physiology, here are some suggestions:
Debate on the causes of lucid dreaming physiology and neurobiology.
Discuss brain mechanism in Bonding, attachment, and intimacy.
Functioning of a brain in love.
Gender wise physiological differences in the brain.
REM sleep physiology.
Chemicals in the brain like serotonin and dopamine in happiness and pleasure.
Neuropsychology Prompts
Are you looking for topic ideas for your neuropsychology research? Check these out:
Cognitive neuroscience in mental processing.
The relation between thoughts and behavior.
Psychobiological trends concerning genetic behavior changes in animals.
Neuropsychology and Decision making.
Discuss the innovations in MRI technology.
Brain structure in attention, emotions.
Mental Health Prompts
If you're looking for mental health topics, the following are some great suggestions:
Anxiety disorders leading to mental illness.
Eating disorders and mental health.
Post-traumatic stress disorders in men and women.
Personality complexes and their adverse effects in teen-agers.
Bipolar disorders in youngsters.
Infertility in women may lead to adverse mental health issues.
Discuss Mental illness in the light of Anorexia.
Dementia patients and their mental health issues with the coefficient of variation in the degree of illness.
Developmental Psychology Prompts
Can't think of an exciting topic for your developmental psychology thesis? Here are some suggestions:
Antisocial behavior patterns in children.
Discipline meter analysis and kids' personality nurturing over the years.
Corona and its impact on the world population.
Lockdown and school student's personality behavior.
Midlife crisis in both genders - causes and comparison.
Child abuse and mental health issues.
Old age problems and mental illnesses.
Bullying and its adverse effects on children.
Health Psychology Prompts
If you are looking for an idea in this area, check out the following suggestions:
Review on chronic pain literature and its mediation treatment practice.
Group therapy for patients fighting eating disorders.
Depression issues in Cancer patients and methods used to deal with it.
Alcoholism and lessons learned in the rehabilitation process.
Physical exercise and fitness regime has positive effects on mood and stress-related issues.
Cognitive ability enhancement is directly proportional to physical training and fitness.
Educational Psychology Prompts
Are you looking for an educational psychology topic? Here are some suggestions:
Academic pressures and student's mental health.
Development of cognitive skills in school going children through complex learning games.
Peer pressure on adult university students towards drugs and alcohol.
Enhancing learning capabilities in kids is difficult in the existing grading system.
Violent Video games fueling aggression in teenage school students.
Role of parenting and academic success.
Clinical Psychology Prompts
Following are some excellent clinical psychology prompts that will help you create a vital research question:
Innovation in the field of phobia treatment.
Clinical limitation in the cure of trauma and depression.
Discuss advancement in research methodology for behavioral changes in youth.
Aging in women has more adverse effects than in men.
Childhood neurosis and adult mental illness.
Innovative solutions and traditional limitations in behavior analysis study.
Criminal Psychology Prompts
This is a subject with a vast research area. And selecting a topic in this area can be a little confusing. To choose an exciting topic, here are some suggestions:
Difference between criminal activities in men and women - attitudes and behaviors.
Mental disorders and crime.
Criminal psychology is a study field.
Sex offenders and their mental attributes.
Comparative study of criminal psychology in democratic and socialist societies.
Genetics and criminal psychology - discuss new researches.
Role of parenting and criminal behavior.
The topics mentioned above are sure to help get started with your research proposal. Once you have selected the topic that interests you the most, follow the sample provided above. And, make sure you have done the correct formatting.
The final word would be to go through this article, operationally and start your proper research. Pick a topic after rigorous research and get going. Now you know how to write a research proposal; you see the project prospects and proposal writing skills; you know the art to execute it to perfection. Be very careful with the research work. Your ideas have to be extremely clear and research-backed with facts.
No desire or time to work on the project yourself? Buy a research proposal paper at Studybay!