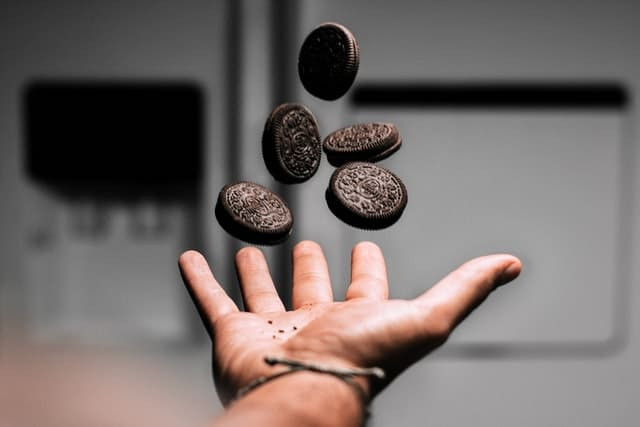 In 2017, Oreo marketers recorded a total of  2.3 million Instagram followers, 850,000 Twitter followers, 41 million Facebook followers, and 189 million YouTube views. This is the result of a massive digital campaign launched in 2012.
In 1912, the US National Biscuit Company (Nabisco) launched the Oreo brand of biscuits with chocolate biscuit and butter cream. Since then, the product has remained largely unchanged, with Oreo being the top-selling cookie in the US, according to the brand. In 2016, the brand had more than $ 2 billion in revenue (according to Mondelēz, the Oreo manufacturing company).
Examining Oreo's marketing strategy and the impact on it of the brand values embedded in the company's early years is an excellent topic for research.
Until 1980s, the United States was the main market for Oreo when the brand was owned by Kraft. This was reflected in the advertising slogan of those years - "America's Best Loved Cookie". By 1990s, the company had focused on the international market and started production in China.
In 2012, Kraft was split into Mondelēz International, a snack manufacturer, and Kraft Foods, which continued to focus on groceries. In 2009, Mary Beth West held the position of Chief Marketing Officer at Kraft. Even then, she noticed that advertising campaigns pay too much attention to the brand, forgetting about the buyer.
"It's like a consumer wakes up in the morning, thinks about creme cheese and says, 'Maybe I should wear something silver to match the cheese package," Mary Beth West told Fast Company.
Oreo cookies haven't appeared outside the kitchen for a long time. The target audience of the brand for decades has been families with children. Therefore, in commercials and on posters, favorite cookies were usually depicted against the background of the kitchen table, at which a child was sitting with a glass of milk. If you are writing a marketing paper on this topic, our paper writing service will help you create a great study.
Company Segmentation Marketplace
Different companies have different success strategies to meet their target market. Market segmentation helps to divide the market into separate groups of consumers who will be interested in the company's products. Students can buy research papers on this topic or read our article. 
In the case of Oreo, geographic segmentation played an important role. For example, in Malaysia, all Oreo products have become extremely popular. This is because coffee culture is widespread in this country. And coffee is rarely drunk without cookies. Psychographic segmentation also played an important role here. It takes into account the lifestyle and opinions of consumer, his expectations and interests. Depending on these parameters, the consumer will build his impression of the product and will or will not prefer it.
In order to interest the right category of consumers, Oreo resorted to various measures. The company actively worked on advertising, marketing programs, and even participated in charity. A good example of this is the opportunity for students to sell Oreo biscuits and sandwich cookies and understand the essence of philanthropy. 
Demographics allow you to break down your target market by age, gender, occupation, and other indicators. Oreo focuses mainly on children and adolescents aged 6 to 18 years. Oreo has an affordable price and a good view. So young adults will want to choose him.
While Oreo has already won the hearts of children in kindergartens, families and even university students, they are focusing on another market segment that can be won - adults. Children choose ice cream for themselves, while adults drink tea with Oreo Cookie Snow Cream Pie. This strategy satisfies all family members and creates an atmosphere of comfort and tranquility. 
😎 4-P Strategy
Oreo marketing program was based on a marketing mix of four basic concepts: product, price, place and promotion. Each of these components plays an important role in the customer's influence. If you find it difficult to understand this question, look for the Do my assignment button from professional writers. 
A product is something that a customer chooses to meet their needs. The consumer is attracted by the common characteristics of a product: packaging, design, brand awareness and high quality. Oreo chocolate sandwich cookies, Golden Oreos, and Little Oreos can be found on supermarket shelves, retail stores and on the website www.nabiscoworld.com. Oreo offers interesting new products with new flavors. 
Price is the cost of a product. As we have already mentioned, Oreo has a very affordable price, lower than its competitors. For example, Famous Amos cookies are 20% more expensive and Danish cookies Royal Dansk are 10% more expensive. However, compared to Starbucks, Oreo is about 17% more expensive. 
Places are also very important in consumer choice. For example, there are no retail stores in Malaysia. Such shops are more convenient for those in a hurry. But supermarkets will be chosen by those who like to choose a product in a calm and undisturbed atmosphere.
Promotion is probably the most important component of a marketing strategy. Public relations, presentations, advertising - all this plays an important role in expanding the audience of consumers. Oreo often holds interesting events, for example, in 2009 there was a competition for the best design of cookies for the Christmas holidays. The winner received five thousand dollars for Christmas shopping. In July 2016, Oreo organized one-day exhibitions in New York and Los Angeles. The manufacturer focused on the atmosphere of the exposition: visitors felt like children, because all the objects in the room were too large
✔️ Working With Social Networks
By the end of 1990s, Oreo was adored in 30 countries, making it the best-selling cookie of the 21st century. The company's marketers noticed the potential of the brand in time and decided to keep up with the times, changing their approach to digital marketing.
In 2009, Dan Anderson, the brand's chief marketer, changed her marketing course: it was important to take into account pop culture and fit organically into social networks.
Martin Agency created a story for Oreo: the Wonderfilled campaign was launched. Cookies have become not just a product, but an interesting character. The first month of the campaign expanded Oreo's market share and increased consumer growth by 12%.
In honor of the century, cookie brand launched a campaign on social networks. Every day for 3.5 months, the brand published images of cookies, which were identified with daily events. For example, on the day of the rover's ascent to the surface of Mars, Oreo appeared with a red filling with a trace of a wheel on it. This increased user interest by 110%, and Facebook posts garnered 5 million likes. The food company remembered Elvis Presley, turned to account the Mars rover landing and supported the LGBT movement. 
📞 Communication with the Consumer
According to research by marketing agency Mediakix, on average, users spend about two hours a day on social media. The Oreo brand became actively involved in the life of social networks, constantly interacting with consumers, who offered their ideas and shared opinions about the product.
The success of the Daily Twist Campaign has shown that cookies are not only loved by children and can be advertised outside the kitchen.
The age of the brand has become an advantage, because many Americans remember the taste of Oreo from childhood. In 1980s, cookies had the slogan "For the Kid in All of Us", and campaign makers often returned to this idea.
Marketers suggested that the consumer take a glass of milk and a pack of Oreos to remember childhood and relax. This is how the expression "Oreo moment" entered the English language - a pause, a time to escape from stress.
🎯 Game Component of Marketing
In 1923, the Oreo team created the formula: "Twist, lick, dunk". A laconic slogan that encouraged shoppers to play with cookies quickly became part of the brand. In 2015, cookies were really turned into a toy.
This has become another way to remind adult buyers of the baby in the soul of each of them. According to data from marketing organization Effie, the gaming campaign increased sales by 24.6%.
In August 2017, Oreo launched another ad campaign for the game. The flamboyant branded van went on a six-week tour of several UK cities, where four new cookie flavors were unveiled.
The buyers were asked to fill out an electronic questionnaire of five questions about their character. After that, a recommendation appeared on the tablet screen which of the four tastes would suit the client. The results could be shared on social networks.