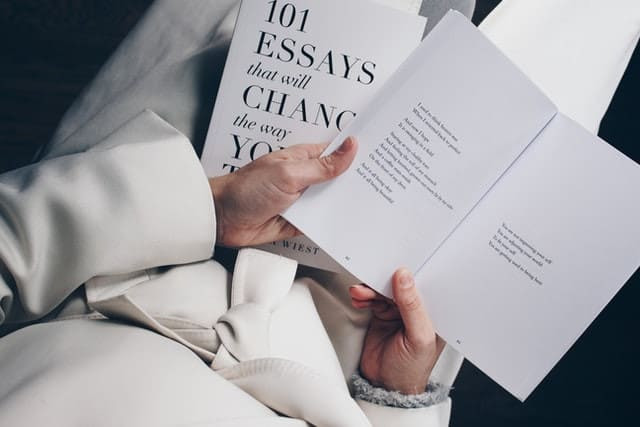 Claim of fact is possibly the most important aspect of academic writing because they keep discussions going. Without them, writing would be primarily descriptive and provide no fresh perspectives. It's not always simple to create a claim since it necessitates assertiveness and confidence.
Generally, the goal of a claim of fact is to persuade an audience that something that is currently not acknowledged as truth, or that something that is now recognized as fact, should no longer be considered such.
Claim of Fact Essay Example: Cancer Is a Very Common But Is Not Contagious
Cancer cannot be "caught" by another person. Cancer cannot be transferred by close contact or touching, kissing, sharing meals, sex, or inhaling the same air. Cancer cells from one person cannot exist in the body of another person who is healthy. In fact, a healthy immune system quickly recognizes malignant cells and eliminates them before they can develop and spread. Foreign cells, particularly cancer cells from another individual, are detected and destroyed by the immune system.
There are some claims that cancer can spread through organ transplants if your immune system is weak. Only in the case of organ or tissue transplantation is cancer capable of spreading from one person to another. A person who gets an organ or tissue from a cancer-stricken donor may be at a higher risk of acquiring a transplant-related malignancy in the future. However, the risk of malignancy is exceedingly low - roughly two instances per 10,000 organ transplants. Healthcare professionals try to avoid using organs or tissue from people who have had cancer. Certain viruses, such as the human papillomavirus, or HPV, and bacteria, such as Helicobacter pylori, can cause cancer in some people. While a virus or bacteria can move from person to person, the malignancies they can cause cannot.
Overall, cancer is not contagious, and you should not avoid friends or loved ones who have the disease. This might make a cancer patient feel alone and lonely. In fact, it's more important than ever to lend your support and be nearby. Some studies have even shown that "Higher social support is connected to increased longevity.
Features of a Good Essay Have
A single obvious key concept should be the focus of an essay. There should be a distinct primary idea or theme sentence in each paragraph essay. To persuade or sufficiently enlighten the reader, the essay must have many key components that flow logically.
Well-Focused
Be careful to answer the question thoroughly in all sections. Padding is not something you want to do. A lot of rambling and ranting is a solid indicator that the writer isn't sure what the proper response is.
Well-Organized
Don't write a disorganized dialogue while thinking on your feet. The reader isn't going to play detective and try to figure out what you're up to. Make some preparations and ensure that what you write has a clear intro that specifies the points you'll make.
Well-Supported
Don't just say something is true - back it up with factual evidence! What facts, statistics, instances, case studies, tests, and other evidence do you have to back up your main claim? You may be educated, likeable and so on, but no one is going to believe anything you say just because you say it. The distinction between a high and a low grade is frequently attributable to the appropriate utilization of supporting evidence.
Creative
Anyone can write an argument essay with different essay ideas using the suggestions above, but what makes it truly excellent is your own unique perspective on the topic. If you see something exciting or odd in your reading, mention it: if you find it fascinating, the examiner is likely to find it fascinating as well.
A Few Mistakes to Avoid
A bad essay involves faulty personal statements that combine a challenging subject matter with bad delivery, just as brilliant personal statements combine an unexpected theme with superb execution.
Academic essays are an inescapable component of each student's education. One of the most valuable abilities you may acquire during your college years is the ability to write properly. However, whether from private or public school, most high school and college students will make several mistakes before mastering the art of academic essay writing.
While you won't be able to completely avoid writing essays, you can avoid making the following common mistakes that turn a good essay into a terrible one.
Lack of a Strong Argument Thesis Statement
To write an excellent essay, you must first develop a solid thesis statement. The thesis statement serves as the anchor for the rest of your essay. It should express a point of view and be as detailed as possible.
How to avoid: Compose a thesis statement that is both clear and compelling. Remember, this is the section of the article that should persuade readers to keep reading.
Too Many Quotes, Facts, and Information
The body paragraphs in an essay are expected to represent your knowledge of the issue as well as the research you conducted to back up your argument. Excessive usage of quotes, facts, and information from the work you're analyzing or from your own study tarnishes your authority on the subject. They should only be utilized when they can make a point with the fluency that you can't equal with your own words.
How to avoid: Keep the essay's prompt in mind. If it's difficult, make sure you review the final draft before submitting the paper.
Typos
You may have heard that typos aren't a sign of poor grammar or foreign language skills and that they may be found in any piece of writing. However, publishing your essay without proofreading it indicates that you are not paying attention.
How to avoid: Properly follow the required format by your instructor: APA, MLA, Chicago, etc. Revise your writing thoroughly and look for errors, misspellings, and faulty structure.
Plagiarism
Plagiarism is defined as "cloning, stealing and passing off someone else's work or topic ideas as one's own." Colleges and institutions have rigorous anti-plagiarism regulations and utilize a variety of methods to look for plagiarized information in your work. You won't get away with that, and it may even result in suspension. Professors can tell if anything was written by school students or if it originated from somewhere else, so don't try to fool them.
How to avoid: Never take a quotation as your own statement, and always credit your sources.
Wrong and Genetic Titles
Don't forget about your audience. The essay's title should be a direct representation of its substance. When someone reads the title, they should be aware of the content of the essay. If you provide them a topic that is unrelated to the essay, they can be persuaded to read something you don't have, which will not make a favorable impression. Also, avoid using a generic title.
How to avoid: Don't make titles that are too long. Make it as concise and as unique as possible.
Examples of Argumentative Essay Topics
All man is created by God as an equal creation
Filipinos continue to believe that a woman's role in life is to clean and care for her household
Students' in China are the best reader among Asian countries
The damage caused by Typhoon Yolanda in the Philippines demonstrates the government's disaster response measures' preparedness.
Death penalty should be accepted as a capital punishment
Democrat policies caused the rise of terrorism
Divorce is causing increased juvenile crime
Gun control laws should be more rigid
Video games lead to the increase of violence among teens
Global warming and climate change is exacerbated by people
Smoking is an addiction that people are genetically predisposed to
Pandemic level diseases all come from viruses found in wildlife
Social media has a negative impact on mental health and should be limited for individuals under the age of 18
Animal testing should be banned worldwide because it is inhumane and there are alternative methods available
Colleges and universities should prioritize diversity and inclusion efforts in their admissions processes to create a more equitable society
Reliable Sources for Your Essay
As a writer and reader, you must be cautious about the sources of information you rely on. The fact that a source is printed or available on social media and the internet does not imply that it's reliable.
Any source like cell phones and books can provide you with information. You deserve the greatest, the most up-to-date, and the most trustworthy information as a critical reader. Make sure to vet everything you find to ensure that it is dependable.
Here are the factors that credible sources share:
Materials published in the recent 10 years
Research articles written by respected and renowned authors
Websites registered by educational and government institutions (gov, edu, etc.)
Academic or school system (JSTOR or Academic Search Premier)
Materials from Google Scholar
Conclusion
Claim of cause-effect, claim of fact, claim of policy, claim of value, or whatever types of claim you choose - if you follow the preceding recommendations, your claims will be solid, and your paper will be as well. Writing an expository and persuasive essay needs practice. You must also be well-versed in your subject.
Overall, claims of fact aren't actually a fact - it just claims to be fact accompanied by its strong arguments. The attribution that the speaker has no direct method of proving the claim's reality makes it debatable. A compelling speaker must present reasons in support of the assertion, demonstrating that the assertion is most likely correct.