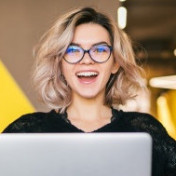 About me
I have written academic work for a wide range of clients for four years now. They have gone ahead to graduate with amazing grades.
My love for tutoring began when I landed my first job working in the university's research writing center. It was here that I developed a passion for seeing students succeed despite the various life goals and commitments that they face.

For the past eight years, I have been committed to propping many students to attain their bachelor's, graduate, and even doctorate degrees. My expertise in academic writing has also led me to work with students outside the US, where I have been able to gain experience in education systems in countries such as Canada, Australia, New Zealand, Britain, China, South Africa, and even universities in the United Arab Emirates.

Here in Studybay, I have been able to assist many students with very few disappointments, as evidenced by the near 0% negative reviews and number of return customers. Working with me ensures that you get plagiarism-free writing that demonstrates high academic standards and meets the assignment instructions.

Please feel free to send me an invite to your assignment, and I will be sure to check it out. Thank you.
Education
Economics and Marketing
Languages
English
Expert's speciality
Project type
Essay
Research Paper
Annotated Bibliography
Other types
Research Proposal
Reports
Essay
Research Paper
Annotated Bibliography
Other types
Research Proposal
Reports
Presentation
Critical Thinking
Case Study
Poetry Prose
Term paper
Article
Business Plan
Admission / Scholarship Essay
Argumentative Essay
Capstone Project
Questions & Answers
Application Essay
Article Review
Biography
Code
Content Writing
Copywriting
Coursework
Cover letter
Creative Writing
CV / Resume
Dissertation
Dissertation Proposal
Editing
Excel Assignment
Lab Report
Literature / Movie review
Math Assignment
Math Solving
Non-word Assignments
Online Help
Outline
Paraphrasing
Personal Statement
Problem-solving questions
Proofreading
Reflective Report
Reflective Writing
Research Article
Research Summary
Rewriting
Speech
Study consulting
Test
Thesis
Thesis/Dissertation Chapter
Thesis Proposal
Thesis Statement
Subject
Other
English Language
Criminal law
Business management
Nursing
Communication Studies
Other
Business management
Nursing
Business
Marketing
Finance
Business Analysis
Accounting
Advertising
Analysis of Structures
Audit
Blockchain
Brand Value
Building Materials and Theory of Constructions
Capital markets, investments, stocks
Chemical Engineering
Childcare
Civil Engineering
Clinical physiology
Cryptocurrencies
Dentistry
Digital Innovation and Transformation
Econometrics
Educational Technology
Electrical Engineering
Engineering
Entrepreneurship
Environmental sciences
Fluid Mechanics
Food and Agribusiness
Game Theory
Hospitality (management)
Human resource management
Hydrology and Hydraulics Systems
Investment Strategies
Logistics
Macroeconomics
Management studies
Materials Science and Engineering
Mechanical Engineering
Medicine and health
Microeconomics
Money and Banking
Negotiation
Operations Management
Pharmacology
Physical Education
Real Property
Strategy and Technology
Structural Design
The Business of Entertainment
English Language
Criminal law
Law
American history
History
Literature
Visual arts
World history
Art history
Linguistics
Administrative law
African history
Ancient history
Architecture
Applied arts
Art & Design
Asian history
Civil law
Creative writing
Dance
Fashion
Film
History of culture
History of literature
Jurisprudence (Philosophy of Law)
Legal management
Modern history
Music
Performing arts
Philosophy
Poetry
Russian history
Television
Theatre
Theology
World literature
Communication Studies
Cultural Studies
Psychology
Political science
Anthropology
Archaeology
Criminology
Economics
Education
Human geography
Social Work
Human Rights
Biology
Nutrition
Algebra
Algorithms
Analysis
Analytical Chemistry
Applied mathematics
Applied physics
Approximation theory
Artificial intelligence
Astronomy
Astrophysics
Biochemistry
Cell Biology
Chemical Engineering
Chemistry
Code
Combinatorics
Computer architecture
Computer communications
Computer graphics
Computer Science
Computer security and reliability
Cryptography
Data structures
Distributed computing
Dynamical systems
Earth science
Ecology
Environmental Chemistry
Environmental Sciences
Evolutionary Biology
Game theory
General Biology
General Chemistry
Geology
Geometry
Graph theory
Human-computer interaction
Immunology
Information theory
Inorganic Chemistry
Logic in computer science
Mathematical logic
Mathematical physics
Mathematics
Number theory
Numerical analysis
Operating systems
Operations research
Organic Chemistry
Physical Chemistry
Physics
Probability theory
Programming languages
Quantum computing
Space sciences
Statistics
Theoretical physics
Theory of computation
Topology
Zoology
Statistics
Deadlines
Delivers on time
Filter reviews
Medic31077

December 03, 2021

Great work and complete before due date!!

Wolfgang77

December 01, 2021

awesome girl hire her you wont regret it

user1842927

November 30, 2021

Always does "HIGH" quality work!

user1842927

November 30, 2021

Sylviah has not let me down so far on completed work!

user2236796

November 23, 2021

Great writer that got my paper done fast. There were a few mistakes but nothing you can't fix. Writes a lot in a short amount of time. Recommended when you really need a paper done quick.

Natt Elizabeth

November 22, 2021

She followed the criteria and was able to communicate with me though out the entire process! Thank you!

Wolfgang77

November 21, 2021

Satisfied with the expert's work

user1842927

November 20, 2021

Always provides good quality work!

user1842927

November 20, 2021

Always a pleasure to work, this is my go to person!

user2231258

November 20, 2021

She is fast

user2230534

November 18, 2021

Very amazing! Understood the assignment and completed it in a timely manner!

user1842927

November 16, 2021

Sylviah did an outstanding job with the project. I'm highly satisfied with her work, I will definitely choose her for future projects!

user2221781

November 15, 2021

She was great!

user2225468

November 14, 2021

She's just terrific! Just give her a chance and she will not let you down!

user2223495

November 13, 2021

The "expert" did not conduct herself as an expert at all. She constantly told me to not worry, she gave me her word she would get it done on time but she was late, she told me she understood the assignment but didn't follow any instruction, her essay didn't even answer the essay question, i re-explained the assignment to her and she STILL didn't understand the assignment, i am extremely unsatisfied with her service and upset. WOULD NOT RECOMMEND
No reviews