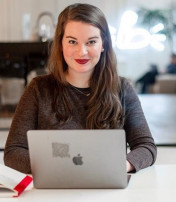 About me
I'm an experienced Bachelor of Commerce graduate with over 6 years of practice. I have been working in freelancing for the better part of my graduate and post-graduate days and therefore, I have gained a wide portfolio of expertise in the field of freelancing, and specifically, academic writing. The main motivation behind my excellence in freelancing is the great integration between my hobby, writing, and professional freelancing experience.

Back from high school and on to University, I enjoyed and ventured into a lot of research and writing about a variety of topics, a hobby that I turned into a career while on campus. While on campus, I realized that I used to spend most of my time researching about current and medieval topics about art and the development of commerce, trade and trade patterns and scientific innovations, results which I would then publish in my own WordPress account. Then, I got introduced to academic writing, I realized that I could use my own hobby to help other students pass their tests and to ensure they yield the best from their Universities or Colleges and this brought me satisfaction. Every positive remark I got catapulted me further, and while I loved talking to people, writing occupied the biggest percentage of my time.

In my writing career, I have interacted with a wide portfolio of expertise, including on primal areas such as Biology, Physics, Geography, Demographics, Technology, History among other academic areas. Through my practice and experience with academic writing, I have become one of the most trusted yet guaranteed writers, with a wide base of professional experience and theoretical background in commerce areas such as Finance, Accounting, Marketing, Insurance, Business Development, Operations Enterprise Management, Company Law and other areas of Business. I have sharpened my tools on mastery of formats including the Chicago, MLA, APA, Vancouver and Harvard styles.
My most common papers have revolved about personal statements for prestigious Universities, transfer letters occasioned by circumstances, research theses on various topics including controversial topics such as abortion, assisted suicide and death, and other areas such as palliative care, drugs, and substance abuse, social work papers about Burma, Karen communities among others. If you are interested in an experienced, broadly skilled and quality-guaranteeing academic writer on Studybay, I would encourage you to work with me.
Education
University of Nairobi, Bachelor, Commerce
Languages
English
Expert's speciality
Project type
Essay
Coursework
Research Paper
Other types
Case Study
Presentation
Essay
Coursework
Research Paper
Other types
Case Study
Presentation
Reports
Term paper
Article
Literature / Movie review
Annotated Bibliography
Questions & Answers
Personal Statement
Research Proposal
Creative Writing
Admission / Scholarship Essay
Speech
Outline
Argumentative Essay
Critical Thinking
Article Review
Reflective Writing
Business Plan
Research Summary
Thesis
Reflective Report
Dissertation
Thesis Proposal
Non-word Assignments
Application Essay
Research Article
Editing
Dissertation Proposal
Capstone Project
Content Writing
Thesis Statement
Problem-solving questions
Proofreading
Biography
Excel Assignment
CV / Resume
Copywriting
Cover letter
Poetry Prose
Rewriting
Study consulting
Thesis/Dissertation Chapter
Subject
Other
English Language
Business
Health Care
History
Psychology
Other
Business
Health Care
Marketing
Nursing
Business management
Accounting
Engineering
Human resource management
Business Analysis
Operations Management
Management studies
Finance
Childcare
Medicine and health
Civil Engineering
Logistics
Materials Science and Engineering
Physical Education
Econometrics
Strategy and Technology
Educational Technology
Hospitality (management)
Money and Banking
Advertising
Analysis of Structures
Audit
Blockchain
Brand Value
Building Materials and Theory of Constructions
Capital markets, investments, stocks
Chemical Engineering
Clinical physiology
Cryptocurrencies
Dentistry
Digital Innovation and Transformation
Electrical Engineering
Entrepreneurship
Environmental sciences
Food and Agribusiness
Hydrology and Hydraulics Systems
Investment Strategies
Macroeconomics
Mechanical Engineering
Microeconomics
Negotiation
Pharmacology
Real Property
Structural Design
The Business of Entertainment
English Language
History
Philosophy
American history
Fashion
Law
Literature
Music
Creative writing
Administrative law
Art history
Ancient history
Film
Architecture
World literature
Visual arts
Linguistics
Criminal law
African history
Theology
Asian history
Applied arts
Art & Design
Civil law
Dance
History of culture
History of literature
Jurisprudence (Philosophy of Law)
Legal management
Modern history
Performing arts
Poetry
Russian history
Television
Theatre
World history
Psychology
Sociology
Economics
Education
Social Work
Cultural Studies
Criminology
Anthropology
Human geography
Human Rights
Tourism
Archaeology
Political science
Communication Studies
Environmental Sciences
Biology
Statistics
Computer Science
Astronomy
Geology
Analysis
Mathematics
Physics
Immunology
Human-computer interaction
Operations research
Ecology
Applied physics
Artificial intelligence
Cell Biology
Computer security and reliability
Distributed computing
Earth science
Environmental Chemistry
Evolutionary Biology
General Biology
Geometry
Graph theory
Information theory
Nutrition
Operating systems
Quantum computing
Theoretical physics
Topology
Zoology
Statistics
Deadlines
Delivers on time
user2246544

November 30, 2021

Very satisfied with the work, thank you so much!

user2244213

November 28, 2021

Very easy to work with and very timely

user1995897

November 28, 2021

The best expert she finished it before the due date

user1923869

November 27, 2021

great work as always thank you.