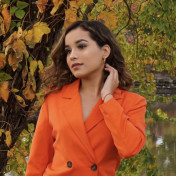 About me
I am a graduate with an engineering degree from an International Approved University. . I have worked in the health care sector as a medical engineer for quite some time. My passion for expressing ideas in writing attracted me to freelance writing. I realized I could use my skills and desire for knowledge to engage in freelance writing as a way of supplementing my professional salary.
With my educational background, I was initially only competent in the field of engineering and a bit of health care. However, through the seven years of experience in freelance writing, I have gained more skills in research, and I am now knowledgeable in different fields including; natural sciences, social sciences, and humanities.
As a freelance writer, my main goal is to make my clients happy and satisfied with the service that I offer. For this reason, I only place bids on assignments that I am confident of delivering quality work. In case of any doubts, I do not hesitate to seek clarifications from my clients. I am a good communicator, and that has been essential in my professional success as well as success in freelance writing.
I am currently a writer at Studybay. My duty is to help clients in writing essays, research papers, articles, speeches, theses, and PowerPoint presentations among other types of writing-related assignments.
I possess skills in the latest citation styles including APA, MLA, AMA, ASA, Harvard, Oxford, and Chicago. My attention to detail and the desire to produce the very best have helped me to achieve and maintain a high ranking. This is a guarantee that I deliver the best papers and never miss deadlines. My philosophy has consistently been delivering quality, non-plagiarized, and timely completed assignments that meet client requirements and their tutors' instructions. This has been the key to my success in the freelance writing industry.
Besides taking writing as a full-time career, it is also one of my hobbies and, for this reason, I have always felt motivated while tackling my clients' tasks. My passion for writing can be traced back to my junior school days. I would always be the best in creative writing classes. My other hobbies include watching movies, traveling, and reading books. I like associating with activities that build my knowledge in different fields and subjects. Additionally, reading and watching movies improves my writing skills and scope of thinking. Hire Mykol for quality.
Education
JKUAT, Bachelor, ELECTRICAL AND ELECTRONIC ENGINEERING.
Languages
English
Expert's speciality
Project type
Essay
Research Paper
Coursework
Other
Case Study
Term paper
Essay
Research Paper
Coursework
Other
Case Study
Term paper
Report
Presentation
Reflective Writing
Questions & Answers
Argumentative Essay
Article Review
Research Proposal
Literature / Movie review
Annotated Bibliography
Critical Thinking
Article
Reflective Report
Speech
Outline
Creative Writing
Personal Statement
Content Writing
Research Summary
Business Plan
Capstone Project
Application Essay
Research Article
Biography
Thesis/Dissertation Chapter
CV / Resume
Problem-solving questions
Thesis Statement
Paraphrasing
Editing
Copywriting
Admission / Scholarship Essay
Cover letter
Poetry Prose
Rewriting
Study consulting
Subject
Other
Business management
Psychology
Nursing
English Language
Sociology
Other
Business management
Nursing
Business
Medicine and health
Human resource management
Management studies
Business Analysis
Hospitality (management)
Childcare
Dentistry
Pharmacology
Strategy and Technology
Food and Agribusiness
Entrepreneurship
Educational Technology
Physical Education
Money and Banking
Investment Strategies
Operations Management
Negotiation
Building Materials and Theory of Constructions
Macroeconomics
Environmental sciences
The Business of Entertainment
Brand Value
Real Property
Advertising
Analysis of Structures
Blockchain
Capital markets, investments, stocks
Clinical physiology
Cryptocurrencies
Digital Innovation and Transformation
Game Theory
Hydrology and Hydraulics Systems
Psychology
Sociology
Political science
Education
Communication Studies
Social Work
Economics
Criminology
Anthropology
Human geography
Human Rights
Cultural Studies
Tourism
Archaeology
English Language
History
American history
Philosophy
Literature
Law
Art history
World history
Criminal law
Creative writing
History of culture
African history
Theology
Art & Design
Ancient history
Asian history
Music
Linguistics
Modern history
Visual arts
Television
Fashion
History of literature
Applied arts
Architecture
Administrative law
World literature
Film
Dance
Civil law
Jurisprudence (Philosophy of Law)
Legal management
Performing arts
Poetry
Russian history
Theatre
Nutrition
Biology
Environmental Sciences
Computer communications
Ecology
Information theory
Geology
Earth science
Immunology
Operating systems
Human-computer interaction
Operations research
Astronomy
Zoology
Cell Biology
Computer security and reliability
Analysis
Approximation theory
Artificial intelligence
Dynamical systems
Environmental Chemistry
Evolutionary Biology
Game theory
General Biology
Graph theory
Number theory
Numerical analysis
Probability theory
Space sciences
Theoretical physics
Theory of computation
Topology
Statistics
Deadlines
Delivers on time
user2201212

October 28, 2021

Great paper, thanks!

user2156758

October 28, 2021

Delivered a well written essay, she was on time and followed every instruction, 100% recommend.

user2154081

October 28, 2021

10/10

user2149992

October 28, 2021

eXCELLENT WORK