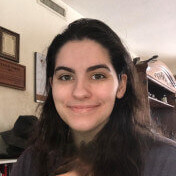 About me
I am a competent and extremely accomplished freelance writer at Studybay.com, with six years of experience in research papers, term papers, case studies, and dissertations. My sole goal is to ensure the long-term and consistent provision of top-notch, high-quality, and non-plagiarized papers that earn high grades. I consider myself as one of the "writing Gurus "who can dissect and analyze a more complicated paper and is able to deliver premium grades out of it. Coupled with commendable knowledge of various online search engines and libraries she has excellent research skills. As such, I produced wholesome and consistently high grades for regular students including, capstone, literature, History, and Formal and Natural Sciences.
I received my B. S in Statistics from Meru University of Science & Technology in 2017th. It is there where I have developed my enthusiasm and passion for research solely focusing on literature, history, and business mathematics. After graduation, I rose to the rank and became a full-time researcher and freelance writer managing accounts from different companies. Spent four years before graduation as an essay writer, when, in addition, to the provision of academic writing solution I was able to complete thesis/dissertations and capstone project as one crucial significant achievement in my career.
During my most recent six years tenure in the freelance writing industry, I fulfilled my insatiable interest in the provision of original, quality, and timely delivery of papers at Studybay.com. The disciplines range from, Essays, Dissertation, Custom Assignments, Homework help, Thesis Writing, and Book and Movie Review Writing. More importantly, all writing and referencing styles like APA, MLA, Harvard, and Chicago among others are at her fingertip. My ultimate goal is to become an international freelance writer capable of handling assignments in more than one language, using her passion for bringing success and autonomy to the client who solely depends on my assistance.
Education
Meru University of Science & Technology, Bachelor, Statistics
Languages
English
Expert's speciality
Project type
Essay
Coursework
Other
Research Paper
Case Study
Article Review
Essay
Coursework
Other
Research Paper
Case Study
Article Review
Questions & Answers
Term paper
Presentation
Report
Literature / Movie review
Creative Writing
Reflective Writing
Critical Thinking
Reflective Report
Argumentative Essay
Article
Personal Statement
Research Summary
Annotated Bibliography
Speech
Biography
Outline
Research Proposal
Research Article
Capstone Project
Business Plan
Content Writing
Application Essay
Problem-solving questions
Paraphrasing
Cover letter
Thesis Statement
Thesis/Dissertation Chapter
Admission / Scholarship Essay
Copywriting
CV / Resume
Online Help
Poetry Prose
Study consulting
Subject
Other
English Language
Education
Nursing
Sociology
Psychology
Other
Nursing
Business
Health Care
Human resource management
Marketing
Educational Technology
Business management
Hospitality (management)
Logistics
Management studies
Childcare
Operations Management
Business Analysis
Medicine and health
Macroeconomics
Pharmacology
Digital Innovation and Transformation
Physical Education
Environmental sciences
Entrepreneurship
Money and Banking
Building Materials and Theory of Constructions
Civil Engineering
Econometrics
Advertising
Dentistry
Food and Agribusiness
Analysis of Structures
Brand Value
Capital markets, investments, stocks
Chemical Engineering
Clinical physiology
Cryptocurrencies
Game Theory
Hydrology and Hydraulics Systems
Investment Strategies
Microeconomics
Negotiation
Real Property
Strategy and Technology
The Business of Entertainment
English Language
Criminal law
History
Literature
American history
Philosophy
Music
Theology
Creative writing
Film
Law
Ancient history
Visual arts
Poetry
African history
History of culture
Theatre
Linguistics
Legal management
Asian history
World history
History of literature
Performing arts
Civil law
Art history
World literature
Fashion
Dance
Administrative law
Applied arts
Jurisprudence (Philosophy of Law)
Modern history
Russian history
Television
Education
Sociology
Psychology
Political science
Criminology
Social Work
Economics
Cultural Studies
Human geography
Anthropology
Human Rights
Communication Studies
Tourism
Archaeology
Biology
Computer Science
Environmental Sciences
Nutrition
Geology
Computer communications
Information theory
Cell Biology
Operations research
Data structures
Astronomy
Human-computer interaction
General Biology
Earth science
Analysis
Artificial intelligence
Dynamical systems
Ecology
Environmental Chemistry
Evolutionary Biology
Immunology
Inorganic Chemistry
Operating systems
Probability theory
Space sciences
Theory of computation
Topology
Zoology
Statistics
Deadlines
Delivers on time
robingmommyof7

July 23, 2021

Amazing work so thankful!!!

camposg19985

July 23, 2021

Great job and good price

user2106993

July 23, 2021

Work was amazing and quick.

user2000759

July 22, 2021

....