Alex
Even in the most developed economies, a regular job search takes time and effort. But if you're about to start a career or change the employer, it is not regular. Pandemic has strongly affected the hiring market, but that doesn't mean you should give up and enjoy unemployment benefits. Times have changed, and you have to change as well to find success.
We will provide you with the most actionable tips on developing new skills and entering the job market in 2021.
What Is the Current Situation in the Job Market?
First of all, it is necessary to understand what exactly you should expect from job searching these days. According to the U.S. Bureau of Labour Statistics, there are two unemployed individuals per every job opening. And that is even a significant improvement from spring because there were months with 6.8 persons for the one open position. But it is still nowhere near pre-covid times when there were more vacancies than unemployed people.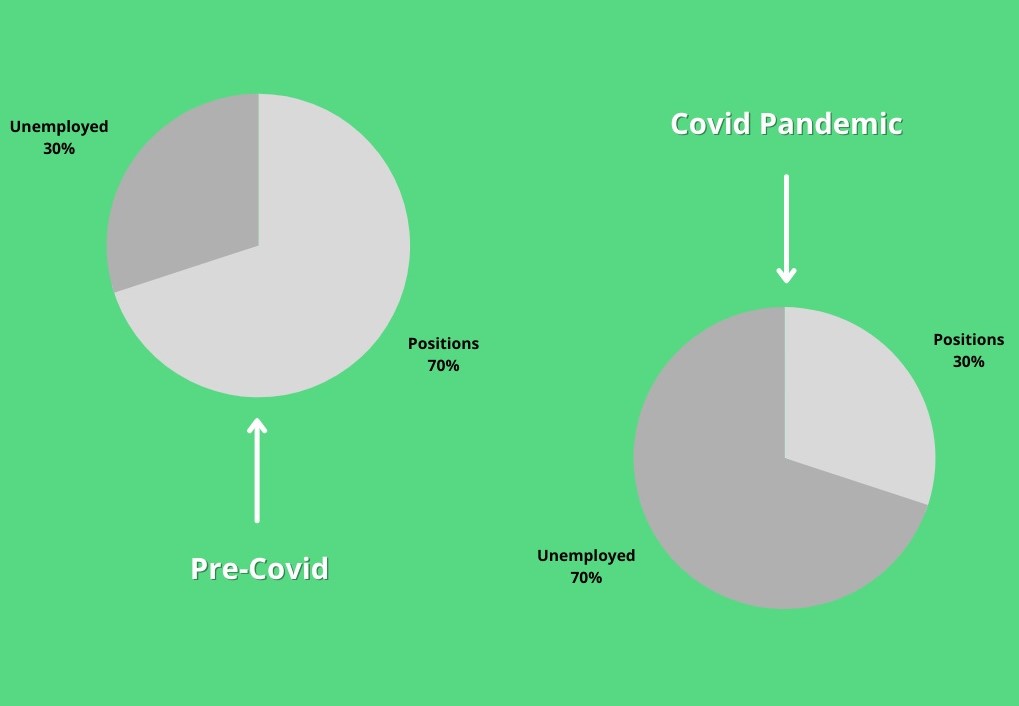 What does it mean for you right now? You have to work more to stand out among other candidates seeking new opportunities. Recruiters receive a lot of CVs and cover letters, and the labor market becomes incredibly competitive.
So, if you've faced job loss, brave enough to switch jobs, or are going to be entering the labor force after college, here are tips for selling your skills and competencies.
Make Sure Your Application Is Flawless
Nothing can ruin the first impression more than a non-professional CV.
Just imagine the hiring manager who is just inundated with CVs. You can be sure that he or she needs the smallest of errors to close your application forever.
It means that you should approach this step really responsible. Get rid of misspellings and grammatical errors. Read some tips on how to write the best resume and cover letter, and implement them. Do your homework and find some information about the company on social media to show that you're interested in this position. And, for God's sake, don't think that you can send the same paper to dozens of companies at once. Personalization is a new black these days.
Things go harder if you've just graduated, and you can't beat other job seekers with your experience. Think about your advantages: while your elder colleagues struggle from burnout, you convey lots of enthusiasm. It will be your fuel.
It would be good to hire a career expert who can provide you with some reasonable critique and ideas related to the specific field.
Consider Your Salary Expectations
Unfortunately, all companies had to reduce their budgets during the COVID-19 pandemic. The fact that they have job openings doesn't mean they are ready to pay a lot. Especially small businesses that hire to stay aboard.
Until you're a unique professional with valuable experience, you might not have the leverage to ask for a higher salary. There are so many people looking for career opportunities and experienced workers who faced job loss. They are ready to work for a song, just for some stability.
Though you definitely have to tighten your belt for a while, don't think you can't get some benefits from the current situation. For example, some companies provide their new employers with decent health insurance, retirement plans, and other incentives.
Build New Skills
Desperate times call for desperate measures. If you understand that recruiters don't dream of hiring you, you can take this thing personally or change something.
COVID-19 pandemic has shown that the future belongs to remote work, digitalizing, automatization, and constant development. If you haven't appreciated online courses from Coursera and other platforms during the first lockdown in March, you still have an opportunity to do it right now.
The learning process can make your job hunting longer, but it is a reasonable investment that will surely pay off. Once you gain some skill sets, don't forget to add them to your Linkedin profile since recruiters can easily find this information.
Speaking about skills that are in high demand these days, remember about some basic technical knowledge. For example, you should go easily with Zoom, Google Docs, Excel, and other software that is required for remote work. Companies don't want to waste their time teaching you when there are many candidates with a basic set of skills.
Develop Your Network
While the unemployment rate is growing rapidly, it is necessary to work not only on your hard and soft skills but also on your connections.
Some new positions are not advertised online, and the only opportunity to find out about them is to have acquaintances in the specific company. Due to social distancing, it is almost impossible to attend various events like conferences, business branches, etc. But they were not actually canceled, they exist online. If you still don't have a Linkedin profile or it doesn't look good, you should fix it to establish professional connections. Add recruiters, employers, employees, anyone who can be potentially useful. Word-of-mouth is a perfect tool to get a job interview invitation.
Of course, it doesn't mean that you should add new contacts, and that's it. Work on your profile: indicate your job title, add information about your educational and working background, skills, etc. You should also post to engage more people in communication to know your name and career ambitions.
Keep an Open Mind to Notice New Chances
Job seekers have to be pretty persistent and patient, and that might mean making some compromises. It is about analyzing what skills are in high demand these days or about taking a job outside of your desired area. Your goal, for now, is just to get by.
What about applying for emerging jobs to pad your wallet? We bet you have never thought about the career of a temperature checker or food delivery. But it is still better than being bored at home clicking Netflix. You can also apply for a part-time position to have free hours for developing your skills and making new acquaintances. It would help if you thought outside of the box to find opportunities to transfer over your current experience. Take chances as they come!
However, it doesn't mean that you should work with companies that don't share your values. Always think for the future and try to get the most out of the opportunities you have.
Be Persistent and Develop Your Application Funnel
If you send 100 job applications, you'll have 30 phone calls, 15 face-to-face or video interviews, and only about 3 offers, which you don't necessarily like. Once you start your job search, you'll easily mention a specific funnel with its stages and patterns.
According to our example, if you want to get 6 offers instead of 3, what should you do? Of course, you should send 200 applications. The more companies know you, the more chances you have to get the desired position. Remember that you need at least several bad interviews to get the good ones. Don't perceive them as a failure. Instead, get the most out of them: analyze your answers, and think of what you could do better.
Let Everyone Know That You're Looking for a Job
Don't miss the opportunity to tell your friends and relatives that you're looking for a job. You never know who can offer you an interesting project, even if it is not full-time. It would be a good idea to make a post on your Instagram or Facebook profile describing your professional skills so that your acquaintances can read it through quickly. You can ask them to share your post to reach a bigger audience, and you get more chances to achieve your goal.
Always Ask for Feedback
Speaking about good and bad interviews, it is essential to realize that different hiring managers have different expectations. Sometimes if you don't get the offer, it is not about your unprofessionalism; they just might be looking for another type of person. Small businesses are looking for people who will fit in their team seamlessly. It can be said about enterprises as well.
So, if you feel that there is something that wasn't discussed, ask the recruiter. You may really have the areas of development, and in this case, the feedback will be very helpful. And if you just weren't the perfect match, at least you'll sleep calmly knowing that you did your best.
Wrapping up, it is essential to say that COVID-19 times are challenging for everyone. Businesses (especially small ones) are struggling no less than candidates: they need to stay aboard and keep their employees engaged. The market itself is changing right now, and it is your time to take control over these changes: you can wait for better times or change your approaches as well. When this crisis is all over, your efforts will pay off handsomely.
Originally published Feb 02, 2021, updated Feb 17, 2021